Quantum News Briefs November 8, 2023: Finland's first quantum computer open for business, Quantum Brilliance appoints Andrew Dunn as part of UK Expansion, and MORE!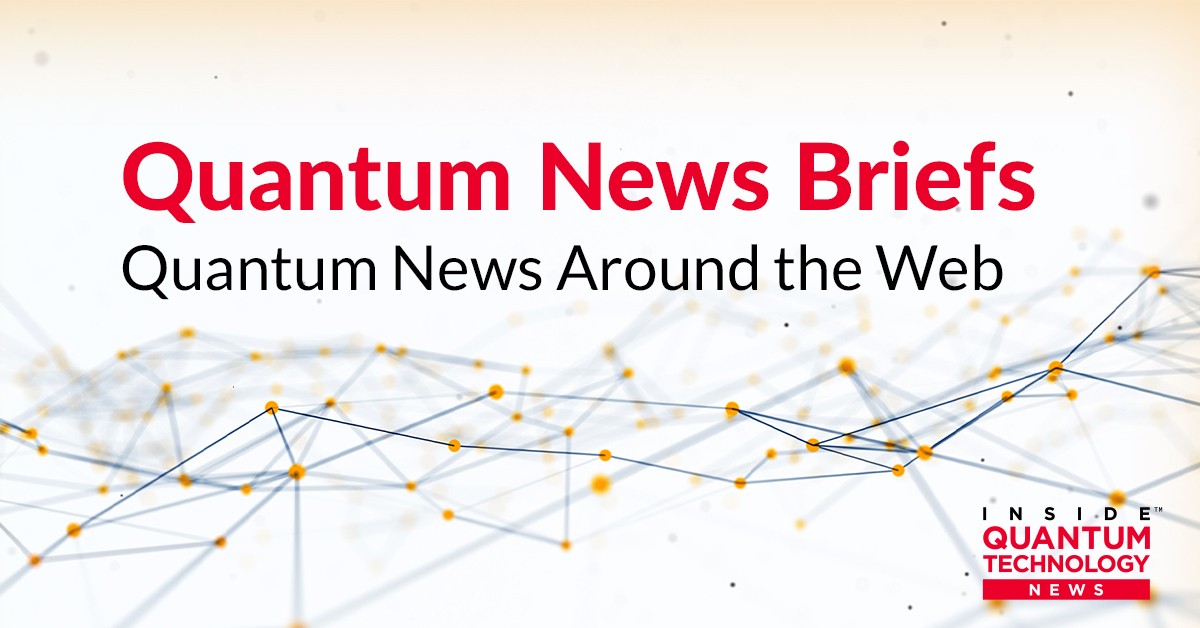 Quantum News Briefs November 8, 2023: 
Finland's first quantum computer is open for businesses' innovation
Finland's VTT Technical Research Centre has launched the country's first five-qubit quantum computer, offering access to Finnish and European businesses for developing quantum algorithms and software. Hosted at CSC's data center and linked to the LUMI supercomputer, one of the world's most powerful, this service is available at fixed monthly rates to industries aiming to tackle complex computational challenges. This strategic move paves the way for significant advancements in various sectors, with a special emphasis on enabling companies to prepare for the future of quantum computing.
Quantum Brilliance Appoints Andrew Dunn as Country Manager for UK Expansion
Quantum Brilliance, a pioneer in developing miniature, room-temperature quantum computers, has expanded its global reach by appointing former Arm Holdings executive Andrew Dunn as the Country Manager for its new UK office. Dunn, who brings a wealth of experience from the semiconductor sector and a Ph.D. in quantum physics, will spearhead the company's strategy and operations in the UK. This strategic move aims to harness the UK's burgeoning quantum ecosystem and contribute to the company's mission to democratize quantum computing with portable, energy-efficient devices that can operate in any environment, including autonomous vehicles and spacecraft. Quantum Brilliance's distinctive technology leverages synthetic diamonds, avoiding the need for cryogenics, and is on the path to miniaturizing quantum computing to semiconductor chip size further.
D-Wave Supports New Congressional Legislation Designed to Expand U.S. Quantum Program
D-Wave Quantum Inc., a leader in quantum computing systems and the first commercial supplier of quantum computers, has endorsed an expansion of the National Quantum Initiative (NQI), advocating for a more inclusive approach to U.S. quantum programs. The proposed legislation seeks to embrace all quantum technologies and accelerate the development of practical quantum applications in various sectors. D-Wave's CEO, Dr. Alan Baratz, has been actively involved in discussions with Congress to ensure the legislation covers a broad spectrum of quantum technologies, including quantum annealing and quantum-hybrid systems. The company underscores the urgency of reauthorizing and broadening the NQI to keep pace with other nations heavily investing in quantum tech. Additionally, SavantX has utilized near-term quantum applications to enhance cargo operations at the Port of Los Angeles, showcasing the real-world potential of quantum solutions in public-sector challenges like supply chain optimization and sustainability. The NQI, which expired at the end of September 2023, is crucial for outlining the U.S. strategy in quantum industry and technology application.
University of Nebraska Researchers Lower Noise for Quantum Computers
A research team led by Nebraska Engineering's Assistant Professor Dr. Abdelghani Laraoui is reducing the "noise" in quantum computing to make the technology more efficient and feasible. They are seeking materials that could improve quantum computer performance by mitigating decoherence, which causes disturbances in these systems. With a substantial grant from the National Science Foundation, the team aims to find solutions that allow quantum computers to operate at higher temperatures, reducing the need for expensive cooling technology. Their work involves the development of new quantum materials that can maintain coherence at temperatures above 2 Kelvin, a significant increase from the current requirement of near absolute zero. This research could lead to more accessible and less costly quantum computers capable of performing complex tasks with high speed and precision.
Physics World reports that Cryo-coolers offer new solutions for quantum networking
The Physics World article discusses Sunpower Inc.'s advanced free-piston cryocoolers, a product of AMETEK Inc., which are crucial for operating single-photon emission technologies in quantum communications and cryptography. Scientists at TU Berlin have successfully integrated these cryocoolers into a standard rack-mounted module for quantum key distribution, which emits single-photon pulses at telecom wavelengths. The compact Stirling cryocooler from Sunpower is highlighted for its friction-free operation due to gas bearings, requiring no lubrication or maintenance, thus ensuring a long and reliable lifecycle. Additionally, the article notes the cryocooler's application in NASA's RHESSI space mission, its superior cooling powers, and thermal efficiency. Sunpower has also developed innovations such as the CryoTel GTLT model, which operates at lower temperatures, and an Active Vibration Cancellation system, enhancing its appeal in the quantum technology field.
Kenna Hughes-Castleberry is a staff writer at Inside Quantum Technology and the Science Communicator at JILA (a partnership between the University of Colorado Boulder and NIST). Her writing beats include deep tech, quantum computing, and AI. Her work has been featured in Scientific American, Discover Magazine, New Scientist, Ars Technica, and more.