Quantum News Briefs October 19: Cloudflare post-quantum cryptography now generally available; SandboxAQ launches the SandboxAQ Academy; CERN's QTI expands with societal focus via new Open Quantum Institute + MORE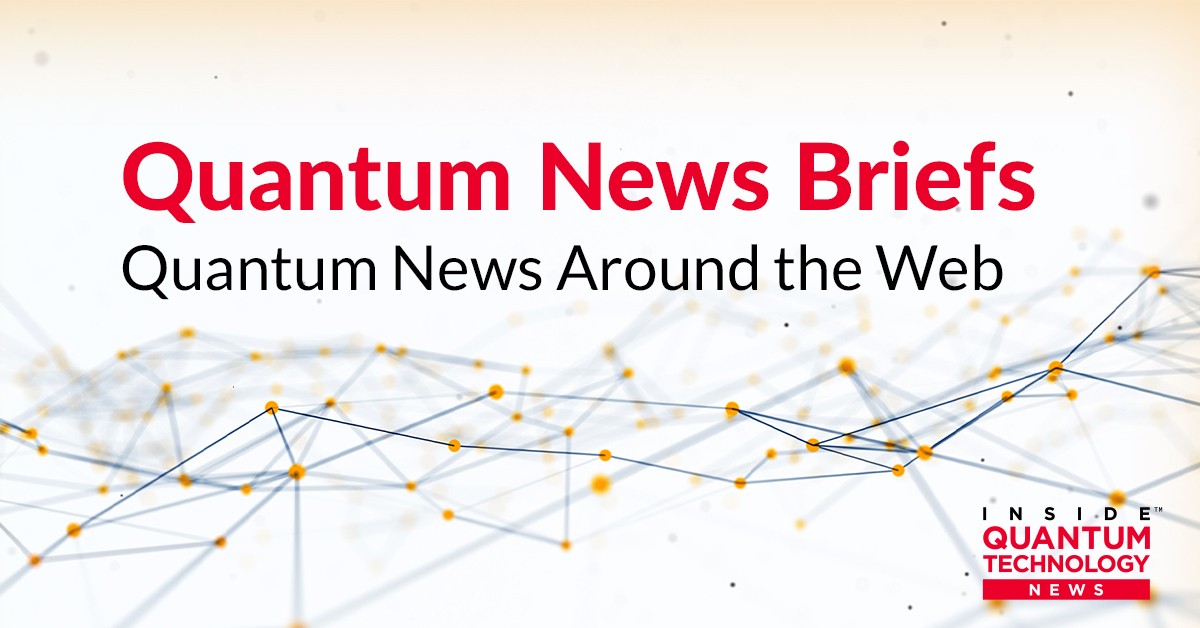 Quantum News Briefs October 19:
Cloudflare post-quantum cryptography now generally available
Cloudflare has announced the general availability of post-quantum cryptography for a number of its services and internal systems. Sergio de Simone discussed this development in his October 18 InfoQ article. Quantum News Briefs summarizes.
While promising a higher standard of privacy for the post-quantum era, the new feature depends on post-cryptography support in browsers and on the final link between Cloudflare and origin servers.
NIST ran an open process to select the best post-quantum crypto cipher, which they hope to finalize in 2024 with the publication of an official standard. The only key agreement (aka, key exchange or key distribution) method NIST has selected up to now is Kyber and provides the means for two parties to agree on a shared key without an eavesdropper being able to learn anything.
The solution adopted by Cloudflare is a hybrid one, where they combine both Kyber and the classical X25519, with the aim of ensuring the connection remains secure nowadays even if at some point Kyber is shown to be "classically" insecure.
After introducing beta support for the X25519+Kyber cipher last October, Cloudflare is now taking the next step and making it generally available for most of its inbound and outbound connections. This includes Cloudflare most used services, such as 1.1.1, API Gateway, Cloudflare Tunnel, and many more. Other services, including Cloudflare Gateway and Cloudflare DNS will get support for post-quantum crypto in the next weeks.
The end-to-end connection is only secure if all of its links are secured by post-quantum cryptography, which requires both the client, e.g. a browser, and the origin server to use it. While Cloudflare post-quantum cryptography GA means they will talk to origin servers using post-quantum crypto, this still requires origin servers to support the new cipher. On the browser front, Chrome started to support X25519Kyber768 in Chrome 116, released last August. Click here to read the complete InfoQ article.
SandboxAQ launches the SandboxAQ Academy
The SandboxAQ Academy addresses the soaring global demand for a workforce proficient in AI and quantum technologies. These fields are not just shaping the future but have already become critical to various sectors such as cybersecurity, finance, marketing, and drug discovery. In light of this, the academy is equipping corporate partners and individuals with the knowledge and skills necessary to excel.
Suzannah Radack, VP of people and operations at SandboxAQ, elaborated on the academy's mission, saying, "Several years ago, we realized that the increasing industry demand for advanced technologies would result in a severe shortfall of highly skilled AI and quantum talent. Governments, corporations, and others within the AQ ecosystem must join forces with higher-learning institutions to prepare the workforce for jobs in the AI and quantum industries, and create a more inclusive quantum ecosystem. We are proud to continue our mission of empowering individuals and organizations with the knowledge and skills they need to excel in today's quickly evolving landscape."
The SandboxAQ Academy offers its content online, ensuring accessibility to a broad audience. Initial videos focus on AI applications and quantum technology. However, there are aggressive plans to expand the content library, covering topics such as AQ applications and future trends in AI, particularly in finance and healthcare. Other upcoming topics will delve into quantum computing, navigation, simulation, high-performance computing, and advanced mathematics. The company's ultimate goal is to make SandboxAQ Academy the go-to resource for AI and quantum skills training.
For additional information about the SandboxAQ Academy and other education initiatives, visit SandboxAQ's Education page.
CERN's QTI expands with societal focus via new Open Quantum Institute
A new, three-year CERN-based program will make quantum computing resources and technical expertise available to projects designed to support the UN's Sustainable Development Goals (SDGs). Quantum News Briefs summarizes.
The new program is called the Open Quantum Institute (OQI). Hosted by CERN, the OQI has been designed by the Geneva Science and Diplomacy Anticipator (GESDA) in collaboration with some 130 experts and will be funded by UBS as lead impact partner. The announcement of the three-year pilot phase was made on October 13 during the 2023 GESDA summit and the program will be fully embedded into CERN's wider Quantum Technology Initiative (QTI) as of March 1, 2024.
The OQI will be, de facto, the societal arm of the QTI, which was established at CERN in 2018 and is managed by the IT department. Today, the QTI involves several researchers from the CERN departments and experiments that are working on four main domains and applications: quantum computing and algorithms, quantum simulation and information processing, quantum sensing, metrology and materials, and quantum communication and networks.
The overarching goal of the OQI is to find ways to enable quantum computing to have the widest possible societal impact by promoting and facilitating access to quantum computing resources and technical expertise. Through the OQI, cutting-edge nascent technologies will also become available to people from underserved regions, thus contributing to reducing a possible new digital divide. Click here to read the announcement in-entirety.
Eviden supports post-quantum algorithms with its network security solution 'Trustway IP Protect'
Eviden has announced its Trustway IP Protect IPSec network security solution will soon support post-quantum algorithms, and expands strategic partnership with CryptoNext Security, a leader in next-generation post-quantum cryptography. Quantum News Briefs summarizes the announcement. Quantum News Briefs summarizes.
As quantum computers are a soon-to-become reality, Eviden anticipates its arrival along with its associated security risks by upgrading its Trustway portfolio to be "post-quantum ready". Trustway IP Protect will enable customers to migrate progressively towards hybrid encryption solutions, thanks to the integration of post-quantum cryptographic algorithms from CryptoNext Security.
With the latest upgrade of Trustway IP Protect, which will be available in Q1 2024, Eviden has effectively implemented the ANSSI recommendations that advocate a gradual, step-by-step transition towards post-quantum solutions. The primary objective is to progressively increase trust in post-quantum algorithms and their uses, while safeguarding the integrity of traditional (pre-quantum) security measures to prevent any setbacks.
Trustway IP Protect is designed to protect customers from the risks of economic espionage and intrusion into IT infrastructures. Based on a crypto module developed in France Trustway IP Protect range offers the most advanced security features to protect communications up to sensitive environments. It is currently going through the ANSSI Standard Qualification (ANSSI QS) and Common Certified EAL4 certification processes, to ensure the highest level of confidentiality to network communications protection.  Click here to read the October 11 announcement in-entirety.
Sandra K. Helsel, Ph.D. has been researching and reporting on frontier technologies since 1990.  She has her Ph.D. from the University of Arizona.