Quantum News Briefs December 12: President Biden has announced key appointments to National Quantum Initiative Advisory Committee (NQIAC); Canada's Regional Quantum initiative opens for applications from the Prairie Provinces; France's embassy in Washington sends first post-quantum encrypted message + MORE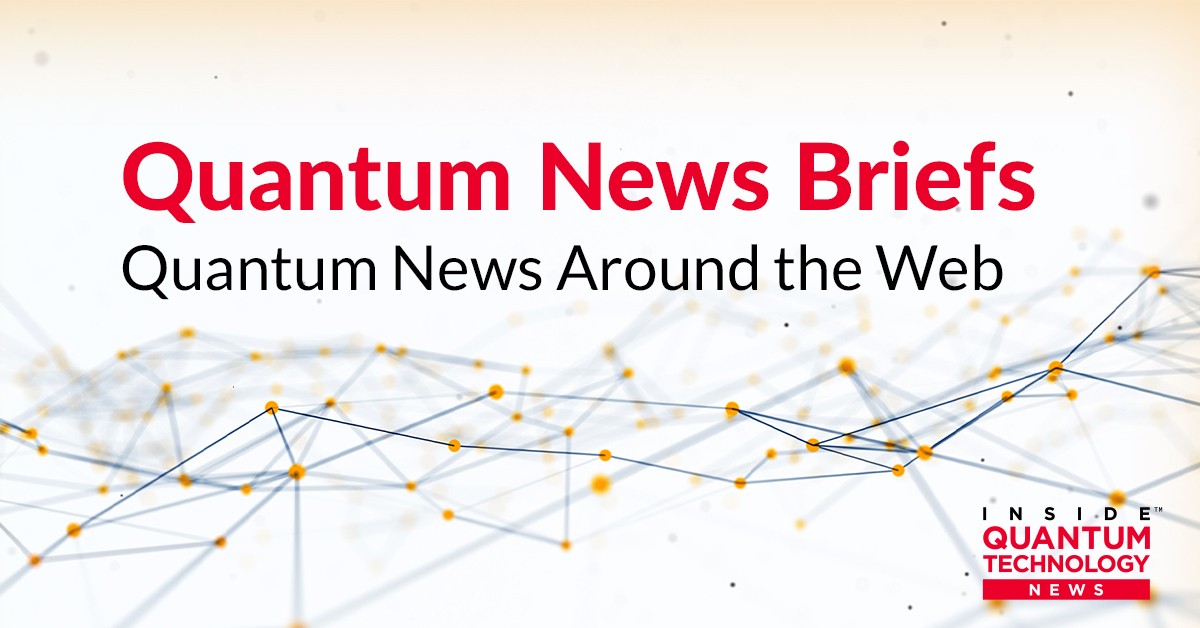 Quantum News Briefs December 12 begins with President Biden's announcements of key appointments to National Quantum Initiative Advisory Committee (NQIAC); followed by Canada's Regional Quantum initiative opening for applications from the Prairie Provinces; and France's embassy in Washington sends first post-quantum encrypted message + MORE
President
 

Biden has announced key appointments to National Quantum Initiative Advisory Committee (NQIAC)
President Biden Announced Key Appointments to the National Quantum Initiative Advisory Committee (NQIAC) on November 9.  The National Quantum Initiative Advisory Committee (NQIAC) is the Federal Advisory Committee called for in the National Quantum Initiative (NQI) Act.The NQIAC is tasked with providing an independent assessment of the NQI Program and to make recommendations for the President, Congress, the National Science and Technology Council (NSTC) Subcommittee on Quantum Information Science, and the NSTC Subcommittee on Economic and Security Implications of Quantum Science to consider when reviewing and revising the NQI Program. The NQIAC consists of leaders in the field from industry, academia, and the federal laboratories.  Quantum News briefs lists names below.
The following individuals to serve in key roles:
Dr. Kathryn Ann Moler, Co-Chair, National Quantum Initiative Advisory Committee
Dr. Charles G. Tahan, Co-Chair, National Quantum Initiative Advisory Committee
Dr. Jamil Abo-Shaeer, Member, National Quantum Initiative Advisory Committee
Dr. Fred Chong, Member, National Quantum Initiative Advisory Committee
Dr. James S. Clarke, Member, National Quantum Initiative Advisory Committee
Dr. Deborah Ann Frincke, Member, National Quantum Initiative Advisory Committee
Gilbert V. Herrera, Member, National Quantum Initiative Advisory Committee
Dr. Nadya Mason, Member, National Quantum Initiative Advisory Committee
Dr. William D. Oliver, Member, National Quantum Initiative Advisory Committee
Dr. John Preskill, Member, National Quantum Initiative Advisory Committee
Dr. Mark B. Ritter, Member, National Quantum Initiative Advisory Committee
Dr. Robert J. Schoelkopf, Member, National Quantum Initiative Advisory Committee
Dr. Krysta M. Svore, Member, National Quantum Initiative Advisory Committee
Dr. Jun Ye, Member, National Quantum Initiative Advisory Committee
Dr. Jinliu Wang, Member, National Quantum Initiative Advisory Committee
Dr. Nathan Siu, Member and Designated Chair, Nuclear Waste Technical Review Board
Dr. Ronald G. Ballinger, Member, Nuclear Waste Technical Review Board
Dr. David. E. Daniel, Member, Nuclear Waste Technical Review Board
Dr. Teresa Fryberger, Member, Nuclear Waste Technical Review Board
Dr. Scott W. Tyler, Member, Nuclear Waste Technical Review Board
Dr. Brian Woods, Member, Nuclear Waste Technical Review Board
Click here to read White House briefing in-full.
*****
Canada's Regional Quantum initiative opens for applications from the Prairie Provinces
The Government of Canada is making strategic investments to grow quantum-ready technologies, companies and talent; and to solidify Canada's global leadership in this area.
Dan Vandal, Minister for PrairiesCan, announced that the Regional Quantum Initiative (RQI) is open for applications across the Prairies. More than $9.3 million is available over six years to support eligible businesses and organizations to advance and commercialize their quantum products and solutions for domestic and global markets. This investment is an important next step in advancing the commercialization pillar of the forthcoming National Quantum Strategy and can lead transformative technologies in fields such as computing, sensors, secure communications and advanced materials development. The Strategy's other pillars are dedicated to advancing research and developing talent.
Non-repayable and repayable contributions will be provided for projects that involve a range of activities to demonstrate, commercialize and scale-up Canadian-made quantum technologies, solutions and companies. Project examples include technology demonstration geared towards market growth; commercialization aimed at bringing new technologies to market; business development and capacity building; and adopting quantum technologies.
Expressions of interest are now being accepted. For more information on eligibility criteria, eligible costs, or to apply to the Regional Quantum Initiative, visit PrairiesCan's RQI web page.
*****
France's embassy in Washington sends first post-quantum encrypted message
France's embassy in Washington has sent the diplomatic service's first message concealed using encryption designed to resist future quantum computers, President Emmanuel Macron said Thursday.
France's first "post-quantum" encrypted message was relatively pedestrian, containing a memorandum on cooperation with the United States in the field.
"Tomorrow, a sufficiently powerful quantum computer will be able to break all cryptographic algorithms and decode our messages," Macron wrote on Twitter. "To counter this threat, developing post-quantum encryption technologies is a strategic concern. And that's what we're doing!"
In a statement, the foreign ministry in Paris said the encrypted communication was sent using technology from a startup called CryptoNext.
France has committed 150 million euros ($157 million) to quantum-resistant cryptography, the ministry added, as part of a wider 1.8-billion-euro push to develop all kinds of quantum technologies. The move "is a precursor to changes in France's critical digital infrastructure," the statement said, promising a government "action plan" for "migration to post-quantum cryptography" in the first quarter of 2023.
The White House in May launched its own plan for both intelligence agencies and businesses to upgrade to post-quantum cryptography.  Read original article in-entirety here.
*****
IBM on track to achieve quantum advantage by 2026 using error mitigation
Paul Smith Goodson has written in Forbes about IBM's efforts to manage error correction noise and qubit errors. Noise is currently quantum computing's biggest challenge as well as its most significant limitation. IBM is working to reduce that noise in the next few years through various types of quantum error management until true quantum error correction (QEC) is attained. Quantum News briefs summarizes below.
For quantum computers to achieve quantum advantage, we must also significantly increase computational qubit counts. But upping the number of qubits also increases noise and qubit errors. Therefore, managing noise and qubit errors is critical to the long-term success of quantum computing.
Although error correction is common in classical computers and in certain types of memory hardware, we can't use the same techniques in quantum computers because the laws of quantum mechanics make it impossible to clone unknown quantum states.
Quantum error correction remains elusive and still appears to be many years away. Until full error correction becomes available, IBM is researching other error management solutions.
IBM currently looks at quantum error management through the lens of three methods: error suppression, error mitigation, and error correction.
Error mitigation is the method that IBM believes will bridge the gap between today's error-prone hardware and tomorrow's fault-tolerant quantum computers. IBM has done more continuous error mitigation research than any other institution. Through that work, IBM has developed multiple approaches to error mitigation, including probabilistic error cancellation (PEC) and zero-noise extrapolation (ZNE).
PEC functions much like noise-canceling headsets where noise is extracted and analyzed, then inverted before being mixed with the original noise signal to cancel it out. One significant difference for PEC is that, rather than using single samples as in audio noise-canceling algorithms, PEC uses averages calculated from a collection of circuits.
ZNE reduces noise in a quantum circuit by running the quantum program at different noise levels, then extrapolating the computation to determine an estimated value at a zero-noise level.
Thanks to error correction research conducted by the entire quantum computing community, significant progress has been made on QEC over the past decade. Even so, it is likely that years of more research will be required to find a workable solution.
It is IBM's goal for error mitigation to provide a continuous development path to error-correction. Once QEC is attained, it will enable us to build fault-tolerant quantum machines running millions of qubits in a quantum-centric supercomputing environment.   Read complete article by clicking here.
*****
Sandra K. Helsel, Ph.D. has been researching and reporting on frontier technologies since 1990.  She has her Ph.D. from the University of Arizona.