Quantum News Briefs March 22: Strangeworks commercial success in quantum computing drives ecosystem expansion, lands $24M Series A; Scientists open door to manipulating 'quantum light'; Breakthrough in quantum error correction could lead to large-scale quantum computers + MORE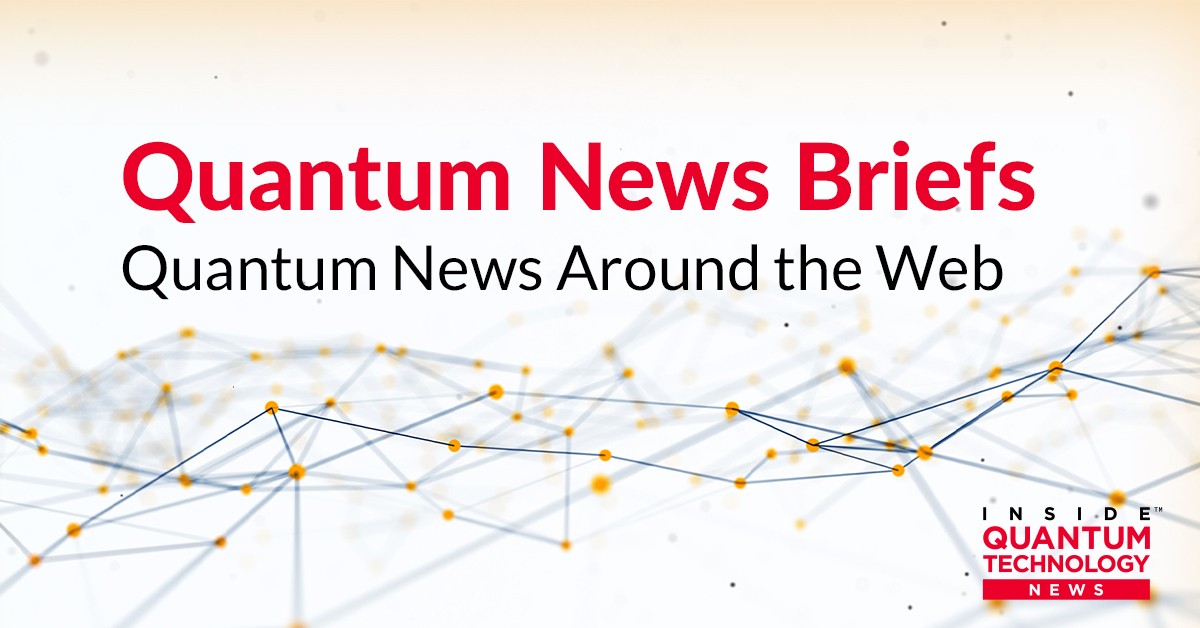 Quantum News Briefs March 22: Strangeworks commercial success in quantum computing drives ecosystem expansion, lands $24M Series A; Scientists open door to manipulating 'quantum light'; Breakthrough in quantum error correction could lead to large-scale quantum computers + MORE.

Strangeworks commercial success in quantum computing drives ecosystem expansion, lands $24M Series A
Strangeworks, Inc., announced the successful completion of their $24M Series A funding on the fifth anniversary of the company's public debut at SXSW in 2018. Led by world-class investors who share the company's mission to empower visionaries to turn "what if" into "what is," the new funding reaffirms the company's go-to-market strategy in the emerging quantum computing market, which is projected to hit $125 billion by 2030.
The Series A led by Hitachi Ventures, with investment from IBM, and Raytheon Technologies, with follow-on investment from seed investors Lightspeed Venture Partners, Great Point Ventures, and Ecliptic Capital solidifies Strangeworks' trajectory for the next five years.
With this investment, Strangeworks expanded its core team by 40% in Q4 2022 and will be able to offer a wider range of technologies beyond quantum computing, including quantum-inspired, high-performance computing, and artificial intelligence. This allows Strangeworks to provide immediate business value to enterprises while helping them prepare for an ever-changing computing landscape.
"Today's announcement represents a significant milestone for Strangeworks," said founder and CEO, whurley. "Five years ago, I took the stage at SXSW for our first quantum computing keynote. Since that day this team has stayed focused on our core mission, continuously outpacing industry expectations while diligently managing capital. Raising the Series A from these exceptional investors in this challenging economic climate sends a clear message to the market on where enterprise companies are placing their bets in the race to create quantum value." Click here to read original announcement in-entirety.
Scientists open door to manipulating 'quantum light'
Scientists at the University of Sydney and the University of Basel in Switzerland have demonstrated the ability to manipulate and identify small numbers of interacting photons – packets of light energy – with high correlation. This unprecedented achievement represents an important landmark in the development of quantum technologies. Quantum News Briefs summarizes below.
Stimulated light emission, postulated by Einstein in 1916, is widely observed for large numbers of photons and laid the basis for the invention of the laser. With this research, stimulated emission has now been observed for single photons.
Specifically, the scientists could measure the direct time delay between one photon and a pair of bound photons scattering off a single quantum dot, a type of artificially created atom.
"This opens the door to the manipulation of what we can call 'quantum light'," Dr Sahand Mahmoodian from the University of Sydney School of Physics and joint lead author of the research. Dr Mahmoodian said: "This fundamental science opens the pathway for advances in quantum-enhanced measurement techniques and photonic quantum computing."
By observing how light interacted with matter more than a century ago, scientists discovered light was not a beam of particles, nor a wave pattern of energy – but exhibited both characteristics, known as wave-particle duality.
The way light interacts with matter continues to enthral scientists and the human imagination, both for its theoretical beauty and its powerful practical application.
Whether it be how light traverses the vast spaces of the interstellar medium or the development of the laser, research into light is a vital science with important practical uses. Without these theoretical underpinnings, practically all modern technology would be impossible. No mobile phones, no global communication network, no computers, no GPS, no modern medical imaging.
One advantage of using light in communication – through optic fibres – is that packets of light energy, photons, do not easily interact with each other. This creates near distortion-free transfer of information at light speed.  Read original article here at U of Sydney.
Breakthrough in quantum error correction could lead to large-scale quantum computers

Researchers at Google Quantum AI have made an important breakthrough in the development of quantum error correction, a technique that is considered essential for building large-scale quantum computers that can solve practical problems. The team showed that computational error rates can be reduced by increasing the number of quantum bits (qubits) used to perform quantum error correction. This result is an important step towards creating fault tolerant quantum computers. Quantum News Briefs summarizes PhysicsWorld article.
Julian Kelly, director of quantum hardware at Google Quantum AI, calls this result "absolutely critical" for scaling towards a large-scale quantum computer, adding that this experiment is a necessary gauntlet that every hardware platform and organization will need to pass through to scale their systems. He says that the team's next steps are to build an even larger and highly robust logical qubit that is well below the threshold for error correction. "The goal is to demonstrate algorithmically relevant logical error rates at a scale well beyond the systems that exist today. With this, we will cement that error correction is not only possible, but practical and lights a clear path towards building large-scale quantum computers," he tells Physics World.
Hideo Kosaka, a quantum engineer at Japan's Yokohama National University and who was not involved in this research, says that the surface code is considered the best practical method for scaling the number of qubits in a quantum processor since it allows a simple structure in 2D. Although he mentions that it is limited to a class of errors called Pauli errors, it would be enough in practice with possible future improvements of the device including shielding from cosmic ray impacts. Even though Kosaka thinks that this is just a starting point, where the researchers must improve their performance much more to reduce the number of physical qubits and error correction cycles, he does state that "no-one believed this would be realized within 20 years when we started research on quantum information science".  Click here to read original PhysicsWorld article in-entirety.
Quantum Computing Inc appoints security and cryptography expert Brian LaMacchia to Technical Advisory Board
Quantum Computing Inc.;elm:context_link;itc:0″ data-rapid_p="16″ data-v9y="1″>Quantum Computing Inc. has announced the second appointment to its Technical Advisory Board launched on February 2, 2023. Effective immediately, Dr. Brian LaMacchia, joins US intelligence community veteran and technology strategist The Honorable James (Jim) Simon, Jr who heads the Board with the mission to guide and advance the strategic evolution of QCI's technology while ensuring effective commercialization of product rollouts.
Brian LaMacchia recently retired from Microsoft Corporation where he was a Distinguished Engineer and head of the Security and Cryptography team within Microsoft Research. Before retiring, his team's main project was the development of quantum-resistant public-key cryptographic algorithms and protocols. Dr. LaMacchia was also a co-founder of the Microsoft Cryptography Review Board and consulted on security and cryptography architectures, protocols, and implementations across the company. Prior to joining Microsoft Research in 2009, Dr. LaMacchia was the Architect for cryptography in Windows Security, Development Lead for .NET Framework Security and Program Manager for core cryptography in Windows 2000. Dr. LaMacchia began his career as a Senior Member of the Technical Staff in the Public Policy Research Group at AT&T Labs—Research.
Dr. LaMacchia is an Adjunct Associate Professor in the Luddy School of Informatics, Computing and Engineering at Indiana University-Bloomington and an Affiliate Faculty member of the Paul G. Allen School of Computer Science and Engineering at the University of Washington. Dr. LaMacchia is also currently Treasurer of the International Association for Cryptologic Research (IACR), a member of the Computing Community Consortium (CCC) Council, and, a member of the National Academies Forum on Cyber Resilience. He is also a Vice President of the Board of Directors of the Seattle Opera and was formerly on the Board of the Seattle International Film festival (2009-2019) where he served as Board President (2015- 2016). Currently, he is co-owner of an independent film production company, Farcaster Films. Dr. LaMacchia received S.B., S.M., and Ph.D. degrees in Electrical Engineering and Computer Science from MIT in 1990, 1991, and 1996, respectively. Dr. LaMacchia is a well published author and is inventor or co- inventor on 35 issued U.S. patents, multiple international patents, and numerous in-process patent applications. Click here to read complete announcement.
Sandra K. Helsel, Ph.D. has been researching and reporting on frontier technologies since 1990.  She has her Ph.D. from the University of Arizona.