Quantum News Briefs February 7: "Underdog technologies" gaining ground in quantum computing race; FOMO at heart of Darpa's quantum computing program; Rigetti faces notice of possible delisting by Nasdaq unless stock price "at least $1.00 for minimum of 10 consecutive business days" by July 24 + MORE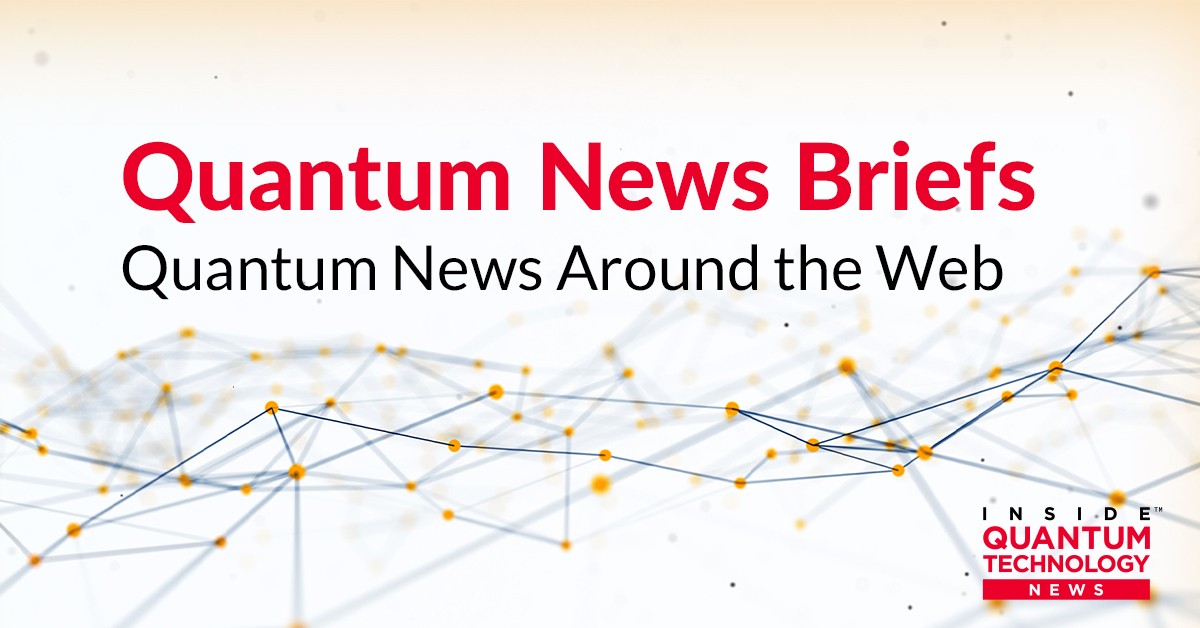 Quantum News Briefs February 7: "Underdog technologies" gaining ground in quantum computing race; FOMO at heart of Darpa's quantum computing program; Rigetti faces notice of possible delisting by Nasdaq unless stock price "at least $1.00 for minimum of 10 consecutive business days" by July 24 + MORE
"Underdog technologies" gaining ground in quantum computing race
The race to build practical quantum computers might be entering a new phase, writes Davide Castelvecchi in February 6 Nature and summarized below by Quantum News Briefs.
"Every platform that is pursued today has some promise, but developing it can require really novel ideas that you can't predict," says Vandersypen. Pan Jian-Wei, a physicist who works on multiple quantum-computing approaches at USTC. When it comes to the race to develop quantum computers, "it is still too early to say which candidate will win".
Building a useful quantum computer is challenging. But the field has come further than QuTech director of research Lieven Vandersypen would have expected ten years ago. "The progress is actually impressive."
In the past two years, qubits that consist of single neutral atoms — as opposed to ions — and are held with 'tweezers' made of laser light have suddenly become competitive.
NOTE: QuTech is one of the organizers of upcoming IQT The Hague March 13-15 along with 3DR Holdings, IQT Research, QuTech, QIA (Quantum Internet Alliance of Europe) and Quantum Delta .
"Superconducting qubits and trapped-ion qubits have done the most-advanced experiments, with the most qubits under control," says Barbara Terhal, a theoretical physicist at QuTech. "However, this is no guarantee that these platforms will stay in the lead."
A technique that was barely on the radar until recently might soon break the 1,000-qubit barrier. It traps neutral atoms using tightly focused laser beams, called optical tweezers, and encodes qubits in the electronic states of the atoms or in the spins of atoms' nuclei. The approach has been developing gradually for more than a decade, but now it's "booming", says Giulia Semeghini, a physicist at Harvard.
One method in its infancy encodes information in the spin of individual electrons trapped by electric fields inside conventional semiconductors such as silicon. The benefit of semiconductor-based qubits would be the ability to make chips in the same type of factory where current computer chips are produced.
Yet another approach is still at the conceptual stage, receiving substantial investment, by Microsoft . The technique aims to exploit 'topological states' to make qubits robust to degradation, just like a knotted string that can be twisted and pulled but not untied. 
Click here to read the extensive article in Nature in-entirety
FOMO at heart of Darpa's quantum computing program
The US government is not willing to risk missing out. Recently, the Defense Advanced Research Agency (DARPA), the US military's brain farm, announced a new endeavor, called the Underexplored Systems for Utility-Scale Quantum Computing (US2QC) program, to explore novel quantum system designs, and tapped Microsoft, Atom, and PsiQuantum to help.  Quantum News Briefs summarizes Tobias Mann's article in the A Register.
"Experts disagree on whether a utility-scale quantum computer based on conventional designs is still decades away or could be achieved much sooner," Joe Altepeter, who leads DARPA's US2QC program, said in a statement. "The goal of US2QC is to reduce the danger of strategic surprise from underexplored quantum computing systems."
In other words, if it is possible to build a quantum computer capable of breaking through encryption or compromising the United States' defenses in any capacity, DARPA doesn't want to be caught playing catch up with rival nations.
According to Altepeter, the three companies were selected based on a number of criteria. "We put out a call last year saying that if anyone thought they had a truly revolutionary approach to building a useful quantum computer in the near future – less than 10 years – we wanted to hear from them," he explained.
The potential for quantum computing to disrupt governments clearly hasn't gone unnoticed, especially as US-China relations continue to deteriorate.
Rigetti faces notice of possible delisting by Nasdaq unless stock price "at least $1.00 for minimum of 10 consecutive business days" by July 24
Rigetti Computing Inc. was issued a notice by the Nasdaq Stock Market, LLC, ("Nasdaq") that it would be delisted if it wasn't compliant by July 24 this year on its stock price of being "at least $1.00 for a minimum of ten consecutive business days," according to a filing with the Securities and Exchange Commission dated January 27. Quantum News Briefs summarizes Agam Shah's HPCWire article describing Nasdaq's action and Rigetti's situation below.
"If the Company is unable to regain compliance before the Compliance Date, the Company may be eligible for an additional 180 calendar days to satisfy the Bid Price Rule," Rigetti stated in its filing. The bid price is the highest amount a trader may pay for the stock. Rigetti could also appeal to get back in compliance.
Rigetti's stock has been at or under $1 since December 9. It closed December 8 at $1.02, but also was at $1 on January 17. The stock peaked at $12.75 on Nov. 15, 2021 and closed that day $11.88.
Rigetti announced a SPAC (special purpose acquisition company) merger deal with Supernova Partners Acquisition II Ltd. in October, which pegged the company's value at $1.5 billion. Rigetti's market cap at the end of trading on February 2 was $106 million.
Late last year, Chad Rigetti, the founder, stepped down as CEO, and Subodh Kulkarni took over as CEO.  Related in IQT News: Rigetti names public company vet Kulkarni as new president and CEO.
Rigetti in November said it expected 2022 fiscal revenue to be between $12.0 million and $13.0 million. The company estimates losses for full year of 2022 to be between $56 and $58 million. Read Shah's comprehensive article in-entirety here.
The time to future proof satellites from quantum threats is now
Eddy Zervigon, of Satellite Today writes in his recent article about the need for protect satellites from quantum threats. Quantum News Brief summarizes his key points.
Satellite infrastructure has and will continue to face critical threats. While there continues to be innovations in space technology, we are also undergoing a multiyear cryptographic transition. This transition will require nearly every organization in the world to replace their classic encryption with quantum-safe solutions – including math-based Post Quantum Cryptography (PQC) and/or physics-based Quantum Key Distribution (QKD).
Designed nearly five decades ago, the Diffie-Hellman Key Exchange – the backbone of public key encryption (PKE) — has served us incredibly well. However, it was conceived in a time where our hyper-connected world of today was difficult to imagine. Tomorrow's quantum computers will be able to break current encryption methods in a matter of seconds – what the industry has coined "Q-Day" or the quantum threat – spurring the transition to quantum-safe solutions.
This should be a wake-up call for those involved in information security, as well as those who work to secure our satellites. The time to prepare for a post-quantum future is now.
Many space-faring nations are already fortifying their satellites with quantum-based security. China has developed a robust capability to protect its infrastructure, including satellites, with QKD. India is looking to follow suit and has made some recent advances as well.
This author Eddy Zervigon believe the United States can take a significant step towards protection if we implement a strategy of crypto-diversification, a proactive mix of current and post-quantum encryption methods and out-of-band key delivery. If we do not, we are at risk of falling behind our adversaries and jeopardizing the satellites and their associated infrastructure that are the keystone of our national security. Click here to read the Via Satellite article in-entirety.
Sandra K. Helsel, Ph.D. has been researching and reporting on frontier technologies since 1990.  She has her Ph.D. from the University of Arizona.