Quantum News Briefs February 21: U of Sydney announces $4.7M investment to establish Future Qubit Foundry at Sydney Nanosciene Hub; QNu Labs providing digital trust with quantum key distribution & post-quantum cryptography; Infleqtion Names Jim Rabeau President of Infleqtion Australia+ MORE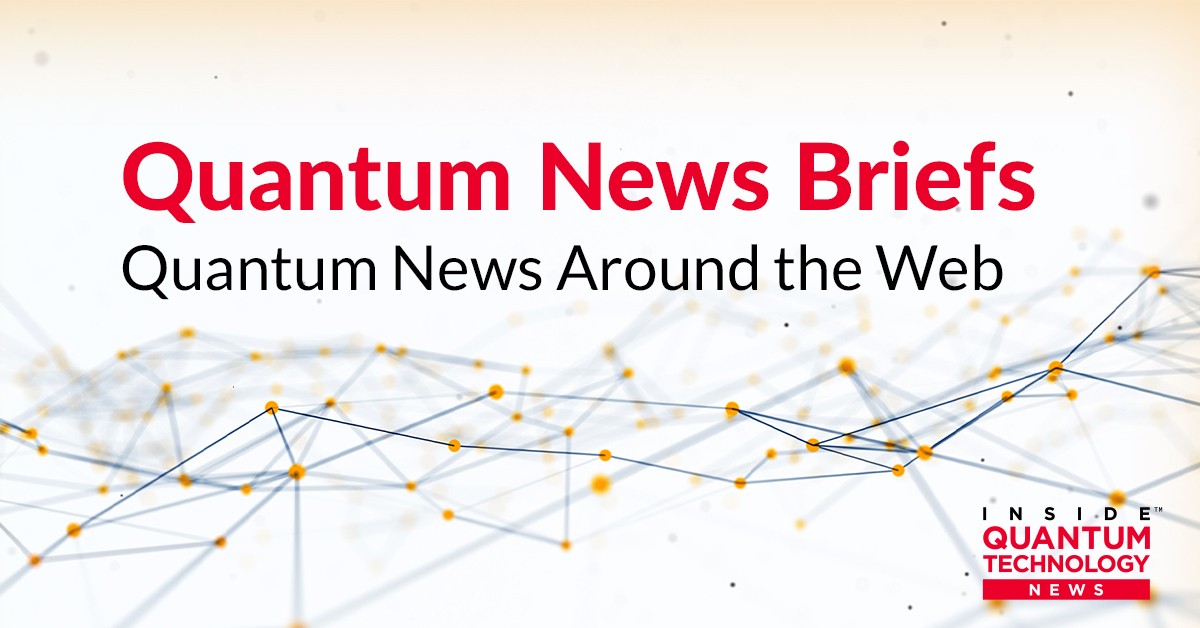 Quantum News Briefs February 21: U of Sydney announces $4.7M investment to establish Future Qubit Foundry at Sydney Nanosciene Hub; QNu Labs providing digital trust with quantum key distribution & post-quantum cryptography; Infleqtion Names Jim Rabeau President of Infleqtion Australia+ MORE
U of Sydney announces $4.7 Million investment to establish Future Qubit Foundry at Sydney Nanosciene Hub
The University of Sydney has announced a $7.4 million investment to expand its quantum technology facilities to establish the Future Qubit Foundry at the Sydney Nanoscience Hub. Quantum News Briefs summarizes the announcement.
The foundry will be a national-leading facility to invent the technology of tomorrow's quantum computers, enabling them to operate at scale and be of use to society. Deputy Vice-Chancellor (Research) Professor Emma Johnston said: "The Future Qubit Foundry will leverage the University of Sydney's research leadership in advanced quantum technologies and put us at the forefront of next-generation design of qubits, the heart of quantum computers. Crucially, it will also help ensure Australia can train the quantum workforce needed to operate tomorrow's quantum tech."
The announcement came on the eve of the Quantum Australia conference hosted by the Sydney Quantum Academy, a collaboration between the University of Sydney, UNSW, Macquarie University, UTS and the NSW Government.
CSIRO predicts that quantum technology will be a $6 billion industry in Australia by 2045, employing 19,400 people.
Pro Vice-Chancellor (Research – Enterprise and Engagement) Professor Julie Cairney said: "The Future Qubit Foundry is being designed so that we can work with government and industry to scale it up. We envisage building an expanded facility that is available to the Australian quantum research community and, importantly, can be utilised by the emerging quantum tech private sector."
Professor Stephen Bartlett, Associate Dean (Research) of the Faculty of Science, said. "The qubit foundry will add to our national and global standing, ensuring Sydney is one of the world's best places to research quantum technology." Click here to read complete announcement.
QNu Labs providing digital trust with quantum key distribution & post-quantum cryptography
Harichandan Arakali, Forbes India Staff, is the author of a February 21 article describing QNu Labs and its flagship products—a quantum key distribution and a post-quantum cryptography software. Quantum News Briefs summarizes.
QNu Labs, co-founded by Gupta, Mark Mathias, Anil Prabhakar and Srinivasa Rao Aluri in 2016, set out to solve the problems created by the oncoming convergence of multiple technologies, including 5G wireless, artificial intelligence, robotics, connected vehicles and blockchain,
Online transactions have exploded in India in the last five years, and "In this hyperconnected digital world, trust will be critical," Gupta says.
QNu Labs works in the area of quantum computing, which involves "qubits" that, unlike the classical computing bits, can have values of either zero or one, can have those values simultaneously or even values in between, in the realms of quantum physics.
QNu Labs' products include a random number generator—where the numbers can be used to create encryption keys—a quantum key distribution, the company's flagship, and a post quantum cryptography software.
The products have cybersecurity applications in areas, including finance, health care, data centres, and defence and critical infrastructure. Among its projects for customers, QNu set up a quantum computing lab for the Indian Army.
They are now working on applications that might bring them customers with large user bases and in different industries. For example, "imagine a quantum-secure WhatsApp", Gupta says. Click here to read Forbes India article in-entirety.
Infleqtion Names Jim Rabeau President of Infleqtion Australia
Infleqtion announced on February 20 the addition of Jim Rabeau as incoming President, Infleqtion Australia. Quantum News Brief summarizes.
Jim most recently served as Director of Quantum Technologies at Australia's national science agency, CSIRO. As President, Jim will be responsible for Infleqtion's expansion into Australia and establishing the Asia-Pacific quantum computing and technology facility at Swinburne University of Technology.
At CSIRO, Jim led the national Quantum Technology Future Sciences Platform to build a cross-disciplinary program of research and development in quantum technology. Prior, Jim served as a Professor of Physics and Deputy Director at the Sydney Nano Institute at the University of Sydney. He also worked as a Principal Program Manager of Quantum Computing at Microsoft.
"Infleqtion is at the forefront of quantum innovation, leveraging its technology to develop commercial products beyond computing," said Jim Rabeau, incoming President, Infleqtion Australia. "I'm energized by the work this talented team has already accomplished, and look forward to continuing this growth trajectory here at home."
Rabeau's appointment comes on the heels of a momentous year for Infleqtion in Australia. Most recently, the company announced an A$29 million investment from Breakthrough Victoria to create the Infleqtion-Swinburne Quantum Technology Centre, supporting quantum breakthroughs with commercial potential and expanding the state's quantum capabilities. Click here to read complete announcement.
Cybertrust Japan integrates quantum-computing-hardened private keys from Quantinuum into new IoT authentication platform
Quantinuum recently announced that Cybertrust Japan Co., Ltd., Japan's leading certificate authority, has integrated its Quantum Origin quantum-computing-hardened private keys into a new certificate issuance and distribution platform for IoT devices to ensure secure communications now and into the future.
Cybertrust Japan's new authentication infrastructure for high-speed, high-volume certificate issuance and distribution for large volumes of IoT devices includes the NIST-selected post-quantum cryptography (PQC) algorithms.  The certificate authority is further protecting devices from current and advancing threats by incorporating Quantinuum's Quantum Origin solution, the only cryptographic solution that leverages the power of quantum computers to generate quantum-computing-hardened keys.
"Integrating Quantum Origin assures our customers that they can build innovative IoT-based solutions on a platform they can trust to deliver speed and higher security, including post-quantum algorithms support. As a result, customers and partners can use and sell our certification services securely for the long term," said Yasutoshi Magara, President & CEO of Cybertrust Japan. "We would like to promote activities aimed at realizing a safe and secure society together with Quantinuum." Click here to read complete January 31 announcement.
Sandra K. Helsel, Ph.D. has been researching and reporting on frontier technologies since 1990. She has her Ph.D. from the University of Arizona.