Quantum News Briefs December 15: India's Tech Mahindra partners with Finland's IQM Quantum Computers for research in quantum computing; Quantum Computing Cybersecurity Preparedness Act cleared Senate & sent to President Biden for signature; Roland Acra Joins PsiQuantum as Chief Business Officer + MORE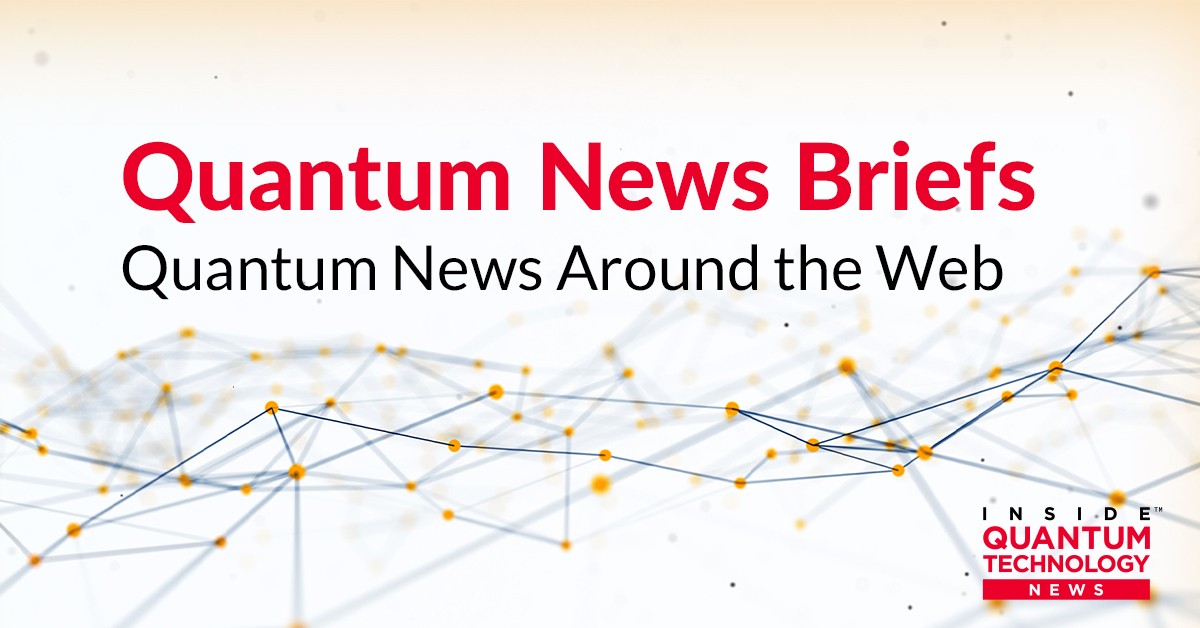 Quantum News Briefs December 15 begins with news of another international partnership with India's Tech Mahindra partnering with Finland's IQM Quantum Computers for research in quantum computing followed by update on the Quantum Computing Cybersecurity Preparedness Act clearing Senate & sent to President Biden for signature.  Third is announcement that Roland Acra, former CTO of Cisco, is joining PsiQuantum as Chief Business Officer. AND MORE.
*****
India's Tech Mahindra partners with Finland's IQM Quantum Computers for research in quantum computing
Tech Mahindra, a leading provider of digital transformation, consulting, and business re-engineering services and solutions, and IQM Quantum Computers have signed a Memorandum of Understanding (MoU) for research in quantum computing. The organizations will explore synergies in mutually beneficial areas of quantum computing, cryptography, and communication technologies.
As part of the partnership, the organizations will jointly develop new quantum computing offerings for various industries including healthcare, cyber security, and banking, among others. They will further co-develop and market quantum technology use cases in India and Finland.
Tech Mahindra has been working to accelerate the adoption and commercialization of quantum technology globally. In line with this, the organization is also setting up its Quantum Centre of Excellence – QNxt in Helsinki, Finland. With the partnership with IQM Computers. Finland and India have strong ties in science, technology, and innovation and both the countries are working towards establishing the Indo-Finnish Virtual Network Center for quantum computing.
Both organizations will further strengthen their research and design capabilities and quantum computing offerings. The partnership will combine Tech Mahindra's industry knowledge in quantum computing, including hybrid algorithms, quantum machine learning, and quantum simulation, along with IQM's leading expertise in superconducting quantum hardware, quantum algorithm development capabilities, and its unique application-specific, Co-Design approach. Click here to read complete, substantative announcement.
NOTE: IQT NORDICS announced for Copenhagen, Denmark June 6-8, 2023 in partnership with the Danish quantum community and several other Nordic organizations from Finland and Sweden
*****
Quantum Computing Cybersecurity Preparedness Act cleared Senate & sent to President Biden for signature
The Senate on Dec. 9 unanimously approved legislation passed earlier this year by the House that helps to set the Federal government on the path to defend against quantum computing-enabled data breaches that will become more of a threat as quantum tech advances in the coming years.
The bill was sent to President Biden's desk for his signature.
The Quantum Computing Cybersecurity Preparedness Act was introduced by Sens. Maggie Hassan, D-N.H., and Rob Portman, R-Ohio. A companion bill was introduced in the House by Reps. Ro Khanna, D-Calif., and Nancy Mace, R-S.C.
"Data breaches exploited by quantum computing are a serious national security concern. America's adversaries look for any vulnerabilities in our cybersecurity systems to threaten our infrastructure, data, and security," Sen. Hassan said in a statement. "It is crucial that we are ready to defend against any adversaries using this incredibly sophisticated and emerging technology against our country."
The bill requires the Office of Management and Budget (OMB) to begin moving forward with migrating IT systems to post-quantum cryptography for many Federal agencies. It also would require the White House to help with creating guidance for agencies to assess critical systems, and relay that to Congress for funding that may be necessary to protect systems against quantum tech threats.
In addition, the bill would require OMB to send an annual report to Congress that includes a strategy for how to address post-quantum cryptography risks from across the government. Click here to read announcement in-entirety.
*****
Roland Acra Joins PsiQuantum as Chief Business Officer
PsiQuantum announced the addition of Roland Acra to its leadership team. Roland joins as Chief Business Officer and will lead the company's business strategy, including commercial, global market expansion, quantum applications and software development.
"We are thrilled to be bringing another Silicon Valley veteran to help lead the team forward as we move into the infrastructure phase of our development," said Jeremy O'Brien, CEO and co-founder of PsiQuantum. "Roland's track record in building and leading new technology companies will accelerate PsiQuantum's growth trajectory as we enter this next phase of scaling and maturity."
Roland brings to PsiQuantum a distinguished track record in the technology industry spanning over 25 years. He previously held the role of Chief Technology Officer at Cisco until earlier in 2022. Prior to that, he was Senior Vice President and General Manager of Cisco's Data Center Business Group. In this role, he led the development and marketing of several generations of Data Center switching products, blade and rack server products, and introduced several industry-first software platforms for Data Center predictive analytics, assurance, and insights.
In addition to his corporate leadership background, Roland's experience also extends to building and scaling new companies from inception. He was President and CEO of Arch Rock Corporation, a category leader in IPv6 wireless mesh networks and energy data analysis which, following acquisition, played a significant role in the formation of Cisco's Smart Grid Business Unit. Roland was also President and CEO of Procket Networks, a leading-edge provider of Internet backbone core and edge routers.
*****
IonQ Announces New Chief Revenue Officer, Appoints New Member to Board of Directors
IonQ has announced two new additions to the company with the hiring of Rima Alameddine as IonQ's Chief Revenue Officer (CRO), and the appointment of Wendy Thomas, President and CEO of Secureworks, to the IonQ Board of Directors.
As the CRO, Alameddine joins IonQ's leadership team directly from NVIDIA, where she served as Vice President of Enterprise Sales for the Americas across multiple industries. At IonQ, she will lead the company's commercial strategy to make quantum applications a widely-accessible reality. As a member of the Board of Directors, Thomas will help support IonQ as it builds the world's best quantum computers to solve the world's most complex problems. Both Alameddine and Thomas will play a key role in the company's mission to build the world's best quantum computers to solve the world's most complex problems.
Alameddine will lead IonQ's rapidly growing sales and revenue business unit, creating the roadmap for current and future customers to transform their industries and solve some of the world's biggest problems using quantum solutions. She assumed multiple leadership roles in her nearly seven-year tenure at NVIDIA. Starting with establishing and leading the company's sales business for the Eastern half of the United States and then proceeding to build and grow the Americas sales business across multiple industries by educating customers and helping them leverage the power of AI to solve problems. Prior to that, she spent 18 years at Cisco where she led the New York Enterprise business across the company's full portfolio of solutions, and also served as the executive sponsor for Cisco's leadership development program. Under Alameddine's leadership, IonQ will significantly invest in its commercialization efforts, which will contribute towards impactful growth in the coming years.
Thomas leverages over 25 years of experience in strategic and functional leadership roles in the enterprise and brings a stellar track record as a transformative leader in the technology industry. First as CFO and now in her role as CEO, she led an organizational change strategy that grew Secureworks to a publicly traded cybersecurity leader with a market capitalization of more than $500 million. She joined Secureworks in 2008 leading Financial Planning & Analysis (FP&A), where she helped to execute strategic acquisitions that scaled the business and Secureworks' IPO in 2016. In addition to serving as CFO and CEO of Secureworks, she has also held roles including Chief Product Officer (CPO) and president of customer success, where she drove a customer-centric approach to help organizations achieve better security outcomes. Her past experience includes leadership roles at FirstData, BellSouth, and Internap Network Services, Inc.
Alameddine's hire as CRO and Thomas' appointment to the Board marks another accomplishment for IonQ as it makes good on its commitment to diverse perspectives among its leadership team.
*****
Sandra K. Helsel, Ph.D. has been researching and reporting on frontier technologies since 1990.  She has her Ph.D. from the University of Arizona.