Quantum News Briefs September 5: Q-CTRL, Diraq partner to secure millions for three public-sector quantum projects;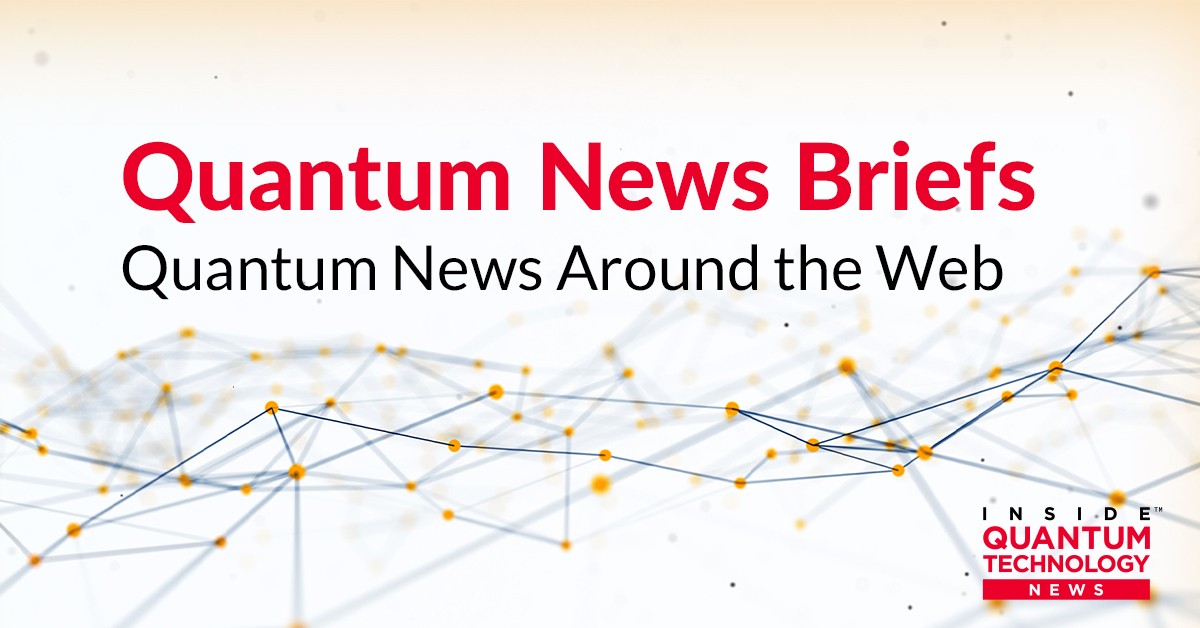 Quantum News Briefs September 5:
Q-CTRL, Diraq partner to secure millions for three public-sector quantum projects
Q-CTRL, a global leader in developing useful quantum technologies through quantum control infrastructure software, and Diraq, a leading innovator in Silicon-based quantum computing, today announced they will be partnering on three multi-million-dollar projects to expand the commercial adoption of quantum computing. It represents the first stage of an anticipated partnership delivering new, high-impact quantum computing capabilities to the global market, from Australia.
The two Australian quantum technology companies will deliver three projects together: two from the NSW Office of the Chief Scientist and Engineer's Quantum Computing Commercialisation Fund (QCCF) and one from the U.S. Army Research Office. Q-CTRL and Diraq are sharing responsibilities on the projects: Diraq will develop and provide access to its Silicon quantum computing hardware and Q-CTRL will build and integrate its quantum infrastructure software solutions to deliver maximum end-user value from the hardware.
Diraq is a world leader in building quantum processors using silicon 'quantum dot' technology,
leveraging over two decades in engineering and research expertise at UNSW Sydney and backed by an extensive IP portfolio.
"The partnership between Diraq and Q-CTRL exemplifies our shared commitment to driving the next era of innovation in the quantum computing industry, both locally in Australia and globally," said Diraq CEO and Founder, Andrew Dzurak. "We are delighted to collaborate with Q-CTRL, leveraging our specialised areas of expertise to jointly drive successful outcomes across these transformative projects."
Australian companies and University teams have long engaged with the US Army Research Office in support of quantum computing capability development. In the current project led by Diraq, the two teams will focus on developing novel techniques to operate and optimize next-generation Silicon quantum processors. The ARO R&D program now aligns with quantum technology initiatives supported under the trilateral AUKUS agreement's Pillar II. AUKUS Pillar II is aimed at enhancing capabilities and interoperability with a focus on cyber capabilities, AI, quantum technologies and undersea capabilities.
Advancing innovation in the UK quantum space
Professor Tim Spiller, Director of the Quantum Communications Hub led by the University of York, recently discussed with InnovationNewsNetwork how the UK is working to propel innovation in quantum technologies. Quantum News Briefs summarizes.
The UK launched the National Quantum Technologies Programme (NQTP) to support ideas, innovation and investment to secure UK advantage and opportunities in the growing quantum era in 2014. The programme is a £1bn collaboration between industry, academia and government and helps to transform leading-edge science into new products and services.
The launch of the NQTP saw the formation of four key Hubs that represent broad areas of focus into which the national programme is divided. These include Communications, Sensors and Timing, Enhanced Imaging and Computing. Each Hub brings together UK-wide expertise from universities, national laboratories, business development and industry partners, to steer proposed developments in each focus area.
This year, UK quantum technologies saw a further £2.5bn commitment to development with the launch of the National Quantum Strategy (NQS). Aligned with the goals of the NQTP, the NQS sets out a ten-year vision, funding strategy, and actions to enable the UK to become a leading quantum-enabled economy.
The UK was one of the first countries to put in place a major co-ordinated national programme – the NQTP – which is admired by many other countries.
There are two notable barriers at present.Firstly, there are some very nice demonstrations in principle of how to turn basic quantum science into an embryonic technology or a prototype. A lot of technical engineering is then needed to develop the prototype or defining experiment into a technology.
The other barrier is market pull, which there isn't enough of at present. To overcome this, you must have better offerings and solve more of the engineering problems to make tangible products. Only then will there be an increased market pull. Currently, the significant companies involved in UK quantum technologies are doing their best to generate further market pull.
The National Quantum Strategy was released on the same day as the 2023 UK government Budget. Roughly speaking, the end of November next year will mark the completion of the first ten years of the NQTP. Over that ten-year period, the total investment in the UK national programme is calculated to be around £1bn, funded by a mixture of UK government money, industry-matched investment, and private and venture investment. Click here to read original article in-entirety.
Are telcos ready for a quantum leap?
Quantum technologies present both an opportunity for telcos to solve difficult problems and provide new services, and a security threat that could require extensive IT investment. Joanne Taaffe explored both in her globe- spanning article in TheLastMode early September. Quantum News Briefs summarizes.
The Global Risk Institute tracks the quantum threat timeline [3]. In its latest annual report, the organization asked 40 quantum experts whether they thought it likely that within the next ten years a quantum computer would break an encryption scheme like RSA-2048 in under 24 hours. Over half the respondents judged the event to be more than 5% likely and almost a quarter considered it to be more than 50% likely. Any breakthrough will come from a relatively small number of actors. Today, governments and academic institutions are home to around half of the 163 projects accounted for worldwide by Global Quantum Intelligence, a research and analysis company, according to its CEO, André M. König, with big technology companies and specialized start ups accounting for the rest.
"You're going to find tens of thousands of vulnerabilities that are critical and vulnerable to a quantum attack. So, do you have to worry about it today? Absolutely – even if it's in 2035," says König. "Anyone who has ever done [IT implementation projects], and anyone who's ever worked in cybersecurity [knows], tens of thousands of vulnerabilities that are critical [requires] years and years and years of just traditional integration work. So, even if you're skeptical about quantum, if you haven't started today, it is almost too late already."
The telecoms industry as a whole, however, is not moving as quickly as some other sectors, according to König, notably the banking, pharmaceutical and automotive industries, for which he says post-quantum security planning "is all very, very strategic – they do this at the CEO level".
For this reason, Vodafone joined forces with IBM in September 2022 to establish the GSMA Post-Quantum Telco Network Taskforce.
"Even though many industries are preparing to be able to defend against future quantum threats, we didn't see anything happening particularly in in the telco space, and we wanted to make sure that it was a focus," says Ibbetson.
AT&T has also been working to pinpoint what needs to be addressed. Last year the company said it aims to be quantum ready [4] by 2025, in the sense that it will have done its due diligence and identified a clear path forward.
Outside the EU, BT has already built and is now operating a commercial metro quantum-encryption network in London."The London network has three quantum nodes which are the bearers carrying the quantum traffic for all of the access ingress," explains Lord. A customer in London's Canary Wharf, for example, could link via the network to the nearest quantum-enabled BT exchange. From there it joins a metro network, which carries the keys from multiple customers "in an aggregated cost-effective way to the egress points," according to Lord.
SK Telecom is also heavily involved in quantum-related research, with developments including QKD systems [8] for the control and interworking of quantum cryptography communication networks. Japan is another important center of QKD research. A QKD network has existed in Tokyo since 2010 and in 2020, financial services company, Nomura Securities Co., Ltd. tested the transmission of data across the Tokyo QKD network.
Given China's heavy investment in quantum technologies, it is no surprise to see its telecoms operators involved in the field. China Telecom, for example, recently investing 3bn yuan ($434m) investment in quantum technology deployment, according to Reuters.  Click here to read article in-entirety.
DARPA investing  $2.4M into Virginia Tech program using quantum concept to achieve thermal imaging at room temperature

The Defense Advanced Research Projects Agency (DARPA) is investing up to $2.4 million over the next five years into a project from Virginia Tech Center for Quantum Information Science and Engineering. Researchers are using principles of quantum mechanics to achieve ultrasensitive thermal imaging at room temperature and push the fundamental limits of what infrared detectors can sense. Quantum News Briefs summarizes the August 23 announcement.
Led by Linbo Shao, assistant professor in the Bradley Department of Electrical and Computer Engineering, the team's new approach aims to sharpen the sensitivity of detectors looking at the mid- and long-wavelength infrared part of the spectrum. This band of radiation is key to night vision, monitoring body temperature, and spotting forest fires as well as tracking rockets, missiles, and airplanes. Enhancing the sensitivity of such detectors would open new opportunities for research and applications, including better ways to search for chemical signs of life on other planets, stealth navigation of vehicles in pitch black, and early disease detection through breath analysis.
Shao is collaborating with Yizheng Zhu, associate professor of electrical and computer engineering and member of the Virginia Tech quantum community, as well as Yu Yao from Arizona State University.
The team is relying on a quirky behavior exhibited by certain systems when they reach the so-called exceptional point, where a quantum property called parity-time symmetry breaks down and results in a dramatic increase of sensitivity.
Like a musician tuning to a certain pitch, the researchers will tweak and tune the vibrations within the resonating platform to the sweet spot where the mathematical values associated with the vibrations collapse on each other. At this exceptional point, a miniscule vibration from an infrared input will trigger a much larger signal that is far easier to detect.
"Using the exceptional point is really what sets this endeavor apart from anything that's come before — it's a brand new strategy for thermal detection," said Shao. "It's not an engineering improvement, it's a transformative approach." Click here to read the announcement in-entirety on Virginia Tech website.
Sandra K. Helsel, Ph.D. has been researching and reporting on frontier technologies since 1990.  She has her Ph.D. from the University of Arizona.