Quantum News Briefs September 25: Toshiba opens £20m UK quantum factory. aims for chip-based QKD; Canada's DistriQ deploying C$435M+ to make Québec a global leader in commercialization of quantum; ParTec AG becomes a complete integrator of quantum computers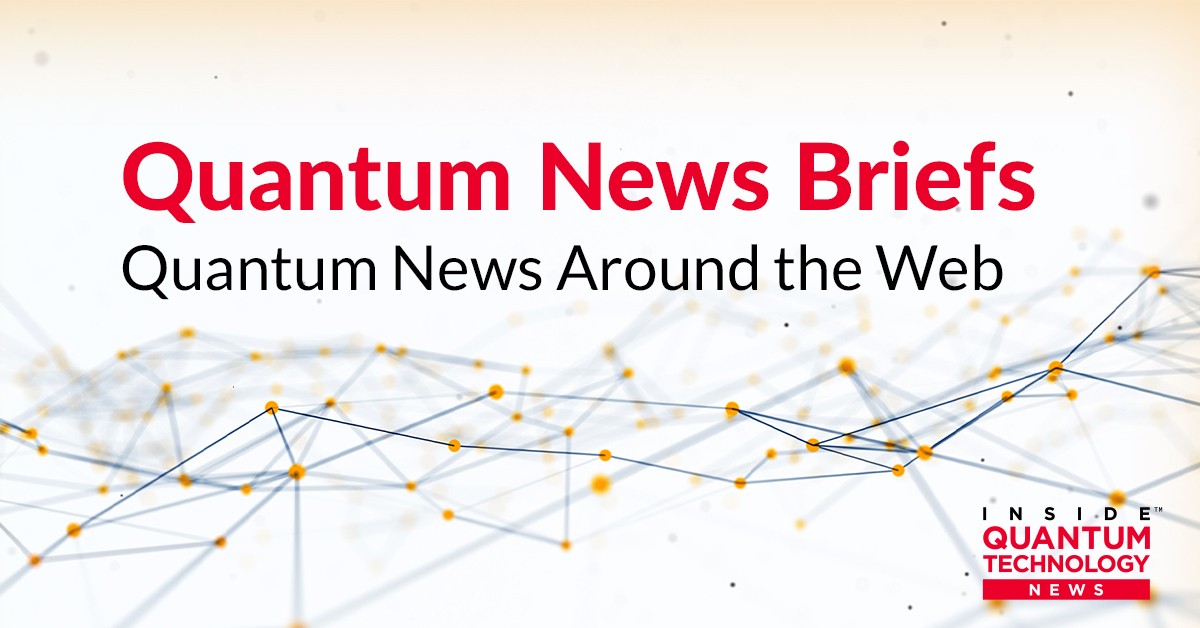 Quantum News Briefs September 25:
Toshiba opens £20m UK quantum factory. aims for chip-based QKD
Toshiba has opened its QKD Quantum Technology Centre in Cambridge, UK. Quantum News Briefs summarizes the September 22 EEEENews.Europe article.
The new facility, located in the Cambridge Science Park, is a commercial offshoot from the Toshiba Cambridge Research Laboratory and represents a £20 million investment from Toshiba into the development of quantum-secure quantum key distribution (QKD) networking system.
Toshiba is a Platinum Sponsor at IQT NYC 2023
The Quantum Technology Centre is a fully commercialised business operating under Toshiba Digital Solutions Corporation, and will not only work to commercialise Toshiba's innovative quantum-secure networking technologies, but also manufacture initial products such as its Quantum Key Distribution (QKD) system.
The investment will also initially create over 30 new roles across a broad range of disciplines, ranging from business development to production.
Alongside supporting the commercial adoption of existing technologies such as QKD, the Quantum Technology Centre will also support the further development of other quantum-based technologies. This includes chip-based QKD, which will be instrumental in supporting the mass-market adoption of QKD, and twin-field QKD, which could facilitate quantum-secure links spanning over 500km. Click here to read the original article in-entirety.
Canada's DistriQ deploying C$435M+ to make Québec a global leader in the commercialization of quantum
DistriQ is deploying C$435M+ to make Québec a global leader in the commercialization of quantum with 
the world's largest (50,000 sq. ft.) and most comprehensive quantum commercialization space.
DistriQ was founded by the Québec government to orchestrate a quantum ecosystem to support innovation and commercialization.
DistriQ Quantum Innovation Zone announced the deployment of Canada's first IBM quantum computer on September 22.
DistriQ will work in Québec with IBM Quantum System One as well as a PASQAL quantum computer. The two quantum computers will provide significant advantages to Global 1000 companies in sectors including battery design for renewable energy storage, artificial intelligence and financial applications.
IBM Quantum System One features IBM Discovery Accelerator: AI, quantum and cloud computing in one. IBM's flagship quantum system in Canada is the 4th operated by IBM partners after US, Germany and Japan.
"DistriQ contributes to the recognition of Quebec's quantum industry on the global stage, from university innovation to solutions ready to be commercialized. With the strategic integration of IBM Quantum System One into the Innovation Zone portfolio, we are supporting one of the largest quantum research infrastructures in the world. Our strategy to foster innovation success not only encourages global quantum companies to establish offices in Quebec, but also offers transformative technological solutions to various industries. In Quebec, we have a solid foundation for growing the quantum industry, decades of excellence in higher education and research from the University of Sherbrooke and numerous partners in technological research, such as Polytechnique Montréal, McGill University and the University of Montreal."
Click here for complete details.
ParTec AG becomes a complete integrator of quantum computers
ParTec AG, a leading company in the field of modular supercomputing, announced September 22 that as a result of its years of work in the field of quantum computing, it is positioning itself as a complete integrator of quantum computers. ParTec offers a comprehensive qubit-agnostic solution based on a component-based design. Similar to developments that took place in classical computing, a supply chain ecosystem with companies focusing on individual component technologies is emerging in the quantum space. This development allows ParTec AG to leverage its best-of-breed approach from supercomputing and collaborate with leading technology providers to offer comprehensive quantum complete solutions.
The company aims to launch its first quantum computer in 2024. Dominik Ulmer, Chief Customer Solutions Officer at ParTec: "Therefore, we have decided to start a project to establish a production facility for quantum computers in the Greater Munich area. The 'ParTec Quantum Factory' is expected to start operations in the second half of 2024."The company will initially invest five million euros in the construction of a production facility for assembly and testing of cryogenic and non-cryogenic systems.
Among ParTec's achievements in the field of quantum computing is the development of QBridge, a software solution that enables seamless integration of high-performance and quantum computers, created in collaboration with Quantum Machines, an Israeli developer of quantum control and orchestration products. In addition, ParTec is actively working on expanding its Parastation Modulo software, used in modular supercomputers. This expansion, Parastation Modulo 2.0, aims to bridge the gap to embed quantum computers into modular supercomputers. Furthermore, ParTec will deliver a superconducting complete solution and a cloud-based user access and management software infrastructure for the Israeli National Quantum Initiative (INQI), as well as establish a new laboratory for exploring hybrid quantum computing in collaboration. Click here to read complete September announcement.

IIT Bombay joins Chicago Quantum Exchange, forms partnership with UChicago
The Indian Institute of Technology Bombay (IIT Bombay) and the University of Chicago announced a science and technology partnership to promote cooperation in fields such as quantum information science, climate and energy, advanced microelectronics, artificial intelligence and data science on September 8. Quantum News Briefs summarizes.
IIT Bombay also has joined the Chicago Quantum Exchange (CQE), headquartered at the University of Chicago, as an international partner. The joint-statement-from-india-and-the-united-states was highlighted during a meeting between President Joe Biden and Indian Prime Minister Narendra Modi at the G20 summit in New Delhi, India. UChicago's new partnership with IIT Bombay reaffirms the goals of the U.S.-India initiative on Critical and Emerging Technology (iCET) to elevate and expand strategic partnership between the two countries' governments, businesses and academic institutions.
"Engaging in field-defining research at the frontiers of knowledge requires global partnerships. For the University of Chicago, this agreement with IIT Bombay is important not just for the scale that our collaborative efforts will achieve on new and emerging technologies, but also for developing future talent in these fields," said Juan de Pablo, the Liew Family Professor of Molecular Engineering, and Executive Vice President for Science, Innovation, National Laboratories and Global Initiatives at the University of Chicago.
IIT Bombay has joined the CQE as one of only five international partners. The CQE, an intellectual hub for advancing the science and engineering of quantum information, is headquartered at UChicago and is anchored by Argonne National Laboratory and Fermi National Accelerator Laboratory, the University of Illinois Urbana-Champaign, the University of Wisconsin-Madison and Northwestern University. Click here to read the announcement in-entirety.
Sandra K. Helsel, Ph.D. has been researching and reporting on frontier technologies since 1990.  She has her Ph.D. from the University of Arizona.