Quantum News Briefs September 21: FedLearn launches quantum tech course by SandboxAQ; U of Maryland celebrates grand opening of Quantum Computing Research Hub; BTQ Technologies selected for 2023 Canada-South Korea Quantum R&D Delegation; U of Maryland celebrates grand opening of Quantum Computing Research Hub + More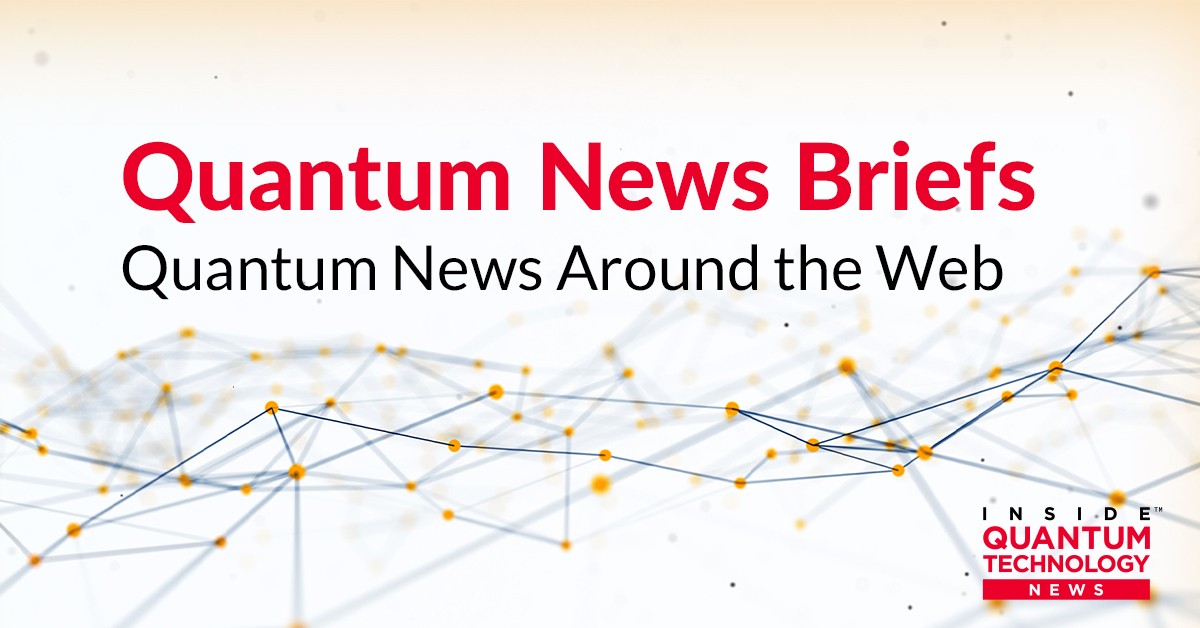 Quantum News Briefs September 21:
FedLearn launches quantum tech course by SandboxAQ
FedLearn, an online, artificial intelligence-powered learning solutions provider offering content specialized and contextualized to federal government mission areas—particularly in the U.S. Department of Defense and Intelligence Community—announced the release of a new training course, Quantum Technologies, developed by SandboxAQ, an enterprise SaaS company providing solutions at the nexus of AI and quantum technology to address some of the world's greatest challenges.
This self-paced, two-hour online course provides an overview of the key opportunities, challenges and risks in quantum technology research and development. After completing the course, learners will be able to effectively communicate the basic principles of quantum science, for instance quantum sensing, post-quantum cryptography and quantum simulation, in a non-technical manner. They will also understand how to properly evaluate and compare the value of quantum technology hardware.
The Quantum Technologies course was created by SandboxAQ's education team, and is hosted by SandboxAQ's Research Mathematician Tai-Danae Bradley, PhD; Vice President of Engineering Stefan Leichenauer, PhD; and Public Sector Technical Director Paul Kassebaum, PhD.
"FedLearn is delighted to partner with SandboxAQ to deliver our first online course in quantum science to our customers," said FedLearn Founder and Chief Executive Officer Dr. J. Keith Dunbar. "Quantum technologies will profoundly impact the future of U.S. intelligence and defense mission areas. Providing the right learning opportunities on these rapidly emerging technologies in a scalable manner is crucial to the expansion of their use to advance our nation's vital interests and security."
"SandboxAQ has extensive experience in creating quantum curricula and training modules for government agencies, universities and corporations, helping them gain the knowledge and skills they need to support the growing quantum ecosystem" said SandboxAQ President of the Public Sector Jen Sovada. "Our partnership with FedLearn expands our public sector education initiatives, bringing our expertise in quantum information science to individuals across national security disciplines to help prepare them for success in the coming quantum era."  Click here to read the announcement in-entirety.
BTQ Technologies selected for 2023 Canada-South Korea Quantum R&D Delegation
BTQ, a global quantum technology company focused on securing mission-critical networks, is proud to announce its selection for the 2023 Canada Quantum Technology R&D Mission to South Korea. Quantum News Briefs summarizes the announcement.
BTQ will join a Canadian delegation, which includes 11 leading companies and institutions in the realms of quantum sensing, quantum computing, and quantum communication, will participate in a series of collaborative eventswith South Korean companies, research institutes, academia, and other key players in the quantum technology sector from October 31 to November 2. Quantum Briefs summarizes.
This comes as a result of South Korea's ambitious strategy to invest over 3 trillion won ($2.33 billion) in quantum science and technology by 2035, positioning themselves as a major global player in the quantum arena.
These meetings are organized by the Canadian Embassy in Seoul and are designed to foster collaboration and partnership. Further details on the Korea-Canada Quantum Innovation Forum and individual interviews will be shared in due course.
Joining BTQ Technologies in the delegation are: 1QBit, Agnostiq, Anyon Systems Inc., Applied Quantum Materials Inc., Good Chemistry Company, GoodLabs Studio, OTI Lumionics Inc., Xanadu, Quantum Valley Ideas Lab, and Québec Quantique.
Earlier this year, South Korea announced plans to invest over 3 trillion won ($2.33 billion<) in quantum science and technology by 2035. This signals the country's ambition to position itself as a global heavyweight in the domain. The nation's roadmap includes augmenting the quantum researcher base seven-fold to 2,500 and nurturing home-grown expertise in quantum computing and advanced quantum sensors. Strategic partnerships with global giants such as IBM and IonQ are also on the cards.  Click here to read announcement in-entirety.
U of Maryland celebrates grand opening of Quantum Computing Research Hub
The University of Maryland announced the grand opening of the National Quantum Laboratory (QLab) on September 20. Quantum News Brief, a groundbreaking quantum research center developed in partnership with College Park-based IonQ, a leader in the quantum computing industry. The QLab enables people from across the nation and around the world to work with one of the world's most powerful quantum computers alongside leading experts in the field in efforts to address some of the most complex challenges of our time.
Located at the company's headquarters off College Avenue in UMD's Discovery District, this cutting-edge workspace aims to build the next generation of quantum talent and innovations and further establish the region as the Capital of Quantum.
U.S. Sen. Ben Cardin of Maryland told attendees that the university-company partnership is a step toward building quantum computing as a necessary societal tool.
"This is important for Maryland and the University of Maryland, but what you're doing here today is critically important to America's future and quite frankly, the global future," Cardin said.
Thanks to a nearly $20 million UMD investment that fueled the facility's opening, researchers, students, industry leaders, entrepreneurs and others are already taking advantage of the QLab collaboration to explore how quantum computers can help improve machine learning and AI, materials discovery, supply chain logistics, climate modeling, cybersecurity and more.
As a node in the Mid-Atlantic Regional Quantum Internet, the QLab is also accelerating the development of quantum networking capabilities necessary to realize the full potential of quantum computers, sensors and communications systems. QLab also supports the growth of a skilled quantum workforce and has hosted more than 300 participants in virtual and in-person workshops and bootcamps. Click here to read the complete announcement in Maryland News.
IIT Bombay joins Chicago Quantum Exchange, forms partnership with UChicago
The Indian Institute of Technology Bombay (IIT Bombay) and the University of Chicago announced a science and technology partnership to promote cooperation in fields such as quantum information science, climate and energy, advanced microelectronics, artificial intelligence and data science on September 8. Quantum News Briefs summarizes.
IIT Bombay also has joined the Chicago Quantum Exchange (CQE), headquartered at the University of Chicago, as an international partner. The joint-statement-from-india-and-the-united-states was highlighted during a meeting between President Joe Biden and Indian Prime Minister Narendra Modi at the G20 summit in New Delhi, India. UChicago's new partnership with IIT Bombay reaffirms the goals of the U.S.-India initiative on Critical and Emerging Technology (iCET) to elevate and expand strategic partnership between the two countries' governments, businesses and academic institutions.
"Engaging in field-defining research at the frontiers of knowledge requires global partnerships. For the University of Chicago, this agreement with IIT Bombay is important not just for the scale that our collaborative efforts will achieve on new and emerging technologies, but also for developing future talent in these fields," said Juan de Pablo, the Liew Family Professor of Molecular Engineering, and Executive Vice President for Science, Innovation, National Laboratories and Global Initiatives at the University of Chicago.
IIT Bombay has joined the CQE as one of only five international partners. The CQE, an intellectual hub for advancing the science and engineering of quantum information, is headquartered at UChicago and is anchored by Argonne National Laboratory and Fermi National Accelerator Laboratory, the University of Illinois Urbana-Champaign, the University of Wisconsin-Madison and Northwestern University. Click here to read the announcement in-entirety.
Sandra K. Helsel, Ph.D. has been researching and reporting on frontier technologies since 1990.  She has her Ph.D. from the University of Arizona.