Quantum News Briefs September 14: Qrypt appoints FS-ISAC CEO, Steven Silberstein, to Board of Advisors; Quantinuum advances Monte Carlo Techniques with Quantum Monte Carlo Integration Engine; IIT Bombay joins Chicago Quantum Exchange, forms partnership with UChicago + MORE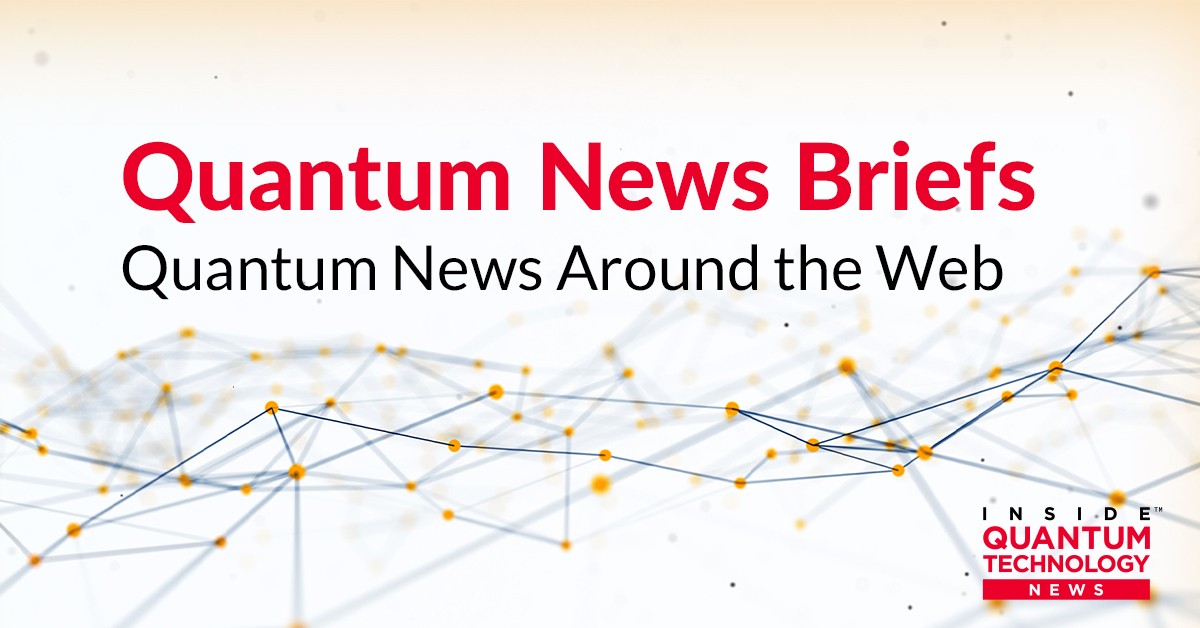 Quantum News Briefs September 14:
Qrypt appoints FS-ISAC CEO, Steven Silberstein, to Board of Advisors
Qrypt announced on September 13 that Steven Silberstein, the CEO of FS-ISAC (the Financial Services Information Sharing and Analysis Center), is joining its Board of Advisors. Quantum News Briefs summarizes the announcement.
With more than 25 years of experience in financial services, technology and cybersecurity, Silberstein is a longstanding leader in promoting data security and protecting the financial sector from cybersecurity threats.
Silberstein has spent his career at the intersection of financial services, technology and cybersecurity. FS-ISAC is the financial sector's information-sharing collaborative, whose 5,000 members represent $100 trillion in assets. Prior to FS-ISAC, Silberstein served as chief operating officer of BlueVoyant, a global cybersecurity firm, and as CEO of Sheltered Harbor, a not-for-profit subsidiary of FS-ISAC developing data resiliency standards for financial institutions. He was also the first CTO of Sungard, a $3 billion financial technology company acquired by FIS Global. Additionally, Silberstein has held technology leadership positions at Chi-X Global, Lehman Brothers and FAME Information Systems. Today, he serves on the board of the International Association for Quantitative Finance and Rensselaer Polytechnic Institute's Lally School of Management Leadership Council.
"It is an incredible honor to serve on the Advisory Board of Qrypt, a company at the forefront of quantum security," said Silberstein. "While digitalization has dramatically pushed the financial services sector forward, I also understand the risk this brings to our privacy and security. Our critical infrastructure must start preparing for a post-quantum world and Qrypt is solving for this today. I look forward to supporting them at such an exciting time for the company."
Qrypt has developed a proven, unbreakable quantum-secure encryption solution in exclusive partnership with the most renowned labs in the industry, including Oak Ridge National Lab, Los Alamos National Lab and École Polytechnique Fédérale de Lausanne (EPFL). This revolutionary encryption solution eliminates the key transmission process used in traditional encryption methods, ensuring enhanced data protection.
"We are delighted to have such a well-respected and knowledgeable figure in the financial services industry, who is equally invested in data security, on our board," said Kevin Chalker, CEO and co-founder of Qrypt. "Steven will be integral in helping Qrypt protect an industry vital to the U.S. economy and the privacy of its many users through quantum security. We are focused on helping to secure highly regulated industries from quantum attacks, which if compromised, can cause widespread damage to critical infrastructure." Click here to read original September news announcement in-entirety.
Quantinuum advances Monte Carlo Techniques with Quantum Monte Carlo Integration Engine
Quantinuum has announced the publication of full details of their complete Quantum Monte Carlo Integration (QMCI) engine. QMCI applies to problems that have no analytic solution, such as pricing financial derivatives or simulating the results of high-energy particle physics experiments and promises computational advances across business, energy, supply chain logistics and other sectors. Quantum News Briefs summarizes the September 13 announcement.
The QMCI tool, utilizing advanced quantum algorithms, will allow quantum computers to perform estimations more efficiently and accurately than equivalent classical tools, inferring an early-stage quantum advantage in areas such as derivative pricing, portfolio risk calculations and regulatory reporting. A white paper supporting the new tool reveals that QMCI benefits from a computational complexity advantage over classical MCI, and suggests the engine has the potential to provide quantum usefulness in its current form.
The white paper, A Modular Engine for Quantum Monte Carlo Integration, has been made available on arXiv, detailing, among other items, "the enhanced P-builder", a tool for constructing quantum circuits representing commonplace computational methods used in finance. The white paper also proposes how users of the new tool could obtain quantum advantage without compromising statistical robustness in the ensuing estimates.
The engine has four modules – loading probability distributions and random processes as quantum circuits; programing a wide variety of financial calculations; programming different statistical quantities (e.g. mean, variance and others); and the estimation of quantum amplitude, which is the core source of computational advantage in QMCI. The engine features a resource mode, which precisely quantifies the exact quantum and classical resources needed for user-specified calculations – a feature which is essential for predicting when particular applications will enjoy quantum advantage. Thus, the paper reveals a direct line of sight to quantum advantage and concludes users will achieve useful benefits sooner still. Click here to read the complete announcement on the Quantinuum website.
IIT Bombay joins Chicago Quantum Exchange, forms partnership with UChicago
The Indian Institute of Technology Bombay (IIT Bombay) and the University of Chicago announced a science and technology partnership to promote cooperation in fields such as quantum information science, climate and energy, advanced microelectronics, artificial intelligence and data science on September 8. Quantum News Briefs summarizes.
IIT Bombay also has joined the Chicago Quantum Exchange (CQE), headquartered at the University of Chicago, as an international partner. The joint-statement-from-india-and-the-united-states was highlighted during a meeting between President Joe Biden and Indian Prime Minister Narendra Modi at the G20 summit in New Delhi, India. UChicago's new partnership with IIT Bombay reaffirms the goals of the U.S.-India initiative on Critical and Emerging Technology (iCET) to elevate and expand strategic partnership between the two countries' governments, businesses and academic institutions.
"Engaging in field-defining research at the frontiers of knowledge requires global partnerships. For the University of Chicago, this agreement with IIT Bombay is important not just for the scale that our collaborative efforts will achieve on new and emerging technologies, but also for developing future talent in these fields," said Juan de Pablo, the Liew Family Professor of Molecular Engineering, and Executive Vice President for Science, Innovation, National Laboratories and Global Initiatives at the University of Chicago.
IIT Bombay has joined the CQE as one of only five international partners. The CQE, an intellectual hub for advancing the science and engineering of quantum information, is headquartered at UChicago and is anchored by Argonne National Laboratory and Fermi National Accelerator Laboratory, the University of Illinois Urbana-Champaign, the University of Wisconsin-Madison and Northwestern University. Click here to read the announcement in-entirety.
Classiq advances quantum software presence with Boston expansion
Classiq Technologies announced on September 6 its expansion into the Boston area and the relocation of Shai Lev, vice president of strategic partnerships, to lead the company's growth in North America. Quantum News Briefs summarizes.
Headquartered in Tel Aviv, Classiq has seen rapid growth over the past year as demand increases for its quantum computing software. The company's expansion into Boston enables it to tap into the region's bustling quantum ecosystem, renowned academic institutions and key industries pursuing quantum applications.
"As we continue our impressive momentum helping organizations develop real-world quantum applications, Boston is a clear choice for further expansion," said Nir Minerbi, CEO and co-founder of Classiq. "The Boston area is a hub for quantum research and education with an incredible pool of quantum talent. Industries aggressively exploring quantum's potential, such as financial services, pharmaceuticals and healthcare, are very strong there."
Lev has been instrumental in forging partnerships with leading quantum hardware and software companies. To lead Classiq's North America expansion, he relocated and will open the company's Boston-area office.
"Boston has one of the highest concentrations of quantum activity today – from research at MIT, Harvard and other universities, to government-funded programs and private-sector efforts," said Lev. "It's exciting to represent Classiq in the Boston ecosystem and throughout North America as we introduce more organizations to our technologies and products to accelerate their journey to quantum advantage."  Click here to read the original news announcement in-entirety.
Sandra K. Helsel, Ph.D. has been researching and reporting on frontier technologies since 1990.  She has her Ph.D. from the University of Arizona.