Quantum News Briefs September 10: UChicago, IIT Bombay form new science and technology partnership; Quantum Internet Alliance launches Quantum Internet Application Challenge;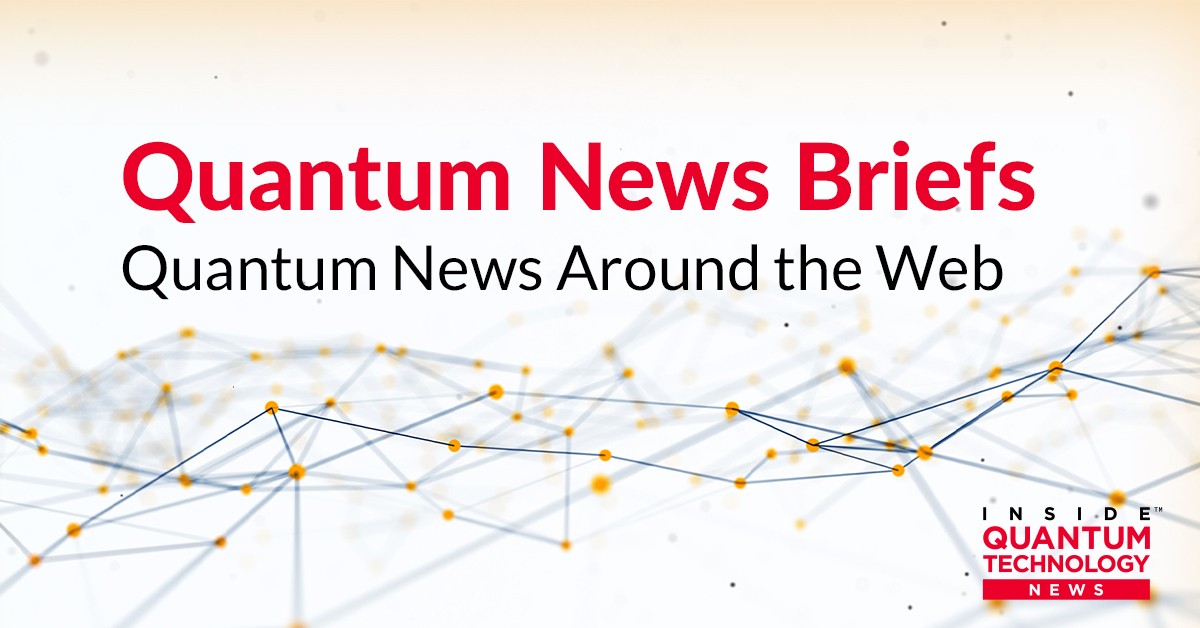 Quantum News Briefs September 10:
UChicago, IIT Bombay form new science and technology partnership
At the G20 Summit in New Delhi, India, the governments of India and the U.S. announced on Friday, September 8 that the University of Chicago (UChicago) and the Indian Institute of Technology Bombay (IIT Bombay) have forged a new collaborative science and technology partnership to share research on quantum technology and other advanced scientific fields such as climate and energy, advanced microelectronics, artificial intelligence and data science. Quantum News Briefs summarizes below.
This partnership reaffirms the goals of the 
U.S.-India initiative on Critical and Emerging Technology
 "to elevate and expand our strategic technology partnership and defense industrial cooperation between the governments, businesses, and academic institutions of our two countries." For UChicago, it serves not only to advance current collaboration on the new and emerging technologies but also helps build a pipeline for developing future talent in these fields.
The agreement unites two of the world's premier quantum ecosystems and was announced in
a statement issued by the White House
. The Chicago area has developed into a leading global hub for research in quantum technology in recent years. UChicago sits at a nexus of quantum innovation, especially given the establishment of the Pritzker School of Molecular Engineering a decade ago. The region is also home to the 
Chicago Quantum Exchange
 (CQE), an intellectual hub based at UChicago and anchored by the U.S. Department of Energy's Argonne National Laboratory and Fermi National Accelerator Laboratory, the University of Illinois Urbana-Champaign, the University of Wisconsin-Madison, and Northwestern University.
Quantum Internet Alliance launches Quantum Internet Application Challenge
The Quantum Internet Alliance (QIA) has announced the launch of its first ever Quantum Internet Application Challenge, an initiative encouraging quantum enthusiasts to take part in shaping the future of the quantum internet. Quantum News Briefs summarizes.
The Challenge is to come up with an innovative idea for an application that utilises quantum network functionalities. The goal is to demonstrate this idea with a prototype by using SquidASM to simulate the quantum functionality. QIA's application simulator SquidASM is an SDK developed by QIA partner QuTech specifically to simulate quantum networking applications. This toolkit provides a selection of quantum primitives, enabling participants to integrate existing elements or devise advanced protocols.
Eligible entries should present a clear application idea and a refined software prototype. Submissions will be evaluated based on novelty, creativity, technical sophistication, and documentation clarity.
This beginner's challenge requires participants to upload their own quantum network application to Quantum Network Explorer (QNE) Community Application Library, a platform co-developed by QIA. This can be as simple as copying as a template an existing application with modified input/output parameters, an implementation of a quantum protocol, or something completely new.
The Prize
The prize for the main challenge offers an internship or research visit to one of the following participating QIA partners:
Quantum Communication and Cryptography group of Anna Pappa — Berlin, Germany
Quantum Computer Science group of Stephanie Wehner — Delft, The Netherlands
Quantum Software Lab of Michele Amoretti — Parma, Italy
QIA will cover travel and accommodation costs of up to 5,000 EUR. Winners for the beginner's challenge, on the other hand, will receive QNE goodie bags and gift vouchers.The Quantum Internet Application Challenge is open for registration from 12 September and submissions will be accepted until October 23, 2023. QIA will announce the winners in early-November.
For more information on the Quantum Internet Application Challenge, visit quantuminternetalliance.org
.Click here to read the original announcement in-entirety.
MIT controls quantum randomness for the first time
A team of researchers from the Massachusetts Institute of Technology (MIT) has achieved a milestone in quantum technologies, demonstrating for the first time the control of quantum randomness. Quantum News Briefs summarizes the September 9 SciTechDaily article.
The team of researchers focused on a unique feature of quantum physics known as "vacuum fluctuations." You might think of a vacuum as a completely empty space without matter or light. However, in the quantum world, even this "empty" space experiences fluctuations or changes. Imagine a calm sea that suddenly gets waves — that's similar to what happens in a vacuum at the quantum level. Previously, these fluctuations have allowed scientists to generate random numbers. They're also responsible for many fascinating phenomena that quantum scientists have discovered over the past hundred years.
The practical implementation of probabilistic computing has been hampered historically by a significant obstacle: the lack of control over the probability distributions associated with quantum randomness. However, the research conducted by the MIT team has shed light on a possible solution.
Specifically, the researchers have shown that injecting a weak laser "bias" into an optical parametric oscillator, an optical system that naturally generates random numbers, can serve as a controllable source of "biased" quantum randomness.Yannick Salamin, a  team member, remarks, "Our photonic p-bit generation system currently allows for the production of 10,000 bits per second, each of which can follow an arbitrary binomial distribution. We expect that this technology will evolve in the next few years, leading to higher-rate photonic p-bits and a broader range of applications."
Professor Marin Soljačić from MIT emphasizes the broader implications of the work: "By making the vacuum fluctuations a controllable element, we are pushing the boundaries of what's possible in quantum-enhanced probabilistic computing. The prospect of simulating complex dynamics in areas such as combinatorial optimization and lattice quantum chromodynamics simulations is very exciting."  Click here to read the original SciTech article in-entirety.
SSH Communications Security joins NIST PQC Migration Consortium
Leading Defensive Cybersecurity Company SSH Communications Security has become part of the US National Institute of Standards and Technology (NIST) Post-Quantum Cryptography Building Block Consortium, operated by the National Cybersecurity Center of Excellence (NCCoE), which is a collaborative hub within NIST that works with industry, government, and academia to address cybersecurity challenges. This innovative collaboration paves the way for quantum-safe solutions in the United States and beyond.
With a rich heritage spanning more than 28 years in encryption expertise, SSH Communications Security's participation in the NIST PQC migration consortium marks an important milestone in its journey toward securing the digital landscape against quantum threats. SSH helps organizations safeguard their mission-critical digital assets at rest, in transit, and in use. SSH has  5,000+ customers worldwide, including 40 percent of Fortune 500 companies and major organizations in the Finance, Government, Retail, and Industrial segment.
"I am immensely proud that SSH Communications Security stands at the forefront of quantum-safe solutions, safeguarding the future of cybersecurity. Our experts are not only engaged in pioneering quantum computing-resistant solutions but are also driving the search for the most robust algorithms to ensure the security of our customers and society's communications once again. As we join hands with the NIST PQC Migration Consortium, we embark on a journey to shape a quantum-secure world for generations to come," finishes Teemu Tunkelo, CEO of SSH Communications Security.
The mission of the Consortium is to bring awareness to the issues involved in migrating to post-quantum algorithms and to develop practices to ease migration from current public-key algorithms to replacement algorithms. NIST does not evaluate commercial products under this Consortium and does not endorse any product or service used.   Click here to read September 1 announcement in-entirety.
Sandra K. Helsel, Ph.D. has been researching and reporting on frontier technologies since 1990.  She has her Ph.D. from the University of Arizona.