Quantum News Briefs October 6: Bosch looks to quantum sensors for medicine and mobility;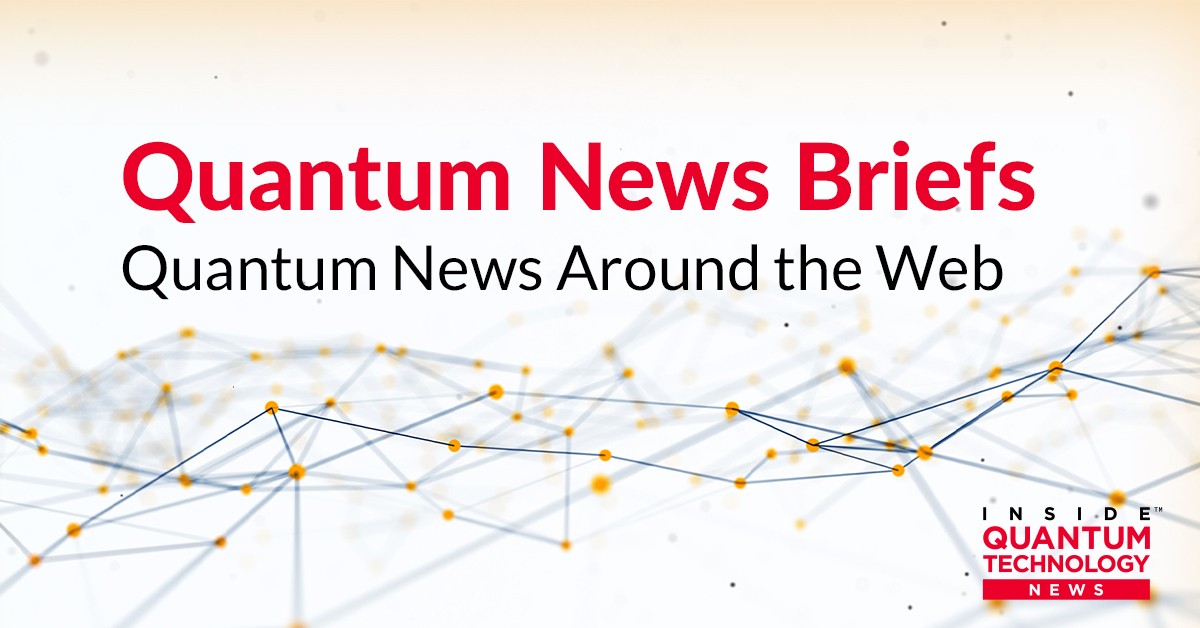 Quantum News Briefs October 6:
Bosch looks to quantum sensors for medicine and mobility
Bosch is now planning to work with the first pilot customers in the medical and mobility industries on specific applications involving quantum sensors over the next two years. Quantum News Briefs summarizes an October 5 article from EEUnewseurope about the effort.
Bosch estimates the annual global market potential of applications for medicine and mobility will reach the mid-single-digit billions by the middle of the next decade. One potential area of application for quantum sensors, the brain-computer interface (BCI), will on its own be worth more than five billion dollars annually in the long term, according to the company's calculations. One example of its future use is sensors that record nerve impulses in order to control artificial limbs and thus improve patients' quality of life. "The quantum sensors we are creating in medical technology are a perfect fit for our 'Invented for life' ethos. By the end of the decade, we want to take a leading position with our technology," says Dr. Stefan Hartung, chairman of the Bosch board of management.
In medicine, Bosch quantum sensors could help save lives in the future — by measuring the heart's natural magnetic field and enabling simple measurements over a longer period of time, they can provide far more data than today's electrocardiography (ECG). An ECG machine is applied directly to the skin by means of electrodes, and if they slip, measurements are inaccurate. Moreover, in an emergency, attaching the ECG machine uses up precious time. Quantum sensors, by contrast, can be incorporated into things like items of clothing or mattresses. This not only speeds up diagnosis in the emergency room, but also makes monitoring at home easy and precise. The prospect of contactless early detection of atrial fibrillation — one of the causes of life-threatening strokes, heart failure, and dementia — is thus within reach for the first time.
In addition to medical technology, quantum sensors could also be used in mobility. One example is navigation. A global positioning system (GPS) is susceptible to interference, whereas quantum sensors are resistant to external influences, since they work by measuring the earth's unchanging magnetic field. This paves the way for ultra-precise navigation in the air, on the road, and on water. Click here to read the EEUNews article in-entirety.
Adtran & Orange Demo 400G transmission of QKD-Secured data across 184km end-to-end system
Adtran has announced its collaboration with Orange on a lab trial of quantum key distribution (QKD) technology, marking a key step towards safeguarding real-world networks from the threat of quantum computer attacks. Quantum News Briefs summarizes the announcement.
The trial featured Adtran's FSP 3000 with OpenFabric technology for efficient encryption key distribution and optimized link performance. Leveraging a coherent 400Gbit/s DP-16QAM channel, the platform transported a QKD-secured data stream across two trusted nodes and three links, spanning 184km of standard, single-mode dark fiber. One of the trial's key achievements was overcoming data loss and distance constraints while transporting significant volumes of quantum-secure data alongside the quantum channel. The trial introduced a hybrid key exchange, blending classical asymmetric methods with QKD, creating a robust dual layer of security. While classical key exchange ensures immediate data protection in line with current cryptographic standards and governmental approval, QKD offers future-proof security, resilient against future computational advancements.
"By utilizing a QKD trusted-node configuration provided by our technical partner Toshiba Europe/Japan, we're showcasing some of the practical applicability of this technology in today's networks. At Adtran, we've always been at the forefront of quantum security advancements, consistently applying the latest developments in QKD and post-quantum cryptography. This trial further underscores our dedication to pushing boundaries in this field," commented Christoph Glingener, CTO of Adtran. "We've also always been committed to championing interoperability, promoting and contributing to open standards, such as the ETSI interface for QKD key delivery. Our latest collaboration with Orange emphasizes that an open, cooperative approach in the design and implementation of QKD solutions is indispensable to propel this vital technology at the speed we all require. Together, we're setting the stage for a future where our data remains secure, irrespective of the challenges coming over the horizon."
ADTRAN Holdings, Inc. (NASDAQ: ADTN and FSE: QH9) is the parent company of Adtran, Inc., a leading global provider of open, disaggregated networking and communications solutions that enable voice, data, video and internet communications across any network infrastructure.
Orange is one of the world's leading telecommunications operators with revenues of 43.5 billion euros in 2022 and 136,000 employees worldwide at 30 June 2023, including 74,000 employees in France.  Click here to read announcement in-entirety.
Infleqtion has announced successful demo of SqyWire quantum radio frequency apperture/receiver system
Infleqtion recently announced the successful demonstration of SqyWire, its Quantum Radio Frequency (QRF) aperture/receiver system, at the Army C5ISR Network Modernization Experiment 2023 (NetModX23) evaluation. The evaluation showcased SqyWire's exceptional capabilities in interoperability with Electronic Warfare (EW) and Single Channel Ground and Airborne Radio System (SINCGARS) systems.
NetModX23, conducted by the Army's Command, Control, Communications, Computers, Cyber, Intelligence, Surveillance, and Reconnaissance (C5ISR) Center, serves as a proving ground for disruptive C5ISR technologies, bridging the gap between theoretical potential and real-world applicability.
Dr. William Clark, VP of Quantum Development at Infleqtion, said, "QRF is a revolutionary technology addressing critical RF network management challenges. SqyWire's multifunction capabilities, secure transmission, and ultra-broadband spectrum awareness make it a game-changer in defense communications."
QRF technology harnesses Rydberg atoms, delivering groundbreaking benefits to wireless communication. It offers ultra-wideband coverage that transcends traditional RF limits, ensures extended battery life even in remote areas, and maximizes processing power while minimizing hardware size for cost-effective network expansion.
SqyWire stood out during a series of open-air tests and demonstrations in rural Joint Base McGuire-Dix-Lakehurst, NJ, by demonstrating remarkable receiver sensitivity across a range of spectrum from HF through SHF. Notably, the SqyWire seamlessly integrated with a leading electronic warfare sensor and a SINCGARS tactical radio, reinforcing its potential to enhance modern military communications infrastructure. Click here to read the complete announcement.
IBM Quantum expands cloud access to cutting-edge 100+ qubit processors
IBM Quantum is expanding the cloud access to quantum processors with 100+ qubits – utility scale processor that give users the scientific tools to push the limits of what's possible with quantum computers — and that may never be possible with classical systems.
This is part of IBM's commitment to upgrade all the our quantum cloud fleet to utility scale processors with 100+ qubits, following the groundbreaking publication earlier this year that showed the power of these processors. IBM hopes these upgraded plans will helps users formulate amazing ideas in areas like healthcare, high energy physics, among others.
IBM Quantum has introduced a variety of new tools so that users can begin extracting values from these larger systems, like error mitigation, dynamic circuits, and more. That's why we're redefining our Open Plan so that anyone can begin their journey programming on utility-scale quantum systems.
Open Plan users will receive up to 10 minutes per month of IBM Qiskit Runtime access to start running experiments on quantum systems with 100 qubits or more. After trying out the Open Plan systems, users who need more time can continue to run their code through our Pay-As-You-Go Plan, or their institution can subscribe to our Premium Plan. Users can also apply for IBM Quantum Credits.
In order to accelerate the timeline to useful quantum computing, IBM is also announcing a limited number of IBM Quantum Credits that we will award to researchers and developers working on highly innovative projects — those that advance the latest techniques and algorithms and explore their usage in impactful application areas. IBM Quantum Credits allow successful applicants a pre-set amount of access to our utility-scale systems over the cloud.
IBM Quantum is the Diamond Overall Conference Sponsor of IQT NYC "Quantum Cybersecurity, Communications, & Sensors" Event October 24-26, 2023
Those developers who qualify to receive IBM Quantum Credits to accelerate use cases will also have opportunities to connect with other credit recipients. IBM invites the quantum research community to apply for IBM Quantum Credits.  Click here for IBM research blog for comprehensive information about all IBM Quantum initiatives.
Sandra K. Helsel, Ph.D. has been researching and reporting on frontier technologies since 1990.  She has her Ph.D. from the University of Arizona.