Quantum News Briefs October 5: Quantum chips are stacking up on future battlefield; Illinois Gov. JB Pritzker: The U.S. is "under-investing" in AI & quantum computing; UT's Texas Institute for Electronics and Infleqtion & Infleqtion launch Quantum Manufacturing Center of Excellence (qNexus);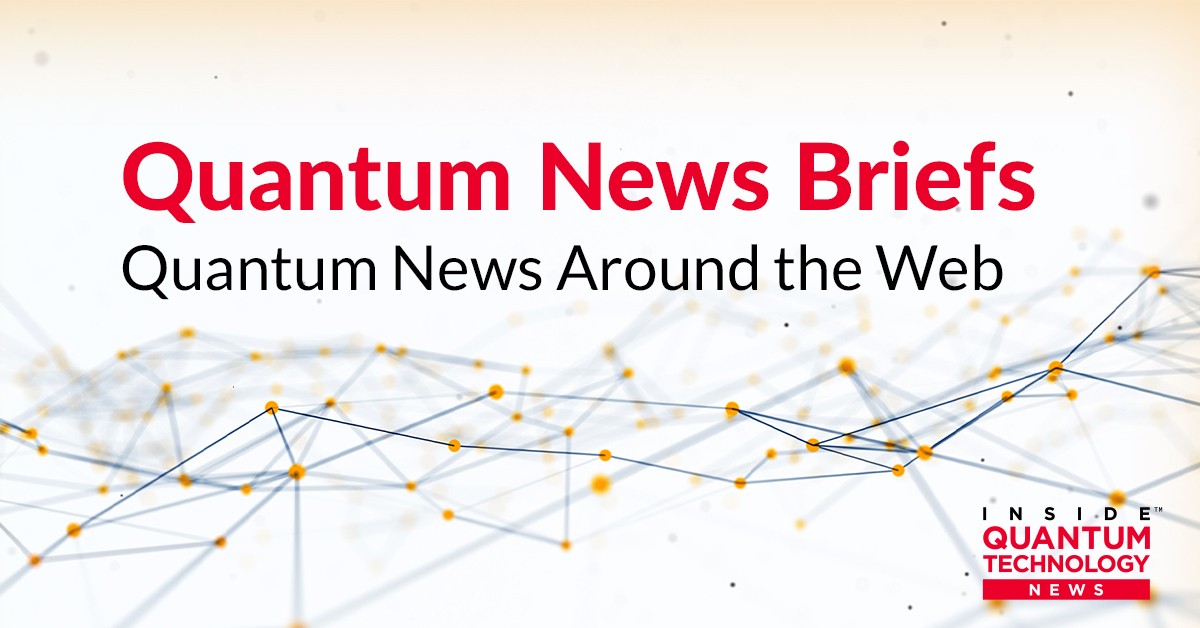 Quantum News Briefs October 5:
Quantum chips are stacking up on future battlefield
Rishi Iyengar, reporter at Foreign Policy, explains in his October 4 article that the U.S. government is fighting to hold back China's semiconductor industry and is also preparing the more important battlefield around quantum computing.  Quantum News Briefs summarizes.
For everything from encryption to combat communications, winning the quantum war means winning the bigger war. And this battle has just begun.
A recent executive order curbing outbound investment into China, guardrails around funding for the CHIPS and Science Act, and a pair of presidential directives last year aimed at securing America's own quantum capabilities.
Quantum computers can perform complex functions simultaneously and could potentially solve problems that are out of reach of even the most advanced supercomputers of today. Drug discovery, advanced manufacturing, climate change modeling, and other applications could all be supercharged by quantum-enabled computing.
"Eventually, it would help to solve for something that you wouldn't expect," said Kristin Gilkes, who leads the global quantum computing lab at the consulting firm EY and whose team is working on quantum applications for DNA sequencing. "Today, 2 plus 2 is 4. In a quantum environment, it's going to have the probability of being pink.".  Click here to read the complete Foreign Policy article.
Illinois Gov. JB Pritzker: The U.S. is "under-investing" in AI & quantum computing
Nathan Bomey of Axios covered Illinois Gov. JB Pritzker's recent speech in which the governor stressed the nation needs to ramp up its efforts to lead the world in semiconductors and quantum computing, arguing that it's currently "under-investing,"  Quantum News Briefs summarizes the October 4 article.
Pritzker, a Democrat, is pursuing the headquarters of the federally created National Semiconductor
Technology Center. Pritzker tells Axios he's privately lobbied the White House to put the NSTC in Illinois, which is home to the Fermi and Argonne national labs, the Chicago Quantum Exchange, and scientific expertise at places like the University of Chicago and the University of Illinois.
In his interview with Axion, Pritzker made these points:
—"Just look at our major competitor, the Chinese," Pritzker tells Axios in an interview. "They are putting significantly more resources in. We need to step it up."
—The good news is we're vastly more innovative than they are," Pritzker adds. "This is what I would describe as a life-and-death matter for the country."
—On a national basis, though, he says the country's leaders need to be more vocal about the need to invest in quantum computing and semiconductors.
—"That's going to be vitally important for maintaining support and significantly increasing our investments in quantum," he says.
Click here to read the entire Governor Pritzker interview with Axios.
UT's Texas Institute for Electronics and Infleqtion & Infleqtion launch Quantum Manufacturing Center of Excellence (qNexus)
The University of Texas at Austin and Infleqtion, a global quantum technologies company, have signed a memorandum of understanding to develop a new center of excellence for quantum manufacturing. Quantum News Briefs summaries the October 4 announcement.
With the recent opening of its flagship corporate office in Austin, Infleqtion will work with UT's Texas Institute for Electronics, collaborate with the University's faculty experts in photonics and quantum technologies, and draw upon its world-class facilities to scale domestic manufacturing capacity for quantum-enabled products in areas such as energy, navigation, defense, and health care.
UT has more than 20 faculty members across physics, computer science, the Oden Institute for Computational Engineering and Sciences, and electrical and computer engineering working in quantum materials and algorithms. These researchers launched the twisted 2D materials field, an emerging area for quantum research that could lead to an energy revolution.
The envisioned center of excellence, qNexus, will scale the production of quantum-enabled devices to meet the growing demand of government and commercial markets. Together, TIE and Infleqtion will prioritize growing tomorrow's workforce and training and equipping professionals to meet the demands of quantum and photonic manufacturing. qNexus will initially support scaling production for a high-precision atomic clock, an ultra-wideband quantum RF receiver, and core quantum components produced at scale nowhere else in the world, with potential for additional products such as inertial sensors, magnetometers, and bioimaging devices.
"Infleqtion is exactly the type of startup that Texas Institute for Electronics wants to partner with," said John Schreck, chief executive officer for TIE. "With our heritage in developing manufacturing technology and our strategy to lead in advanced packaging of semiconductors, TIE, UT's resources, and Infleqtion's innovations will form a team that brings the future of quantum technologies into near-term, real-world applications leveraging quantum sensing."  Click here to read complete news announcement.
Xanadu and KISTI partner to create South Korea's 1st quantum-classical hybrid computing infrastructure
Xanadu and the Korea Institute of Science and Technology Information have partnered to create South Korea's first quantum-classical hybrid computing infrastructure for providing the regional scientific community with new research capabilities. Quantum News Briefs summarizes the announcement.
The quantum-classical hybrid circuit software development kit (SDK) developed through this partnership will establish the backend infrastructure to KISTI's cloud service for connecting various classical and quantum hardware platforms. Xanadu's open-source software library, PennyLane, and its high-performance quantum simulator, Lightning, will be employed as foundational tools for developing this SDK, empowering South Korean researchers with seamless access to hybrid computing resources and performing state-of-the-art research.
KISTI has played a pivotal role in bolstering South Korea's global leadership in science and technology innovation. Over the past decade, KISTI has been actively involved in a wide range of quantum projects. These include research in computational designs of quantum logic devices, as well as extending the scope of quantum circuit simulations with parallel computing in large classical computing environments. Combining Xanadu's and KISTI's quantum expertise unlocks the potential to leverage the power of both classical and quantum computing technologies.
KISTI is a Korean national research institute that leads high performance computing (HPC) R&D activities in South Korea. Founded in 1962, KISTI has been participating in the national flagship project launched to develop a 50-qubit full-stack quantum computer, with a major role in the development of a parallelized quantum circuit simulator and a cloud service framework for quantum computing. Click here to read September 19 announcement in-entirety.
Sandra K. Helsel, Ph.D. has been researching and reporting on frontier technologies since 1990.  She has her Ph.D. from the University of Arizona.