Quantum News Briefs October 27: Q-CTRL & Quad Investors Network partner to build diverse quantum workforces in Australia & US; Quantum Machines expands with new headquarters in Germany; D-Wave & QuantumBasel extend agreement to accelerate commercial adoption & production use of quantum technology in Europe + MORE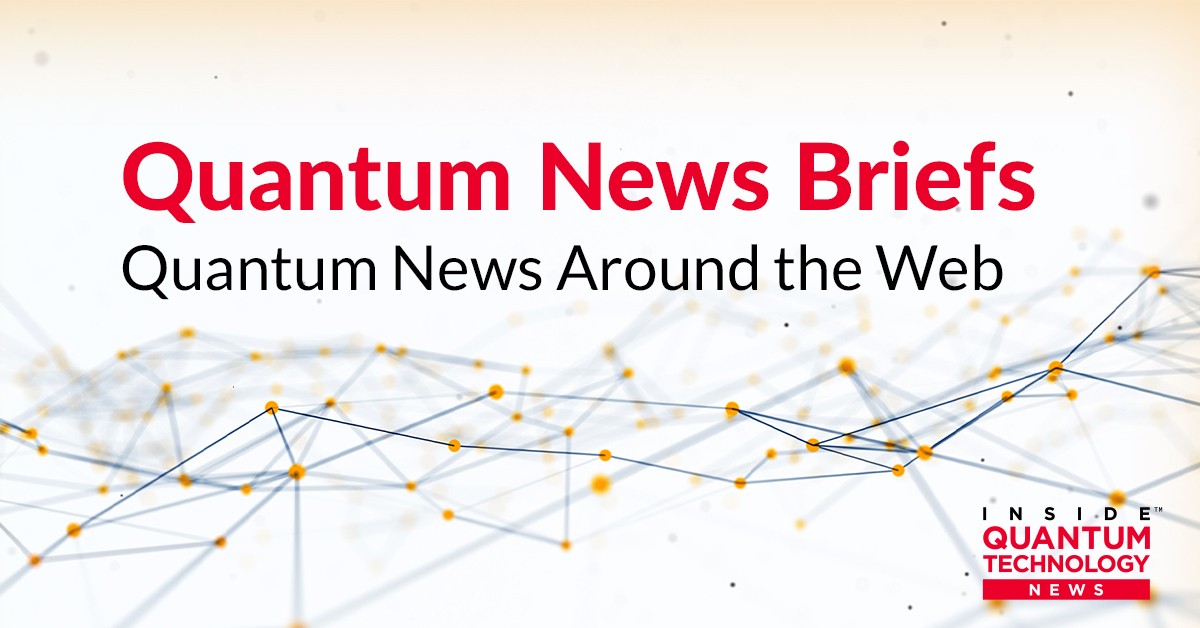 Quantum News Briefs October 27:
Q-CTRL & Quad Investors Network partner to build diverse quantum workforces in Australia and the US
Q-CTRL, a global leader in developing useful quantum technologies through quantum control infrastructure software, today announced it is partnering with the Quad Investors Network (QUIN) to deliver world-class quantum technology training to build diverse quantum workforces in Australia and the U.S. Quantum News Briefs summarizes.
This announcement coincides with Q-CTRL's CEO, Professor Michael J. Biercuk, attending the arrival of Australian Prime Minister Anthony Albanese to the White House today during his visit to the U.S.
Under this landmark agreement, fully subsidized licenses for Q-CTRL's Black Opal,a quantum educational technology software will be provided to students training in Technical and Further Education (TAFE) vocational training institutions in Australia and Historically Black Colleges and Universities (HBCUs) in the U.S. Rollout of this program will commence in 2024, with plans to expand and grow it across the other Quad countries in collaboration with partners there. In support of the initiative, the IBM-HBCU Quantum Center will facilitate access to Q-CTRL's Black Opal to its member institutions.
Existing initiatives in higher education have primarily targeted expanded training of Ph.D. students. This is the first initiative specifically focused on enabling post-secondary students from non-quantum backgrounds to enter the industry sector. Workforce development of this kind represents a strategic, long-term investment in a sector poised to deliver transformational capabilities from finance and pharmaceuticals through to defense and cybersecurity.
Q-CTRL founder and CEO Prof. Michael Biercuk. "As a flexible tool crafted specifically for learners seeking to enter the field from adjacent areas, we're excited to help remove barriers from the realization of a truly diverse quantum workforce through broadened access to Black Opal."  Click here to read the announcement in-entirety.
Quantum Machines expands global presence with new headquarters in Germany

Quantum Machines (QM), the provider of breakthrough quantum control solutions that accelerate the development of practical quantum computers, announced on October 25the establishment of its new entity, QM Technologies GmbH, a Quantum Machines company in Germany. Quantum News Briefs summarizes.
With the company's German headquarters strategically located in Stuttgart, Quantum Machines continues its international expansion, leveraging access to local talent in the quantum field and benefiting from proximity to many of its European customers.
In May, the German government announced plans to invest €3bn to develop a universal quantum computer by 2026. By building a quantum computer, the project aims to trigger yet further investment in the industry. Germany's Federal Research Minister Bettina Stark-Watzinger reportedly said that quantum technology is crucial for the country's technological sovereignty.
Quantum Machines' expansion into Germany underscores the company's dedication to creating a global quantum community and enhancing its position as a key player in the quantum computing revolution. The new German entity is Quantum Machines' second European hub, joining its existing entity in Denmark. Headquartered in Tel Aviv, Israel, Quantum Machines employs local teams in nine countries including the US, Canada, France, Japan, and Australia.
D-Wave & QuantumBasel extend agreement to accelerate commercial adoption & production use of quantum technology in Europe
–D-Wave Quantum Inc. a leader in quantum computing systems, software, and services and the world's first commercial supplier of quantum computers, and QuantumBasel, Switzerland's first quantum hub for commercial use embedded in the uptownBasel innovation campus, announced on October 26 a two-year extension to the companies' strategic relationship to further accelerate quantum and quantum-hybrid application development in Europe. Quantum News Briefs summarizes.
As part of the agreement, D-Wave will open a European office on the QuantumBasel campus, establishing an onsite presence in support of the companies' joint efforts to fast-track the commercialization of quantum computing in the region.
The opening of D-Wave's European office reflects growing regional customer interest in and usage of D-Wave's annealing quantum computing solutions, which include the Advantage™ system, a fifth-generation annealing quantum system that features 5,000+ qubits and 15-way connectivity. In addition to QuantumBasel, D-Wave's European customers include Koç Holding, Satispay, Poznan Superconducting and Network Center, Cineca, as well as several other Forbes Global 2000 companies.
D-Wave and QuantumBasel signed their initial strategic collaboration agreement in December 2022, in which D-Wave was named as a quantum technology provider for QuantumBasel, giving the center's tenants and customers access to its Advantage annealing quantum computer via the Leap™ real-time quantum cloud service. Since the initial agreement, uptownBasel and D-Wave have successfully led a variety of joint go-to-market initiatives and worked on numerous customer engagements.
ZDNet reports " 61% of firms worry they are unprepared for security risks in quantum era
Eileen Yu, Senior Contributing Editor, of ZDNet reported in her article on October 19 that 61% of enterprises have expressed concern their organization is not and will not be prepared to handle security implications that may surface in a post-quantum computing future. Quantum News Briefs summarizes the article.
According to a survey conducted by Ponemon Institute the study polled 1,426 IT and cybersecurity professionals who have knowledge of their company's approach to post-quantum cryptography. Among them were 605 from the US, 428 in EMEA, and 393 across Asia-Pacific.
Another 74% of respondents worry their data may be targeted for harvest now by cybercriminals and to be decrypted in the future when the ability to do so surfaces.
"Post-quantum computing is a seismic event in cryptography that will require IT leaders to begin preparation now," said DigiCert CEO Amit Sinha. "Forward-thinking organizations that have invested in crypto agility will be better positioned to manage the transition to quantum-safe algorithms when the final standards are released in 2024."
About 59% believe their leadership team is aware or somewhat aware about the security implications of quantum computing, while 18% say their leadership is "very aware" of such risks. Another 23% reveal their leadership team is not aware about security risks related to quantum computing.
Some 41% believe their organization must be prepared for a quantum computing era within five years, while 29% say they have between five and seven years. Another 12% say their organization will be ready in eight to 10 years, and 9% put this at more than a decade.
Click here to read the ZDNet article in-entirety with comprehensive findings from the study.
Sandra K. Helsel, Ph.D. has been researching and reporting on frontier technologies since 1990.  She has her Ph.D. from the University of Arizona