Quantum News Briefs October 24: Herman asks, "Where is the United States in the Quantum Space Race?"; D-Wave Launches in AWS Marketplace; Politico's Interview with IBM's Jay Gambetta & MORE
Quantum News Briefs October 24:  Arthur Herman asks, "Where is the United States in the Quantum Space Race?"; D-Wave Launches in AWS Marketplace; Brendan Bordelon of Politico Interviews IBM's Jay Gambetta & MORE.
*****
Herman asks, "Where is the United States in the Quantum Space Race?"
Europe is getting into the race to put quantum technology into space in a big way, with no less than three public-private ventures to launch a quantum communication satellite. Arthur Herman asks in Forbes, "Where is the United States in this race which the Chinese have dominated since they sent up the first quantum satellite in 2016.
Last month the European Space Agency announced a plan for a consortium of 20 companies to launch a quantum satellite in 2024. The satellite will be using quantum key distribution (QKD) technology. i.e. exchanging encryption keys only known between shared parties. for European quantum-secure communications networks.
In February the Singapore-based aerospace company SpeQtral also announced it will be launching its first QKD satellite, SpeQtral-1, in 2024 with the help of Singapore's Office for Space Technology and Industry, and the French aerospace company Thales.
It was China that launched the first quantum satellite in 2016, dubbed Micius, and a year later used it to establish how to achieve long-distance QKD communication between ground stations set more than 1200 km apart. In July, China sent up a second quantum-encrypting satellite, that is reportedly one-sixth the mass of its 2016 predecessor.
Where is the U.S. in all this? Strangely, even though the first-ever QKD network was created by the Defense Advanced Research Projects Agency in 2003, our government and especially our National Security Agency have been largely incurious about the possibilities of entanglement-based communication and QKD, while suggesting the Chinese interest in the technology has been a waste of time and money. Recently the Air Force Research Lab has funded research">has funded research on using drones for quantum-entangled networks, but those who oversee these efforts don't see how using a quantum technology that only works when satellite and ground station are in perfect alignment, marks much improvement on current systems.
Although the U.S. CHIPS and Science Act of 2022, signed by President Biden in August, allocates more than $153 million a year for quantum computing and networks, it's not likely to encourage more work toward QKD-based systems in the sky.
That attitude may have to change, however, if the Chinese and Europeans are able to demonstrate how to create a true QKD-based network using multiple satellites connected to multiple ground stations—a network beyond the reach of even the most sophisticated hacker.
Click here to read original article.
*****
D-Wave Launches in AWS Marketplace
D-Wave Quantum Inc. (NYSE: QBTS) announced on October 21 that it has launched in AWS Marketplace, a digital catalog with thousands of software listings from independent software vendors that make it easy to find, test, buy, and deploy software that runs on Amazon Web Services (AWS). Quantum news Briefs summarizes the news announcement below.
AWS Marketplace customers will be able to easily purchase a variety of quantum computing offerings from D-Wave™, including access to the Leap™ quantum cloud service. D-Wave is the first and only pure-play quantum computing company with offerings available in AWS Marketplace.
To facilitate the development and production of practical quantum computing applications, D-Wave is introducing four offerings in AWS Marketplace, including:
Read complete news announcement here.
*****
Politico's interview with IBM's Jay Gambetta: When is quantum computing going to happen?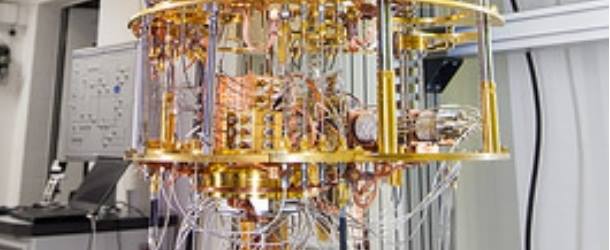 Brendan Bordelon of Politico's interview with Jay Gambetta, the head of IBM Quantum about the hurdles facing quantum computing is summarized here by Quantum News Briefs.
The big question mark they discuss is: When, exactly, is quantum computing going to happen?
Quantum computing has been exciting science for years without ever moving past the prototype phase. Ask most researchers about the main barriers to effective quantum computers, and they'll list a series of technical hurdles that need surmounting before the devices can consistently outpace classical computers in solving real-world problems.
Jay Gambetta, the head of IBM Quantum, doesn't dispute the existence of those hurdles. But as his team knocks down one theoretical domino after another, he worries about one other hindrance to the quantum revolution: persistent skepticism of the technology from scientists themselves.
"If you want to go faster, you have to take more risk," Gambetta told me during a recent visit to IBM's quantum research center in Yorktown, New York. "And it's hard when you've got a new technology that you haven't had experience with. There's a lag in the system."
The skepticism stems in part from the fact that quantum computers aren't just faster: they're different. In practice, there are serious questions about how soon scientists will be able to harness the weird properties of quantum mechanics reliably.
Gambetta doesn't share that skepticism. Within just a couple of years, he says, "we'll be at a point where you will have a tool that is more powerful than any classical computer." And he worries researchers across a variety of fields — from chemistry and medicine to machine learning and industrial optimization — are leaving valuable knowledge on the table by refusing to think big. Researchers, he suggests, aren't pushing the limits of the technology as hard as they should.
"When your metrics are rated to publishing papers, if you want to publish something, you want to do something that you know is going to work," Gambetta said. Many of the scientists now tinkering with existing quantum computers, he explained, "limit the size of the problems they want to explore based on knowing what the results will be. They don't push how to get the most out of the hardware."
Gambetta wants Washington to leverage its Quantum User Expansion for Science Technology (QUEST) program — a new project being stood up as part of the Chips and Science Act — to get advanced quantum computers in front of top scientists as soon as possible. But the QUEST program remains largely unfunded. And without new appropriations from Congress, Gambetta fears the technical capabilities of quantum computers will quickly outpace the ability of researchers to use them effectively.
Click here to read complete Politico article.
*****
HyperSpace Project Co-funded by European Commission & Natural Science & Engineering Research Council of Canada
The HyperSpace project is the result of a strategic collaboration and aims to develop a quantum communication network between continents. co-funded by the European Commission (within the Horizon Europe program) and the Natural Sciences and Engineering Research Council of Canada (NSERC) for the amount of $1,918,170 over three years. Quantum News Briefs summarizes the news brief below.
Led by Professor Roberto Morandotti of the Institut national de la recherche scientifique (INRS), the project focuses on research in integrated quantum photonics and optical space communications.
"This international project will allow us to study the distribution of complex (high-dimensional) entangled photons via satellite, the first time this has ever been done! I thank NSERC and the European Commission for supporting our work. This collaboration will allow us to take quantum communication research to a whole new level and to solve together technological challenges whose results will benefit society," says Roberto Morandotti.
The overarching goal of HyperSpace is to further develop satellite-based quantum communications by appropriate experiments into scalable global quantum networks.
This global quantum network will interconnect a wide range of quantum processors using a variety of quantum channels, just as in the conventional Internet.
To facilitate deployment on scalable small satellites, the team seeks not only to develop new protocols based on quantum hyperentanglement, but also to transfer these protocols into scalable photonic integration platforms.
Applications of HyperSpace in the field of information technology and sensors will be extensive. Click here to read original announcement in-full.
*****
Sandra K. Helsel, Ph.D. has been researching and reporting on frontier technologies since 1990.  She has her Ph.D. from the University of Arizona.