Quantum News Briefs November 6: U.S. Science Committee Introduces Quantum Initiative Bill, Cleveland Clinic Launches Quantum Innovation Program for Startups, Microsoft Issues Warning about Quantum Computing Cyber Threats, and MORE!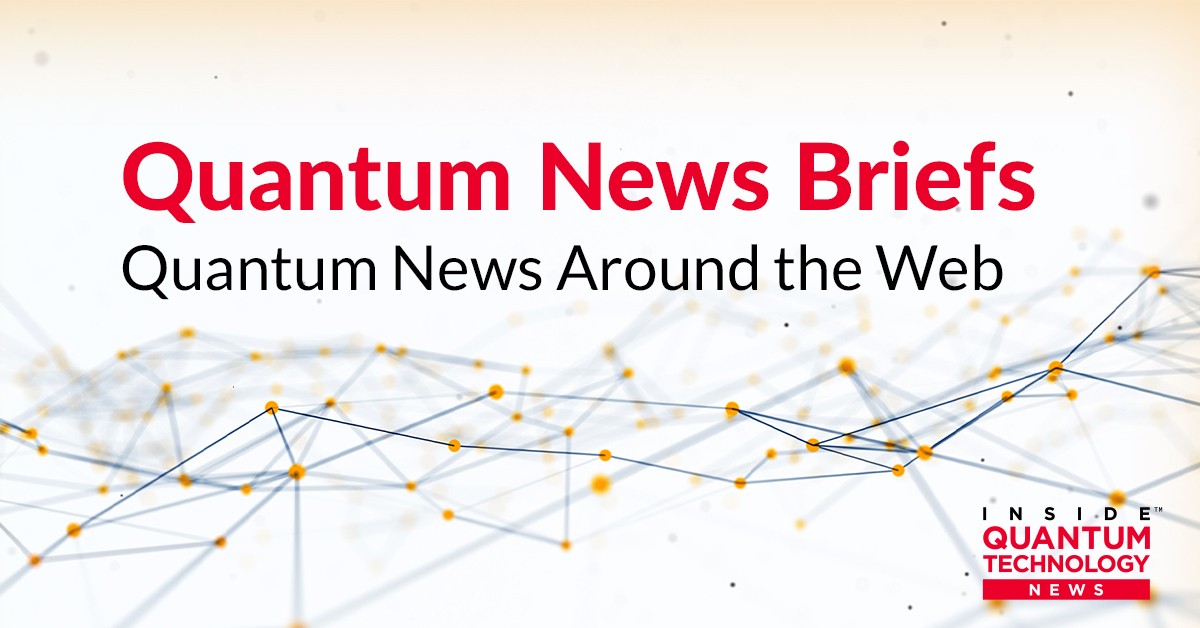 Quantum News Briefs November 6: 
U.S. Science Committee Leaders Introduce Bill: National Quantum Initiative Reauthorization Act to Secure Quantum Leadership
House Science, Space, and Technology Committee Chairman Frank Lucas and Ranking Member Zoe Lofgren have introduced the National Quantum Initiative Reauthorization Act (H.R. 6213), signaling a robust commitment to advancing quantum science and technology in the U.S. Amidst increasing investments by nations like China and Russia in quantum systems, this bipartisan bill seeks to maintain and bolster American leadership in the quantum field for economic competitiveness and national security. Building on the National Quantum Initiative Act of 2018, the reauthorization aims to sustain momentum in quantum breakthroughs and strengthen the nation's quantum ecosystem. The Act outlines strategies for collaborative research with allies, establishes new centers and workforce programs, promotes the commercialization of quantum computing, and supports the development of quantum foundries. It also includes provisions for quantum research and development activities at NASA. This legislation is a critical step in ensuring continued U.S. supremacy in the quantum sector, fostering innovation from lab to market, and securing the quantum supply chain.
Cleveland Clinic Launches New Quantum Innovation Program for Start-up Companies
Cleveland Clinic has announced the establishment of the Cleveland Clinic Quantum Innovation Catalyzer Program, aimed at fostering innovation in healthcare and life sciences through quantum computing. This competitive initiative will select up to four start-ups in the early or growth stages that are focused on life sciences and healthcare technology. Chosen companies will gain a 24-week immersive experience that provides access to IBM's Quantum System One computer, on-campus space at Cleveland Clinic, interaction with clinic professionals, and participation in a Quantum Working Group. They will also benefit from educational resources, including seminars in healthcare and quantum education, culminating in a graduation and demonstration event for investors and partners. This program is part of a broader 10-year partnership between Cleveland Clinic and IBM, focusing on transformative biomedical research within the Cleveland Innovation District. Start-ups interested in this cutting-edge opportunity can submit their applications until January 15, with the program slated to begin in April.
PASQAL is Supporting the Creation of a Research Chair in Quantum Computing at the Université de Sherbrooke in Canada
PASQAL, a leading company in neutral atom quantum computing, has partnered with the Faculty of Engineering at Université de Sherbrooke (UdeS) to establish a new Professor Position in Applied Quantum Computing. This initiative aligns with PASQAL's strategic vision to transition quantum computing applications from theoretical to practical, industry-ready solutions. The company is also constructing a facility in Sherbrooke, Canada, to manufacture quantum processors for the North American market, which is anticipated to propel the adoption of neutral atom quantum computing technologies in the region. PASCAL has pledged $500,000 CAD to support the new full-time position within the Electrical and Computer Engineering Department, seeking to leverage additional funding from Canadian federal or provincial agencies. The appointment of the Chair will be a significant step towards developing software solutions that leverage quantum computing for industrial applications, with an immediate focus on creating tangible business value and achieving quantum advantage.
Microsoft Issues Warning about Cyber Threats Due to Quantum Computing
Microsoft spearheads an initiative to prepare organizations for potential quantum-based cyber threats by inviting them to assess their cybersecurity readiness through a questionnaire and offering expert assistance. The company is developing tools like CodeQL to analyze and secure program code and has launched the Azure Quantum Resource Estimator to evaluate the strength of current encryption keys. Despite the current resistance of encryption standards like AES and SHA against quantum attacks, Microsoft's EVP for security, Charlie Bell, warns of future advanced quantum computers that could break traditional encryption, urging organizations to start planning for quantum-safe security measures. Microsoft is committed to providing quantum computing services responsibly, with a focus on preventing misuse, and is helping customers, especially in risk-sensitive sectors, to transition to quantum-safe protocols.