Quantum News Briefs November 2: The promise of quantum-powered AI; Quantum Brilliance partners with STFC Hartree Centre to make quantum tech more scalable; Quantum Computing Inc. achieves milestone with first sale of Reservoir Computer & Quantum Random Number Generator + MORE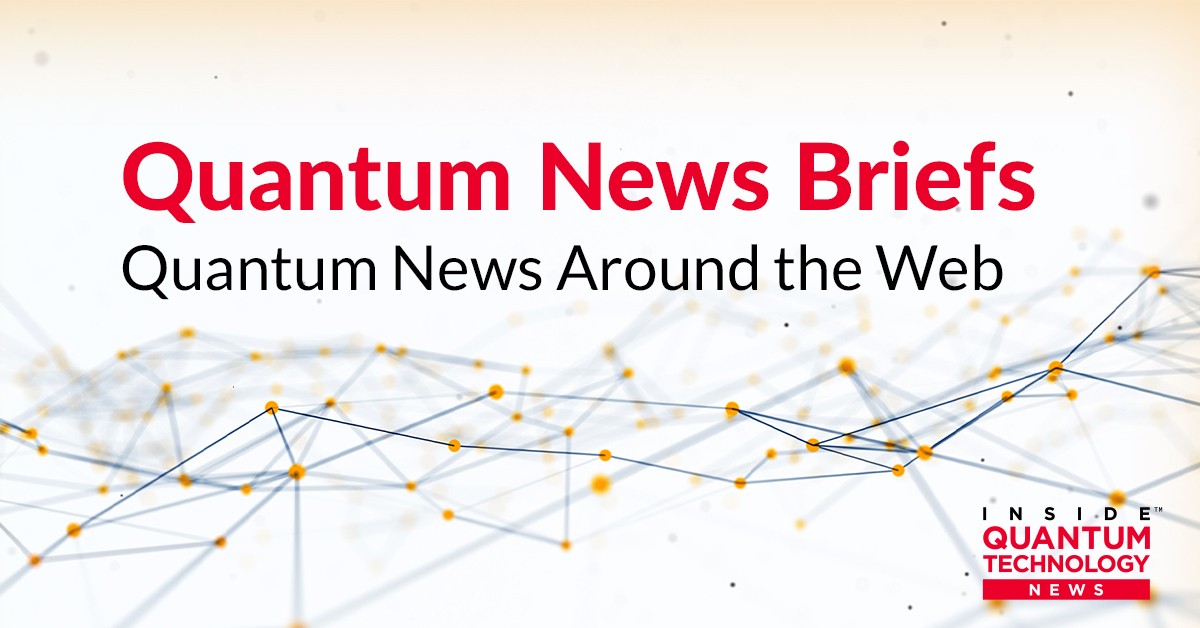 Quantum News Briefs November 2:
The promise of quantum-powered AI
TechTarget's George Lawton is the author of a November 1 article discussing the promise of quantum-powered AI. Quantum News Briefs summarizes.
Quantum-powered AI could translate into breakthrough solutions for complex problems across a wide range of industries and scientific fields that are beyond the current capabilities of classical computers and traditional AI techniques, said Scott Likens, global AI and innovation technology leader at PwC.
According to Likens, business and IT leaders should have quantum computing and AI developments on their radar today since the pairing offers a number of benefits, including the following:
Speed. AI on classical computing is limited by hardware.  AI supported by quantum hardware could shorten the time required to train these models.
New mechanics. Machine learning (ML) powers most AI systems. The current ML algorithms work well at predicting — as seen with generative AI — but need help scaling with other types of computational problems. Quantum systems might unlock new patterns of problem-solving.
Quantum machine learning algorithms. There is also significant progress on new quantum-inspired ML algorithms that are exponentially faster than classical computers.
Energy efficiency. Quantum machine learning algorithms that can be trained faster will likely consume less energy than classical computers, as AI and ML training and storing data presently use a massive amount of energy.
Operational improvements. The innate parallel processing of quantum computers promises exponential increases in optimization tasks that could enhance resource allocation, supply chain management and financial modeling.
The potential pairing of quantum and AI holds dangers as well. The integration could lead to many new problems and challenges for business and society.
As AI systems become more capable, their complexity might reach a point where people can no longer understand — or control — them, which in turn would lead to ethical and safety issues, Likens said. The complexity of quantum systems might also exacerbate the lack of transparency and interpretability in AI algorithms. These issues also contribute to concerns about bias.  Click here to read Lawton's article in-entirety.
Quantum Brilliance partners with STFC Hartree Centre to make quantum tech more scalable
Quantum Brilliance announced on November 1 a strategic collaboration with the UK-based Science and Technology Facilities Council (STFC)'s Hartree Centre, one of Europe's largest multi‐disciplinary scientific research organizations, to accelerate quantum computing toward wide application of room-temperature diamond quantum devices.
The new partners are working to integrate quantum accelerators with high-performance computing (HPC). Quantum computing is in an early stage referred to as the noisy intermediate-scale quantum (NISQ) era. The point at which quantum will outperform classical computing in most applications may be decades away. A hybrid approach, with classical working in parallel with quantum, is considered optimal in the interim.
Quantum Brilliance's pioneering room-temperature quantum accelerators deliver parallel hybrid computing for practical industry challenges. Scalability issues currently limit the application of quantum computing to industry‐relevant challenges, such as in chemistry, drug discovery and finance. The Hartree Centre will utilize the accelerators to improve classical‐quantum algorithm scalability on NISQ devices.
Shared ambitions within the partnership include providing practical proofs of concept of hybrid parallel algorithms, achieving new innovations and paving paths toward massively parallelized HPC centers. The Hartree Centre's core expertise in HPC, parallel computing and de‐risking emerging technologies for industrial use, along with Quantum Brilliance's trailblazing Quantum Accelerator and Qristal Emulator software, can significantly improve the scalability of quantum-enhanced algorithms. Click here to read the announcement in-entirety
Quantum Computing Inc. achieves milestone with first sale of Reservoir Computer & Quantum Random Number Generator
Quantum Computing Inc. announced on October 31 a milestone in its quest to bring cutting-edge quantum solutions to the market.  The Company has secured multiple hardware sales of its state-of-the-art Reservoir Computer and Quantum Random Number Generator to Assured Cyber Protection Ltd and AI firm millionways, kicking off the commercial delivery of its computing technologies. Quantum News Briefs sumarizes.
The QCi Reservoir Computer, a first-to-market portable reservoir computing device with technology inspired by the power of quantum mechanics, can perform complex computational tasks with unprecedented speed and efficiency to facilitate data analysis, machine learning and artificial intelligence.  Its minimal size, weight, power, and cost factors make it particularly suitable for use as an edge computing tool.  QCi's Reservoir Computer uses the Company's proprietary capabilities to create a small footprint hardware device that requires 80% to 95% less power consumption than traditional computers.  The QCi Reservoir Computer series leverages the Company's unique competencies and expertise in both analog and digital design, resulting in an innovative piece of technology that interfaces seamlessly with a host machine through an Ethernet connection, enabling smooth communications and problem-free submission.  The Reservoir Computer, available now, is QCi's first major step on its path to building a hardware-based, Quantum Reservoir Computer to be released in 2024.
Additionally, the Quantum Random Number Generator (QRNG) developed by QCi has garnered interest from organizations that require true randomness for applications in cryptography, secure communications, and data encryption.  With quantum-level entropy, QCi's solution ensures the highest level of security for digital communications and data protection.  QCi's QRNG offers a unique feature that can provide random number sequences and obey arbitrary statistic properties as customized by end users.  This new feature not only enhances various AI applications and security protocols but also supports financial modeling applications such as Monte Carlo simulations.
European-based Assured Cyber Protection Ltd ("Recyber"), a cybersecurity company that combines automation, artificial intelligence and advanced technology to reduce a business' cybersecurity risk, has been on the forefront of defending digital assets against ever-evolving threats.  By integrating QCi's Reservoir Computer and QRNG into their security algorithms, Recyber aims to enhance its ability to detect and respond to cyberattacks in real-time, staying ahead of cybercriminals in this ever-shifting landscape.
millionways, a New York City based technology firm, is a leader in the development of AI algorithms used to effectively provide quick turnaround analysis and next-gen feedback to users on their emotional IQ and personality insights based upon various forms of user-generated text or audio-to-text data.  Unlike other machine learning platforms such as ChatGPT, Alexa or Siri, millionways' proprietary methodology makes behavorial predictions that have clear applications in generating the most informed decision in which social interactions drive behavorial outcomes.  The addition of QCi's Reservoir Computer to millionways' assessment process is expected to significantly boost machine learning efficiency, particularly in assessing audio files, dramatically reduce the power consumption and materially speed up the training.  Click here to read the complete announcement.
CHIPS Act tries to keep quantum away from China
The US' announcement of the finalized (and clarified) guardrails around its multi-billion-dollar CHIPS and Science Act include provisions specifically aimed at quantum computing. Quantum News Briefs summarizes the September 25 article by Francisco Pires in Tom's Hardware.
The guardrails around the CHIPS and Science Act, as issued by the Department of Commerce through NIST, seek to "prevent funding provided through the program from being used to directly or indirectly benefit foreign countries of concern." It's through this lens that the Department of Commerce has classified semiconductors as "critical to national security," subjecting them to increased scrutiny due to their obvious ability to increase a foreign country of concern's technological level.
And apparently, "semiconductors designed for quantum information systems" make the cut. Other clarifications include "Semiconductors designed for operation in cryogenic environments (at or below 77 Kelvin), which includes sensors for quantum computing and superconductor research. "Silicon photonic semiconductors," too, have quantum computing applications. "Semiconductors utilizing nanomaterials, including 1D and 2D carbon allotropes such as graphene and carbon nanotubes" also make the cut.
The questions around sanctions, of course, almost always relate to how effective they are. Do these sanctions slow down the "opposition" more than they slow us down? In the case of quantum, the case isn't as clear-cut as one might expect. But then again, we've been seeing sanctions falling short of their intended, projected effects for a while now. There are always back-alleys and gray markets. And there's also the ability to simply cram and outinvent the US's restrictions, which China seems to be doing in some ways. Click here to read Pires article in-entirety.
Sandra K. Helsel, Ph.D. has been researching and reporting on frontier technologies since 1990.  She has her Ph.D. from the University of Arizona.