Quantum News Briefs-November 10, 2023: New Solutions for Quantum Sensors, National Quantum Computing Center joins Innovate UK Project, QuSecure Invited to AWS Global Startup Program, and MORE!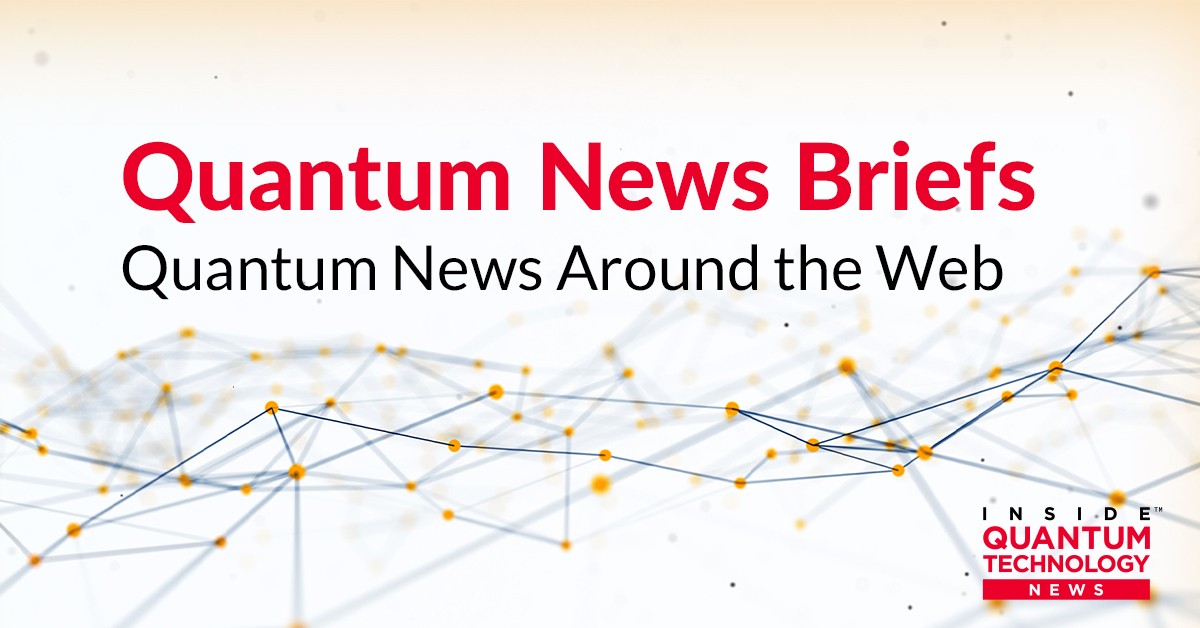 Quantum News Briefs, November 10th, 2023: 
Researchers at the Neils Bohr Institute May Have Solution for Major Obstacle to Quantum Sensor Development
Researchers at the Niels Bohr Institute (NBI), University of Copenhagen, have made significant progress in developing quantum sensors, which promise to revolutionize delicate medical diagnostics and various other applications. Published in Nature Communications, their research addresses the challenge of distinguishing genuine signals from noise in quantum sensing. Quantum sensors utilize atomic-scale phenomena, making them markedly more precise than current technologies. The NBI team's breakthrough paves the way for these sensors to be used in various settings, including fetal heartbeat monitoring and neurological examinations, by filtering out the 'noise' inherent in quantum mechanics. This advancement not only has implications for healthcare but may also enhance gravitational wave detection in astrophysics, thereby deepening our understanding of the universe.
Learn more about the quantum sensor landscape at this link.
UK's National Quantum Computing Center (NQCC) partners on the project awarded to Rigetti Computing by Innovate UK

The UK's National Quantum Computing Center (NQCC) is partnering with Rigetti Computing, HSBC, and the Quantum Software Lab (QSL) at the University of Edinburgh on a project to advance quantum algorithms to detect financial anomalies, a key tool in combating financial crimes like money laundering. The collaboration intends to build upon existing quantum machine learning models to identify better suspicious activities that may indicate money laundering attempts. This project not only demonstrates a practical application of quantum computing in real-world financial systems but also supports the NQCC's goal to drive early adoption and development of quantum computing in the UK. It is one of the inaugural initiatives of the Quantum Software Lab, established in April 2023. It operates at the intersection of academia and industry to transform industrial challenges into research opportunities, furthering innovation and commercialization in the quantum field.
This is one of the very first initial projects of the QSL, and we are eager to use it as a working model for other projects to come." commented Professor Elham Kashefi, Chief Scientist, NQCC, and the Head of QSL, University of Edinburgh in the recent press release.
QuSecure Earns Exclusive Admission into Amazon Web Services (AWS) Partner Network's Highly Respected AWS Global Startup Program
QuSecure Inc., a pioneering company in post-quantum cryptography, has announced its inclusion in the Amazon Web Services (AWS) Global Startup Program, signifying its validation as a partner in the AWS Partner Network and propelling its flagship product, QuProtect™, towards collaborative sales initiatives. This exclusive AWS program provides select startups comprehensive support to accelerate their growth, technical expertise, and market reach. QuSecure has distinguished itself as the sole post-quantum cryptography firm in this program, recognized for its orchestration of NIST-approved algorithms and cryptographic agility. With the backing of AWS, QuSecure aims to deliver its advanced cybersecurity solution, QuProtect, which ensures quantum-resilient protection across networks, cloud, IoT, and edge devices, providing a robust defense against current and future cyber threats.
"QuSecure is proud to be part of Amazon's APN and the exclusive AWS Global Startup Program," said Dave Krauthamer, CEO of QuSecure, in a recent announcement. "Our team is dedicated to helping public and private sector companies secure their networks and systems from the growing cybersecurity threats where elements like AI and quantum computing are currently breaking down encryption protocols. Our post-quantum cryptography (PQC) product, QuProtect, is the most advanced cybersecurity enterprise software solution available and employs orchestrated crypto-agility to deter today's and tomorrow's threats. The attention AWS has brought to our partnership has meaningfully enhanced our potential to serve their global customer base and fulfill our mission of creating a safer future for all."
GENCI/CEA, FZJ, and PASQAL Announce a Significant Milestone in Hybrid Computing
At the SuperComputing 2023 conference in Denver, significant advancements in the field of high-performance computing and quantum simulation hybrid systems were announced by European organizations Grand Equipement National de Calcul Intensif (GENCI), Commissariat à l'énergie atomique et aux énergies alternatives (CEA), Forschungszentrum Jülich (FZJ), and PASQAL. These institutions have made strides in integrating over 100-qubit quantum computers with traditional supercomputers, showcasing applications in finance, pharmaceuticals, and energy sectors. Notably, PASQAL is delivering two powerful quantum computers to France and Germany, which will work in tandem with the Joliot-Curie and JURECA DC supercomputers. This collaboration has already yielded results, such as developing a quantum algorithm to accelerate drug discovery by analyzing protein hydration. The PASQAL quantum computers, part of a federated European infrastructure, will be accessible to users in 2024, with live demonstrations conducted at SC23. These developments mark a critical step towards practical quantum computing applications and a federated European HPC-QCS infrastructure.
Chicago Quantum Exchange Kicks Off the Sixth Year of the Chicago Quantum Summit
The sixth Chicago Quantum Summit, set for November 13-14, 2023, is poised to unite international quantum science and technology experts, fostering cross-sector dialogue to bolster the quantum ecosystem. Organized by the Chicago Quantum Exchange, the summit will feature academic, governmental, and industry stakeholders discussing quantum commercialization, workforce development, and research. A highlight of the summit is the presentation by 14 pioneering early-career researchers at the Boeing Quantum Creators Prize symposium. Esteemed speakers from various global institutions and companies will address the summit, including Laurie Locascio of the National Institute of Standards and Technology, Stephanie Simmons of Photonic Inc., and Geri Richmond of the U.S. Department of Energy. Discussions will cover topics like quantum networks' burgeoning public accessibility, and the event will also present a dialogue between IBM's Arvind Krishna and Nadya Mason of the University of Chicago's Pritzker School of Molecular Engineering. The summit underscores the interdisciplinary and rapidly evolving nature of quantum science, promising technological advancements that could significantly impact society.
In Other News: Physics World Article: Neutral-atom quantum computers are having a moment
According to a new Physics World article, neutral atoms, once quantum computing's dark horses, are now leading the race with Atom Computing's announcement of a soon-to-be-ready 1000-qubit neutral-atom machine—the first of its kind for commercial use. This leap forward is supported by three separate studies in Nature, which showcase neutral-atom platforms that achieve low noise levels, new error mitigation capacities, and promising scalability. These studies, including one by a Princeton and Yale team, underscore the importance of error correction in quantum computing and reveal methods to reduce error rates significantly. A Harvard-led team reports an impressive error rate of just 0.5% using a technique involving rubidium atoms and laser tweezing. Meanwhile, Princeton and Yale researchers have discovered a way to convert certain errors into erasures, which simplifies their correction and lowers the threshold for effective error correction. Additionally, a Caltech team has achieved 99.9% fidelity in creating entangled superpositions with strontium atoms. These breakthroughs indicate a significant stride in the evolution of quantum computing, hinting at the emergence of more powerful and efficient quantum computers.
Kenna Hughes-Castleberry is a staff writer at Inside Quantum Technology and the Science Communicator at JILA (a partnership between the University of Colorado Boulder and NIST). Her writing beats include deep tech, quantum computing, and AI. Her work has been featured in Scientific American, Discover Magazine, New Scientist, Ars Technica, and more.