Quantum News Briefs November 1: NATO hosted 'quantum-resistant' encryption exercise in 5G drill at site in Latvia; PASQAL to support creation of Research Chair in Quantum Computing at Canada's Université de Sherbrooke; Boeing Invests Over $3.5M in Chicago Quantum Exchange to Fuel Quantum Research and Talent Development + MORE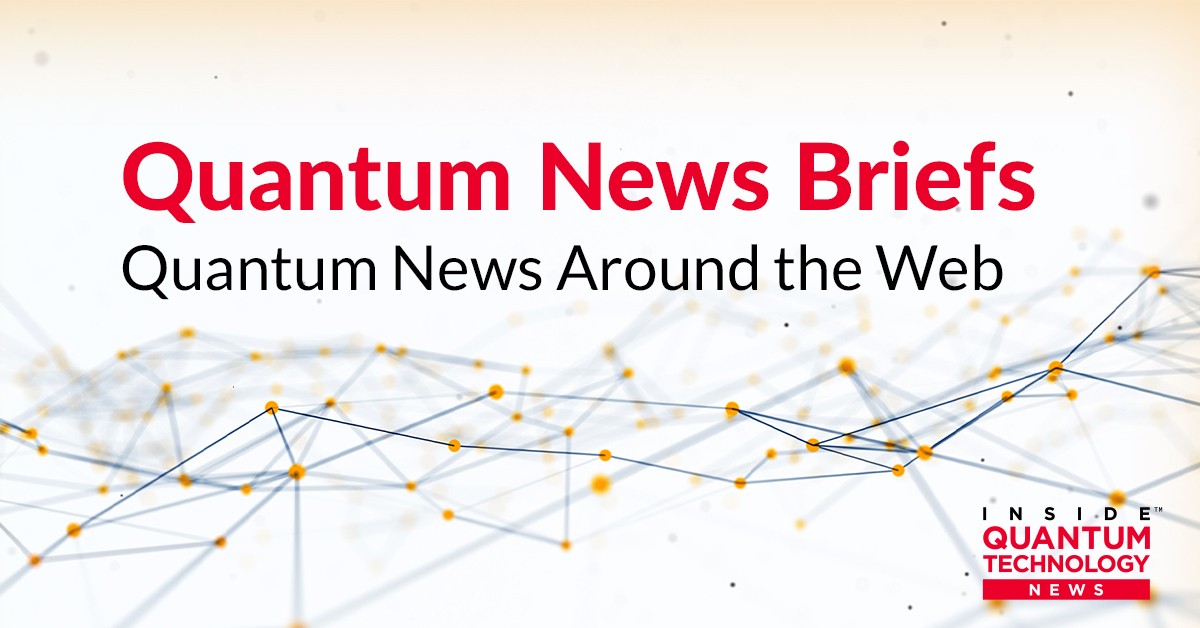 Quantum News Briefs November 1:
NATO hosted 'quantum-resistant' encryption exercise in 5G drill at site in Latvia
NATO member countries have set their sights on securing military 5G communication networks against hacking by adversaries possessing powerful quantum computers. Quantum News Briefs summarizes an October 31 article by Elisabeth Gosselin-Malo in C4ISRNET.
Alliance officials hosted an exercise to that effect earlier this month at a test site in Latvia. The event, dubbed 2023 Next-Generation Communication Network Technologies, was organized by NATO's Allied Command Transformation and the Latvian defense ministry to present systems capable of enabling multi-domain operations. The term refers to the seamless coordination of land, air, naval, space and cyberspace assets in military campaigns.
One of the focus areas was for demonstrators to showcase approaches to improve command-and control-capabilities with the use of virtual reality, secure post-quantum encryption and apply sensor fusion for situation awareness, according to a press release provided by the organizers.
Scientists have warned for some time of the threat posed by quantum computers to crack common encryption algorithms that protect military hardware and intelligence operations.The sense of urgency has ushered in the term "quantum-resistant encryption" to describe next-level security mechanics.
NATO governments also have begun testing post-quantum solutions. In 2022, the NATO Cyber Security Centre, responsible for the everyday protection of the alliance networks, successfully tested safe transmission flows using a virtual private network (VPN) supplied by the British firm Post-Quantum.
Click here to read article in-entirety.
PASQAL to support creation of Research Chair in Quantum Computing at Canada's Université de Sherbrooke

PASQAL has announced its support in the creation of a research chair in quantum computing Faculty of Engineering, Université de Sherbrooke (UdeS), a leader in education and applied research in Canada, to open a faculty position in Applied Quantum Computing. Quantum News Briefs summarizes this announcement.
The creation of this Research Chair is part of PASQAL's strategy to deliver real-world applications to commercial industries and quantum advantage in the short term.
PASQAL is setting up a facility to manufacture quantum processors at Espace Quantique 1 of DistriQ – Quantum Innovation Zone in Sherbrooke, Canada. In this new flagship installation, PASQAL Canada will produce hardware for the North American market to accelerate the adoption of neutral atom quantum computing in the region. Within this framework, PASQAL is contributing $500,000 CAD to a full-time non-tenure-track position at the Electrical and Computer Engineering Department. This contribution will be matched by Canadian federal and/or provincial granting agencies, such as Natural Sciences and Engineering Research Council of Canada Alliance program; and Regroupements sectoriels de recherche industrielle au Québec.
The selected Chair holder will lead the development of neutral atom quantum software solutions for industry, by finding the most direct paths to deliver business value and quantum advantage.
The UdeS Faculty of Engineering is a leader in education and applied research. Recognized for its dynamism in collaborative research, it stands out particularly in terms of technology transfer and concrete impacts on society. To foster its long-term growth, the Faculty of Engineering is particularly focused on interdisciplinary initiatives and emerging fields. The Faculty of Engineering has several research centers as well as the Interdisciplinary Institute for Technological Innovation (3IT), a part of the Integrated Innovation Chain along with the Institut quantique (IQ) and the Centre de collaboration MiQro Innovation (C2MI).
Click here to read the announcement in-entirety.
Boeing Invests Over $3.5M in Chicago Quantum Exchange to Fuel Quantum Research and Talent Development
The Boeing Co. has deepened its partnership with the Chicago Quantum Exchange (CQE) through a new collaboration that will support early-career scientists and seed new research, helping to grow the region's already robust quantum ecosystem and boosting efforts to develop next-generation quantum sensors and networks. Quantum News Briefs summarizes.
Boeing has been a CQE partner since 2019. Their latest commitment of more than $3.5 million will support technical workshops and the new research projects that stem from them, as well as graduate student and postdoctoral fellows and an award that recognizes early-career researchers whose work moves the field in new directions. It also renews Boeing's corporate partnership with the CQE.
The new initiatives will build on existing regional strengths to create new and expanded research and workforce development programs that engage a diverse regional and global audience. The mission of advancing QISE technology by fostering collaboration is one shared by Boeing, the CQE, and its member institutions, which include the University of Chicago, the US Department of Energy's Argonne National Laboratory and Fermi National Accelerator Laboratory, the University of Illinois Urbana-Champaign, the University of Wisconsin–Madison, and Northwestern University. The CQE's members anchor a rapidly growing Midwest quantum ecosystem that is home to a 124-mile quantum network testbed across Chicagoland, four of the 10 quantum research centers funded by the 2018 National Quantum Initiative Act, and the first quantum startup accelerator in the nation.
Jay Lowell, Quantum Portfolio Manager for Boeing, said, "Boeing is committed to working with CQE to develop and inspire the next generation of scientists and engineers who will advance quantum sensing and networking technologies."
The commitment will also support the Quantum Creators Prize, expanding a successful program that works to increase diversity in the field of quantum science and promotes early-career researchers who are exploring new ideas within the field. The program, created in 2021, has honored 27 PhD students and postdocs in the past two years and includes a symposium in which awardees present their accomplishments to leaders in the field.  Click here to read the complete  announcement
SCALINQ partners with Atlantic Quantum to help realize
large-scale quantum computing through cutting-edge hardware components
SCALINQ and Atlantic Quantum have announced a partnership to accelerate qubit control, characterization, and measurements with state-of-the-art cryogenic hardware. Quantum News Briefs summarizes this announcement.
Both companies are tackling some of the world's hardest engineering challenges on their road to building scalable quantum computers. By joining forces, they can share knowledge to develop solutions at an even faster rate.
Atlantic Quantum has a clear goal of developing a fault-tolerant, large-scale quantum computer. They focus on advancing superconducting qubits and deploying their unique hardware architecture. There are many engineering challenges in the journey toward meaningful quantum computers, and this partnership is helping to overcome several of those. With SCALINQ's core expertise in cryogenic, microwave devices, they are supplying Atlantic Quantum with the cryogenic hardware needed for their experiments.
SCALINQ is a leading expert in microwave engineering and low-temperature physics, with many years of experience in the field. Based in Gothenburg, Sweden, they develop high-performing cryogenic hardware solutions for spin- and superconducting devices. Their solutions have been used by researchers around the world to perform critical quantum experiments, such as measuring quantum coherence.
SCALINQs packaging solution LINQER is an enabler and core piece of equipment in the Atlantic Quantum Lab. It can host multiple devices at the same time and the unique, patented solution allows them to reliably measure devices repeatedly, and efficiently. SCALINQ has not only provided LINQER but a range of cryogenic hardware solutions."This partnership is a clear statement of SCALINQ's mission, to help accelerate the development and realization of quantum computing. It is a testimony of our dedication and ability to deliver state-of-the-art hardware for the current and future needs of the industry." – Zaid Saeed, CEO, SCALINQ
A core aspect of this partnership is collaborative R&D and combined technological development. The two teams have found great and highly complementary synergies
Click here to read announcement in-entirety.
Sandra K. Helsel, Ph.D. has been researching and reporting on frontier technologies since 1990.  She has her Ph.D. from the University of Arizona.