Quantum News Briefs May 31: PQShield announces major new collaborations with Tata Consultancy Services & eShard to implement post-quantum cryptography, HSBC and Quantinuum explore real world use cases of Quantum Computing in Financial Services, Chinese scientists set new record in long-haul quantum communication + MORE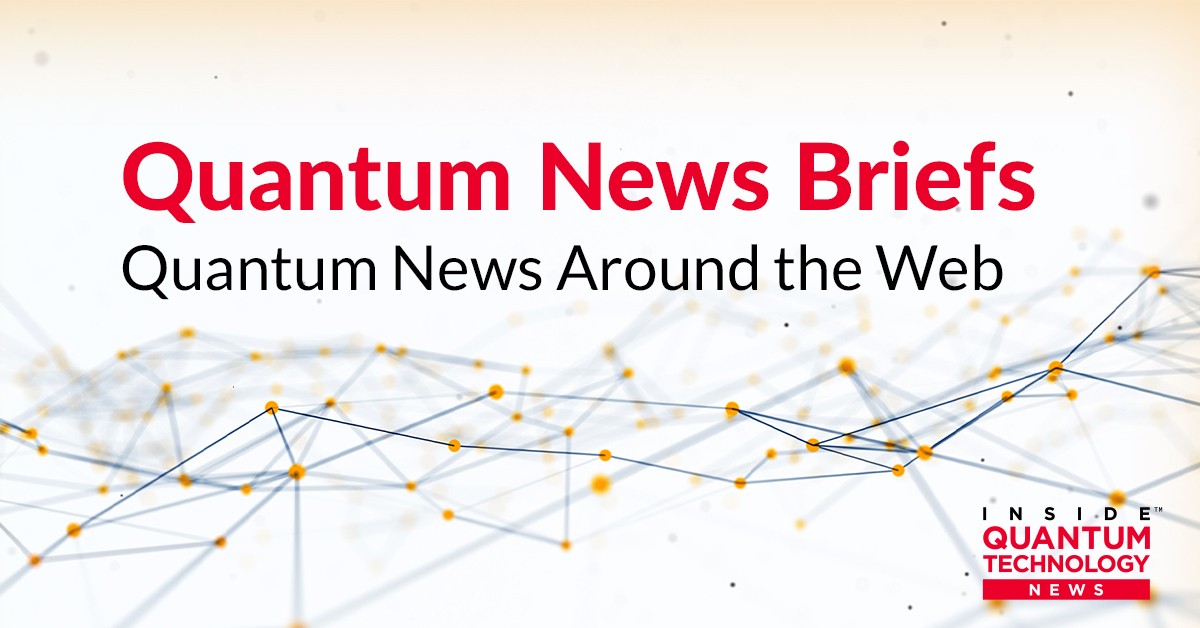 Quantum News Briefs May 31:  PQShield announces major new collaborations with Tata Consultancy Services & eShard to implement post-quantum cryptography, HSBC and Quantinuum explore real world use cases of Quantum Computing in Financial Services, Chinese scientists set new record in long-haul quantum communication + MORE
PQShield announces major new collaborations with Tata Consultancy Services & eShard to implement post-quantum cryptography

PQShield announced on May 30 a series of deals that reflect growing commercial demand for the real-world implementation of post-quantum cryptography (PQC). The company has signed a Memorandum of Understanding (MoU) with Tata Consultancy Services (TCS), a leading IT Services, consulting, and business solutions organization, to help clients transition to quantum-secure solutions and a collaboration with eShard, a side-channel analysis and testing tools provider, to further accelerate advanced side-channel secured implementations of PQC that are critical for high-security standards across industries.  Quantum News Briefs summarizes below.
PQShield's CEO & founder, Ali El Kaafarani, said: "Quantum computers pose a particular threat to large organisations given the sprawling nature of their cryptographic infrastructure and their reliance on secure communications. We're seeing a significant shift in the commercial landscape as more of these businesses wake up to the urgency of the problem and seek out a solution.
Santha Subramoni, head of cybersecurity practice, TCS, said: "As a strategic partner to some of the world's leading businesses on their digital transformation journeys, we work with our customers to not only protect them from today's threats, but also prepare them for the challenges of tomorrow. The quantum cybersecurity threat poses foundational risks to how we secure information on the internet today, and we're working with our customers to develop a strategy and roadmap for quantum-proof security. We're glad to partner with PQShield in this journey of helping enterprises be cyber confident in the quantum era."
Robert Hannigan, Cybersecurity Adviser and former Director of GCHQ, said: "Quantum computing will render our current encryption methods obsolete. A practical approach to assessing business risk, especially within critical security infrastructure and networks, followed by a pathway to mitigating the quantum threat focused on real-world implementations of post-quantum cryptography, is now urgently needed".   Click here to read announcement in-entirety.
HSBC and Quantinuum explore real world use cases of Quantum Computing in Financial Services
Quantinuum and HSBC announced a series of exploratory projects that exploit the potential near- and long-term benefits of quantum computing for banking with specific projects in cybersecurity, fraud detection, and natural language processing. Quantum News Briefs summarizes May 30 announcement.
Philip Intallura, Global Head of Quantum Technologies at HSBC, said: "We are excited to embark on this partnership with Quantinuum and explore the further applications of Quantum technology in the Financial Services sector. Our collaboration provides us a great opportunity to access cutting-edge quantum hardware and take our use cases to a truly transformational level. We are looking forward to seeing the results of our joint work and bring long-term value to the bank."
An initial exploration of the multi-stage collaboration is intended to demonstrate the use of quantum computing-hardened cryptographic keys, including uniquely combining them with post-quantum cryptographic algorithms to mitigate current and future cyber threats. This effort to strengthen resiliency against advanced cyber threats is increasingly critical as the transition point between the capabilities of classical and quantum computers continues to approach.
Quantinuum's Quantum Origin [LINK] is a cutting-edge platform that uses the operations of a quantum computer to strengthen the cryptographic keys that are used to protect transactions and identification processes. Quantum Origin is deployed on existing "classical" cybersecurity infrastructure and is the first commercial product on the market that uses a quantum computer to produce provably unpredictable cryptographic keys, which could offer an extra layer of security to protect HSBC's most valuable data. HSBC and Quantinuum will run Quantum Origin via an HSM provider.  Click here to read the May 30 announcement in-entirety.
Chinese scientists set new record in long-haul quantum communication

Chinese scientists have set a world record by achieving twin-field quantum key distribution (QKD) through a 1,002-kilometer optical fiber, marking a critical step toward a future large-scale quantum network. Quantum News Briefs summarized the May 30 article from Xinhua.
In a study published in the journal Physical Review Letters, scientists from institutions such as the University of Science and Technology of China, the Jinan Institute of Quantum Technology, the Shanghai Institute of Microsystem and Information Technology said that the longest distribution distance reached was 1,002 kilometers with a secure key rate of 0.0034 bits per second.
During their experiments, the scientists developed dual-band phase estimation and ultra-low noise superconducting nanowire single-photon detectors to suppress system noise, which impedes the production of secure keys in the long distance.
The study has verified the feasibility of twin-field QKD at a very long distance, and shed light on its prospects in long-haul quantum communication, according to the University of Science and Technology of China.  Click here to read article in-entirety.
QCI signs letter of intent to acquire privately held artificial intelligence platform millionway
Quantum Computing Inc. has announced that its Board of Directors has unanimously approved the signing of a non-binding Letter of Intent (LOI) to acquire up to 100% of the AI firm, millionways, creator of the world's first emotionally-intelligent AI platform, pending the completion of due diligence by independent third party valuation and fairness opinion firms. Quantum News Briefs summarizes.
The LOI follows the teaming and combining of millionways' AI sensing algorithms with QCI's quantum photonics computing power, including substantive progress made since the Company's initial testing engagement announced in April 2023.
Based in New York City, millionways is a leader in the development of AI algorithms used to effectively provide next-gen feedback to users on their emotional state and personality insights. Millionways' advanced emotionally-intelligent AI platform uniquely combines analysis and matchmaking algorithms based upon various forms of user-generated text or audio-to-text data with at least 500 words. The technology offers quick-turnaround analysis. Unlike other machine learning platforms such as ChatGPT, Alexa, or Siri, the millionways proprietary methodology and algorithms make behavorial predictions based on psychological patterns driven by underlying emotions. The methodology, known as Personality Systems Interactive (PSI) theory, is a recognized and validated model for studying the dynamics of personality development and emotional state. The millionways AI model delivers human behavior personality assessments that have clear applications in making the most informed decisions in healthcare, hiring, dating, customer relations, and general applications where social interactions drive behavorial outcomes.  Click here to read complete May 22 announcement.
Sandra K. Helsel, Ph.D. has been researching and reporting on frontier technologies since 1990.  She has her Ph.D. from the University of Arizona.