Quantum News Briefs May 19: Sparrow Quantum secures 31 million DKK (€4.1m) in seed funding; Researchers use ORNL's Quantum Computing User Program to perform first independent comparison of 24 leading quantum computers; Quantum Brilliance enters Central & Eastern Europe via partnership in Poland + MORE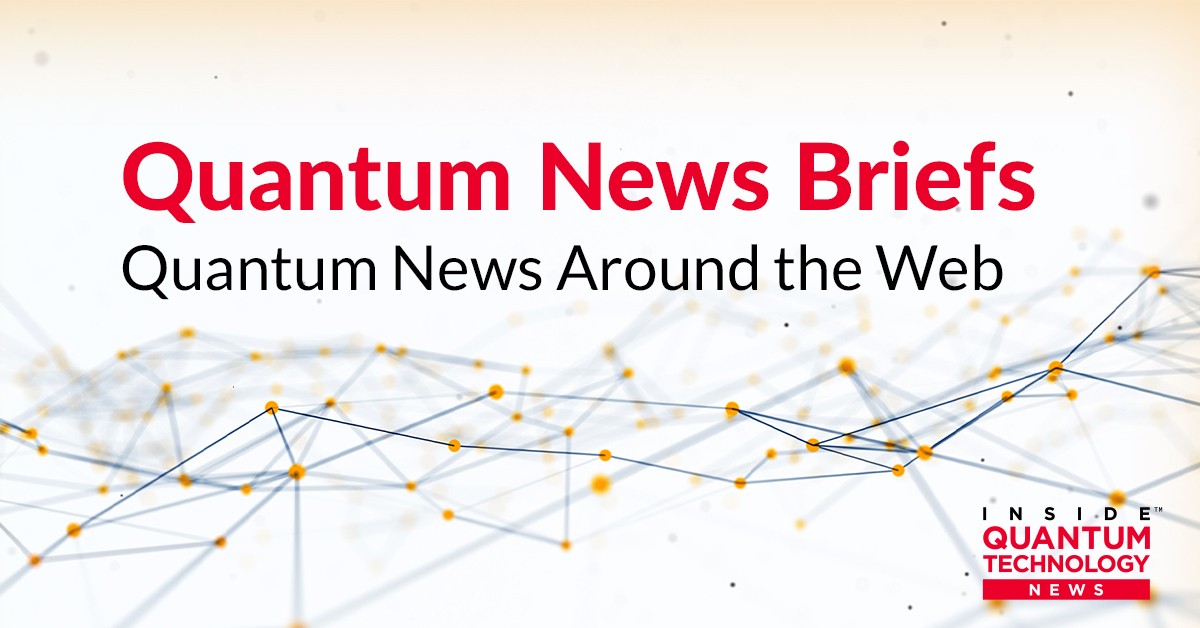 Quantum News Briefs May 19: Sparrow Quantum secures 31 million DKK (€4.1m) in seed funding; Researchers use ORNL's Quantum Computing User Program to perform first independent comparison of 24 leading quantum computers; Quantum Brilliance enters Central & Eastern Europe via partnership in Poland + MORE.
Sparrow Quantum secures 31 million DKK (€4.1m) in seed funding

Sparrow Quantum announced on May 11 that it had secured 31 million DKK (€4.1m) in seed funding, the largest investment to date in a Danish quantum technology company. The funding round was led by the venture capital firm 2xN and includes co-investment from LIFTT and the European Innovation Council (EIC). This financing is a testament to the investors' belief in the promise of photonic quantum technology as well as Sparrow Quantum's world-leading expertise in foundational quantum photonics devices.
Sparrow Quantum a Gold Sponsor at IQT Nordics June 6-8, 2023
Claus Friis Pedersen, CTO, Sparrow Quantum to speak at IQT Nordics
Sparrow Quantum aims to become a market leader in light-matter interfaces for quantum technologies by bringing foundational quantum photonic components to the market. Deterministic light-matter interfaces have widespread applications in quantum technology; they constitute foundational hardware allowing fully secure quantum communication, a quantum internet for wiring up the world with quantum entanglement, or a scalable quantum computer based on photons.
Sparrow Quantum's first product is an on-chip single-photon source with unparalleled specs; it provides long strings of more than 100 single photons without deteriorating quality and at a rate of more than 20 million single photons per second in fiber that the customer can directly deploy for, e.g., multi-photon quantum simulations or quantum key distribution experiments. Offering record-beating efficiency and photon indistinguishability, Sparrow Quantum's single-photon sources are expected to promote new avenues for research and enable photonic quantum technology researchers to conduct their experiments more efficiently and cost-effectively. Furthermore, Sparrow Quantum plans to become a trusted component provider in the quantum industry supply chain by teaming up with developers of quantum technology systems to incorporate its single-photon sources into large-scale commercial quantum systems.
Sparrow Quantum's technology results from over two decades of pioneering research by founder Prof. Peter Lodahl and his quantum photonics research group at the prestigious Niels Bohr Institute (NBI) in Copenhagen, Denmark. Peter was the first to demonstrate that light emission can be fully controlled using intricate photonic nanostructures. Peter currently heads the Hybrid Quantum Networks Hy-Q Center of Excellence, which is developing fundamentally new quantum hardware for the emergent field of quantum-information science, such as deterministic single-photon sources, spin-photon interfaces, and photonic quantum gates. Click here to read complete announcement and more on Sparrow Quantum's website.
Researchers use ORNL's Quantum Computing User Program to perform first independent comparison of 24 leading quantum computers
Researchers used Oak Ridge National Laboratory's Quantum Computing User Program, or QCUP, to perform the first independent comparison test of leading quantum computers
The study surveyed 24 quantum processors and ranked results from each against performance numbers touted by such vendors as IBM, Rigetti and Quantinuum (formerly Honeywell). The research team concluded most of the machines yielded acceptable performance by current quantum standards and found what may be a useful means to test the claims made by a variety of vendors.
"I think this study illustrates how difficult the task can be to capture a consistent benchmark for a technology as new and as volatile as quantum computing," said Elijah Pelofske, the study's lead author and a student researcher at New Mexico Tech and Los Alamos National Laboratory. "Our understanding of quantum computing continues to evolve, and so does our understanding of the appropriate benchmarks."The findings appeared in IEEE Transactions on Quantum Engineering.
Quantum Brilliance enters Central & Eastern Europe via partnership in Poland
Quantum Brilliance announced on May 18 that it is entering the Central and Eastern Europe (CEE) market through a cooperation agreement with Beyond.pl, a secure data center, cloud and Managed Services provider based in Poznan, Poland.  Quantum News Briefs summarizes.
For over 15 years Beyond.pl has served as a solution-agnostic provider supporting customers with a wide range of services focusing on the provision of and maintenance of IT infrastructure, including colocation, cloud (public, private, multi-cloud), and managed services (among others, BaaS, DR, NaaS, IT Administration).
Quantum competencies are on the rise in Poznan which is a prime city for the growth of the quantum industry in CEE. Last year, the European Union selected Poznan to place one of Europe's first quantum computers as part of a €100 million EuroHPC (European High-Performance Computing Joint Undertaking) initiative. In 2022, PSNC (Poznan Supercomputing and Networking Center) and UAM (Adam Mickiewicz University) in Poznan, the capital city of the Greater Poland region, joined the IBM Quantum Network, creating the CEE's first IBM Quantum Hub and opening doors for Polish scientists via the cloud.
In January 2023, Beyond.pl, UAM and the Kostrzyn-Slubice Special Economic Zone, among others under the auspices of Polish Ministry of Development and Technology, signed an agreement on cooperation for innovation, which supports the newly established Quantum Computing faculty in UAM in Poznan which is launching its curriculum program in October 2023.
Quantum Brilliance and Beyond.pl's collaboration will further reposition the city of Poznan in the field of quantum.
Poznan, strategically located halfway between Warsaw and Berlin, is one of the largest cities in Poland with a reputation as an essential academic, business, and market center. According to statistical data, one in every five residents of Poznan is a student, 14,000 people attend IT/ICT courses, and 3,300 graduate every year. There are over 123,000 businesses in the city, and the number of companies with foreign sources of capital is one of the largest in all of Poland. Most of these companies come from Germany, France, Japan, the United Kingdom, and the USA. The capital city of the Greater Poland region is one of the leading national hubs for foreign investment. It is recognized as "the most dynamically developing city in Poland," according to CEE Business Services Summit & Awards 2021 and was awarded the "Business Friendly City of the Year" in terms of local government support, according to the Future of Emerging Europe Summit and Awards 2022. Click here to read complete announcement.
Qrypt and Carahsoft partner to provide quantum secure encryption to Federal agencies
Qrypt, a quantum-secure cybersecurity service, announced a May 10 partnership with Carahsoft Technology Corp. Under the agreement, Carahsoft will serve as Qrypt's Master Government Aggregator, making the company's quantum-secure encryption technology available to the Federal Government through Carahsoft's reseller partners', Information Technology Enterprise Solutions – Software 2 (ITES-SW2) and National Cooperative Purchasing Alliance (NCPA) contracts.
Carahsoft's extensive network of technology manufacturers, value-added resellers, and system integrators offers the Government both the expertise and access to resources it needs to implement and integrate Qrypt's groundbreaking cybersecurity solutions. This partnership with Carahsoft will broaden the reach of quantum secure encryption, enabling Government access to the latest quantum secure technologies.
Qrypt's platform and solutions are available through Carahsoft's ITES-SW2 Contract W52P1J-20-D-0042, and NCPA Contract NCPA01-86. For more information, contact the Qrypt team at Carahsoft at (844) 214-4790 or qrypt@carahsoft.com.
Carahsoft Technology Corp. is The Trusted Government IT Solutions Provider, supporting Public Sector organizations across Federal, State and Local Government agencies and Education and Healthcare markets. As the Master Government Aggregator for our vendor partners, we deliver solutions for Cybersecurity, MultiCloud, DevSecOps, Big Data, Artificial Intelligence, Open Source, Customer Experience and more. Working with resellers, systems integrators and consultants, our sales and marketing teams provide industry leading IT products, services and training through hundreds of contract vehicles. Click here to read announcement in-entirety.
Sandra K. Helsel, Ph.D. has been researching and reporting on frontier technologies since 1990.  She has her Ph.D. from the University of Arizona.