Quantum News Briefs May 16: Former Israeli Prime Minister Naftali Bennett joins Quantum Source Board of Directors; QMware and QuiX Quantum to establish the first fully integrated Hybrid Quantum Computing Data Center, Quantum Computing Inc announces first quarter 2023 financial results + MORE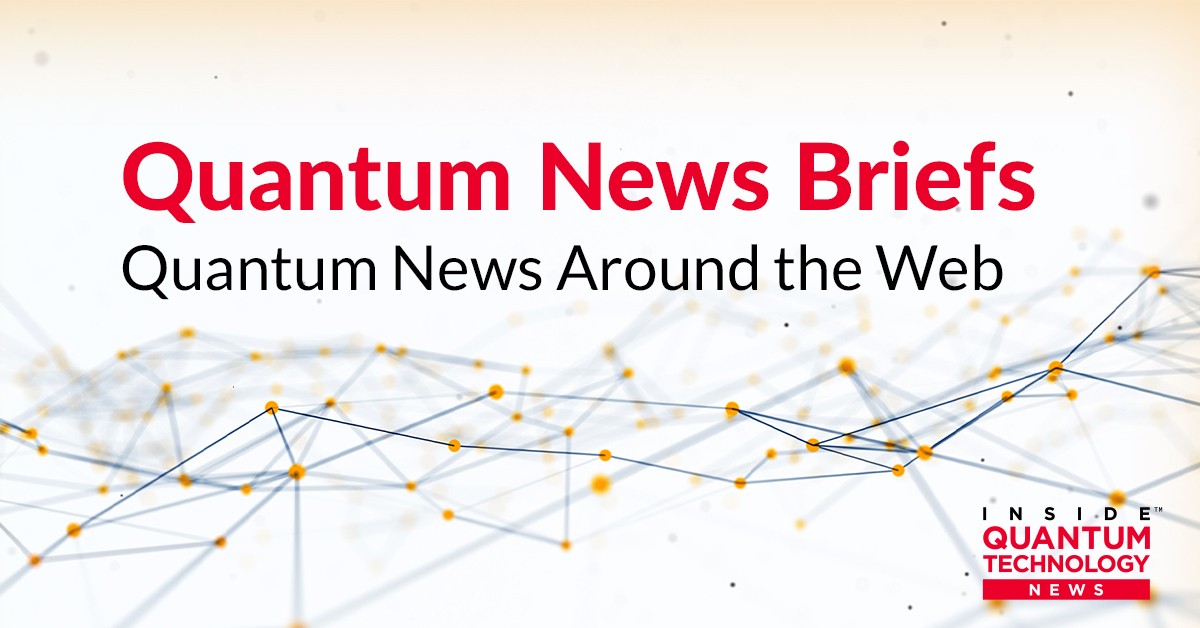 Quantum News Briefs May 16: Former Israeli Prime Minister Naftali Bennett joins Quantum Source Board of Directors, QMware and QuiX Quantum to establish the first fully integrated Hybrid Quantum Computing Data Center, Quantum Computing Inc announces first quarter 2023 financial results + MORE.
Former Israeli Prime Minister Naftali Bennett joins Quantum Source Board of Directors
Quantum Source Ltd. has welcomed former Israeli Prime Minister Naftali Bennett to its board of directors. Bennett's exceptional leadership and extensive experience will be instrumental in driving Quantum Source's mission of advancing quantum computing technology and shaping the future of computing.
"Quantum computing is one of the few technologies that has the potential to move the world forward in a significant way. As a true high-tech nation, Israel has the opportunity to lead once again in this developing area of innovation. The Quantum Source team will play a significant role in this progress," said Naftali Bennett.
Quantum Source is at the forefront of revolutionizing the computing industry through cutting-edge research and development in quantum technology. By leveraging the power of quantum bits (qubits), quantum computing offers unparalleled computational speed and the potential to solve complex problems in various fields.
Quantum Source is developing technology to enable the efficient implementation of large scale, fault-tolerant, photonic quantum computers. To date, companies have built small quantum computers with just tens or hundreds of qubits. While these rudimentary quantum computers are truly groundbreaking technology, the systems are not yet commercially viable.
"We are honored to have Naftali Bennett join our board of directors. He has a deep appreciation for the profound, positive impact quantum technologies can have on innovation across many areas," said Oded Melamed, co-founder and CEO of Quantum Source. "He also brings the rare first-person experience of having built a very successful technology company from day one. His perspective and leadership will be invaluable as we continue our work of advancing the frontiers of quantum computing technology."
Quantum Source has raised to date a $27 Million seed round from Grove Ventures, Pitango First, Eclipse, Dell Technologies Capital and 10D – making it one of the largest seed financings in Quantum Computing. Click here to read announcement in-entirety.
QMware and QuiX Quantum to establish the first fully integrated Hybrid Quantum Computing Data Center
QMware and QuiX Quantum collaborate to develop the first fully integrated, hybrid quantum-classical platform in Enschede, the Netherlands, where QuiX Quantum's headquarters are located. The hybrid architecture integrates high-performance computing (HPC) infrastructure with native quantum computing technology onsite for the first time globally. The new data center is expected to be fully operational for commercial applications in August 2023.
·       QMware is setting a new benchmark by co-locating HPC hardware with QuiX Quantum's photonic-based technology and integrating the different hardware types with shared memory access through QMware's proprietary software.
·       The new data center in Enschede is the first of its kind in the quantum computing industry and aims to ten-fold processing power – generating more efficient and accurate results.
·      With QuiX Quantum providing a scalable technology, industry use cases include optimization applications such as route planning and payload optimization in logistics or aerospace, or collateral portfolio and risk control in finance.
QMware and QuiX Quantum will co-locate the hardware onsite and integrate different computing paradigms (HPC and native quantum hardware) with shared memory access on the high-performance computer under a unified Linux operating system. This new approach provides significant performance improvements and cost savings over existing commercial hybrid quantum services. On the contrary, vendors currently require web integrations on separate computational stacks to orchestrate processing between quantum and classical hardware.
Quantum Computing Inc announces first quarter 2023 financial results
Quantum Computing Inc. ("QCI" or the "Company")  (NASDAQ: QUBT), a first-to-market full-stack photonic-based quantum computing and solutions  company, recently reported (May 11) its financial results for the first quarter ended March 31, 2023.
First Quarter 2023 Financial Highlights 
• Revenue: First quarter revenues totaled approximately $121,000 (53.3% gross margin)  compared to $31,000 (63.0% gross margin) generated in the first quarter 2022. Revenue was  derived from a mix of commercial and government contracts. The Company commenced  technology commercialization during the first quarter.
• Operating Expenses: First quarter operating expense increased 16.7% year-over-year to  $7.9 million due primarily to an increase in salary expense partly offset by a decrease in  consulting and professional services as the Company builds its internal team and shifts  several core responsibilities in-house.
The Company's average monthly cash burn during first quarter 2023 was approximately  $1.57 million, an increase of $0.17 million or roughly 12% over the prior year's monthly  average, primarily due to additional quantum engineering hires as a result of the QPhoton  merger and a focus on marketing to support an increase in product launches. The level of  cash expenditure is expected to hold relatively steady for the foreseeable future.
• Net Results: The Company reported a net loss of $8.5 million for the first quarter of 2023, which included approximately $985,000 in non-recurring, merger-related operating expenses  and financing costs. This represents an increase of approximately $1.1 million or 19.2%  when compared to the same period of the previous year.
• Total Assets: During the first quarter total assets increased $227,000 (0.25%) to $89.5  million as compared with year end at on December 31, 2022.
• Cash increased $1.5 million during first quarter 2023 to approximately $6.8 million.
• Total Liabilities: For the first three months of 2023, total liabilities decreased $1.8 million  to approximately $12.6 million as the Company began repayment of its debt and associated  interest as well as satisfied final expenses related to the QPhoton merger.
• Shareholders' Equity: During the three months of the quarter, shareholder equity increased  $2.0 million (2.7%) to $76.9 million.
• Capitalization: As of March 31, 2023, QCI had approximately 60.5 million shares of  common stock outstanding, an increase of approximately 4.5 million shares from year-end  2022. This increase is attributed to the sale of shares through an At-The-Market (ATM)  facility and the shares issued as compensation for services related to the QPhoton merger.  As of May 9, 2023, the Company has $93.3 million remaining on its shelf registration that  went effective November 8, 2022.
QCI's fully diluted shares total approximately 79.5 million, including 10.2 million stock  options of which approximately 68% have vested (average exercise price $3.33), 1.6 million  warrants (average exercise price $6.93), 5.1 million cashless warrants to pre-merger  shareholders of QPhoton, and 1.5 million shares underlying Series A Preferred stock. In the  event that all options and warrants were to be exercised, the Company would receive an  additional $45.1 million in cash.
Click here for complete announcement.
Bipartisan "Quantum Sandbox for Near-Term Applications Act" introduced in US Congress
U.S. Senators Ben Ray Luján, D-New Mexico, and Marsha Blackburn, R-Tennessee, introduced the Quantum Sandbox for Near-Term Applications Act last week. The bill would create a public-private partnership in hopes of developing and accelerating quantum applications in the near future. The bill can be read in full here.
Senator Luján said that as the United States continues to innovate technologically, it must continue to grow its quantum computing research.
"As national leaders in quantum computing research, New Mexico's national labs help position our country on the forefront of science and technology," Senator Luján said. "I've been clear that as these innovative, emerging technologies continue to develop, it's critical there are pathways into the commercial sector to grow our economy."
Blackburn said the legislation is necessary for the United States to stay competitive globally with communist China. "As we know in Tennessee, quantum applications have great potential to be a powerful source of technological innovation," Senator Blackburn said. "While Communist China has publicly acknowledged their goal to lead the world in quantum communications by 2049, it's critical the United States provide an environment for entrepreneurs and companies to promote competition and continued innovation. This bipartisan legislation will create a public-private partnership to accelerate the development of near-term quantum applications." Click here to read Newport Plain Talk article in-entirety.
Sandra K. Helsel, Ph.D. has been researching and reporting on frontier technologies since 1990.  She has her Ph.D. from the University of Arizona.