Quantum News Briefs May 11: Qrypt and Carahsoft partner to provide quantum secure encryption to Federal agencies; Zapata Computing and L3Harris partner to explore quantum computing solutions for DOD; Pawsey and Xanadu form global partnership to create opportunities for Australian quantum scientists + MORE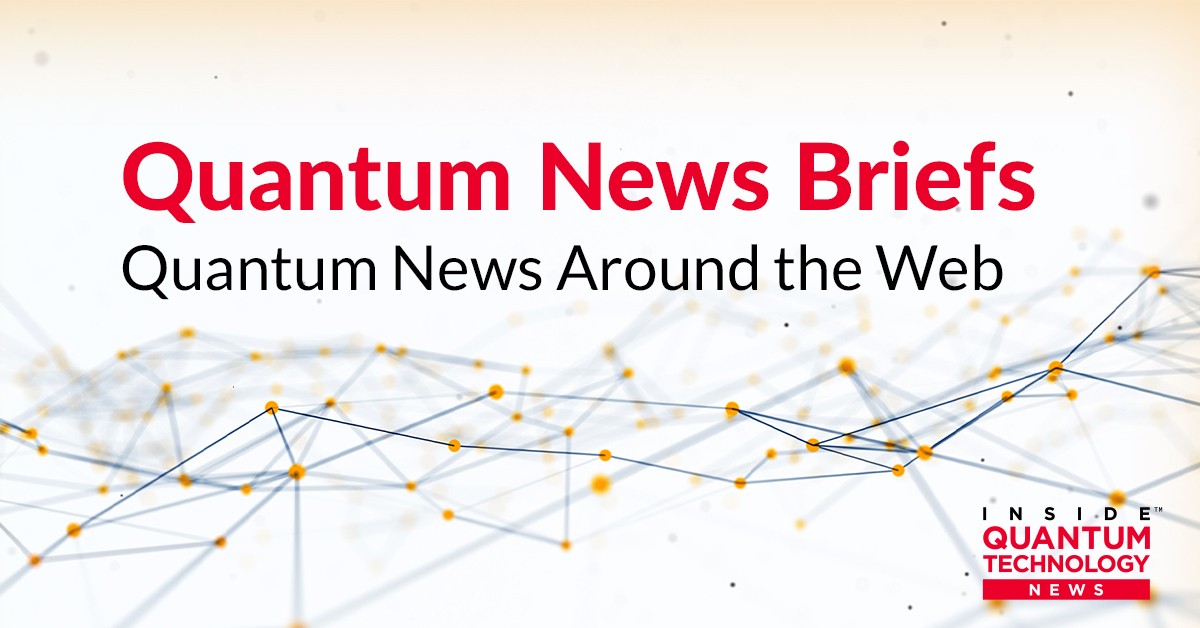 Quantum News Briefs May 11: Qrypt and Carahsoft partner to provide quantum secure encryption to Federal agencies; Zapata Computing and L3Harris partner to explore quantum computing solutions for DOD; Pawsey and Xanadu form global partnership to create opportunities for Australian quantum scientists + MORE.

Qrypt and Carahsoft partner to provide quantum secure encryption to Federal agencies
Qrypt, a quantum-secure cybersecurity service, announced a May 10 partnership with Carahsoft Technology Corp. Under the agreement, Carahsoft will serve as Qrypt's Master Government Aggregator, making the company's quantum-secure encryption technology available to the Federal Government through Carahsoft's reseller partners', Information Technology Enterprise Solutions – Software 2 (ITES-SW2) and National Cooperative Purchasing Alliance (NCPA) contracts.
Carahsoft's extensive network of technology manufacturers, value-added resellers, and system integrators offers the Government both the expertise and access to resources it needs to implement and integrate Qrypt's groundbreaking cybersecurity solutions. This partnership with Carahsoft will broaden the reach of quantum secure encryption, enabling Government access to the latest quantum secure technologies.
Qrypt's platform and solutions are available through Carahsoft's ITES-SW2 Contract W52P1J-20-D-0042, and NCPA Contract NCPA01-86. For more information, contact the Qrypt team at Carahsoft at (844) 214-4790 or qrypt@carahsoft.com.
Carahsoft Technology Corp. is The Trusted Government IT Solutions Provider, supporting Public Sector organizations across Federal, State and Local Government agencies and Education and Healthcare markets. As the Master Government Aggregator for our vendor partners, we deliver solutions for Cybersecurity, MultiCloud, DevSecOps, Big Data, Artificial Intelligence, Open Source, Customer Experience and more. Working with resellers, systems integrators and consultants, our sales and marketing teams provide industry leading IT products, services and training through hundreds of contract vehicles. Click here to read announcement in-entirety.
Zapata Computing and L3Harris partner to explore quantum computing solutions for DOD
Zapata Computing, the software company building solutions to enterprises' most computationally complex problems, today announced May 10 that it has delivered 30 quantum computing challenge scenarios to the Defense Advanced Research Projects Agency alongside L3Harris and several other industry leaders. The scenarios will help determine potential quantum computing benefits across defense, chemistry, finance, machine learning and other areas.
As part of their $7.3 million contract with DARPA, Zapata and L3Harris are developing benchmarks that will guide the practical application of quantum computing and how it can support broader industry applications. The program will measure progress toward specific quantum computing challenges, such as creating new materials, simulating fluid dynamics, real-time machine learning, and engineering design optimization.
"For Zapata, this program is an opportunity to apply our quantum expertise to gain genuine insights about the practical utility of quantum computing in any time horizon," said Yudong Cao, CTO and Co-founder of Zapata Computing. "Another asset that we are leveraging at Zapata is our experience in working with enterprise clients in the past years to discover and develop quantum use cases that are catered to the unique demands of each industry."
The project creates benchmarks from real-world computational challenges. These benchmarks establish standards against which quantum hardware can be compared to attain the specific performance levels needed to solve complex, next-generation problems. These estimates will help the Department of Defense (DOD) harness the utility of quantum computers by providing a roadmap for how quantum technology can be utilized.
"Our quantum technology portfolio provides an exponential leap in innovation and performance over existing defense technologies," said Chris Dorny, Head of Quantum Technology, Space and Airborne Systems, L3Harris. "We look forward to supporting DARPA in this pioneering effort to determine how, and when, our warfighters can best benefit from quantum computing."
Zapata and L3Harris are leading the project with support from BBVA Corporation, BP, Copernic Catalysts, Mitsubishi Chemical and academic partners at the University of Toronto. Click here to read complete announcement on Zapata website.
Pawsey and Xanadu form global partnership to create opportunities for Australian quantum scientists
The Pawsey Supercomputing Research Centre (Pawsey) and Canadian quantum computing company Xanadu have signed a memorandum of understanding to work together and test the capabilities of integrating high-performance computing (HPC) and quantum computing technologies. The teams will leverage their existing hardware and algorithms expertise to improve the integration between Pawsey's HPC and Xanadu's quantum computing hardware and provide researchers with state-of-the-art hybrid computing capabilities.

Australia-based Pawsey is home to Setonix, ranked 15th most powerful supercomputer globally and 4th most energy efficient in the supercomputer energy efficiency ranking, the Green500. The field of quantum computing is rapidly advancing, as evidenced by the significant strides made in hardware, including Xanadu's demonstration of quantum computational advantage. These developments lend greater credibility to the potential of quantum computing to solve problems that are currently considered intractable.
Toronto-based Xanadu is a global leader in the quantum computing industry, having built the world's first photonic quantum computer that has achieved quantum computational advantage. The company also leads the development of PennyLane, an open-source software framework for quantum machine learning, quantum chemistry and quantum computing with the ability to run on all commercially available quantum hardware and simulators.
One of the fundamental principles shared by Pawsey and Xanadu is making cutting-edge technology accessible to research and development teams to enhance existing infrastructure and drive new discoveries. In pursuit of this goal, both teams have joined forces to leverage the power of quantum computers to complement traditional HPC methods while also improving existing algorithms and creating new ones using PennyLane.  Click here to read announcement in-entirety.
What can government do to enable the quantum industry to flourish?
To achieve the maximum benefit for their citizens and keep the development of quantum free and fair, governments need to help reduce risks and allow the quantum industry to flourish. A Wall Street Journal's May 3 CIO submission from Deloitte proposed guidelines on the role of government summarized below by Quantum News Briefs. Government support could happen in several ways:
Government as buyer. Hesitance among both quantum companies and buyers can contribute to market risk and create a negative feedback loop, stalling progress. Through guaranteed purchases, government can help create the foundation of a market and lessen the risk for companies to make continued investments.
Government as infrastructure provider. Making quantum information technologies more reliable and accessible will likely require new technical discoveries made by skilled workers. Public sector organizations such as government agencies and universities should help create the courses, educational content, and upskilling programs that can reduce technical risk and help propel the industry.
Government as regulator. Countries around the world are flooding investment into quantum. Ironically, this investment itself is leading to uncertainty risk, because it places quantum in the frame of larger geopolitical tensions concerning the control of emerging technologies. This leaves government leaders with a dilemma: how to protect national security and IP without stalling technical progress. Enshrining key ethical principles can give industry a clearer regulatory process to follow.
Public sector leaders can help identify and reduce the risks standing in the way of a quantum-enabled future, even as the specifics of that future change over time. A  few small steps can help leaders get started:
Give it a try. While many nations have already adopted a national quantum strategy, individual agencies and universities should begin looking to pilot quantum technologies on a small scale.
Build the workforce. Experimenting with quantum solutions has the added benefit of beginning to build the quantum workforce within the public sector. Training is important, but real-world experience using the technology to solve mission problems can be invaluable.
Manage a portfolio of bets. Quantum is not a point solution; it needs an ecosystem of technologies to make it work. Therefore, cultivating a quantum industry requires taking a portfolio approach.
Coordinate to stay flexible. Finally, the science, engineering, and business of quantum is changing so quickly that it is unlikely any solution put forward today will still be the best option in even a few years. As a result, leadership should actively coordinate with other agencies so that investments, skill-building, and proofs of concept are additive and not duplicative.Click here to rad the WSJ article by Deloitte in-entirety.
Sandra K. Helsel, Ph.D. has been researching and reporting on frontier technologies since 1990.  She has her Ph.D. from the University of Arizona.