Quantum News Briefs May 1: Building the future of the French quantum internet in collaboration with the University Côte d'Azur; Infleqtion announces next generation miniMOT platform for quantum physics research and education; Mysterious class of "Strange Metals" yields quantum secrets + MORE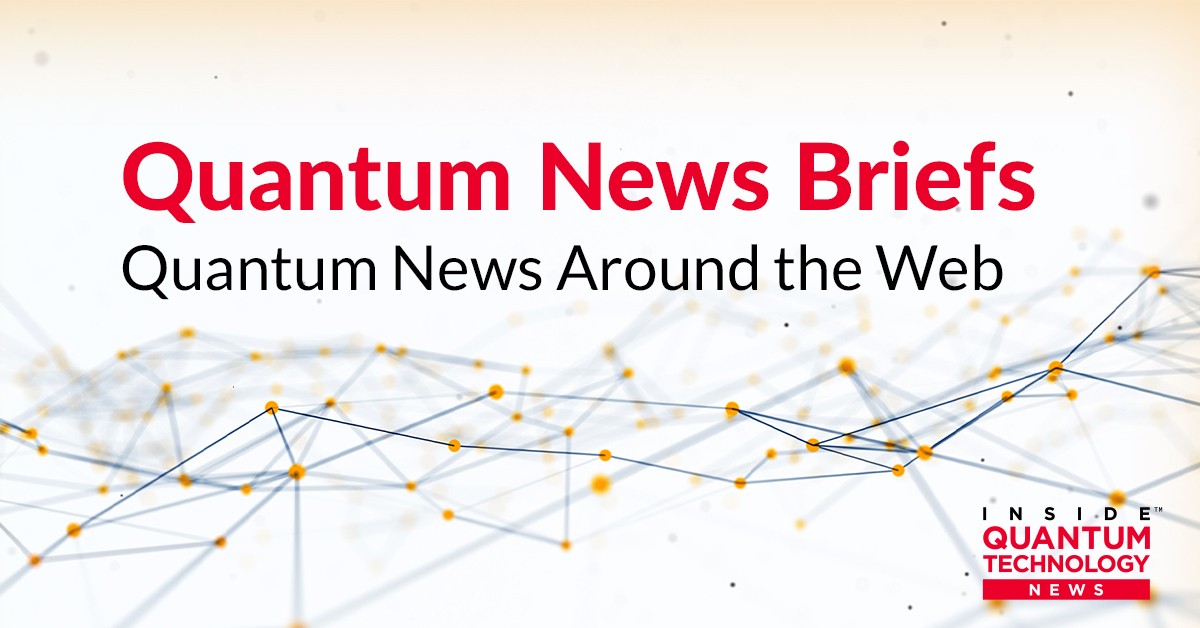 Quantum News Briefs May 1: Building the future of the French quantum internet in collaboration with the University Côte d'Azur; Infleqtion announces next generation miniMOT platform for quantum physics research and education; Mysterious class of "Strange Metals" yields quantum secrets + MORE.

Building the future of the French quantum internet in collaboration with the University Côte d'Azur

The FranceQCI project was officially launched on April 18, 2023. The project aims to deploy quantum communication infrastructure (QCI) networks in France and experiment with them under real conditions for a period of 30 months. Quantum News Briefs summarizes the announcement.
FranceQCI is a project co-funded by the European Commission, as part of the European Quantum Communication Infrastructure (EuroQCI) initiative launched by the EU in 2019. It is one of the main pillars of the EU's new cybersecurity strategy for the decades to come, which aims to secure communications and data for critical infrastructure and government institutions. The FranceQCI project aims to deploy advanced national quantum systems and networks to test quantum communication technologies and integrate them into existing communication networks in France.
The FranceQCI consortium brings together actors with diverse and complementary expertise and resources. TheUniversity Côte d'Azuris one of the partners of the project, alongside Airbus, CNRS, Cryptonext Security, the Directorate General of Civil Aviation, Orange, Sorbonne University, Télécom Paris, Thales, Thales Alenia Space, Veriqloud and Welinq.
Existing infrastructures in the Paris region (ParisRegionQCI) and Nice (Quantum@UCA/Nice) will be used to evolve towards operational quantum key distribution (QKD) services and contribute to the development of European technological autonomy. A quantum network will also be implemented in Toulouse (in the DGAC/DSNA/DTI laboratory) to perform a realistic end-user service test for the French Directorate General of Civil Aviation.
FranceQCI represents a first step towards a comprehensive European quantum communication infrastructure that could be implemented with cross-border links connecting similar networks in other countries, either through fiber optic terrestrial links or through space connectivity.
The involvement of University Côte d'Azur, alongside other major industry and research players, in this ambitious project is further evidence of the university's prominent position in the European academic and scientific landscape. Click here to read the announcement in-entirety.
Infleqtion announces next generation miniMOT platform for quantum physics research and education
Infleqtion recently announced the release of its next-generation compact vacuum system for neutral atom research and quantum application development, the miniMOT V2. This launch marks the first new product release under the Infleqtion brand as the company transitions to a commercial products company.
The miniMOT V2 is a unique and compact off-the-shelf trapped atom vacuum system that enables users to create and control quantum matter based on rubidium (Rb) or cesium (Cs) atoms. With an intuitive user interface, the miniMOT V2 provides greater control over critical system parameters, increasing flexibility for cold atom experiments.
Neil Anderson, Ph.D., General Manager for Infleqtion's Quantum Components business highlighted, "As the quantum industry matures, we continue to see the need for commercial products that enable researchers, scientists, and application developers to quickly execute their experimental goals and meet their product development milestones. The miniMOT V2's new design and features provide users with even greater flexibility to create and control quantum matter within hours, not months."
Unlike its bulky counterparts, the miniMOT V2 eliminates the guesswork and hassle of setting up large and expansive vacuum equipment, allowing students and researchers to focus on designing their cold atom experiments or quantum application work to generate results faster. Upgrading to the miniMOT V2 means an easy-to-use and efficient solution for your quantum matter needs.
The miniMOT V2 includes a compact UHV system suitable for MOT production from a background vapor, active and passive pumps to maintain vacuum quality over several years of operation, integrated electronics for vacuum control, alkali atom pressure control, and to drive the miniMOT Coils and a touchscreen interface for seamless user control of system operation. It also includes a thin-walled cell, but optimized AR-coated UHV glass cells are also available as a standard feature. Shipped under vacuum, the miniMOT V2 is ready for immediate use.
Infleqtion has collaborated with undergraduate educators to develop experiments that can be integrated into traditional physics curricula. As atomic physicists, they understand the importance of incorporating physical experimentation based on quantum physics into physics education. This is crucial as quantum technologies, such as quantum information processing, Positioning, Navigation and Time-keeping (PNT), gravimetry, and magnetometry, have become increasingly important for industry and governments around the world. To take advantage of the opportunities that the quantum world will offer, it is critical to develop a workforce with the necessary skill sets.
Mysterious class of "Strange Metals" yields quantum secrets
Physicists at Rutgers University have offered theoretical perspectives on an experiment involving a "strange metal," which could play a crucial role in the development of future quantum technologies.
Researchers investigating a compound referred to as "Y-ball," which belongs to a mysterious class of "strange metals" considered crucial for the development of advanced quantum materials, have discovered novel methods for examining and comprehending its behavior.
The outcomes of the experiments may contribute to the creation of disruptive technologies and devices.
"It's likely that quantum materials will drive the next generation of technology and that strange metals will be part of that story," said Piers Coleman, a Distinguished Professor at the Rutgers Center for Materials Theory in the Department of Physics and Astronomy at the Rutgers School of Arts and Sciences and one of the theoreticians involved in the study. "We know that strange metals like Y-ball exhibit properties that need to be understood to develop these future applications. We're pretty sure that understanding this strange metal will give us new ideas and will help us design and discover new materials."
Reporting in the journal Science, an international team of researchers from Rutgers, the University of Hyogo, and the University of Tokyo in Japan, the University of Cincinnati, and Johns Hopkins University described details of electron motion that provide new insight into the unusual electrical properties of Y-ball. The material, technically known as the compound YbAlB4, contains the elements ytterbium, aluminum, and boron. It was nicknamed "Y-ball" by the late Elihu Abrahams, founding director of the Rutgers Center for Materials Theory.
Update for European Competence Framework for Quantum Technologies
The Quantum Flagship education team has prepared a new version of the European Competence Framework for Quantum Technologies incorporating feedback and extending the framework with proficiency levels and key skills to prepare, map and compare educational programs in quantum technologies.
The new 2.0 version of the European Competence Framework for Quantum Technologies was released at World Quantum Day 2023. It maps the landscape of possible competencies and skills in Quantum Technologies. The framework has been compiled and revised with extensive input from a multitude of stakeholders. It allows a straightforward comparison between competencies and will be used in the European Quantum Readiness Center (EQRC) to map and compare courses. The EQRC is a pan-European initiative committed to empowering Europe with Quantum Readiness. The goal is to create a quantum-aware society and to develop and empower the quantum workforce of tomorrow.
The Competence Framework was compiled by the QTEdu team in a bottom-up approach. Between summer 2020 and spring 2021, input for the framework as well as predictions around the future quantum workforce were collected in an iterative study. Details of the study are documented in The Future Quantum Workforce: Competences, Requirements and Forecasts (preprint, to be published in Phys. Rev. Phys. Educ. Res.). The beta version of the framework was refined to version 1.0 by conducting expert interviews for each domain. The publication of a Methodology and Version History by the European Commission provided a complete overview of the documentation process and the steps taken to arrive at the framework version 1.0. For the current version 2.0, feedback and usage experiences have been incorporated and events have been organised to involve the community.
Version 2.0 of the Framework covers 8 domains in quantum technologies, from concepts and physical foundations to quantum hardware, sensors, computing and communication, as well as valorisation. Also new in version 2.0: clearer structuring of the domains, description of proficiency levels and key skills with concrete examples. Click here for complete, comprehensive update on European Competence Framework for Quantum Technologies.