Quantum News Briefs March 6: Three ways government can move from quantum hype to quantum reality;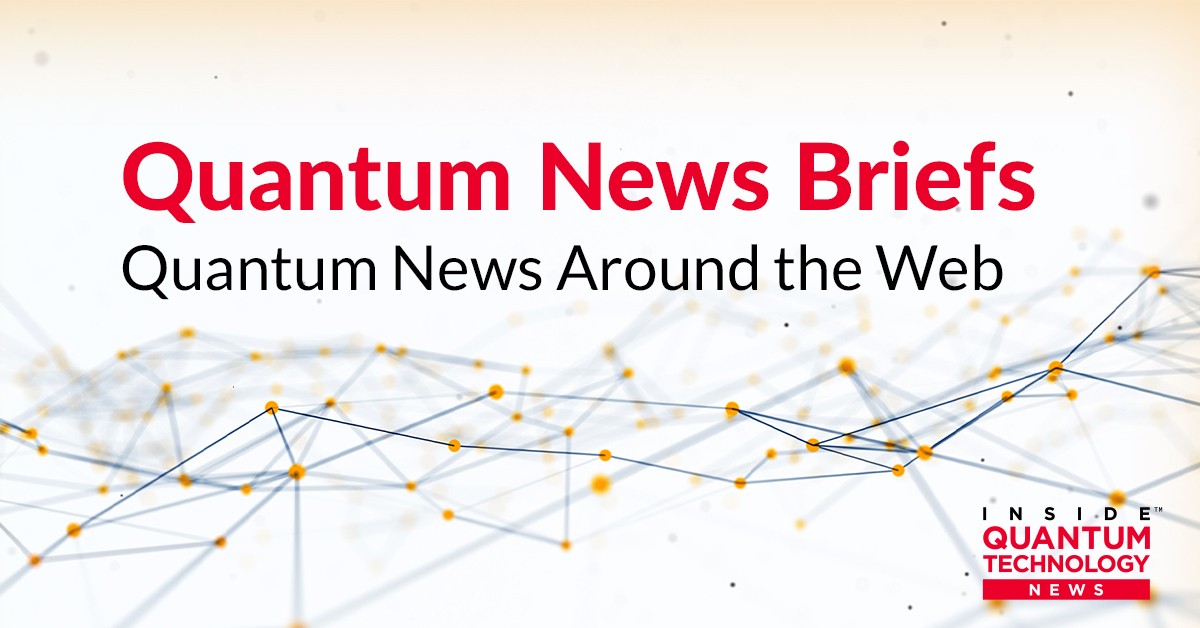 Quantum News Briefs March 6: Three ways government can move from quantum hype to quantum reality; AUKUS must focus on quantum policy, not just the technology; Indian Railways to focus on using AI & quantum technology for modernization + MORE.
Three ways government can move from quantum hype to quantum reality
Revolutionary technologies from past eras — including the internet, GPS and touch screens — came to life with the support of robust federal funding and thoughtful regulations. For quantum technologies to mature in a way that drives tangible, safe and positive change for the American people, they will need the same kind of government support and regulation that benefitted other technologies. Quantum News Briefs summarizes a recent article by Scott Buchholz, who serves as chief technology officer for Deloitte's Government and Public Services practice.
How government can lead the quantum transformation:
While the application of quantum technology appears tremendously promising, we cannot fully reap the technology's full suite of benefits without public sector support. To that end, government agencies can play three critical roles to successfully usher in the quantum era:
   1) The Regulator Role. By setting baseline standards and safeguards — and by regularly convening appropriate stakeholders — government agencies can help speed up the development of safe and accessible quantum tools and guard against potential threats by implementing post-quantum encryption protocols.
2) The Buyer Role. Government can minimize market risk and create a strong foundation for the quantum technology market by offering guaranteed purchases. Sending sustained and stable signals from the government about its interest and investment in quantum can help stimulate natural market growth.
3) The Talent Role. Agencies can help academic institutions establish new courses and set academic standards to help nurture the nascent quantum workforce. Because quantum technology combines elements of engineering, physics and computer science, leaders should promote quantum as its own distinct discipline — exposing young students to quantum concepts and designing dedicated quantum programs in primary, secondary and higher education. These programs can serve as a foundation to build a specialized, highly skilled quantum workforce.
The US government can play a critical part in ensuring that we realize its full potential and use this transformational technology in a safe, equitable and effective manner. By mitigating risks, eliminating market barriers, and catalyzing a new generation of talent, government agencies can help America lead the world in quantum adoption. Click here to read article in-entirety.
AUKUS must focus on quantum policy, not just the technology
The AUKUS security agreement between Australia, the United Kingdom and the United States is an opportunity for these like-minded partners to be first movers not just in quantum technology, but also in quantum policy. Quantum News Briefs summarizes a March 1 editorial from the Australian Strategic Policy Institute by Bronte Munro and Tristan Paci.
The AUKUS partners are already working collaboratively on scaling quantum technology innovation and implementation, but there's a parallel need to develop standards to address the potential regulatory, ethical, intelligence, commercial and legal implications of novel quantum technologies.
The AUKUS agreement is unique because it proposes practical technological engagement between the public and private sectors from the US, Australia, and the UK on the development of quantum technologies. Quantum technology is one of the eight advanced capabilities outlined under the AUKUS agreement's second pillar (Pillar 2), which focuses on advanced capability acquisition.
For AUKUS to succeed, increased transparency is needed around the activities of the Pillar 2 working groups. Private-sector entities—whose private capital is fuelling much of the early development of this game-changing technology—engaged in this work need to understand what the AUKUS partners are trying to achieve and where the rest of the ecosystem can be poised to support.
Without a sense of urgency and focus on the policy implications, the AUKUS partners will lose the opportunity to shape the standards by which the rest of the world will use this technology.
Without open communication between the public and private sectors, it will be difficult to ensure that normative safeguards are developed and incorporated into the design process—and eventually the distribution—of these transformative technologies.
In the current era of strategic competition, shared understanding of the dos and don'ts for using and responding to critical and emerging technologies takes on additional importance. In an apparent effort to stack the deck in its favour, China has increased its influence on international technology standard-setting through lobbying tactics and strategic investment. It is therefore critical for like-minded public- and private-sector partners to collaborate in establishing allied, if not global, standards for a quantum future. Click here to read article in-entirety.
Indian Railways to focus on using AI & quantum technology for modernization
Indian Railways is set to adopt the latest technologies and innovations for its mega transformation across the country. In this context, the railways will now focus on using Artificial Intelligence (AI) and Quantum computing technology for its modernization according to recent article in Financial Express summarized  below by Quantum News Briefs.
Speaking at a technical seminar for the Ministry of Railways, Railway Minister Ashwini Vaishnaw stressed the need to adopt the latest technologies for the development of the national transporter. He also emphasized exploring the options of integrating data analytics to transform the railway network.
The seminar has been organized by the Centre for Railway Information System (CRIS) at New Delhi's National Rail Museum. Apart from Vaishanw, the seminar was attended by senior officers of the railway board, zonal and divisional railways, and industry partners.
For live tracking of trains, the CRIS has collaborated with Indian Space Research Organisation (ISRO) under the Real Time Train Information System (RTIS) project. This will help the national transporter as well as the passenger to locate the trains. The railways are also deploying Satcom & Satnav-based IoT devices on the trains.  Click here to read complete original article discussing the Railway Minister's speech.
National Cybersecurity Alliance (NCA) executive director discusses cybersecurity risks in 2023
In an interview with Venture Beat's Tim Keary, Lisa Plaggemier, executive director at the National Cybersecurity Alliance (NCA), shares top cybersecurity risks in 2023. Quantum News Briefs summarizes the quantum security component of the wide-ranging discussion.
Venture Beat asked: Any comments on post-quantum computing threats and the importance of quantum-safe solutions?
Plaggemier: "I don't think quantum computing presents an immediate cybersecurity threat in the very short term because the technology to facilitate true quantum computing capabilities just hasn't caught up to the conceptual framework of what QC is capable of.
"That said, it's not too far off to start thinking about what proper deterrence looks like, especially because the Biden administration has already begun looking at real-world scenarios and protocols with the Quantum Computing Cybersecurity Preparedness Act. The projection is that we'll see quantum computing reach critical mass in the next 5 to 10 years — an inflection point for cybercriminals.
"The same way threat actors are using generative AI to bolster those low-tech methods, is likely what we'll see with quantum computing once it's at a place that has more practical applications. That said, current cybersecurity technologies, awareness and legislation efforts all need to scale proportionately and quickly to create a framework that can be used to deter QC capabilities.
"Quantum computing will be able to break current encryption methods. The enterprise and the government is going to have to better understand that increased investment into quantum-safe cryptographic systems and quantum-resistant algorithms and protocols minimize code-breaking, data theft and financial losses." Click here to read entire interview.
Sandra K. Helsel, Ph.D. has been researching and reporting on frontier technologies since 1990.  She has her Ph.D. from the University of Arizona.