Quantum News Briefs March 10: South Korea's National Intelligence Service to screen & authorize procedures for quantum cryptography communications products; Japan's quantum computer to open online for research this month; China is developing quantum communications satellite network + MORE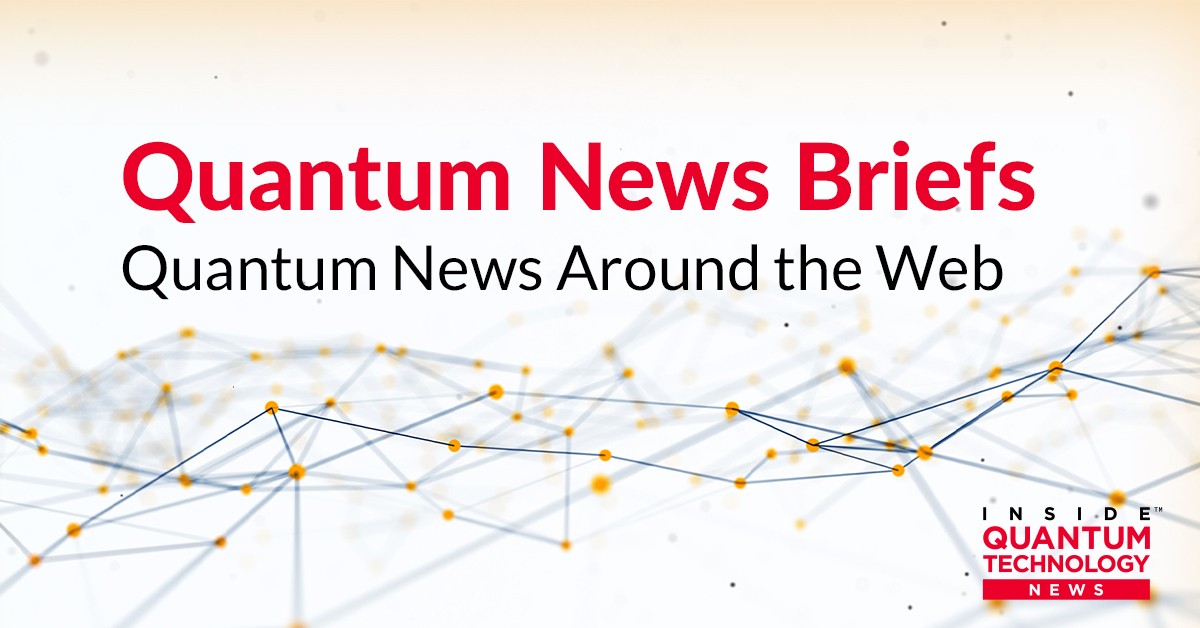 Quantum News Briefs March 10: South Korea's National Intelligence Service to screen & authorize procedures for quantum cryptography communications products; Japan's quantum computer to open online for research this month; China is developing quantum communications satellite network + MORE.
South Korea's National Intelligence Service to screen & authorize procedures for quantum cryptography communications products
The National Intelligence Service is about to initiate screening and authorization procedures regarding quantum cryptography communications products. This means the world's first commercial quantum cryptography communications are around the corner in South Korea.
The first products to be covered by the NIS are likely to include SK Telecom's quantum random number generator (QRNG). The company set up its quantum technology research center in 2011 and acquired IDQ in Switzerland in 2018. SK Telecom's QRNG chip was used in Samsung Galaxy Quantum smartphones. More recently, it developed the Quantum Cryptography One Chip as a combination of the QRNG chip and a semiconductor device for quantum cryptography.
In addition, quantum key distribution-based dedicated line services have been released by SK Telecom and KT and a dedicated line service based on post-quantum cryptography (PQC) has been released by LG U+, which developed the world's first PQC-based re-configurable optical add-drop multiplexer in June 2020.
Those technologies are expected to be adopted in multiple overseas markets once employed for quantum cryptography communications networks in the public sector of South Korea. At present, a quantum communications infrastructure project is underway in the European Union and its commercial network for quantum cryptography is likely to be similar in configuration to that of South Korea. In addition, some Asian countries are considering building quantum cryptography networks based on the South Korean model.
Japan's quantum computer to open online for research this month
The March 10 AsiaNikkei reports that Japan's first domestically built quantum computer will become accessible online at the end of the month, the Riken research institute said Thursday, allowing companies and universities to tap its ultrafast computing powers for a wide range of research projects. Quantum News Briefs summarizes the article by Akira Oikawa.
Riken, which is backed by the government, will let a broad spectrum of corporations and universities access the machine. Startups may be able to acquire expertise in quantum computing applications.
Currently, the IBM quantum computer in Kawasaki is available only to members of a consortium led by the University of Tokyo. Participating companies include Toyota Motor and Sony Group.
Riken plans to connect it to the Fugaku supercomputer and kick-start broader real-world use in 2025. The quantum computer would handle only core processing in this arrangement.
Japan looks to sprint ahead using its first homegrown quantum computer as a springboard. Technology group Fujitsu is receiving technical expertise from Riken and has set a goal of developing a quantum computer in fiscal 2023.
The University of Tokyo and Nippon Telegraph and Telephone have developed a quantum computing approach using optical technology. They will make the quantum computer accessible through the cloud as soon as 2024.  Click here to read the AsiaNikkei article in-entirety.
China is developing quantum communications satellite network
Space News reports that Chinese research institutes are working to construct a quantum communications network using satellites in low and medium-to-high Earth orbits.  Quantum News Briefs summarizes.
Pan Jianwei, a scientist with the Chinese Academy of Sciences (CAS) and a member of the member of the 14th National Committee of the Chinese People's Political Consultative Conference (CPPCC), made the comments in an interview with media March 4 on the sidelines of China's annual political sessions in Beijing. "We are cooperating with the National Space Science Center to develop a medium-to-high Earth orbit satellite. In the future, the combination of high orbit satellites and low Earth orbit satellites will build a wide-area quantum communication network," Pan said, according to Yicai Global.
Reports of Pan's comments did not provide further details of the planned network, but earlier publications provide insight. A first step will see three or five small satellites focused on QKD—generating entangled particles for use as quantum keys—with masses under 100 kilograms.
LEO satellites would provide links between cities, while satellites in higher orbits would allow intercontinental quantum communication.
The network would use elements of quantum mechanics for encryption and secure transmission of information.
China has also been building compact ground stations for the network. This has so far allowed demonstrations of quantum communications between the Mozi satellite and the cities of Beijing, Jinan, Weihai, Lijiang and Mohe. Click here to read complete Space News article.
Microsoft's Integrated Hybrid feature in Azure Quantum available to public
Microsoft announced a significant quantum advancement and made their new Integrated Hybrid feature in Azure Quantum available to the public. Quantum News Briefs summarizes from the Microsoft blog.
This new functionality enables quantum and classical compute to integrate seamlessly together in the cloud—a first for our industry and an important step forward on our path to quantum at scale. Now, researchers can begin developing hybrid quantum applications with a mix of classical and quantum code together that run on one of today's quantum machines, Quantinuum, in Azure Quantum.
AI, high-performance computing, and quantum are being co-designed as part of Azure, and this integration will have an impact in three important and surprising ways in the future.
1. The power of the cloud will unlock scaled quantum computing
2. The rise of classical compute capabilities in the cloud can help scientists solve quantum mechanical problems today
3. A hyperscale cloud with AI, HPC, and quantum will create unprecedented opportunities for innovators.
Click here to read the blog posting from Krysta Svore Distinguished Engineer and Vice President of Advanced Quantum Development, Quantum at Microsoft.
Three ways the government can move from quantum hype to quantum reality
Revolutionary technologies from past eras — including the internet, GPS and touch screens — came to life with the support of robust federal funding and thoughtful regulations. For quantum technologies to mature in a way that drives tangible, safe and positive change for the American people, they will need the same kind of government support and regulation that benefitted other technologies. Quantum News Briefs summarizes a recent article by Scott Buchholz, who serves as chief technology officer for Deloitte's Government and Public Services practice.
How government can lead the quantum transformation:
While the application of quantum technology appears tremendously promising, we cannot fully reap the technology's full suite of benefits without public sector support. To that end, government agencies can play three critical roles to successfully usher in the quantum era:
   1) The Regulator Role. By setting baseline standards and safeguards — and by regularly convening appropriate stakeholders — government agencies can help speed up the development of safe and accessible quantum tools and guard against potential threats by implementing post-quantum encryption protocols.
2) The Buyer Role. Government can minimize market risk and create a strong foundation for the quantum technology market by offering guaranteed purchases. Sending sustained and stable signals from the government about its interest and investment in quantum can help stimulate natural market growth.
3) The Talent Role. Agencies can help academic institutions establish new courses and set academic standards to help nurture the nascent quantum workforce. Because quantum technology combines elements of engineering, physics and computer science, leaders should promote quantum as its own distinct discipline — exposing young students to quantum concepts and designing dedicated quantum programs in primary, secondary and higher education. These programs can serve as a foundation to build a specialized, highly skilled quantum workforce.
The US government can play a critical part in ensuring that we realize its full potential and use this transformational technology in a safe, equitable and effective manner. By mitigating risks, eliminating market barriers, and catalyzing a new generation of talent, government agencies can help America lead the world in quantum adoption. Click here to read article in-entirety.
Sandra K. Helsel, Ph.D. has been researching and reporting on frontier technologies since 1990.  She has her Ph.D. from the University of Arizona.