Quantum News Briefs June 20: Intel and HRL Laboratories collaborate with UW-Madison to accelerate quantum computing research; IDQ Europe becomes Nutshell Quantum-Safe; DARPA's Quantum Augmented Network (QuANET) + MORE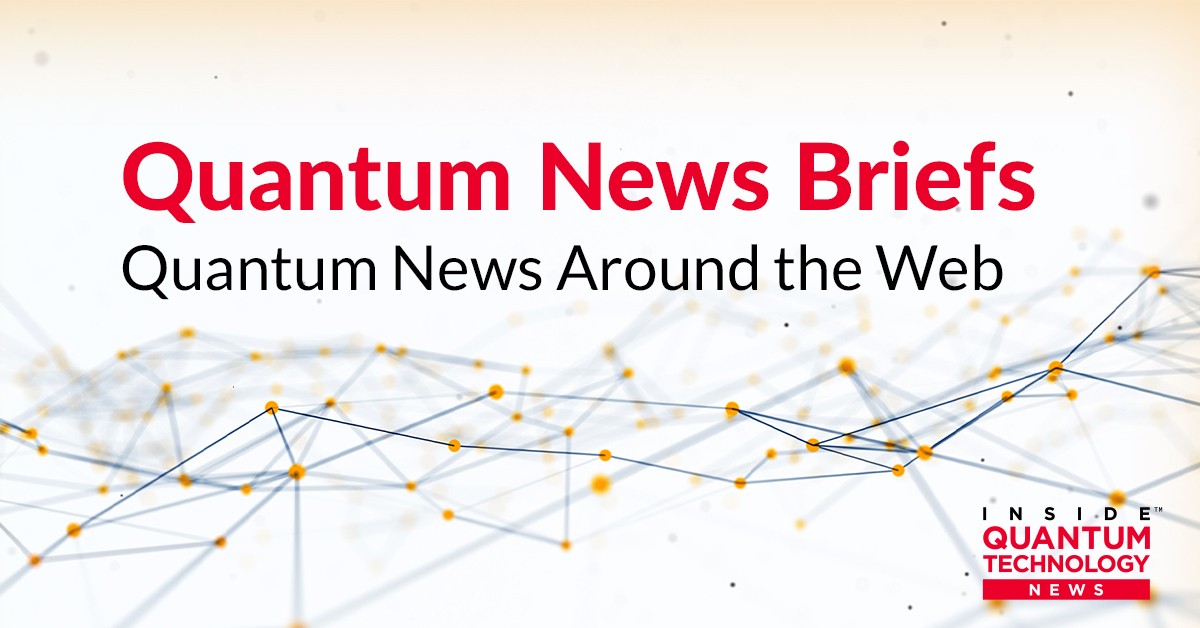 Quantum News Briefs June 20: Intel and HRL Laboratories collaborate with UW-Madison to accelerate quantum computing research; IDQ Europe becomes Nutshell Quantum-Safe; DARPA's Quantum Augmented Network (QuANET) + MORE
Intel and HRL Laboratories collaborate with UW-Madison to accelerate quantum computing research
UW–Madison's separate partnerships with Intel and HRL Laboratories are part of a first round of collaborations announced June 14 by the LPS Qubit Collaboratory (LQC), a national Quantum Information Science Research Center hosted at the Laboratory for Physical Sciences (LPS). Established in support of the National Quantum Initiative Act, LQC is facilitating partnerships between industry and academic and national labs to advance research in quantum information science. Quantum
"These collaborations are great examples of UW–Madison partnering with industry on the development of important technologies, in this case semiconductor quantum computers," says physics professor Mark Eriksson, the UW–Madison lead on the partnerships.
"These collaborations are great examples of UW–Madison partnering with industry on the development of important technologies, in this case semiconductor quantum computers," commented physics professor Mark Eriksson, the UW–Madison lead on the partnerships.
Quantum computing uses the properties of quantum physics to perform computations. Not just faster versions of classical bits, the quantum bits, or qubits, in a quantum computer are fundamentally different than their classical counterparts. Because qubits are intrinsically quantum, they have the potential to solve certain problems — calculations for chemical processes or materials design, for example — more efficiently than classical computers. Silicon-based semiconductor qubits are among the most promising quantum computing technologies.
"One of the motivations for silicon-based qubits has always been that they are electronic devices that can be fabricated using technology very similar to what's used to make integrated circuits," Eriksson says. "Companies like Intel and HRL are experts in such technology, and they bring massive expertise and infrastructure into the game."
With the just-announced collaborations, Intel and HRL Laboratories will send state-of-the-art chips to Eriksson's group, which will perform experiments to develop improved quantum operations. Like any good collaboration, all partners are expected to benefit in some way. The research conducted with the chips will inform the companies about their devices and ways to improve them; UW–Madison students will conduct hands-on research in partnership with industry, advancing research in the field while gaining real-world experience. Click here to read article in-entirety on U-W Madison website.
IDQ Europe becomes Nutshell Quantum-Safe
ID Quantique Europe GmbH (IDQ Europe), a developer and provider of Quantum Key Distribution (QKD) solutions in Vienna, Austria, is becoming Nutshell Quantum-Safe GmbH. Quantum News Briefs summarizes the recent announcement.
Aiming at supplying QKD network solutions to protect European data in transit, the company supports national and European QKD initiatives and contributes to building a leading and sustainable quantum industry in the EU.
In 2021, the Swiss company ID Quantique, a world leader in QKD development and commercialisation, decided to spin off the Austrian company IDQ Europe to make its pioneering QKD technology available to the European governmental market in a compliant way. Today, IDQ Europe is fully owned and controlled within the EU. The independence from ID Quantique is now underlined with this new distinguishable branding.
Nutshell Quantum-Safe has set up its business in Vienna to support the EU's cybersecurity agenda with cutting-edge QKD technology. The company is a value-added reseller of QKD solutions from ID Quantique. With its experienced team, Nutshell offers services like consulting, QKD network project implementation, and technical customer support. The next step is to open an EU-based production of QKD equipment. Furthermore, the company is actively pursuing  R&D collaborations on QKD components, systems and network integration with European partners.
According to Dr. Florian Fröwis, CEO of Nutshell Quantum-Safe: "QKD can and should soon yield value to European citizens by protecting private, governmental, and commercial data. Nutshell Quantum-Safe supports the European initiatives to accelerate the availability of advanced and high-value QKD technologies." Click here to read the announcement in-entirety.
DARPA's Quantum Augmented Network (QuANET)
DARPA is seeking solutions for quantum networks that scale up to the size of a metropolitan area network.
Through QuANET, DARPA will explore how integrating quantum and classical approaches to networking could provide quantum physics-based security capabilities to critical network infrastructures via QuANET. Quantum News Briefs summarizes below:
QuANET researchers will focus on combining current and near-future quantum networking infrastructure (both hardware and protocols) with classical infrastructure with the goal of delivering security capabilities relevant to national security. DARPA experts estimate that by doing so, they can achieve the efficient security and covertness properties of quantum networks with the pervasiveness of classical networks.
"A major challenge of integrating quantum links into classical networks is the secure, configurable connection of quantum optical links to today's computers," said Dr. Allyson O'Brien, DARPA's QuANET program manager in the Information Innovation Office.  "We want to make the networking and optical communications community more quantum-aware – where the capabilities are now and where they're going – and we want the quantum networking community to understand better all of the complexities and issues facing classical networks. By bringing these two communities together, we may be able to create a new paradigm in networking."
QuANET seeks to enable network infrastructure to use quantum systems that incorporate quantum communications in various ways and does not focus on quantum key distribution (QKD) – the typical application of quantum communications. Additionally, quantum interconnects such as quantum repeaters, switches, and routers are not in the initial program's scope. The QuANET program seeks solutions for networks that scale up to the size of a metropolitan area network.
A Broad Agency Announcement solicitation with all program details and instructions for proposal submission is available on SAM.gov: https://sam.gov/opp/60917f7ea74845bf8f6aaa1382813f86/view
Kipu Quantum signs R&D deal with Pasqal to optimize quantum algorithms
Kipu Quantum GMBH announced a two-year research and development agreement with PASQAL, a leader in neutral atoms quantum computing, to optimize quantum algorithmic function and expedite quantum benefits for enterprise. Quantum News Briefs summarizes.
Kipu Quantum is focused on developing hardware-specific algorithms for specific use cases and building enterprise solutions. The company created the first-of-its-kind algorithmic compression technology that reduces the length of quantum algorithms. Kipu's algorithms are more suitable for near-term quantum computing hardware, especially those incorporating analog approaches, including PASQAL's current quantum computers.
In January 2023, PASQAL announced a €100 million Series B funding round. PASQAL is on track to deliver a 1,000 qubit quantum computer, which it believes will deliver major commercial advantages over classical computers, by 2024. The company's customers include BMW, BASF, Johnson & Johnson, Siemens, Airbus, LG Electronics and Thales among many others.
In their collaboration, PASQAL and Kipu will work to bring this compression technology to PASQAL's quantum hardware and work conjointly from the hardware level to the algorithmic level to develop highly competitive quantum computing performance that will transform tomorrow's aspirations into today's expectations.
"We are very excited to bring together Kipu Quantum's expertise in quantum algorithms with PASQAL's impressive hardware capabilities," said Prof. Enrique Solano, co-founder, and Chief Visionary Officer at Kipu. "The work developed between both teams will be a huge step forward in commercializing both Kipu's and PASQAL's technology."
"Our unique technology allows us to solve much bigger problems than competing algorithm approaches on the same hardware," he said. "It then becomes possible for our industrial customers to use much smaller quantum processors to solve their relevant problems thus reducing the wait time to useful quantum computing by several years." Click here to read the original announcement in-entirety.
Sandra K. Helsel, Ph.D. has been researching and reporting on frontier technologies since 1990.  She has her Ph.D. from the University of Arizona.