Quantum News Briefs July 7: Quantum cryptography challenges & opportunities for Federal agencies; Multiverse Computing, Iberdrola partner to use quantum computing optimization to green up power grids; LANL theoretical research simplifies machine learning on quantum computers + MORE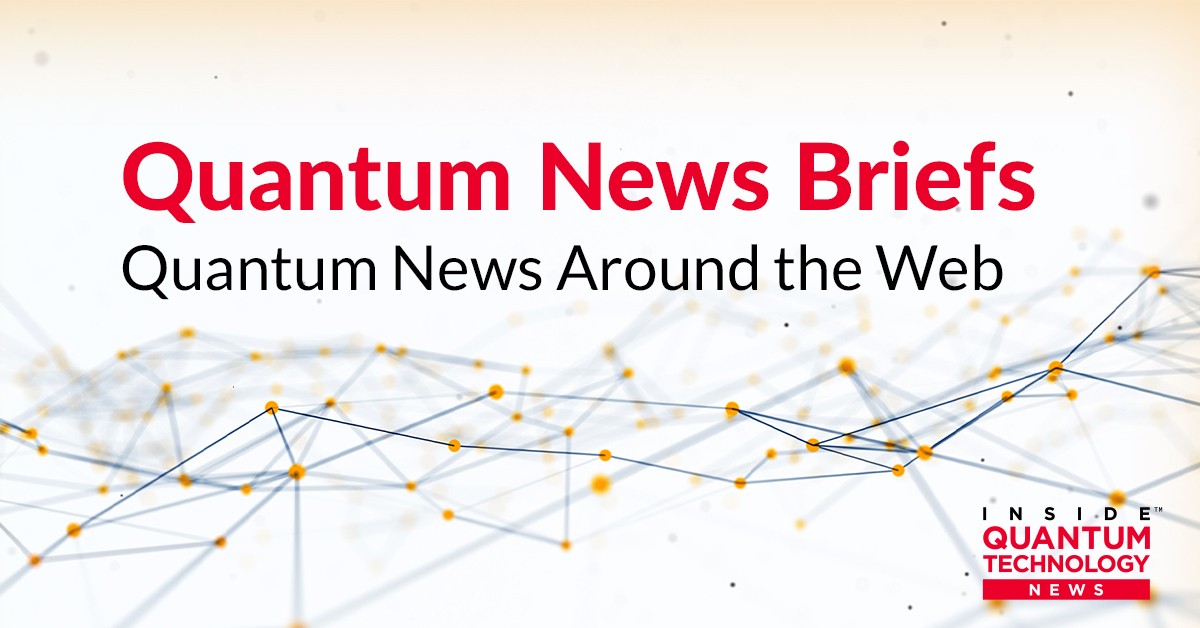 Quantum News Briefs July 7:
Quantum cryptography challenges and opportunities for Federal agencies
Transitioning critical infrastructure toward federally approved post-quantum cryptography (PQC) standards remains a challenge for private and public sectors, but proper implementation of these standards will protect data, the government and the country itself from adversaries in a way not seen before. Quantum News Briefs summarizes Nathan Eddy's July 5 article in FedTech.
The White House wants the federal government to be ready to use the technology by 2035. The federal government is in the process of assessing the potential impact of quantum computing on its operations and infrastructure to prepare for the future of post-quantum cryptography.
CISA and other security agencies and experts are concerned about the next 10 to 15 years in the quantum transition, when they expect the development of a cryptographically relevant quantum computer that could threaten even the most modern cryptographic algorithms protected from classic computers.
"NIST constantly looks to the future to anticipate the needs of U.S. industry and society as a whole, and when they are built, quantum computers powerful enough to break present-day encryption will pose a serious threat to our information systems," said NIST Director Laurie E. Locascio in a news release.
NIST's post-quantum cryptographic standard is expected to be finalized in the next year, but the agency already has resources available, including a white paper titled "Getting Ready for Post-Quantum Cryptography" and a draft version of NIST SP 1800-38A, "Migration to Post-Quantum Cryptography."
"It is imperative to perform risk assessments specific to each agency, department and critical infrastructure operation," says Jeffrey Wells, partner at Sigma7. "These assessments will involve meticulously evaluating vulnerabilities, potential attacks and risks associated with quantum computing."
By conducting such assessments, organizations can proactively identify areas of concern and develop targeted mitigation strategies. These should include deploying quantum-resistant algorithms and encryption methods and diversifying cryptographic systems. Click here to read FedTech article in-entirety.
Multiverse Computing, Iberdrola partner to use quantum computing optimization to green up power grids
Multiverse Computing announced on July 6 a joint project with multinational clean energy firm Iberdrola to modernize electrical grids and facilitate additional green energy sources. Quantum News Briefs summarizes.
Because electrical grids are integrating increasing amounts of renewable generation, electric vehicles and other distributed energy resources, supplemental batteries are playing a vital role. i-DE, Iberdrola's distributor in Spain and a leader in smart grids, will work with Multiverse Computing to select the optimal number, type and locations of supplemental batteries for the electrical grid.
Iberdrola, Europe's largest electricity utility by market capitalization, and the second largest in the world, is a leader in renewables, spearheading the energy transition to a low carbon economy. The group supplies energy to almost 100 million people in dozens of countries.
Many variables must be considered when determining battery placement within smart grids, such as connections with neighboring power systems, flexibility in existing generation sources, and the hourly, daily, and seasonal changes in power demands. Multiverse's quantum algorithm experts will use quantum and quantum-inspired algorithms to solve these computationally complex problems, which classical computers cannot manage.
The two companies will work together for 10 months as part of the Gipuzkoa Quantum Program in the Basque Country of Spain, a quantum computing hub and smart grid innovation center. Click here to read announcement in-entirety on Multiverse site.
LANL theoretical research simplifies machine learning on quantum computers
New theoretical research at LANL proves that machine learning on quantum computers requires far simpler data than previously believed. The finding paves a path to maximizing the usability of today's noisy, intermediate-scale quantum computers for simulating quantum systems and other tasks better than classical digital computers, while also offering promise for optimizing quantum sensors.
"We show that surprisingly simple data in a small amount is sufficient to train a quantum neural network," said Lukasz Cincio, a quantum theorist at Los Alamos National Laboratory. He is a co-author of the paper containing the proof published in the journal Nature Communications. "This work takes another step in the direction of making quantum machine learning easier, more accessible and more near-term."
The new paper emerged from a collaboration between a Los Alamos team, lead author Matthias Caro, of Freie Universität Berlin, and other researchers from the United States, United Kingdom and Switzerland. The group has been developing the theoretical basis for more efficient algorithms, particularly for quantum machine learning, to exploit the capabilities of these noisy machines while the industry works on improving the quality and enlarging the size of quantum computers.
"While prior work considered the amount of training data in quantum machine learning, here we focus on the type of training data," Caro said. "We prove that few training data points suffice even if we restrict ourselves to a simple type of data."
"In practical terms, it means you can train a neural network on not only just a few pictures of cats, for example, but also on very simple pictures," Cincio said. "For quantum simulations, it means you can train on quantumly simple states."
Quantum machine learning tolerates more noise than other kinds of algorithms because tasks such as classification, a staple of machine learning, don't require 100% accuracy to deliver a useful result, said Andrew T. Sornborger, a co-author of the paper. Sornborger is the leader of the Quantum Algorithms and Simulation thrust area of the Quantum Science Center. Click here to read original article from LANL Source.
Q-CTRL announces new global headquarters in Sydney, first commercial facility in Australia dedicated to quantum tech
Q-CTRL announced on June 27 it is building a new global headquarters in Sydney for an ever-growing team to accelerate innovation in the quantum technology space. Q-CTRL's new HQ will be the first standalone commercial quantum technology facility in the country and exemplifies Australia's leading role in the industry.
The global headquarters will be located in central Sydney adjacent to the Tech Central Precinct and will both support the commercial leadership of the company and provide the essential infrastructure for quantum sensing research and development. Funding from the NSW Government's Jobs Plus program and the Federal Government's Modern Manufacturing Initiative Translation grant is helping to fund construction of the facility.
"Throughout our five-and-a-half-year lifetime we've focused first and foremost on building a team, technology, and products that sit head and shoulders above anything else in the global market," said Michael J. Biercuk, CEO and Founder of Q-CTRL. "Now we're ready to take the next step of our journey, building a headquarters that reflects our core value to Be Revered. Delivering the first purpose-built commercial and research facility for a quantum technology company in Australia – and one of the first in the world – is a huge statement about our leading role in the global community and our ambition to deliver pride and prosperity through quantum technology for all Australians and allied nations."
Through this headquarters redevelopment, Q-CTRL is celebrating their Australian roots and looking forward to it becoming the center of commercial efforts creating hundreds of new jobs over the next few years.
To deliver on the vision of transitioning a 1930s Heritage-listed industrial building into a global headquarters for a 21st century industry, Q-CTRL tapped three of Australia's leading organizations in their respective industries: Architectus is the architectural consultant; FDC is leading construction and refurbishment; and Acuity is managing project development.  Click here to read announcement in-entirety.
Sandra K. Helsel, Ph.D. has been researching and reporting on frontier technologies since 1990.  She has her Ph.D. from the University of Arizona