Quantum News Briefs July 26: EPB Quantum Network powered by Qubitekk accepting applications; Chinese team boosts metropolitan quantum teleportation to hertz rate; Quantum sensors can offer completely new opportunities + MORE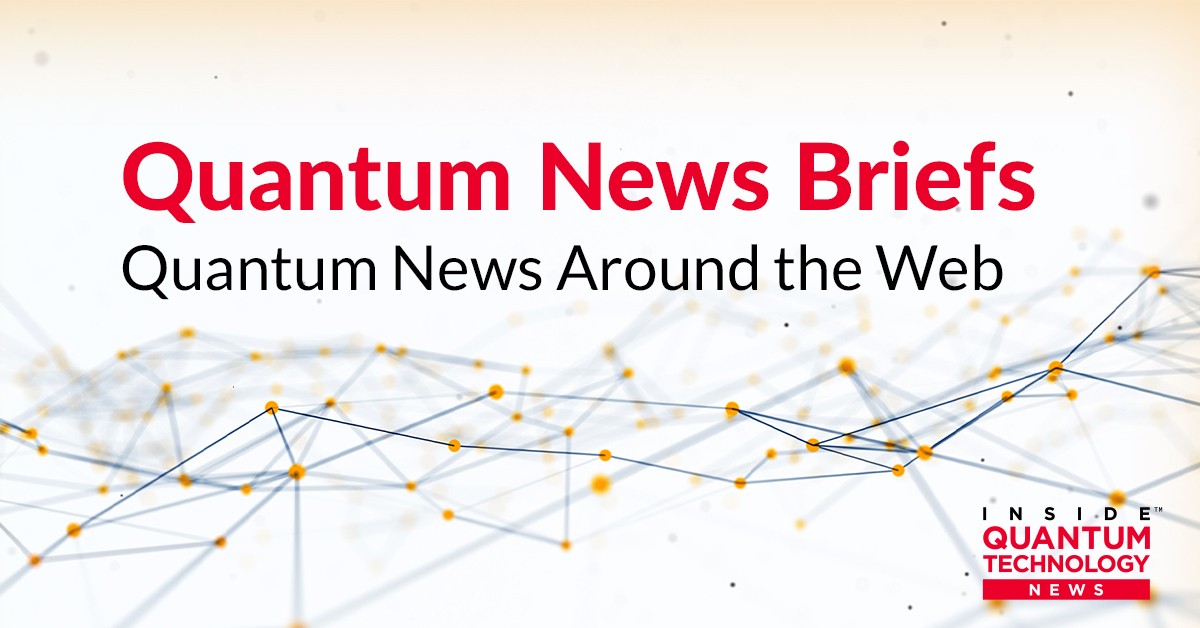 Quantum News Briefs July 26:
EPB Quantum Network powered by Qubitekk accepting applications
EPB Quantum Network℠ powered by Qubitekk, America's first commercially available quantum network, is now accepting applications from prospective customers. To learn more about subscription packages, visit EPBQuantumNetwork.com or contact Business Development Account Manager Kirk McLemore at mclemorek@epb.net. Quantum News Briefs summarizes.
To ensure network performance and stability, onsite network engineers use software to monitor more than 300 data points every second, 24/7/365. Customers can generate, distribute and measure qubits across EPB Quantum Network's dedicated fiber optic cable using the latest foundational quantum equipment.
EPB works with prospective customers to design options for various use cases and offer subscription packages tailored to diverse needs to support the goals of customers developing new products, proving investment readiness, seeking grant funding or conducting equipment testing. All users keep their intellectual property, which is protected on the network with multiple layers of hardware and software boundaries.
EPB Quantum Network's design includes 216 dedicated dark fibers with capacity for 10 quantum interconnected nodes across downtown Chattanooga and a separate, community-wide 9,000-mile fiber optic network to provide additional opportunity for scalability. EPB Quantum Network is managed by EPB of Chattanooga, which launched the country's first community-wide Gig service in 2010, and now operates the world's fastest community-wide internet at speeds up to 25 Gig. The network architecture was designed by U.S.-based Qubitekk to be configurable for customers validating quantum product performance, testing new quantum technologies, running quantum security applications and other uses. Click here to read announcement in-entirety on EPB website.
Chinese team boosts metropolitan quantum teleportation to hertz rate

Using a low-Earth orbit Micius satellite, Chinese researchers have now achieved quantum teleportation over 1200 km. To date there has been no quantum teleportation system whose rate can reach that order of hertz. Quantum News Briefs summarizes the July 24 article discussing this achievement in Phys.org
In a paper published in Light: Science & Applications, a team of scientists led by Prof. Guangcan Guo and Prof. Qiang Zhou from the University of Electronic Science and Technology of China (UESTC), cooperating with Prof. Lixing You from the Shanghai Institute of Microsystem and Information Technology of the Chinese Academy of Sciences, has improved the teleportation rate to 7.1 qubits per second for the first time based on the "No. 1 Metropolitan Quantum Internet of UESTC."
This presents a new record for a quantum teleportation system over a metropolitan range.
Such a high-speed quantum teleportation based on quantum optics requires the most sensitive photon sensors in order to collect as many events as possible. The team led by Prof. Lixing You, along with colleagues of Photon Technology Co., LTD, provided high-performance superconducting nanowire single-photon detectors for the experiment. Benefiting from the detectors with excellent efficiency and almost no noise, high-efficiency BSM and quantum state analysis were achieved.
The "No. 1 Metropolitan Quantum Internet of UESTC" is expected to develop a "high-speed, high-fidelity, multi-user, long-distance" quantum internet infrastructure in the future by combining integrated quantum light sources, quantum repeaters, and quantum information nodes. The team also forecasts that this infrastructure will further promote the practical application of quantum internet.  Click here to read the original Phys.org detailed article.
Quantum sensors can offer completely new opportunities
Alexander Huck at DTU has used quantum diamonds to measure biological material, among other applications. In 2020, he demonstrated—together with a multidisciplinary research team—that measuring electrical activity in muscles was possible using an NV diamond quantum sensor. Quantum News Briefs summarizes European Times July 25 article describing his research.
"The advantage of using diamonds to measure biological material is that we don't need to attach electrodes to the material to measure a signal. Instead, we can place a diamond, in this case in the shape of a small flat plate measuring 1-2mm x 1-2mm, close to the biological material without 'damaging' it and then measure signals using magnetic fields. We've recently succeeded in performing similar measurements of brain activity from tissue in mice, which is a major new milestone," says Alexander Huck, Associate Professor at DTU Physics.
In his opinion, quantum sensors will play a big part in the work to gain more knowledge about the brain and neural networks, eventually contributing to both improved diagnosis and cures for brain disorders.
Alexander Huck has recently also started using NV diamond sensors on length scales much smaller than cells and tissue from muscles and the brain. He wants to try using the quantum sensor to gain greater knowledge about molecules. The overall focus is on electronic processes on a molecular scale, such as photosynthesis, which he wants to learn more about by looking at one or a few molecules at a time. "If we can understand how photosynthesis works in detail, it may—in the long term—allow us to copy how plants harvest energy from the sun and convert it into storable and transportable chemical substances."
Although quantum sensors are already capable of performing more accurate measurements than ordinary sensors, work is being done to improve them further, for example in a collaboration between researchers working to develop new materials, and where Alexander Huck contributes with his expertise in NV diamonds and quantum sensors.
"Our goal is to systematically examine whether we can find a new sensor that is small, biocompatible, capable of operating at room temperature, and able to measure magnetic fields in the brain of living organisms. This will enable us to significantly expand our knowledge of the processes in the brain. We are planning to fabricate new sensora by using new custom-made 2D materials that enable us to control defects at the atomic level," explains Nini Pryds, Professor at DTU Energy, who is a materials scientist and in charge of the work.
The goal of the specific project is to develop a completely new quantum sensor based on 2D materials that will be more sensitive than a diamond. Click here to read the article in-entirety.
RED Semiconductor and Crypto Quantique to develop advanced chip with quantum-based security
RED Semiconductor and Crypto Quantique have signed an agreement to develop a microprocessor chip for Edge-computing applications, enabling advanced quantum-based security. Quantum News Briefs summarizes announcement by New Electronics.
RED Semiconductor creates advanced microprocessors that enhance AI and security applications at the Edge. Crypto Quantique is a provider of quantum-based security solutions for the internet of things (IoT).
The chips will use Crypto Quantique's QDID technology to provide advanced identification and enhanced security. Today, Edge devices are a major target for hackers. According to Check Point Research in the first 2 months of 2023, attacks on IoT devices were 41% higher than in 2022, and more than triple the number from two years ago.
RED Semiconductor's microprocessor uses a vectorised Instruction Set Architecture (ISA) to deliver highly efficient processing of the algorithms and mathematical functions used in AI, autonomy and cryptography. Crypto Quantique's QDID utilises the quantum effects between transistors to create unique and unclonable identifiers, at the chip level.
Both companies believe that higher application security can be achieved by implementing the two companies' technologies into a single chip where the computation of ciphers and verification of identity takes place in an inaccessible section of the chip from other applications, preventing critical data from being exposed. This combination of technologies will result in an IoT chip whose encrypted data is exceptionally difficult to hack. Click here to read the announcement in-entirety.
Sandra K. Helsel, Ph.D. has been researching and reporting on frontier technologies since 1990.  She has her Ph.D. from the University of Arizona