Quantum News Briefs January 4: 2023 the year when quantum steps into limelight; Japan sets goal to increase number of users of quantum technology-related services to 10 million in 2030; Dawn of solid-state quantum networks – The Holy Grail of quantum information sciences + MORE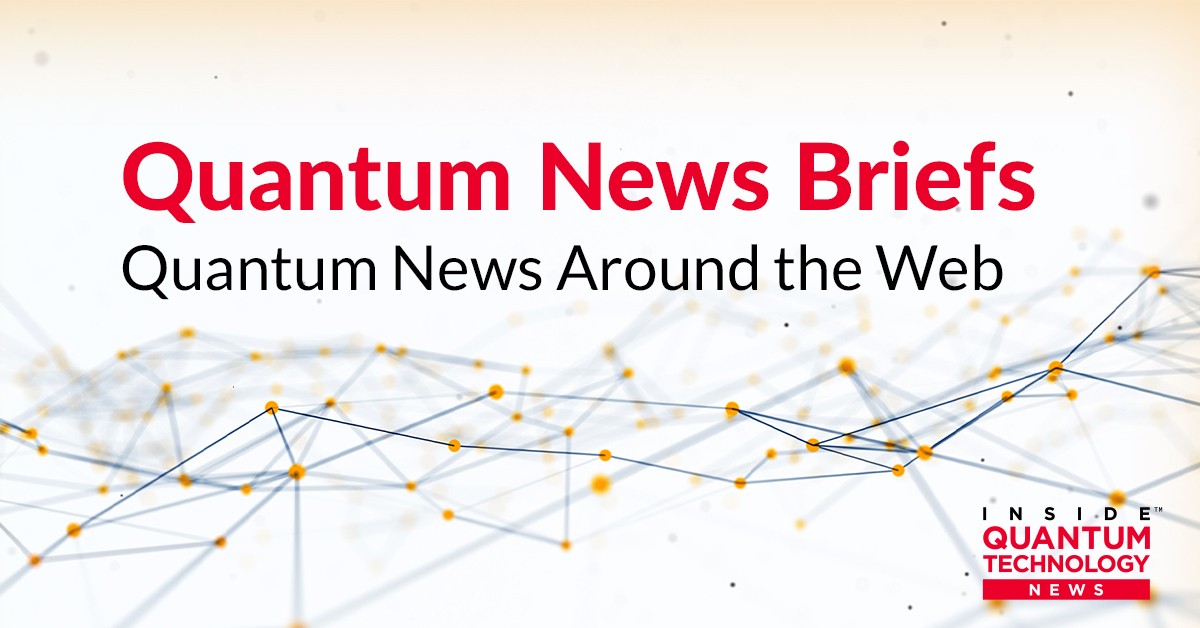 Quantum News Briefs January 4 begins with Dark Readings forecast that "2023 will be the year when quantum steps into limelight followed by Japan setting goal to increase number of users of quantum technology-related services to 10 million in 2030; Third is a research announcement with far-reaching implications; Dawn of solid-state quantum networks – The Holy Grail of quantum information sciences' + MORE
*****
2023 the year when quantum steps into limelight
2022 was a big year for quantum computing as governments around the world boosted investments in quantum computing. Yet 2023 may be the year when quantum finally steps into the limelight with organizations preparing to begin the process of implementing quantum computing technologies into existing systems, according to a Dark Reading article published January 3 and summarized below by Quantum News Briefs.
"In 2023, we'll see both the private and public sector's increased awareness around the challenges associated with quantum resilience, and we'll see efforts begin to take hold more significantly to prepare for quantum computing," says Jon France, CISO of The International Information System Security Certification Consortium, or (ISC)², is a non-profit organization which specializes in training and certifications for cybersecurity professionals.
The amount of money different countries have allocated for quantum computing to date — China leads with $15.3 billion in public funds in quantum computing investments. The European Union governments combined have invested $7.2 billion, which dwarfs the US with $1.9 billion.
There is also a lot of investment activity in the private sector, with start-ups focused on quantum technologies collecting $1.4 billion in funding in 2021 alone, McKinsey said. Nearly half (49%) of those private investments are in companies in the United States, compared to just 6% in China, the analysts noted.
"Building cyber resilience in preparation for quantum technology should have been an effort started a decade ago … but now is the second best time," France says. However, for both private and public sector organizations, the process of making infrastructure "quantum-resilient" will be a difficult and slow one.
In a recent survey from Deloitte, enterprises said without external pressure — such as regulatory and compliance requirements — they won't be prioritizing quantum security initiatives.
Click here to read original article in-entirety.
*****
Japan sets goal to increase number of users of quantum technology-related services to 10 million in 2030
Japanese electronics and other firms have been engaged in research into quantum computers, which would vastly surpass the calculating power of supercomputers. NHK World Japan recently commented on quantum computing in Japan; Quantum News Briefs summarizes below.
They are currently trying to make actual use of the quantum technologies developed during the research process. The Japanese government has set a goal of increasing the number of users of quantum technology-related services to 10 million in 2030.
Industrial conglomerate Hitachi has created a system that can automatically assign shifts to more than 100 workers, reflecting their various work hours, plans for days off and the number of workers needed for each shift. Officials say it took over 11 hours for humans to create such a schedule, but the system does it in less than half that time. They say they hope to put it into practical use in fiscal 2023 or later.
Hitachi researcher Yamamoto Keisuke says he hopes the system will be applied to a wide range of sectors, including finance, manufacturing and railways.
Technology giant Fujitsu says that later this year it plans to start using an actual quantum computer developed with the Riken research institute. The firm says it will let businesses use the machine for research purposes.  Click here to read NKH World article in-entirety.
*****
Dawn of solid-state quantum networks – The Holy Grail of quantum information sciences
Researchers demonstrated high-visibility quantum interference between two independent semiconductor quantum dots — an important step toward scalable quantum networks, according to January 3 article in SciTechDaily summarized below by Quantum News Briefs.
A large-scale and fully functional quantum network is the holy grail of quantum information sciences. It will open a new frontier of physics, with new possibilities for quantum computation, communication, and metrology.  Related: Click here for details for IQT The Hague March 13-15 Europe's Quantum Communications and Quantum Security Event.
A high-performance quantum network requires not only ultra-low-loss quantum channels and quantum memory, but also high-performance quantum light sources. There has been exciting recent progress in satellite-based quantum communications and quantum repeaters, but a lack of suitable single-photon sources has hampered further advances.
As reported in Advanced Photonics, an international team of researchers has achieved high-visibility quantum interference between two independent quantum dots linked with ~300 km optical fibers. They report efficient and indistinguishable single-photon sources with ultra-low-noise, tunable single-photon frequency conversion, and low-dispersion long fiber transmission. The single photons are generated from resonantly driven single QDs deterministically coupled to microcavities. Quantum frequency conversions are used to eliminate the QD inhomogeneity and shift the emission wavelength to the telecommunications band. The observed interference visibility is up to 93%. According to senior author Chao-Yang Lu, professor at the University of Science and Technology of China (USTC), "Feasible improvements can further extend the distance to ~600 km." Lu further remarks, "Our work jumped from the previous QD-based quantum experiments at a scale from ~1 km to 300 km, two orders of magnitude larger, and thus opens an exciting prospect of solid-state quantum networks." With this reported jump, the dawn of solid-state quantum networks may soon begin breaking toward day.  Click here to read article in-entirety.
*****
University Of Amsterdam receives quantum technology grant
Prof. Wybren Jan Buma of Molecular Photonics at the Van 't Hoff Institute for Molecular Sciences will take part in research using the new Dutch quantum supercomputer. Together with Prof. Luuk Visscher of Theoretical Chemistry at VU University, he has just been granted funding through the National Growth Fund programme Quantum Technology, for the quantum simulation of molecular mirror images.
The Dutch quantum supercomputer is located in Delft and is shared with other researchers in the Quantum Delta. The researchers will also use powerful supercomputers elsewhere in the world.
The new Dutch quantum supercomputer will be put to the task of determining the correct molecular mirror image. Just like with people, we have that the mirror image of a molecule looks almost identical but still is crucially different: Imagine putting your right hand in a left-hand glove! For molecules this may imply the difference between an effective drug and a potentially dangerous substance. The researchers in this project aim to develop a combination of measurement and quantum simulations which can unambiguously determine whether we have the desired molecule and not its mirror image.
Visscher leads the modelling work, Buma the experimental validation. As Visscher explains: "The molecules are subjected to a thorough experimental characterization, which produces a unique 'molecular signature'. We then use the supercomputer to calculate all possible signatures and compare those with the measured signature, to find the best match".  Click here to read original article in-entirety.
*****
Sandra K. Helsel, Ph.D. has been researching and reporting on frontier technologies since 1990.  She has her Ph.D. from the University of Arizona.