Quantum News Briefs January 26: New Swedish quantum computer to be made available to industry; Quantum eMotion announces Sentry-Q quantum-safe messenger platform; European Patent Office publishes patent insight report on quantum computing + MORE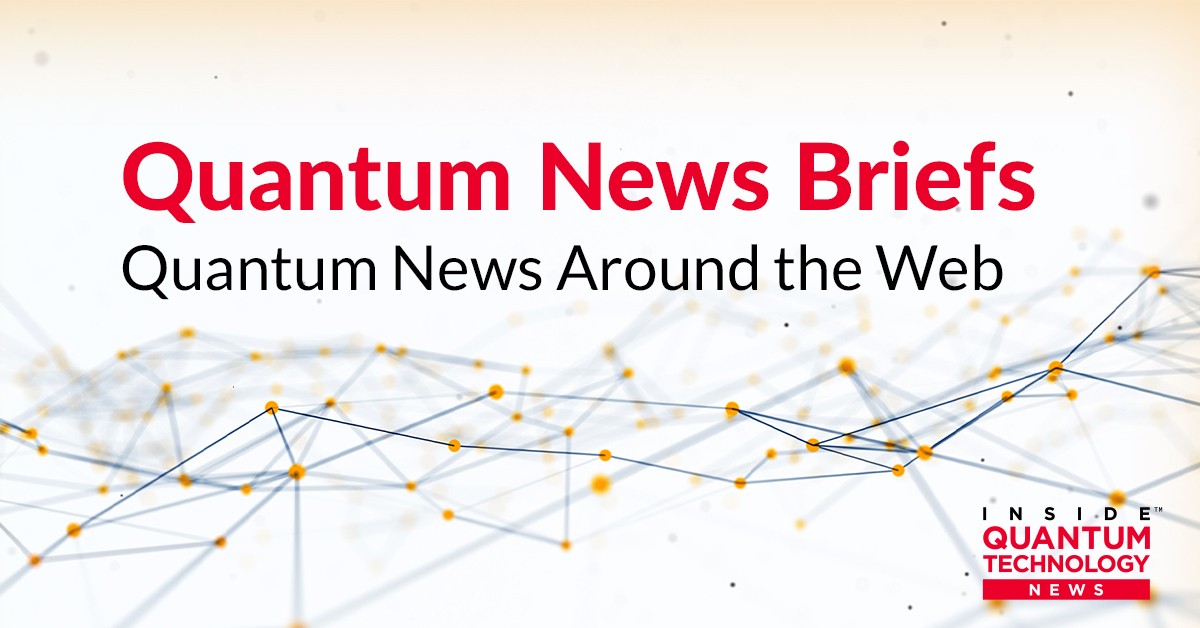 Quantum News Briefs January 26: New Swedish quantum computer to be made available to industry; Quantum eMotion announces Sentry-Q quantum-safe messenger platform; European Patent Office publishes patent insight report on quantum computing + MORE
New Swedish quantum computer to be made available to industry
A Swedish quantum computer will become more widely available in the near future. A copy of the quantum computer at Chalmers University of Technology in Sweden will be built using additional funding from the Knut and Alice Wallenberg Foundation. Quantum News Briefs summarizes this announcement.
Under the Wallenberg Centre for Quantum Technology (WACQT) initiative, a large project to develop a Swedish quantum computer has been running at Chalmers University of Technology since 2018. The Chalmers quantum computer now has 25 quantum bits, or qubits. The target is 100 qubits by 2029 but, even with 25 bits, running quantum algorithms on the computer is interesting. The problem is that the machine is rarely available, as researchers are constantly working to develop it.
"We're therefore going to build a copy of our quantum computer and make it available as a test bed for companies and researchers to run algorithms. Its purpose is to raise Sweden's competence level in quantum technology and lower the threshold for using quantum computers," says Per Delsing, a professor at Chalmers and director of WACQT.  Click here to read entire announcement from Chalmers University of Technology.
Quantum eMotion announces Sentry-Q quantum-safe messenger platform
Quantum eMotion Corp has announced the launch of Sentry-Q its Quantum-safe messenger platform. Quantum News Briefs summarizes the announcement.
Francis Bellido, CEO of QeM, commented: "QeM has launched its Quantum-safe messenger platform, designed for the secure communication of large and complex messages, including entire database structures. After the completion of our quantum random number generator (QRNG2) last year, we realized that to maximize the value of this game-changing technology we needed to develop complete cybersecurity solutions based on truly random numbers. We now have a platform, named Sentry-Q, that has the potential to perform as a cloud-based solution or as a physical hardware device. It is versatile and flexible enough to be used in a multitude of applications, as a whole or in part."
Larry Moore, CTO of QeM, explained: "The Sentry-Q platform is comprised of three modules that each have several advantages as cybersecurity weapons:
QRNG2: QeM's first QRNG exploits the inherent randomness of quantum mechanics to generate truly random numbers that are impossible to predict, and vastly better than pseudo-random numbers created by traditional algorithms. This makes QRNG2 particularly useful for generating cryptographic keys, which are used to encrypt and decrypt sensitive data. Our QRNG can also generate random numbers at a much faster rate than traditional systems, making it possible to generate a large number of keys in a relatively short amount of time, enabling the use of quantum-safe cryptography.
QXCP: QeM's cryptographic platform designed to be agile and extensible enough to be adapted to a wide range of attack vectors, including "man-in-the-middle" attacks, and has just been extended to be Quantum-safe. As a result, the QXCP platform includes the strongest encryption systems that exist to date.
QGPS: The Push Server Platform that is responsible for asynchronously1 sending large messages greater than one Gigabyte as push notifications to clients, even when the client is not active. QGPS enables Multi-Part Transmissions for fast communication while being independent from User Interface (UI) and Client Operating Systems."
European Patent Office publishes patent insight report on quantum computing
The European Patent Office (EPO) has published a patent insight report on quantum computing. It is the second in a series of EPO patent insight reports related to quantum technologies.
The report provides, in the light of publicly available patent information, an overview of quantum computing at large and the following sub-sectors: physical realizations of quantum computing, quantum error correction and mitigation, and technologies related to quantum computing and artificial intelligence/machine learning.
Some of the key findings of this report are:
The number of inventions in the field of quantum computing multiplied over the last decade.
Quantum computing inventions show a higher growth rate than in all fields of technology in general.
The above-average share of international patent applications suggests high economic expectations with regard to the technologies in question and multinational commercialisation strategy.
There is a dynamic patent trend in the sub-sectors 'physical realisations of quantum computing', 'quantum error correction/mitigation' and 'quantum computing and artificial intelligence/machine learning', where the number of inventions also multiplied.
Roughly one out of ten European patent applications in the field of quantum computing has several patent applicants, suggesting active cooperation between them. The patent applicants come from all continents, with a clear focus on the same region or continent.  Click here to read the complete announcement from the European Patent Office.
01 Communique Laboratory partnering with Thales Group to integrate PQC
01 Communique Laboratory Inc., an enterprise level cybersecurity provider has partnered with Thales Group a Paris based trusted global technology leader to integrate IronCAP™ post-quantum cryptography ("PQC") with Thales Luna HSMs ("Hardware Security Modules") – providing military grade protection for users' data and critical applications. Quantum News Briefs summarizes the announcement below.
This partnership is designed to develop and joint-market quantum-safe cybersecurity solutions for global businesses, organisations and governments to ensure cyber resilience in the post quantum environment. Thales Luna HSM customers can now add IronCAP™ FM ("Functional Module") making PQC functionality seamless while conforming with the latest standards set by the National Institute of Standards and Technology ("NIST").
The parties will now immediately move to joint-marketing activities.
Quoting Andrew Cheung, CEO of 01 Communique, "PQC systems are essential to protect sensitive data and critical applications from sophisticated attacks; now that Quantum Computers increase the threat. Integration of IronCAP™ with Thales Luna HSMs provide users with an extra layer of security to protect them. Our goal is to partner with Thales, to market the world's best PQC solutions to enterprises and governments throughout the world – and ensure their clients' data and applications are secure."
"Thales is a trusted global leader in this field with a massive global footprint and their choice of IronCAP speaks to our best-in-class research and execution. This is a game changer both for 01 and the industry as a whole. The birth of a quantum-safe HSM.", added Andrew Cheung.  Click here to read the complete announcement.
Sandra K. Helsel, Ph.D. has been researching and reporting on frontier technologies since 1990.  She has her Ph.D. from the University of Arizona.