Quantum News Briefs January 19: Quantum Machines technology now used in nearly 300 quantum computing facilities; Toshiba Quantum Technology, part of Toshiba Europe Limited, a Diamond Sponsor for IQT The Hague Conference & Exhibition; National Quantum Initiative Supplement to the President's FY 2023 Budget & MORE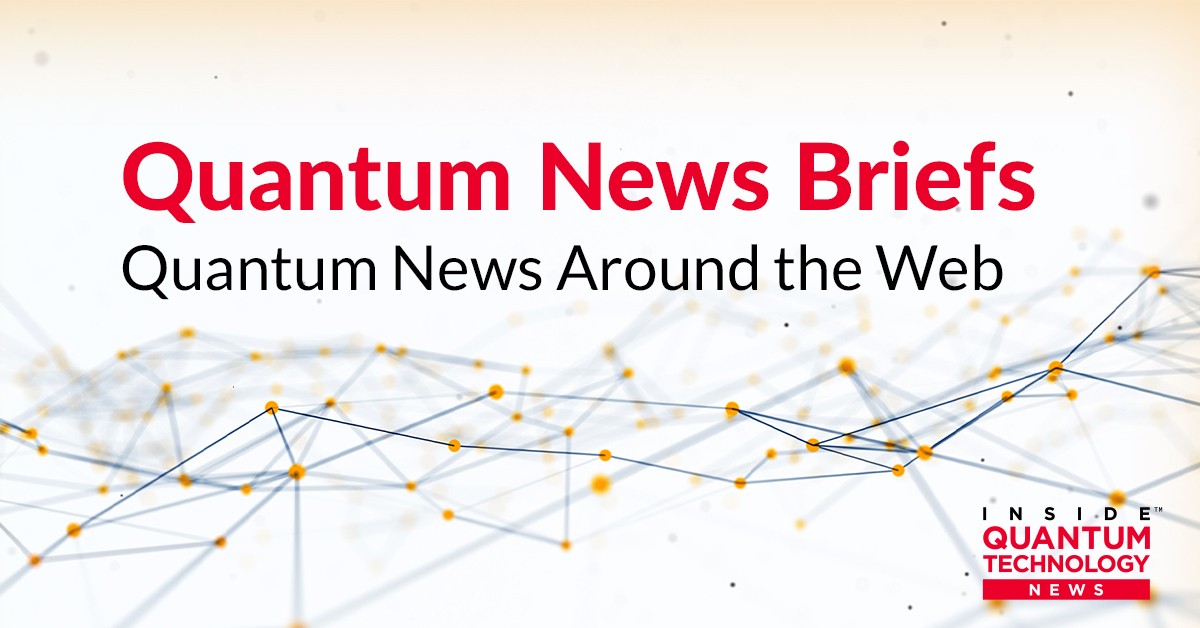 Quantum News Briefs January 19: Quantum Machines technology now used in nearly 300 quantum computing facilities; Toshiba Quantum Technology, part of Toshiba Europe Limited, a Diamond Sponsor for IQT The Hague Conference & Exhibition; National Quantum Initiative Supplement to the President's FY 2023 Budget & MORE
*****
Quantum Machines technology becomes ubiquitous in the industry, now used in nearly 300 quantum computing facilities
Quantum Machines announced that its customer base has grown sharply over the past year, reaching more than 280 quantum computing facilities worldwide. Additionally, the company announced that it has raised another $20M in funding, bringing the company's total funding to $100M. The round included participation from new and existing investors. Quantum News Briefs summarizes the January 18 announcement below.
Quantum Machines had a breakout year in 2022, reaching a number of significant milestones, including:
–Experiencing a rapid growth in customers to more than 280 worldwide.
–Featured in 30 Quantum Computing research papers
–Grew its team to over 140 globally
Additionally, the company announced a number of significant achievements during the course of 2022, including:
–Chosen to lead the establishment of the Israel Quantum Computing Center in conjunction with a consortium of international companies. The center will be the first in the world to house multiple types of quantum processing unit systems under one roof.
–Acquired Danish quantum computing firm QDevil, whose products and expertise complement Quantum Machines' quantum control hardware and software, enabling the company to offer a complete solution from gate-level to qubit.
–Partnership with Toyota Tsusho to offer Japanese customers access to advanced quantum control solutions.
–Partnership with leading European universities, research institutions, and companies on the €5m EuRyQa project to advance Neutral Atom quantum computing.
–Released new Pulse Processing Unit (PPU) Hadamard. The unit sits at the heart of the firm's OPX hardware and enables the orchestration of advanced quantum computing algorithms and quantum error correction in real-time.  Click here to read complete announcement from Quantum Machines.
*****
Toshiba Quantum Technology, part of Toshiba Europe Limited, a Diamond Sponsor for IQT The Hague Conference & Exhibition
Toshiba Quantum
Technology, part of Toshiba Europe Limited
,  is now a welcome Diamond sponsor Day One of
Inside Quantum Technology The Hague
March 13-15, 2023.   For additional information about exhibiting or attending the conference please contact
info@3drholdings.com
*****
IBM report details to secure data for quantum era
The IBM Institute for Business Value (IBV), IBM's thought leadership think tank, has published its Security in the Quantum Era report. This in-depth analysis of the quantum security landscape unveils the need for "quantum-safe" strategies today to maintain the integrity and security of highly sensitive data in the future. Additionally, the report maps out a clear path as to how organizations can work across their ecosystem to protect data from cybercriminals tapping into the power of quantum computers.
IBM security and cryptography experts provide clear actions in the report on how organizations can:
**Prepare for potential quantum threats by educating teams on quantum-safe cryptography, such as the new algorithms identified by the U.S. National Institute of Technology, and how businesses can identify near-term and achievable cryptographic goals.
**Discover potential vulnerabilities by using quantum-safe cryptographic assessments, including how to place an ecosystem on a common approach to governance.Transform operations by performing analyses which can spot cryptographic dependencies between business-critical systems that might leave data vulnerable.
**Observe the threat landscape by developing a dashboard to promote visibility and observability.
Click here to download IBM's Security in the Quantum Era report.
*****
National Quantum Initiative Supplement to the President's FY 2023 Budget
The National Science and Technology Council (NSTC) has released its third annual report on spending and activities supporting the National Quantum Initiative Act (NQIA) passed in 2018. Click here for a PDF copy of the 44-page report.
The latest NSTC report – National Quantum Initiative Supplement to the President's FY2023 Budget – provides a quick snapshot of U.S. government plans, milestones, and funding for quantum information sciences R&D broadly.
Over the last year, the Biden-Harris Administration has taken major steps to continue accelerating U.S.
leadership in QIS. In May, the President signed both an Executive Order to Enhance the NQI Advisory
Committee and a National Security Memorandum on Promoting United States Leadership in Quantum
Computing While Mitigating Risks to Vulnerable Cryptographic Systems. Together, these orders
emphasize the importance of a whole-of-government and whole-of-society approach to move the field
forward, while taking important steps to mitigate any potential economic or national security risks.
This is the third annual report on the NQI Program and budget, as required by Section 103(g) of the NQI
Act. This report follows a sustained investment in the NQI Program, building upon the establishment of
several NQI centers, the Quantum Economic Development Consortium, and new QIS R&D activities.
Agencies reported actual budget expenditures for QIS R&D of $449 million in Fiscal Year (FY) 2019, $672
million in FY 2020, and $855 million in FY 2021, followed by $918 million of enacted budget authority for
QIS R&D in FY 2022, and a requested budget authority of $844 million for QIS R&D in FY 2023.
The report highlights the current spending request of $844 million for FY 2023, a slight dip from the $918 million actually authorized in 2022. It also cites several "program highlights" including, for example, NIST work with the Quantum Economic Development Consortium (QED-C) to speed development of a U.S. quantum industry.  Click here for a complete copy of the 44-page report in PDF.
*****
01 Communique Laboratory partnering with Thales Group to integrate PQC
01 Communique Laboratory Inc., an enterprise level cybersecurity provider has partnered with Thales Group a Paris based trusted global technology leader to integrate IronCAP™ post-quantum cryptography ("PQC") with Thales Luna HSMs ("Hardware Security Modules") – providing military grade protection for users' data and critical applications. Quantum News Briefs summarizes the announcement below.
This partnership is designed to develop and joint-market quantum-safe cybersecurity solutions for global businesses, organisations and governments to ensure cyber resilience in the post quantum environment. Thales Luna HSM customers can now add IronCAP™ FM ("Functional Module") making PQC functionality seamless while conforming with the latest standards set by the National Institute of Standards and Technology ("NIST").
The parties will now immediately move to joint-marketing activities.
Quoting Andrew Cheung, CEO of 01 Communique, "PQC systems are essential to protect sensitive data and critical applications from sophisticated attacks; now that Quantum Computers increase the threat. Integration of IronCAP™ with Thales Luna HSMs provide users with an extra layer of security to protect them. Our goal is to partner with Thales, to market the world's best PQC solutions to enterprises and governments throughout the world – and ensure their clients' data and applications are secure."
"Thales is a trusted global leader in this field with a massive global footprint and their choice of IronCAP speaks to our best-in-class research and execution. This is a game changer both for 01 and the industry as a whole. The birth of a quantum-safe HSM.", added Andrew Cheung.  Click here to read the complete January 17 announcement.
*****
Sandra K. Helsel, Ph.D. has been researching and reporting on frontier technologies since 1990.  She has her Ph.D. from the University of Arizona.