Quantum News Briefs January 18: Diraq's spin qubit control method promises scalable silicon quantum computing; Xanadu and Rolls-Royce to Build Quantum Computing Tools with PennyLane & New optical fibers developed at U of Bath could enhance robustness of future quantum networks + MORE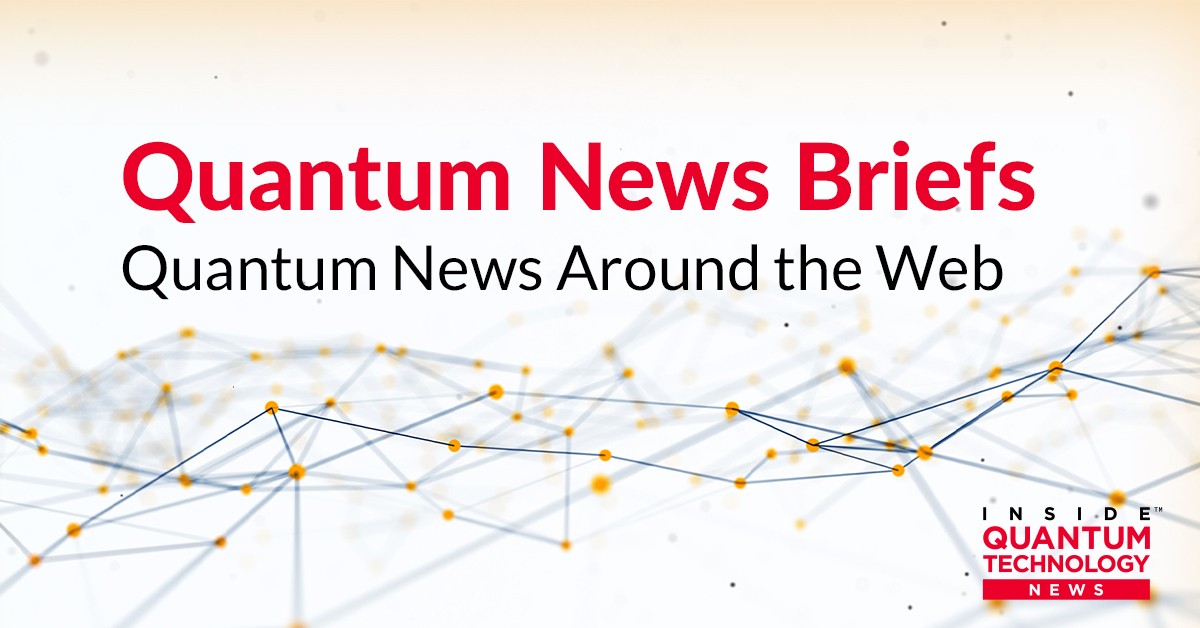 Quantum News Briefs January 18:  Diraq's spin qubit control method promises scalable silicon quantum computing; Xanadu and Rolls-Royce to Build Quantum Computing Tools with PennyLane & New optical fibers developed at U of Bath could enhance robustness of future quantum networks + MORE

*****
Diraq's spin qubit control method promises scalable silicon quantum computing
Quantum computing startup Diraq engineers say they have discovered a new way of precisely controlling single electrons in quantum dots that run logic gates – the basic building block of all computation. Quantum News Briefs summarizes announcement from EENewsEurope.
The new technique is less bulky and needs fewer parts – essential to making large-scale silicon quantum computers a reality. This discovery of a previously unknown effect, say the researchers, makes compact, ultra-fast control of spin qubits for quantum computers possible
"This was a completely new effect we'd never seen before," says lead author Dr. Will Gilbert, an engineer at Diraq, a UNSW spin-off based at the university's Sydney campus, Australia. While experimenting with different geometrical combinations of devices just billionths of a meter in size that control quantum dots, and various types of miniscule magnets and antennas that drive their operations, the researchers stumbled across a strange effect.
"I was trying to really accurately operate a two-qubit gate," says Dr. Tanttu, an engineer at Diraq, "iterating through a lot of different devices and slightly different geometries. Then this strange peak popped up. It looked like the rate of rotation for one of the qubits was speeding up, which I'd never seen before."
This discovery, the engineers realized, was a new way of manipulating the quantum state of a single qubit by using electric fields, rather than the magnetic fields used previously. Since this discovery in 2020, the researchers have been perfecting the technique.
Prof Andrew Dzurak, CEO and Founder of Diraq, and Professor in Quantum Engineering at UNSW explained, "[This] builds on our work to make quantum computing in silicon a reality, based on essentially the same semiconductor component technology as existing computer chips, rather than relying on exotic materials." Click here to read article in-entirety.
*****
Xanadu and Rolls-Royce to Build Quantum Computing Tools with PennyLane
Xanadu and Rolls-Royce are co-developing new quantum algorithm tooling for PennyLane according to a January 17 announcement summarized here by Quantum News Briefs.
Rolls-Royce, a leader in aerospace and defense, is actively involved in long-term quantum computing research aimed at developing robust algorithms and applications that are ready for the fault-tolerant quantum computers expected over the next decade. Rolls-Royce is committed to achieving net-zero carbon emissions by 2050 and has recently successfully tested a hydrogen powered gas turbine in collaboration with EasyJet. Quantum computers, which aim to drastically out-perform classical ones, are expected to play a key role in meeting aerospace's climate goals.
"We are proud to partner with Rolls-Royce on this project," said Dr. Juan Miguel Arrazola, Head of Algorithms at Xanadu. "Rolls-Royce is a world-class engineering company with deep expertise in complex simulations; their support will be invaluable in guiding our design and implementation for PennyLane, which we hope will help accelerate research into improving quantum algorithms."
"We are excited to be working with Xanadu on our quantum computing journey," said Dr. Leigh Lapworth, Rolls-Royce Fellow and Quantum Computing Lead. "They have demonstrated rapid advancements in scaling up photonic quantum computers and have built an impressive software library in PennyLane. The focus on QSVT is a natural fit for us as it extends our research beyond CFD and I look forward to running our first case on a Xanadu computer."  Click here to read complete announcement.
*****
New optical fibers developed at U of Bath could enhance robustness of future quantum networks
Physicists at the University of Bath in the UK have developed a new kind of fibre designed to enhance the robustness of networks. This robustness could prove to be especially important in the coming age of quantum networks. Quantum News Briefs summarizes recent article in AZO Quantum.
The team has fabricated optical fibres (the flexible glass channels through which information is sent) that can protect light (the medium through which data is transmitted) using the mathematics of topology. Best of all, these modified fibres are easily scalable, meaning the structure of each fibre can be preserved over thousands of kilometres.
Bath physicist Dr Peter Mosley, who co-authored the study as experimental lead, said: "Previously, scientists have applied the complex mathematics of topology to light, but here at the University of Bath we have lots of experience physically making optical fibres, so we put the mathematics together with our expertise to create topological fibre."
The team is  now looking for industry partners to develop their concept further. "We are really keen to help people build robust communication networks and we are ready for the next phase of this work," said Dr Souslov.
Mr Roberts added: "We have shown that you can make kilometres of topological fibre wound around a spool. We envision a quantum internet where information will be transmitted robustly across continents using topological principles."

Related:  See IQT The Hague, Europe's Quantum Communications & Quantum Security Event
Roberts also pointed out that this research has implications that go beyond communications networks. He said: "Fibre development is not only a technological challenge, but also an exciting scientific field in its own right."
Quantum networks are widely expected to play an important technological role in years to come. But the quantum states of light that transmit information are easily impacted by their environment and finding a way to protect them is a major challenge. This work may be a step towards maintaining quantum information in fibre optics using topological design.
*****
Megaport and Qrypt demonstrate first of its kind global quantum secure data transmissions
Qrypt and Megaport debuted the ability to transmit data using quantum-secure methods powered by Qrypt quantum key generation technology on January 15. Quantum News Briefs summarizes the announcement below.
Using Megaport's industry-leading Network as a Service (NaaS) platform, file-sharing applications were launched across several global data centers, including AWS in San Francisco, Azure US East in Virginia, and Google Cloud in Tokyo. The data shared between each location was protected using first-of-its-kind quantum-secure cryptography, ensuring privacy and security both now and into the future.
Megaport provides network connectivity across hundreds of public clouds and data centers worldwide, allowing for affordable and easy-to-manage network connectivity on a global scale. Megaport ONE enables users to deploy applications to cloud service providers in a matter of minutes. The ability to utilize Qrypt technology within Megaport ONE provides quantum-proof security and privacy for all data transmissions. Configuring applications deployed using Megaport ONE to use quantum-encrypted REST requests and responses can be configured with minimal support. Quantum-secure data transmission is available on all major cloud providers across the globe, including AWS, Azure, and Google Cloud.
"Demonstrating quantum-secure connectivity across regions and services is just another example of how Megaport is the best place to network for the most sensitive workloads in the cloud," said Jim Brinksma, CTO of Megaport.   Click here to read complete announcement.
*****
Sandra K. Helsel, Ph.D. has been researching and reporting on frontier technologies since 1990.  She has her Ph.D. from the University of Arizona.