Quantum News Briefs January 12: Infleqtion's milestone year of 2022; Lawrence Gasman says Chinese scientists' claims for new quantum code-breaking algorithm are 'catastrophic' if true; Duality quantum accelerator opens applications for third cohort of startups + MORE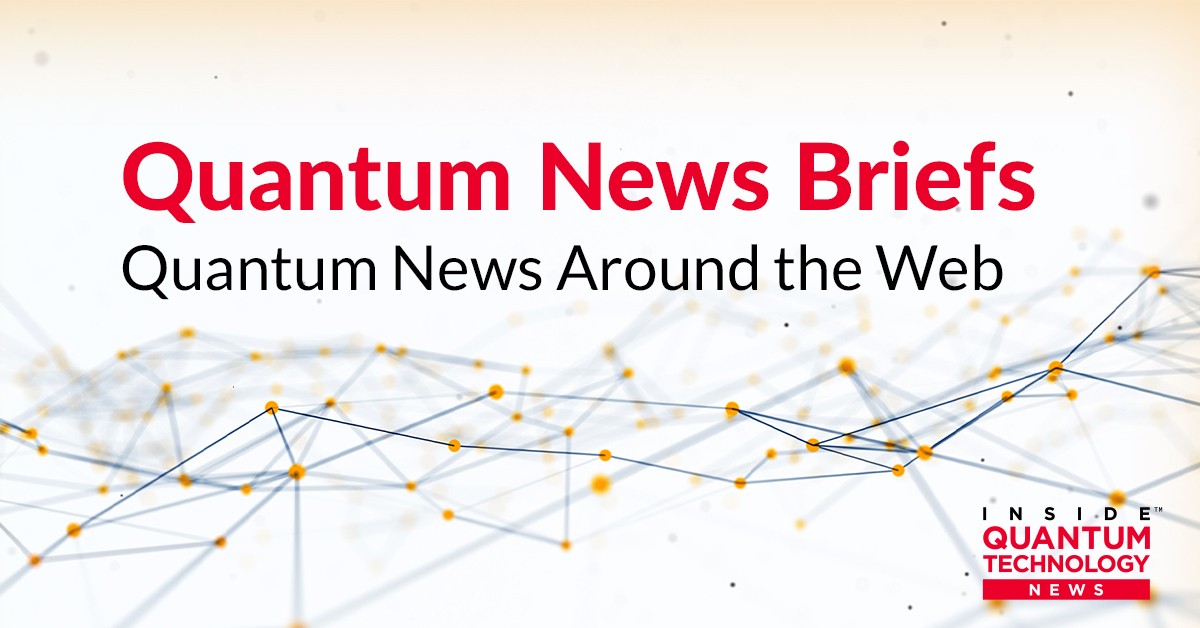 Quantum News Briefs January 12: Infleqtion's milestone year of 2022; Lawrence Gasman says Chinese scientists' claims for new quantum code-breaking algorithm are 'catastrophic' if true; Duality quantum accelerator opens applications for third cohort of startups + MORE
*****
Infleqtion's milestone year of 2022
Infleqtion, formerly known as ColdQuanta, today announced the completion of an impressive 2022, with momentum across all business units, including revenue, headcount, technical milestones, industry partnerships, leadership expansion and more.  Quantum News Briefs shares the list of milestones below:
Noteworthy milestones for 2022 include:
Customers:

Won 5-year subcontract in response to an Office of Naval Research Broad Area Announcement (BAA) to develop portable atomic clocks.
Announced a collaboration with Morningstar to integrate SuperstaQ, Infleqtion's flagship quantum software, into Morningstar Direct.
Awarded two projects in the commercialising quantum technologies challenge from the UK Research and Innovation (UKRI): Ultracold quantum memories and TALENT: Tapered AmpLifiErs for quaNtum Technologies.

Technical milestones and honors:

Won 2022 Prism Award, Quantum from SPIE Photonics West and Photonics Media for Albert, ColdQuanta's quantum matter platform.
Won 2022 Best of Sensors Award for Maxwell, a high performance test and calibration instrument.
Albert named one of TIME's Best Inventions of 2022.
Infleqtion, Riverlane and University of Wisconsin-Madison successfully demonstrated algorithms on a programmable neutral atom quantum computer.
Received first and second place in Electric Power Research Institute Quantum Challenge for papers on quantum computing and atomic clocks, respectively.
Dr. Fred Chong, Chief Scientist for Quantum Software named IEEE Fellow for his Enabling Practical-scale Quantum Computing (EPiQC) project.
Unveiled SupercheQ: Quantum Advantage for Distributed Databases, a scientific advance that extends the power of quantum computation to new applications.

Recognition of business and technical leadership:

Dr. Fred Chong, Chief Scientist for Quantum Software named IEEE Fellow for his Enabling Practical-scale Quantum Computing (EPiQC) project.
Dr. Bob Sutor, Vice President and Chief Quantum Advocate testified at the Senate committee hearing, "Securing U.S. Leadership in Emerging Compute Technologies" in Washington, D.C.

Innovative partnerships with Classiq, The University of Colorado Boulder's CUbit Quantum Initiative.
Click here to read Infleqtion's 2022 review in-entirety.
*****
Lawrence Gasman says Chinese scientists' claims for new quantum code-breaking algorithm are 'catastrophic' if true
The South China Morning Post's Stephen Chen discussed the recent claim by a group of Chinese researchers in late 2022 that they have come up with a way to break RSA encryption using a relatively small number of qubits. The paper, titled "Factoring integers with sublinear resources on a superconducting quantum processor," claimed that researchers developed a "universal quantum algorithm" that in an experiment can demonstrate "factoring integers up to 48 bits with 10 superconducting qubits, the largest integer factored on a quantum device."  Read InsideQuantumTechnology's January 4 coverage of the claim here:  Chinese researchers claim a feasible method for breaking RSA Encryption in Dan O'Shea's article.SCMP's Chen explains "Today's mainstream encryption may be vulnerable within years instead of decades after Chinese researchers propose new code-breaking algorithm." Chen then reviews the concerns as well as doubts from senior security and quantum experts in the United States about that claim coming out of China.
Lawrence Gasman, founder and president of Inside Quantum Technology, is quoted, "If it is true it is catastrophic." Gasman went on to say, "But as one of my old professors at MBA school said, 'If an idea is interesting it is probably wrong'," Gasman said. "We should also consider that this emanates from China, a place desperate to prove that it is better than the US."
The Chinese team, led by Professor Long Guilu of Tsinghua University, said its new algorithm could dramatically reduce the scale of a practical quantum computer to 372 qubits. Quantum computers can speed up the factoring of large numbers – a difficult task for traditional computers – to break codes in a relatively short period. But it is commonly believed that such a machine would need to handle millions of qubits, the basic unit of quantum information, to hack a bank account protected by state-of-the-art encryption.
Gasman's skepticism was echoed in SCMP article by comments from Scott Aaronson, director of the quantum information centre at the University of Texas at Austin. "It seems to me that a miracle would be required for the approach here to yield any benefit at all, compared to just running the classical Schnorr's algorithm on your laptop," Scott wrote on his blog. "This is one of the most actively misleading quantum computing papers I've seen in 25 years, and I've seen many," he added.
Chen refers to an unnamed Beijing source who said it was too early to reach a verdict on the paper until it goes through rigorous peer review.   Click here to read Chen's article in SCMP in-entirety.
*****
Duality quantum accelerator opens applications for third cohort of startups

Startup companies looking to break into the competitive quantum economy can now apply to be part of the third cohort of the Duality accelerator program, the first accelerator in the nation created for quantum startups.
The 12-month accelerator program offers startups mentorship, training and resources, including $50,000 in funding, office and lab space in Chicago, access to state-of-the-art facilities and entrepreneurial training from faculty at the top-ranked Booth School of Business. Startups can also participate in networking opportunities to form connections in Chicago's nation-leading quantum ecosystem.
Duality is operated out of the University of Chicago's Polsky Center for Entrepreneurship and Innovation with support from the Chicago Quantum Exchange, the University of Illinois Urbana-Champaign, Argonne National Laboratory and P33. Corporate partners include Amazon Web Services, Caruso Ventures, Lathrop GPM, McAndrews, Held & Malloy, Ltd, McDonnell Boehnen Hulbert & Berghoff LLP, Silicon Valley Bank, and Toptica Photonics.
Applications will remain open through March 31, with programming beginning this summer. More information about eligibility and information sessions is available online at www.dualityaccelerator.com/apply.    Click here to read complete news announcement.
*****
Scientists achieve milestone for quantum research, light-driven electronics
An international team of scientists collaborating within the Würzburg-Dresden Cluster of Excellence ct.qmat has achieved a breakthrough in quantum research – the first detection of excitons (electrically neutral quasiparticles) in a topological insulator. Quantum News Briefs summarizes January 11 announcement.
This discovery paves the way for a new generation of light-driven computer chips and quantum technologies. It was enabled thanks to smart material design in Würzburg, the birthplace of topological insulators.
One area that scientists from the Cluster of Excellence ct.qmat – Complexity and Topology in Quantum Matter – at the two universities in Würzburg and Dresden are concentrating on is topological insulators, which enable the lossless conduction of electrical current and robust information storage.
The international research team headed by Professor Ralph Claessen, quantum physicist from Würzburg and co-spokesperson of ct.qmat, has now made a crucial discovery. "For the first time, we've been able to generate and experimentally detect quasiparticles known as excitons in a topological insulator. We've thus created a new toolkit for solid-state physics that can be used to control electrons optically." As Claessen emphasized: "This principle could become the basis for a new type of electronic components." Click here to read complete announcement.
*****
Sandra K. Helsel, Ph.D. has been researching and reporting on frontier technologies since 1990.  She has her Ph.D. from the University of Arizona.