Quantum News Briefs February 22: SK Telecom to unveil quantum cryptography one chip; Diamond quantum sensor hub for Nottingham; Quantum technology for battle readiness + MORE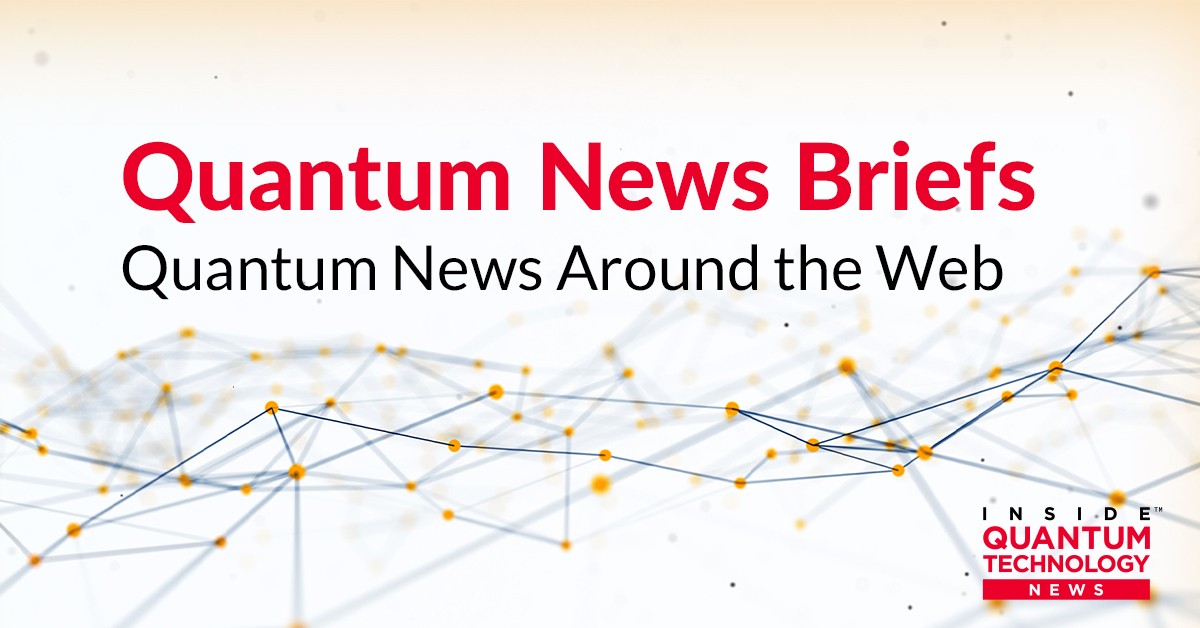 Quantum News Briefs February 22: SK Telecom to unveil quantum cryptography one chip; Diamond quantum sensor hub for Nottingham; Quantum technology for battle readiness + MORE
SK Telecom to unveil quantum cryptography one chip
SK Telecom will showcase a next-generation security chip that integrates a quantum random number generation function and a cryptographic communication function at Mobile World Congress (MWC) 2023, the world's largest mobile communication exhibition. Quantum News Briefs summarizes.
SK Telecom announced on Feb. 20 that it has released Quantum Cryptography One Chip, which was developed in cooperation with IDQ, a subsidiary of SK Square, and KCS, a Korean security company. The ultra-light and low-power chip provides security functions to the internet of things (IoT)-based products and devices. The chip features quantum-based encryption key generation technology and physical unclonable function (PUF) technology.
SK Telecom explained that the biggest advantage of the new chip is its strong security. The company is currently in the process of obtaining security certification from the National Intelligence Service of Korea. It expects that the chip can be used for security of wall pads or defense products.
SK Telecom says that the new chip costs 30 percent less than buying one quantum random number generator chip and one cryptographic communication chip. In addition, the chip can decrease the size of a board 20 percent compared to a board with the two chips on. Click here to read BusinessKorea article in-entirety.
Diamond quantum sensor hub for Nottingham
The University of Nottingham in the UK is setting up a hub for research into quantum sensors using diamond. Melissa Mather, Professor in Quantum Sensing and Engineering in the Faculty of Engineering, has been awarded £2.5 million over ten years to create the next generation of quantum sensors using the vacancies in diamond.
The Chair in Emerging Technologies scheme by the UK Royal Academy of Engineering provides long-term support and funds to cover employment and research costs. The university is also setting up the Diamond Quantum Sensing Research Hub at the Institute for Advanced Manufacturing to work with industry on the sensor technology.
Quantum technology for battle readiness
One of the most vital issues for nations and their militarys is the requirement for secure communications. In recent times, quantum physics has come to the forefront in military networks for gaining advantage through 'quantum communication'. India's Cdr Milind Kulshreshtha (Retd) is the author of a February article summarized below that discusses quantum technology's benefits to the military.
Quantum Key Distribution (QKD)
Quantum communication provides secure communication between two users transmitting and receiving encrypted messages using 'entangled' photons to establish pairs of particles having a unique quantum-mechanical relationship. Any eavesdropping attempt in this paired communication connection results in a loss of entanglement between the photons. A Quantum Key Distribution (QKD) system utilises quantum physics to encrypt information sent over traditional networks. It uses a quantum secure pair of symmetric keys between two endpoints. This secure communication cannot be clandestinely intercepted during transmission.
Quantum Computers
Quantum computers can assist militaries in achieving improved near-real-time machine-based target identification and automated target engagement.  A quantum computer for code-breaking can potentially turn today's military and commercial world upside down and have the capability to adversely affect the everyday use of secure banking and financial services etc.
Quantum Sensing
Quantum sensing is emerging as an alternative PNT (Positioning, Navigation and Timing) service, specifically of interest to war-fighting units to perform in a GPS-denied or GPS-degraded environment. Quantum sensors are highly sensitive and have the potential to be used in detecting nuclear materials or electromagnetic emissions.
Conclusion
Multiple issues are yet to be considered in implementing Quantum technologies either in a standalone mode or integrated with other technologies for Defence purposes. In order to prevent any superlative hopes or misrepresentation so often seen while describing emerging disruptive technologies,
Click here to read article in-entirety.
The 'flip-flop' qubit: Realization of a new quantum bit in silicon controlled by electric signals
A team led by Professor Andrea Morello at UNSW Sydney has just demonstrated the operation of a new type of quantum bit, called "flip-flop" qubit, which combines the exquisite quantum properties of single atoms with easy controllability using electric signals, just as those used in ordinary computer chips. Quantum News Briefs summarizes from Phys.org.
"Sometimes new qubits, or new modes of operations, are discovered by lucky accident. But this one was completely by design," says Prof. Morello. "Our group has had excellent qubits for a decade, but we wanted something that could be controlled electrically, for maximum ease of operation. So we had to invent something completely new."
Prof. Morello's group was the first in the world to demonstrate that using the spin of an electron as well as the nuclear spin of a single phosphorus atom in silicon could be used as "qubits"—units of information that are used to make quantum computing calculations. He explains that while both qubits perform exceptionally well on their own, they require oscillating magnetic fields for their operation.
"This new qubit is called 'flip-flop' because it's made out of two spins belonging to the same atom—the electron and the nuclear spin—with the condition that they always point in opposite directions," says Dr. Rostyslav Savytskyy, one of the lead experimental authors of the paper. Click here to read Phys.org article in-entirety.
Sandra K. Helsel, Ph.D. has been researching and reporting on frontier technologies since 1990.  She has her Ph.D. from the University of Arizona.