Quantum News Briefs February 15: Alphabet spinoff Sandbox AQ has raised $500 million for cyber security, other quantum work, QuSecure expands its Board of Directors as quantum market rapidly accelerates, Quantinuum names Rajeeb (Raj) Hazra Chief Executive Officer + MORE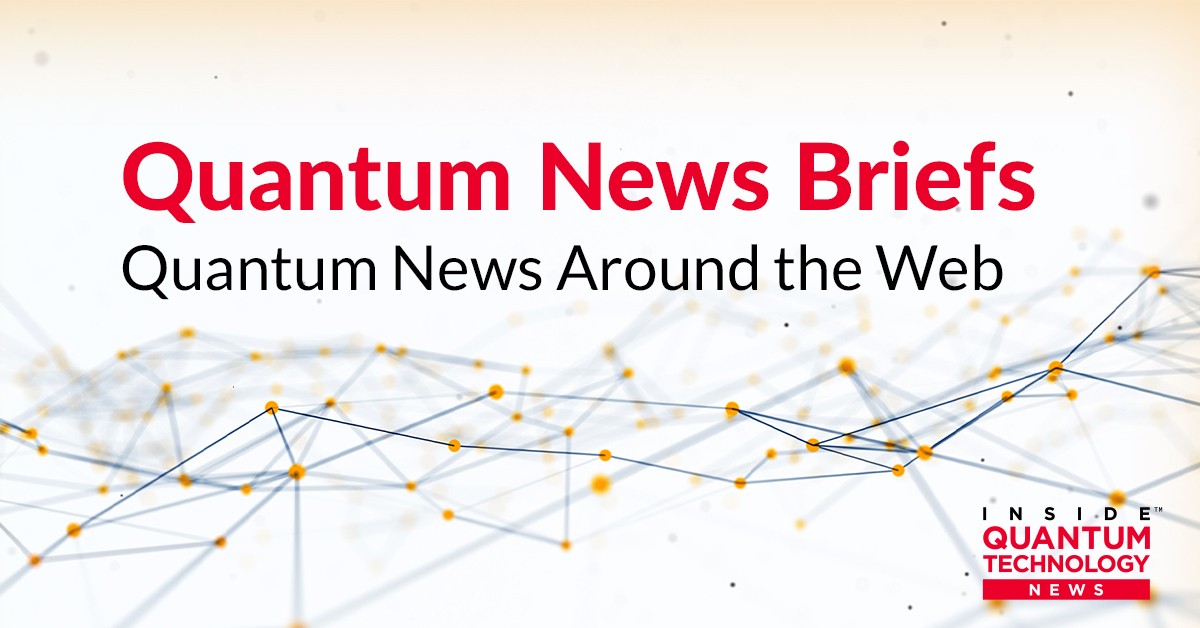 Quantum News Briefs February 15: Alphabet spinoff Sandbox AQ has raised $500 million for cyber security, other quantum work, QuSecure expands its Board of Directors as quantum market rapidly accelerates, Quantinuum names Rajeeb (Raj) Hazra Chief Executive Officer + MORE
Exclusive-Alphabet spinoff Sandbox AQ has raised $500 million for cyber security, other quantum work
Sandbox AQ, a startup spun off from Alphabet Inc last year, said on Tuesday, February 14, in an interview with Jane Lanhee Lee from Reuters, that it has raised $500 million as it helps customers prepare for a quantum computing future. Quantum News Briefs summarizes the interview below
The U.S. government has set quantum computing as one of the key technologies important for national security.mSandbox AQ's software scans companies' systems to identify which parts use the old cryptography, identifies which need to be replaced urgently, and sets out to fortify the encryption of the enterprise, said CEO Jack Hidary. "Right now you have a lot of banks and pharma companies and governments still using these old protocols," said Hidary. "The average bank takes five to seven years to migrate over. … Now, hopefully they'll do their important customer private information first."
Sandbox also has a business selling powerful simulation software to accelerate development of drugs and materials.
Former Google Chief Executive Eric Schmidt is the startup's chairman as well as investor. Other investors include Breyer Capital, T. Rowe Price funds and Salesforce.com Inc founder Marc Benioff's TIME Ventures.Schmidt in a statement said Sandbox AQ has already signed up more than 15 enterprise and government customers and is partnering with 30 universities to train PhDs and other talent needed.
Some of the team and inspiration for Sandbox originated at Alphabet in 2016. But the Google parent is not a shareholder as Hidary said he wanted the company to be independent to work with the other major cloud companies as well. Click here to read the Jane Lanhee Lee article in-entirety.

QuSecure expands its Board of Directors as quantum market rapidly accelerates
QuSecure™, Inc., a leader in post-quantum cybersecurity (PQC) enterprise software, has announced it has named the Chairwoman of Intelsat, Lisa Hammitt, to its Board of Directors, expanding QuSecure's current board with the appointment of its first independent director.
Ms. Hammitt joins QuSecure as industry leaders are lauding the company's growing traction in critical Federal and Commercial PQC applications. Boston Consulting Group attributes $80B in Enterprise Value to Cryptography as one of the more mature areas of its Quantum Market Map.
Ms. Hammitt brings more than 30 years of leadership to QuSecure's Board of Directors. She has served as CEO at an organization specializing in enterprise software platforms for the DoD. She has also held pivotal roles in numerous Fortune 500 organizations, notably running Watson at IBM; serving as Global Vice President, Data and Artificial Intelligence at Visa; and holding senior positions in AI and Data at Salesforce and Hewlett Packard. Ms. Hammitt currently serves on numerous boards including Glassbox Ltd. and Clear Channel Outdoor, and is Chairwoman of the Board of Directors for Intelsat, operator of the world's largest integrated satellite and terrestrial network.
We are thrilled to welcome Lisa to our team," said Dave Krauthamer, QuSecure CEO. "Lisa's passion for technology and proven track record scaling organizations is demonstrated throughout her successful career. We look forward to leveraging her executive and operating expertise and vast industry connections as we enter this very critical growth period for QuSecure, and an important year for getting networks quantum ready."
Quantinuum names Rajeeb (Raj) Hazra Chief Executive Officer
Quantinuum announced on February 14 that Rajeeb (Raj) Hazra has been appointed to the role of Chief Executive Officer (CEO) of Quantinuum, effective immediately. Quantum News summarizes.
In stepping down, current Quantinuum CEO Ilyas Khan will remain a leader in the company.
Hazra has more than three decades of experience in supercomputing, quantum, and technical roles across the globe. He will work closely with Khan and the executive team to accelerate quantum computing and advance the commercialization of the company. He takes over the leadership of an organization that currently has more than 480 people, driving breakthroughs in drug discovery, healthcare, materials science, cybersecurity, energy transformation and climate change.
"Raj is uniquely qualified for this role, having proven his technical abilities in advanced technologies and supercomputing in both small and large organizations," said Khan.
"With Raj at the helm, Quantinuum is well positioned to continue to expand its influence on the emerging quantum business sector, and make an impact on real challenges," noted Darius Adamczyk, Quantinuum's Chairman of the Board. "The time is perfect to bring Raj into the company, as we build momentum to drive the next chapter of quantum industries. He will help the company drive high-speed innovation and entrepreneurship in the quantum industry. I'm also grateful to Ilyas for his continued leadership in his new position, and thankful that he will still bring his energy to making Quantinuum successful."
"I'm honored to step into the CEO role, where I'm excited to focus on helping Quantinuum grow and drive the innovations that will transform the way quantum computing positively impacts the world," Hazra said. "By building on the solid foundation that Ilyas and the team have laid, we will continue to accelerate Quantinuum into the future." Hazra was most recently Senior Vice President and General Manager, Compute and Networking Business Unit, and previously Senior Vice President, Corporate Strategy and Communications, at Micron Technology (Nasdaq: MU) where he was based in San Jose, California. He previously spent 25 years at Intel Corporation, leading the Enterprise and Government Group, Technical Computing Group, Supercomputer Architecture and Planning, and Systems Technology Research.
Raj has a Ph.D. and a Master of Science in Computer Science from the College of William and Mary in Virginia, U.S., and a Bachelor of Science in Computer Science from Jadavpur University in Kolkata, India. See Quntinuum website for complete announcement.
QCI commences cyber security launch as patent is awarded addressing unconditional network security
Quantum Computing Inc. (QCI), announced its business initiative February 14 on quantum cyber security based on an international patent that gives QCI exclusive rights to the utilization of a basket of network security solutions. The patented technology gives system-wide, zero-trust protections to many communication scenarios involving data sharing among untrusted parties, whose security is derived only from quantum physics laws. Designed to be compatible with existing fiber-based communication infrastructure and satellite-based networks, QCI's quantum cyber security is available today for Government and large commercial systems.
The patent, exclusively licensed from Steven Institute of Technology, is a broad use patent on a fundamental methodology for secure networking among multiple parties. It builds on quantum entanglement and measurement principles by providing a full-stack solution that uniquely combines authentication and encryption in a single step. QCI's approach addresses existing vulnerabilities with quantum key distribution, which only provides encryption and thus does not address prominent network security problems.
"This breakthrough patent fills a critical security breach by offering a way to effectively protect information to safeguard the entire network at all points of slippage from A to Z. We have the unequivocal ability to ensure that the intended parties are in communication and that the information exchanged has been unaltered and is unconditionally secured against interception," commented Bill McGann, Quantum Computing Inc.'s Chief Operating and Technology Officer. "
"Cybersecurity, a $2 trillion+ industry, is one of the key focus areas of QCI," stated Bob Liscouski, CEO Quantum Computing Inc. "Our Nation's stability, and those of our friends and allies, depends on zero-interference in our infrastructure such as water systems, the electrical grid, communications, chemical plants, banking systems, and other critical infrastructure. These networks all have common vulnerabilities; the most critical of which is cybersecurity. Currently, systems use a wide variety of cyber protections but with the advent of quantum offensive capabilities, all are still vulnerable to attacks that decrypt the protection and attack the system." Click here to read complete announcement.
Sandra K. Helsel, Ph.D. has been researching and reporting on frontier technologies since 1990.  She has her Ph.D. from the University of Arizona.