Quantum News Briefs February 13: U of Sussex scientists make breakthrough in quantum computers, Q-Day and the "spy balloons", India & Finland expanding ties in quantum computing & nuclear energy + MORE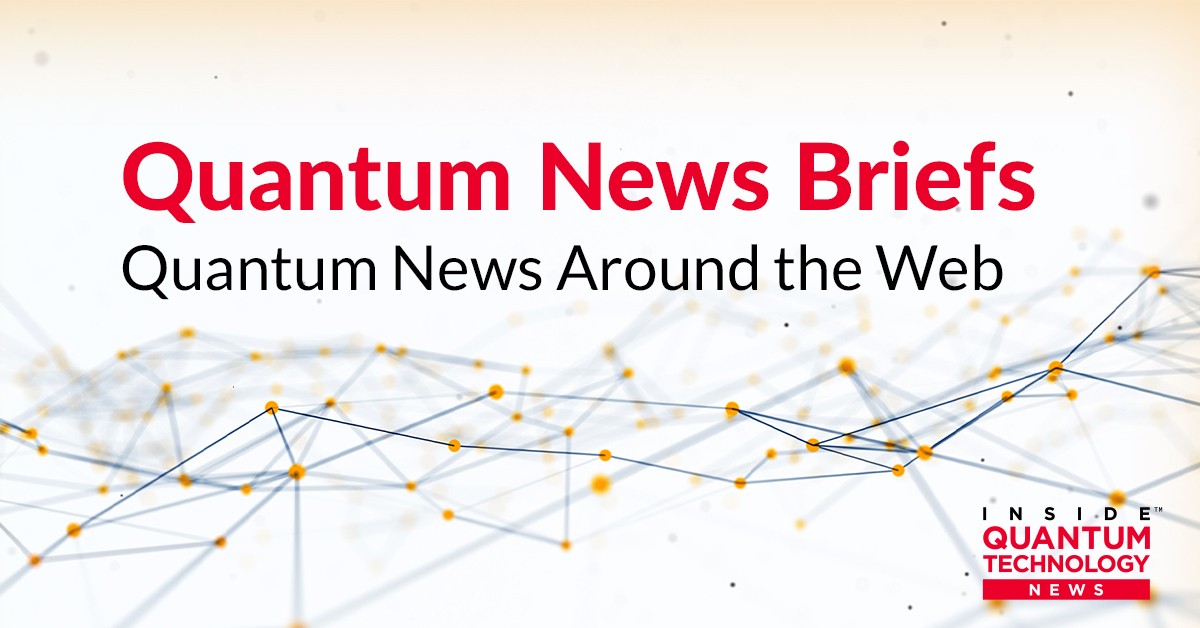 Quantum News Briefs February 13: U of Sussex scientists make breakthrough in quantum computers, Q-Day and the "spy balloons", India & Finland expanding ties in quantum computing & nuclear energy + MORE.

U of Sussex scientists make breakthrough in quantum computers
Scientists at the University of Sussex in the UK have now been able to get qubits traveling directly between two quantum computer microchips and at speeds and accuracies significantly above anything that's been seen before. Quantum News Briefs summarizes below David Field's MSN "Science Alert" from February 13.
"That demonstrates that quantum computers can be scaled up beyond the physical confines of a microchip, a crucial factor when you're potentially dealing with millions of qubits in the same machine. Universal Quantum, a startup spun out from the University of Sussex, will continue to develop the technology.
"The team has demonstrated fast and coherent ion transfer using quantum matter links," says quantum scientist Mariam Akhtar. Akhtar led research on the prototype while she was at the University of Sussex. The research, entitled "A high-fidelity quantum matter-link between ion-trap microchip modules was published in Nature Communications on February 8.
"This experiment validates the unique architecture that Universal Quantum has been developing – providing an exciting route towards truly large-scale quantum computing."
The researchers used a specialized technique they're calling UQConnect to make the transfers, using an electric field setup to transport qubits. It means microchips could be slotted together in a similar way to jigsaw puzzle pieces to build quantum computers.
There's more than one way to build a quantum microchip: In this case, the architecture used trapped atomic ions as the qubits for the best stability and reliability and charge-coupled device circuitry for superior electrical charge transfer.
"As quantum computers grow, we will eventually be constrained by the size of the microchip, which limits the number of quantum bits such a chip can accommodate," says quantum scientist Winfried Hensinger from the University of Sussex.  Click here to read Field's MSN coverage in-entirety.
Q-Day and the "spy balloons"
Dan Horhmann's February 12 article in Government Technology discusses "Q-Day" in relation to the current series of "spy balloons" being intercepted and shot down.
Horhman begins by quoting cybersecurity attorney Michael McLaughlin's, "Think of China's spy balloon as a giant vacuum sucking up all communications in its path. Encryption protects us, right? Wrong. The Chinese government is collecting as much data as possible — both encrypted and unencrypted — because of the coming era of quantum computing." Michael McLaughlin's original, extensive post is on LinkedIn.
Horhmann explains, "Obviously, the spy balloon has been top of mind in the U.S. over the past few weeks for many people, and there are numerous stories popping up all over the world on the wider implications."
Horhmann also directly interviewed Michael McLaughlin in this GovernmentTechnology article. McLaughlin warns, "Q-Day will give the owner of the large quantum computer the ability to break PKI (public key infrastructure) and other types of asymmetric encryption. Whether it is in one year or 10, companies need to understand two very important things. First, on Q-Day, networks secured using traditional encryption methods will be vulnerable to compromise by a nation-state. .. ..it is clear that there exists a capable nation-state that is currently developing a quantum computer and motivated to steal massive amounts of data from private companies. Second — and this is critically important — any data that has been compromised at any point leading up to Q-Day, whether encrypted or not, will become readable. Unless companies are securing their networks and data using quantum-resistant cryptography, they will be opening themselves and their customers up to compromise."
Lohrmann concludes by citing the World Economic Forum, "Organizations should acknowledge the significant risks quantum computing poses and take steps to protect against them now."The time to act on Q-Day is 2023."  Click here to read original article in-entirety.
India & Finland expanding ties in quantum computing & nuclear energy
India and Finland are working to expand ties across a range of cutting-edge technologies including in quantum computing and nuclear energy.
India's Centre for the Development of Advanced Computing (C-DAC) and Finland's IQM Quantum Computers are expected to sign a memorandum of understanding (MoU) to expand cooperation on quantum computing research.
C-DAC functions under the ministry of electronics and information technology while IQM is a major player in the quantum computing hardware market. In December last year, IQM signed an MoU with Tech Mahindra to expand research on quantum computing.
IQM has confirmed that discussions were underway but did not indicate a firm date for the MoU.
Two Finnish research universities, Lappeenranta Technical University and the University of Oulu, are also looking to expand research on quantum technology with Indian partners, according to the people cited above.  Click here to read complete LiveMint article.
Related: IQT NORDICS announced for Copenhagen, Denmark June 6-8, 2023 in partnership with the Danish quantum community and several other Nordic organizations from Finland and Sweden
Seven potential quantum computing uses
Jacob Roundy of TechTarget discusses practical applications of quantum computing in his February 10 TechTarget article summarized below by Quantum News Briefs.
Here are several practical applications of quantum computing we could see in the future:
AI and machine learning (ML). The capability of calculating solutions to problems simultaneously, as opposed to sequentially, has huge potential for AI and ML. Organizations today use AI and ML to discover ways to automate and optimize tasks./li>
Financial modeling. With the modeling capabilities of quantum computing, financial organizations could use the technology to better model the behavior of investments and securities at scale. This could help reduce risk, optimize large-scale portfolios and help financial organizations better understand the trends and movements of the global financial economy.
Cybersecurity. Quantum computing could have a direct impact on >privacy and encryption. Given the rapidly evolving nature of the cybersecurity landscape, quantum computers could help keep­­ data encrypted while in use, providing both in-transit and at-rest protections.
Route and traffic optimization. Optimal route planning is key to smooth supply chain logistics and transportation. The biggest challenge is harnessing all the real-time data — from changing weather patterns to traffic flow — that affects this planning. This is where quantum computers can excel.
Manufacturing. Quantum computers can run more accurate and realistic prototyping and testing. In the manufacturing space, this could help reduce the cost of prototyping and result in better designs that don't need as much testing.
Drug and chemical research. Quantum computers can create better models for how atoms interact with one another, leading to a superior and more precise understanding of molecular structure. This may directly impact drug and chemical research and impact the way new products and medicines are developed.
Batteries. Quantum computing could help manufacturers better understand how to incorporate new materials into products such as batteries. This could provide more insight into how to optimize batteries for longevity and efficiency. Quantum computing can also help manufacturers gain a better understanding of  battery chemistry.
Data centers and administrators can also partner with quantum computing players or recruit quantum computing talent to prepare. data centers should focus on further digital transformation.  Click here to read the complete TechTarget article.
Sandra K. Helsel, Ph.D. has been researching and reporting on frontier technologies since 1990.  She has her Ph.D. from the University of Arizona.