Quantum News Briefs December 23: Quantum tech's path to commercialization a key 2023 NIST priority; Cisco bets on quantum key distribution; China's telecom industry looks to quantum computing to overcome 5G, 6G bottlenecks + MORE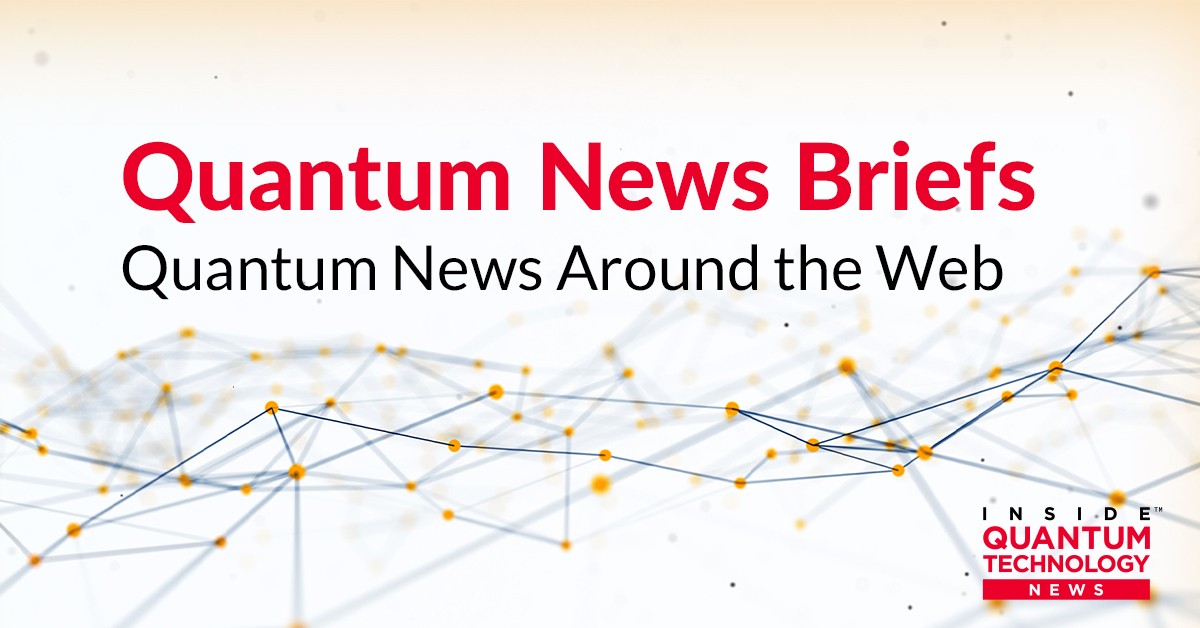 Quantum News Briefs December 23: Quantum tech's path to commercialization a key 2023 NIST priority; Cisco bets on quantum key distribution; China's telecom industry looks to quantum computing to overcome 5G, 6G bottlenecks + MORE

*****
Quantum tech's path to commercialization a key 2023 NIST priority
The National Institute of Standards and Technology (NIST) researchers will be focusing on the logistics behind commercializing applied quantum technologies according to December 21 article by NextGov's staff correspondent Alexandra Kelly  Quantum News Briefs summarizes.
James Kushmerick, the director of NIST's Physical Measurements Laboratory, told Nextgov that the agency's next step for post-quantum cryptography is standardizing the quantum-resistant algorithms released earlier this year.   "Post quantum crypto, or PQC, is hugely important…and NIST has identified four algorithms which they're working through the process of standardizing…with the community," he said. "Post quantum cryptography is definitely a high priority and there…continue[s] to be a lot of effort in that arena."
Continuing partnerships with labs and experts in the private sector, industry, and academia will continue to help fuel new quantum sciences research, particularly within the Quantum Economic Development Consortium.
Kushmerick cites the development of adjacent low-cost, low-power foundational technologies—like cryocoolers to keep quantum processing systems cool—as one example of the larger infrastructure that will need to be developed to make quantum technologies sustainable.
Despite the innovations made with quantum sensing technology and post-quantum cryptographic standards, Kushmerick noted that NIST is still researching numerous other applications related to its core mission surrounding measurement standardization.
Alongside maintaining industry partnerships, NIST is also focusing on promoting U.S. leadership in developing open standards to promote fair competition in emerging tech industries.
"There's entities that try to narrowly define standards to lock a market in or to keep people out of a market. So that's where really the United States as a whole needs to engage," he said.
Click here to read article in-entirety.
*****
Cisco bets on quantum key distribution
Cisco Chief Strategy Officer Liz Centoni expects quantum key distribution (QKD) to gain momentum next year as organizations and governments try to address post-quantum security threats according to recent sdxcentral article by Nancy Liu.
"Quantum cryptography and transmitting keys is a fundamental risk to security as they can be harvested and decrypted later," Centoni wrote in her 2023 technology predictions and trends blog.
"While post-quantum cryptography (PQC) is a potential stop-gap solution, it's unclear if PQC schemes could be broken in the future," she added. "QKD is poised to be particularly impactful because it avoids any distribution of the keys over an insecure channel. In 2023, in preparation for a post-quantum world, we will see a macro-trend emerge with the adoption of QKD in data centers, IoT, autonomous systems, and 6G."
Ramana Kompella, distinguished engineer and head of research in the Emerging Tech and Incubation group at Cisco, echoed this prediction and told SDxCentral that that Cisco has been making strides in quantum research and development. Cisco's research team is focused on a wide variety of research areas such as PQC and QKD toward securing the next-generation digital infrastructure. Cisco Research is looking into converged networking infrastructure for both classical and quantum communication that can support QKD in the future.  Click here to read complete sdxcentral article.
*****
China's telecom industry looks to quantum computing to overcome 5G, 6G bottlenecks
China Mobile, the world's largest telecom carrier with 900 million mobile subscribers, is exploring ways to tap into quantum computing to overcome computational bottlenecks facing 5G and 6G technologies according to December 22 ChinaDaily article summarized below.
The research institute of China Mobile has signed a deal with Origin Quantum, a Chinese startup focusing on quantum computing. "This is the first cross-sector cooperation between quantum computing and the telecom industry in China, which has big value in exploring potential applications of quantum computing in big data as well as complex network construction and optimization in the field of mobile communication," said Guo Guoping, a professor of quantum computing at the University of Science and Technology of China and chief scientist at Origin Quantum.
In the future, 6G will require even higher computing capabilities than 5G. It will be necessary to introduce new technologies, such as quantum computing, to help solve this challenge, Cui Chunfeng, president of the future research institute of the China Mobile Research Institute, said.
Han Jian, head of the secretariat of the quantum computing committee of the China Institute of Communications, said China has more than 1.3 billion phone users, and leveraging quantum computing to process telecom data is a new field that could grow into a multibillion-dollar market. Click here to read article in-entirety.
*****
Fujitsu's Digital Annealer achieves positive results in investment portfolio project
Fujitsu's quantum-inspired solution, Digital Annealer, has achieved excellent results in the project that the financial institution Kutxabank is developing to improve the allocation of assets to its investment portfolios.
A project in collaboration with the company Quantum Mads and the open innovation platform INNOLAB Bilbao. The first phase, carried out from February 2021 to July 2022 as a proof of concept, has concluded with excellent results and directly enables the start of the second phase that will lead to the industrialization of the algorithm.
During the proof of concept, the performance of the solution that has been developed using Fujitsu's Digital Annealer has been compared to the entity's current classic solution, taking into account both the return and the associated risk or volatility, with significant improvements being observed in both cases. Fujitsu's Digital Annealer has made it possible to calculate the optimal distribution of investments to be made, through a series of extremely complex permutation operations. For its part, Quantum Mads developed an algorithm that reduced the number of variables needed to formulate the problem.
The second phase of the project, whose completion is scheduled for December 2023, aims to optimize the processes already in place, and incorporates new functionalities by interacting quantitatively with the model in a real and current environment. The goal for Kutxabank is to create a prototype capable of detecting needs and opportunities that are covered, with a technological solution in a real environment, and that concludes with the start-up of the solution based on the prototype.
*****
Sandra K. Helsel, Ph.D. has been researching and reporting on frontier technologies since 1990.  She has her Ph.D. from the University of Arizona.