Quantum News Briefs April 6: Energy looks to quantum sensors for grid optimization; India's RRI researchers demonstrate satellite-based quantum communication; New quantum sensing method holds promise for improving greenhouse gas detection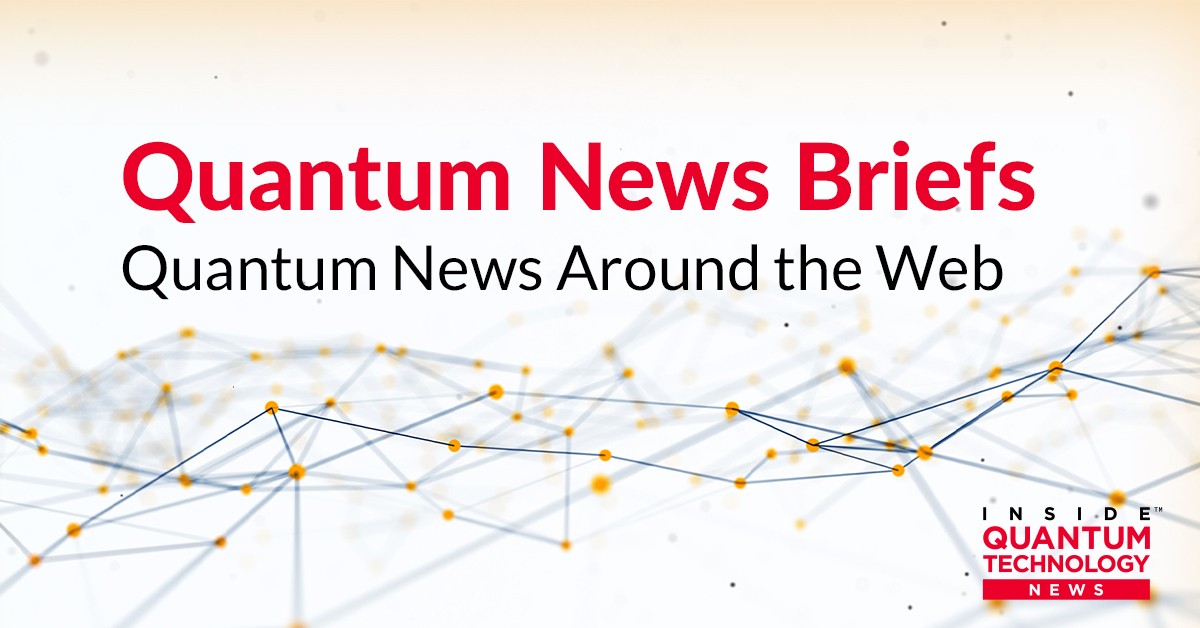 Quantum News Briefs April 6: Energy looks to quantum sensors for grid optimization; India's RRI researchers demonstrate satellite-based quantum communication; New quantum sensing method holds promise for improving greenhouse gas detection + MORE.
Energy looks to quantum sensors for grid optimization
Quantum sensing research and development is one of the Department of Energy's priorities, according to an agency official, as the devices show promise for electrical grid efficiency and sustainability efforts according to Alexandra Kelly's April 3 NextGov article summarized below by Quantum news Briefs.
Rima Oueid, a senior commercialization executive in Energy's Office of Technology Transitions, discussed with Nextgov the agency's larger goals surrounding implementing quantum information science and technology, and emphasized the myriad benefits of quantum sensor application.  "We are looking at quantum sensors that can be utilized for monitoring the grid, for anomaly detection and making the grid more resilient to climate change," Oueid said.
She specified that quantum sensors––a quantum information technology currently used in Magnetic Resonance Imaging machines and atomic clocks––can report more precise data upon which critical infrastructure relies.
Critical infrastructure, including the U.S. electrical grid, uses global positioning technologies to send positioning, navigation and timing information in order to operate. Oueid said that quantum sensors have the power to report PNT data directly from the electrical grid rather than from satellite-based GPS sources.
Eventually, the goal is to fully incorporate distributed energy resources—namely wind, solar and electric vehicles—into the country's central electrical grid to act as energy assets. Oueid conceded that certain market forces will need to align with Energy's efforts to spur widespread electric vehicle adoption and integration, but quantum sensors can use PNT data to help signal to vehicles when renewables are readily available on the grid to charge their batteries. Click here to read complete NextGov article.
India's RRI researchers demonstrate satellite-based quantum communication
Researchers at India's Raman Research Institute (RRI) have demonstrated secure communication established between a stationary source and a moving receiver using Quantum Key Distribution (QKD).
This demonstration could pave the way for ground-to-satellite-based secure quantum communication in future, a statement issued by the RRI said on Saturday. Quantum News Briefs summarizes below.
"These results, scientists say, could help India design and provide secure communication channels, especially for defence and strategic purposes, enhance cyber security and make online transactions safer than today," according to the statement.
To achieve this feat, a team of researchers led by Prof Urbasi Sinha at the Quantum Information and Computing (QuIC) lab deployed the indigenously developed Pointing, Acquisition and Tracking (PAT) system. The PAT assisted the ground-based source in tracking the moving receiver in this case, a terrestrial vehicle, a few metres apart.
The successful experimental demonstration was held at RRI in early March this year, the statement read. It added that this work is part of the Quantum Experiments using Satellite Technology (QuEST) project for which RRI has been collaborating with the UR Rao Satellite Centre of Indian Space Research Organisation (ISRO) since 2017.
In a satellite-based long-distance quantum communication, the ground station needs to keep the line of sight with the moving satellite, the RRI said. Click here to read Geospatial article entirety.
New quantum sensing method holds promise for improving greenhouse gas detection
A new quantum sensing method, put forward by a University of Bristol physicist, builds on the work of 2005 Nobel laureates in physics John Hall and Theodor Hänsch who developed a frequency comb technique to accurately measure optical frequencies. Quantum News Briefs summarizes the announcement below.
Frequency combs are deployed in many areas of science and industry to characterise matter based on the unique way light is absorbed.
However, the precision of optical comb spectroscopy is limited by a fundamental level of noise present in all lasers and other classical sources of light. A quantum state with reduced noise called 'squeezed light' can overcome this limitation and has been harnessed to improve the sensitivity of gravitational wave detectors.
In a paper published in Physical Review Letters, squeezed light is shown to significantly suppress noise over a broad set of comb frequencies used to probe an absorbing molecule.
Author Alex Belsley, Quantum Engineering PhD student, said: "This work proposes a new method for monitoring gas species in situ and with high precision. Quantum advantage in sensing can be realised today and I'm excited for the transformative impact quantum-enhanced sensors will have on our society in the coming years."
This novel approach could potentially achieve more than a ten-fold improvement in detection limits. In addition to allowing different types of gases to be characterised at ultra-low concentrations, it can also determine important properties such as temperature and pressure with high sensitivity. Click here to read announcement in-entirety.
NIWC Pacific and its partners are building a quantum Navy
Naval Information Warfare Center (NIWC) Pacific's mission touches cyber, sea, space — and, since 2000, the subatomic realm. Quantum News Briefs summarizes a March 29 dvidshub article by Maison Piedfort about quantum technology development at the US Naval Warfare Center in San Diego.
Joanna Ptasinski, head of NIWC Pacific's Cryogenic Electronics and Quantum Research branch, defines quantum: it's a complex system of matter or information where phenomena which can't be explained by classical notions of how the world works are possible.
"Quantum is quirky," said Ptasinski, who holds a doctorate in electrical engineering. "Its essence is superposition and entanglement. We're researching the power — the naval applications — lurking behind this weirdness."
Heisenberg's Uncertainty Principle, superposition, and entanglement are all part of a growing mathematical framework for subatomic phenomena called quantum mechanics, and it raises questions about the nature of reality. What can we learn from entangled particles for which space — even vast expanses of it — is no obstacle? If matter exists in many forms at once until we observe it, what role does observation play in building the world around us? And how do we harness a domain defined by potentiality?
This is what NIWC Pacific scientists explore in its labs, with its partners, and on the National Science & Technology Council's Subcommittee on Quantum Information Science. They ask: What will harnessing quantum phenomena mean for the Navy and the warfighter?
Answers fall in a few categories: sensing, computing, communications, and materials, and the Center has projects to show for each. Answers outside of practical applications have to do with building a quantum Navy: attracting dedicated talent, giving and receiving training, and contributing to national discussions about the future of quantum technology.
All answers point to a vision of a Navy equipped with even more secure communications networks, more advanced sensors, and the faster threat detection and response that comes with them. It's a vision of improved navigation, smarter autonomous systems, and more accurate modeling and simulation. It's unprecedented decision advantage at quantum speed in an increasingly uncertain world. Click here to read the dvidshub  article in-entirety.
Sandra K. Helsel, Ph.D. has been researching and reporting on frontier technologies since 1990.  She has her Ph.D. from the University of Arizona.