Quantum News Briefs April 4: 01 Communique announces receipt of a notice of allowance from the USPTO for its quantum-safe wallet patent application, Riken launches Quantum-HPC Hybrid Platform Division, Duality quantum startup accelerator hires new director + MORE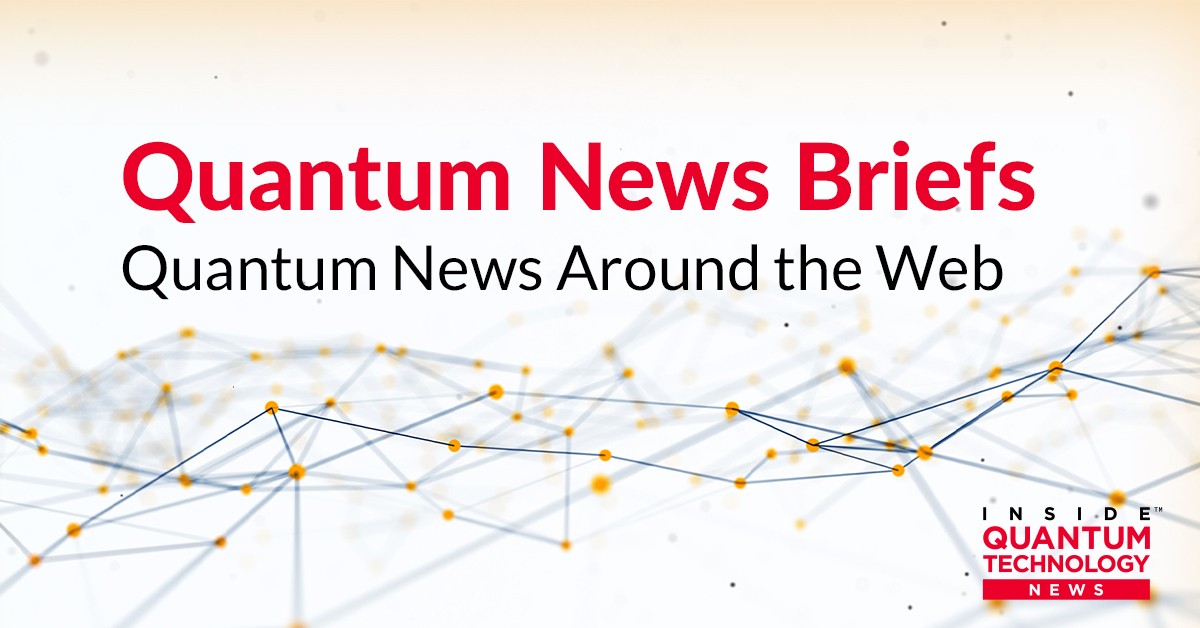 Quantum News Briefs April 4: 01 Communique announces receipt of a notice of allowance from the USPTO for its quantum-safe wallet patent application, Riken launches Quantum-HPC Hybrid Platform Division, Duality quantum startup accelerator hires new director + MORE.

01 Communique announces receipt of a notice of allowance from the USPTO for its quantum-safe wallet patent application
01 Communique Laboratory Inc. announced that the United States Patent and Trademark Office ("USPTO") has allowed the issuance of a patent related to its blockchain endpoints protection technology. The Company has received a Notice of Allowance from the USPTO stating that its patent application (application no. 17/972,815) for its blockchain endpoint protection technology has been examined, prosecution is now closed and it is allowed for issuance as a patent. Quantum News Briefs summarizes the April 4 announcement below.
Quoting Andrew Cheung, CEO, "The endpoints in a blockchain are the weakest link in the system and current wallets are vulnerable to quantum computer attacks. As previously announced, using the technology embodied in this patent we have conducted intensive R&D using Solana as the sandbox and successfully created a quantum-safe blockchain with digital wallets that ensure these endpoints are safe from attacks by bad actors using either conventional computers or quantum computers. The uniqueness of our invention is further verified by the issuance of a patent. It is inevitable that all blockchains must become quantum-safe to prevent disaster. . ."
A demonstration of the 01 Communique quantum-safe blockchain and wallets is available at: https://qnt-demo.ironcap.ca
The patent provides for blockchain endpoint protection, hence creating quantum-safe wallets. Quantum security may be enhanced through the use of quantum-safe validators for transactions whereby the quantum-safe validators process quantum-safe addresses and signatures of parties to the transactions. Quantum safety may be added to conventional blockchain transactions, for example, via smart contracts which are executed using cryptographic interlocks to between conventional smart contract execution engines and quantum-safe validators to ensure both quantum-safe processing of addresses and signatures and legitimacy of quantum-safe validators in presenting transactions for incorporation on the chain.
Click here to read April 4 announcement in-entirety.
Riken launches Quantum-HPC Hybrid Platform Division
RIKEN Center for Computational Science (R-CCS) has announced the launch a new division named "Quantum-HPC Hybrid Platform Division."
RIKEN is carrying out a project of the Transformative Research Innovation Platform of RIKEN platforms (TRIP) as a cross-disciplinary project. In this project, quantum computational technologies are expected to present the opportunity to tackle several problems that are currently infeasible to solve with supercomputers.
In order to make practical use of quantum computing, high performance computing is required to be integrated with quantum computers. This division conducts the research and development of the quantum HPC hybrid computing platform and its system software for the integration of quantum computational technologies with high-end supercomputers.
To learn more about R-CCS's Quantum-HPC Hybrid Platform Division, click here.
As a world-class research center in the field of high-performance computational science, R-CCS manages and operates supercomputer Fugaku, which began shared use in March 2021. R-CCS provides systems that contribute to solving social and scientific issues and also accelerate new IT fields such as big data and artificial intelligence.
Duality quantum startup accelerator hires new director
Duality has named Ezunial "Eze" Burts III as the new director. Quantum News Briefs summarizes.
Duality is a pioneering quantum startup accelerator operated by the University of Chicago's Polsky Center for Entrepreneurship and Innovation in partnership with the Chicago Quantum Exchange (CQE), along with founding partners the University of Illinois Urbana-Champaign, Argonne National Laboratory, and P33.
Burts joins Duality after a 20-year career with Boeing. Most recently he served as senior manager of future production systems and technology within the airplane manufacturer's environmental health and safety leadership team, where he was responsible for the adoption of technology and innovative industry methods to drive safety, quality, digital transformation, factory automation, and future production strategy. Formally educated in public policy and building innovation ecosystems, Burts has worked to advance Fortune 500 science and technology programs and strategies from concept to university lab to marketplace.
Duality is the nation's first incubator-accelerator devoted exclusively to supporting early-stage quantum startups, which play an important role in finding real-world applications for the revolutionary technology. The 12-month program provides entrepreneurial training, business expertise, industry mentorship, funding, access to world-class facilities, and co-location with some of the world's leading quantum researchers in order to enable quantum technology ventures to thrive and grow.
As director, Burts will be responsible for the program's operational management and long-term financial stability as well as internal and external stakeholder engagement.
"We are thrilled to welcome Eze to the Duality team at a critical time in the evolution of the quantum industry," said Dan Sachs, executive director of Deep Tech Ventures, a unit of the Polsky Center that oversees a suite of deep tech accelerators including Duality. "Eze is a natural leader and ecosystem builder. Given the complexities of quantum technology commercialization, his experience and passion will be invaluable for our founders as we continue to build a quantum hub in Chicago."
Since its launch in 2021, Duality has supported 11 startups from across the globe that are developing software and hardware technologies for quantum computing, communications, and sensing.  Click here to read complete announcement.
Quantum Computing Inc appoints emerging and disruptive technologies specialist Lewis Shepherd to its technical advisory board
Quantum Computing Inc. today announced the third appointment to its Technical Advisory Board launched on February 2, 2023. Lewis Shepherd, a senior technology leader and Government executive, has joined the QCI Advisory Board to provide industry advice, market intelligence, and QCI product visibility into his expansive network. Quantum News Briefs summarizes.
Mr. Shepherd combines over 30 years of experience within both Silicon Valley and government service addressing multiple aspects of R&D innovation with specific focus over the last 10+ years on artificial intelligence, machine learning, augmented reality/virtual reality, data visualization, quantum computing, encryption, and cybersecurity. Mr. Shepherd is the Senior Director, Research & Emerging Technologies Strategy at VMware, a leading provider of multi-cloud services for all apps, enabling digital innovation with enterprise control. At VMware, Mr. Shepherd leads government outreach and collaboration in VMware's core areas of research focus, including machine learning, AI confidential computing, 5G, edge computing, data analytics, and adaptive security. Additionally, Mr. Shepherd is in his fifth year as Special Government Employee and Senior Advisor to the U.S. Department of Defense, supporting innovative strategies to solve complex problems.
Related on IQT News April 4: QCI enters commercialization phase, plans many new products
Remarking on Mr. Shepherd's appointment, the Honorable James (Jim) Simon, Jr., Chair of Quantum Computing Inc's Technical Advisory Board stated, "The technical advisory team that we are building at QCI is high functioning, proactive and success-driven. My plan is to add another 4 to 5 professionals to the Board whose expertise span a variety of different touch points to quantum, but with the same passion and tireless work-ethic of Lewis with whom I worked when I created a similar effective team at Microsoft." Click here to read April 4 announcement in-entirety.
Sandra K. Helsel, Ph.D. has been researching and reporting on frontier technologies since 1990.  She has her Ph.D. from the University of Arizona.