Quantum News Briefs April 3: Horizon Quantum Computing raises USD 18.1 million Series A to advance quantum software development; The U.S. wants to make sure China can't catch up on quantum computing;; Inside India's first quantum computing-based telecom network + MORE.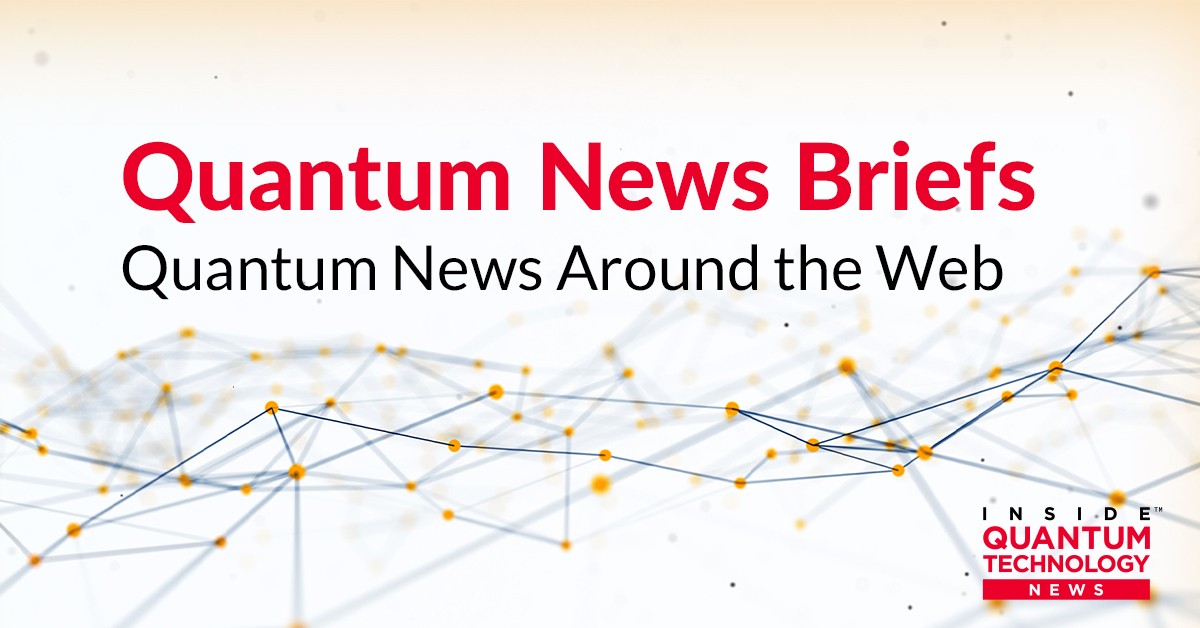 Quantum News Briefs April 3: Horizon Quantum Computing raises USD 18.1 million Series A to advance quantum software development; The U.S. wants to make sure China can't catch up on quantum computing;; Inside India's first quantum computing-based telecom network + MORE.
Horizon Quantum Computing raises USD 18.1 million Series A to advance quantum software development
Horizon Quantum Computing, a Singapore-based company building software development tools to unlock the potential of quantum computing hardware, announced Friday, March 31  that it has raised US$18.1 million Series A investment from Sequoia Capital India, Tencent, SGInnovate, Pappas Capital and Expeditions Fund.The investment round will boost the growth of the company, allowing it to strengthen its science and engineering teams to accelerate product development, establish its new engineering centre in Europe and bring Horizon's unique technology to the market. Horizon Quantum Computing's total funding now stands at approximately USD 21.3 million.
"Quantum computing has the potential to completely change how we think about computing," says Horizon's CEO Dr Joe Fitzsimons. "While getting to large scale quantum computing is a daunting challenge, it is undeniable that progress towards that goal is being made. At Horizon, we focus on unlocking the power of future quantum computers, and have made significant headway towards our goal of enabling conventional software developers to take advantage of the technology through abstraction and automated algorithm synthesis. The new investment will support our effort to break through the barriers to useful quantum computation."
Sequoia Capital India and SGInnovate, which led Horizon's Seed+ and Seed rounds respectively, both reconfirmed support of the company's ambition to provide tools to make programming of quantum computers as accessible and efficient as it is for conventional computers today.
"We have been bullish on the developer economy thesis for a long time," says Pieter Kemps, Partner, Surge at Sequoia Capital India and Southeast Asia. "At the same time, we believe that a tectonic shift will be driven by advancements in quantum hardware. But unlocking quantum computing for the millions of developers is no small feat. Wouldn't it be amazing if any developer could develop quantum algorithms with little to no prior quantum experience? This is the future that Horizon is enabling. We believe in Joe's product vision around abstracting the underlying quantum physics to enable developers to create quantum software with ease, and we have been hugely impressed by the technological breakthroughs that the team has achieved in a short period of time."  Click here to read complete announcement on Horizon website.
The U.S. wants to make sure China can't catch up on quantum computing
Kevin Klyman, a technology researcher at Harvard's Belfer Center, is the author of a March 31 article in Foreign Policy in which he writes about the unprecedented export controls on China planned by the Biden administration. Klyman's discussion focuses on the "emerging technology it worries China could weaponize: quantum computing" Quantum News Briefs summarizes.
U.S. National Security Advisor Jake Sullivan laid out this policy in September 2022, arguing "computing-related technologies, biotech, and clean tech are truly force multipliers" and stating that United States would impose export controls in order to "maintain as large of a lead as possible" ahead of rivals such as China. In other words, because technologies like quantum computing have the capacity to provide China with military and economic advantages, whether through new cyberweapons or faster drug discovery, the United States plans to enact sweeping unilateral export controls on China.
Policymakers in Washington are determined to maintain the United States' lead in quantum computing because of its potential military applications. Researchers have warned that a potent quantum computer could thwart existing encryption schemes, leading U.S. President Joe Biden to issue a national security memorandum requiring federal agencies to shift to post-quantum cryptography by 2035.
In 2021, three Chinese quantum computing organizations were placed on the Commerce Department's Entity List, preventing U.S. firms from selling products to them without a license. Unlike the semiconductor industry, quantum computing is a fledgling sector with no current practical applications. Edward Parker, a physical scientist at the RAND Corporation and the lead author of a 2022 report on quantum in the United States and China, said, "It's very hard to isolate national security applications in quantum computing because, frankly, there are not any applications yet."
While China leads the world in quantum communications, a subfield of quantum information science with the potential to enable ultra-secure data transfers, Chinese scientists acknowledge America's edge in quantum computing. Top Chinese quantum computing researcher Lu Chao-Yang recently concluded "Google's in the lead," adding that he had "no idea" how the rumor began that China had spent $15 billion on quantum computing since "the actual money is maybe 25 percent of that."  Click here to read the Foreign Policy article in-entirety.
Inside India's first quantum computing-based telecom network
India is getting its first quantum computing-based telecom network that will be operational in the national capital. Although still far away from public use, the link opens the doors for testing quantum-based networks in the real world. Developed by C-DoT (Centre for Development of Telematics), the link serves as a proof of concept, validating the system's ability to function in real-world environments.
The proof-of-concept aims to identify and address these challenges to ensure that the system performs optimally in real-world settings.
According to an official from C-DoT, deploying a system in the field exposes it to air pollutants, causing it to accumulate dirt and demand regular maintenance to prevent overheating. These issues provide valuable insights for designing better systems in the future.
The quantum internet will look similar to the Internet of Things (IoT) we know today. Similar to the sensors we use today to communicate between devices using the internet, quantum computers and quantum sensors will also be able to simulate reality with much wider applications.
Although this is certainly a positive step, it is important to acknowledge that India is still lagging in quantum by years. China, for instance, already launched the world's first quantum network using satellite communication back in 2016, followed by the completion of a 2,000-kilometre-long optical fibre network for QKD in 2017. Moreover, other countries such as the United States, Japan, Australia, and several European nations have also made significant progress in this area. Therefore, India needs to accelerate its efforts and invest more resources to catch up. Click here to read the AIM article in-entirety.
T-Systems to Offer Quantum Computing Expertise and Access to IBM Quantum Computational Resources
T-Systems, a Deutsche Telekom IT subsidiary, will now have the ability to provide its customers with cloud access to IBM's quantum systems, including multiple quantum computers powered by the 127-qubit IBM Eagle processor. Quantum News Briefs summarizes from IBM's Newsroom.
Quantum computing aims to enable calculations that are beyond the means of even the world's most advanced classical supercomputers.  This announcement sees the Deutsche Telekom IT subsidiary embark on the path to providing access to this technology, as well as insights on how it can be applicable to its customers' businesses. In addition, T-Systems will offer dedicated quantum know-how and training.
Customers will have access to T-Systems quantum services tailored to their needs, in a set of different customizable packages. These range from one-day introductory sessions, through to business case proofs-of-concept over several months. The use of IBM Quantum computational resources over the cloud — including Qiskit Runtime, which allows for the optimization and efficient execution of workloads on quantum systems at scale — together with T-Systems' services, will lower the barrier to quantum computing. This will allow T-Systems to develop and test customers' use-cases and prepare them for a future with quantum computing. T-Systems aims to host its own quantum infrastructure in the future, assisted by IBM.
"Quantum computing will be central to tomorrow's IT landscape. We are combining quantum and classical computing in a seamless and scalable customer experience." states Adel Al-Saleh, Deutsche Telekom board member and Chief Executive of T-Systems. "Taking these first decisive steps will lower the access barrier to quantum computing." IBM has an established track record in quantum computing leadership. The company offers the world's largest fleet of quantum computers, accessible over the cloud. Al-Saleh continues: "In IBM, we have a trusted partner to deliver this future technology. It is a perfect match for our industry focus and expertise." Click here to read announcement in-entirety.
Sandra K. Helsel, Ph.D. has been researching and reporting on frontier technologies since 1990.  She has her Ph.D. from the University of Arizona.