Quantum News Briefs April 20: India joins 6 leading nations in quantum tech; Funds "National Quantum Mission" of Rs 6,000 Crore; Fujitsu and Barcelona Computing Center collaborate to advance research in personalized medicine & quantum computing; Europe consolidates quantum production and test + MORE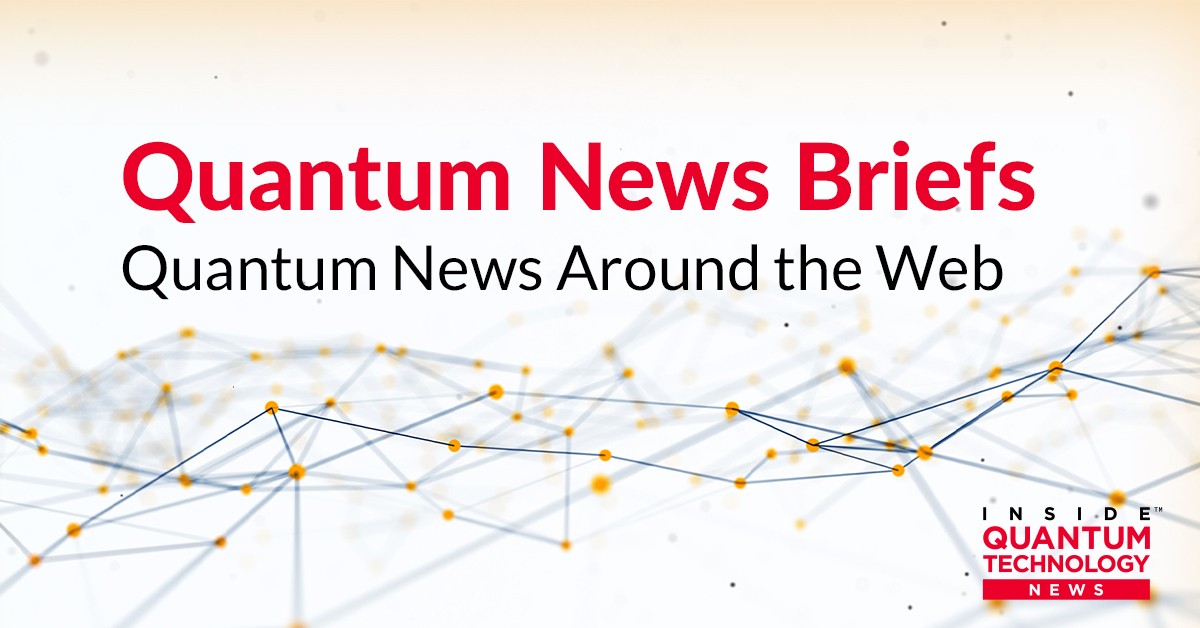 Quantum News Briefs April 20: India joins 6 leading nations in quantum tech; Funds "National Quantum Mission" of Rs 6,000 Crore; Fujitsu and Barcelona Computing Center collaborate to advance research in personalized medicine & quantum computing; Europe consolidates quantum production and test;
India joins 6 leading nations in quantum tech; Funds "National Quantum Mission" of Rs 6,000 Crore
India's central government has  approved the National Quantum Mission (NQM) worth Rs 6,003.65 crore (about about $730,297,000 US) to nurture and scale up scientific and industrial research and development in quantum technology. This puts India among the top six leading nations involved in the research and development in quantum technologies. Quantum News Briefs summarizes below.
The Union Cabinet, chaired by Prime Minister Narendra Modi, approved the National Quantum Mission. NQM will accelerate quantum technology-led economic growth and nurture the ecosystem in the country.
"NQM is going to give India a quantum jump in this arena," Science and Technology Minister Jitendra Singh told reporters. India will be the sixth country to have a dedicated quantum mission after the US, Austria, Finland, France and China.
The mission, according to Union Minister Anurag Thakur, would continue from 2023-2024 to 2030-31 and cost a total of ₹ 6,003.65 crore. He said this decision would propel India's technological advancements to unprecedented heights. Mr Singh said that the decision to launch the National Quantum Mission is one of the most important steps taken by the government in the last nine years.
The minister said that India is the biggest user of information technology, and quantum technology is directly related to it. He also said that the National Quantum Mission will give India a quantum jump in the technology sector.
The government will set up four thematic hubs (T-Hubs) in top academic and national research and development institutes on the domains of quantum computing, quantum communication, quantum sensing and metrology, and quantum materials and devices. The hubs will focus on the generation of new knowledge through basic and applied research and promote R&D in areas that are mandated for them.
Mr Singh said the mission can take the technology development ecosystem in the country to a globally competitive level. The mission would greatly benefit communication, health, financial, and energy sectors, as well as drug design and space applications.
He said satellite-based secure quantum communications between ground stations over a range of 2000 km within India, long distance secure quantum communications with other countries, inter-city quantum key distribution over 2000 km as well as multi-node quantum network with quantum memories are also some of the deliverables of the mission. Click here for MSN coverage.
Fujitsu and Barcelona Computing Center collaborate to advance research in personalized medicine & quantum computing
The Barcelona Supercomputing Center – Centro Nacional de Supercomputacion (BSC-CNS) and Fujitsu Limited on April 19 signed a dual collaboration agreement to promote personalized medicine through the exploitation of clinical data and to advance quantum simulation technologies using tensor networks.
Based on this agreement, the two parties will start joint research in May 2023.
The first collaboration project aims to position BSC and Fujitsu at the forefront of a new field that is key to enabling precision medicine: the ability to exploit different types of data to be used in the clinic, from molecular features in the genome to large scale features in X-ray images. In this way, the two parties will not only contribute to improving disease detection rates, but also to reducing the burden on doctors when diagnosing diseases. Great efforts are being made to make clinical data available at both the national and European levels, but the development of technologies to fully exploit such data remains in its early stages.
This project combines BSC's Life Sciences department expertise in natural language processing of medical records, genomics, and multi-layer networks with Fujitsu's existing research in genomics AI, large scale causal discovery, computer vision and HPC high speed computing technology. The two parties aim to create a next generation large-scale multimodal AI technology for precision medicine by realizing medical data with large-scale graph structure leveraging these respective strengths. Another primary goal of the collaboration is the development of digital twins in biomedicine, using genomics, medical and imaging data as input for models of biological processes and cellular interactions.  Click here to complete read news announcement.
Europe consolidates quantum production and test

EENewsEurope's Nick Flaherty describes two key quantum projects have started today to consolidate quantum production and test technologies to boost sustainability. Quantum News Briefs summarizes.
Two key European quantum projects have started today to consolidate quantum production and test technologies to boost sustainability.
The Qu-pilot and Qu-test projects are hosted by AMIRES to support experimental production capabilities and open testing for quantum technologies in Europe. This follows a recent move to consolidate development of neutral ion Rydberg systems: Europe consolidates its Rydberg quantum computer
The Qu-Pilot consists of 21 partners from nine different countries aiming to develop and provide access to the first, federated European fabrication capabilities for quantum technologies, building on and linking together existing infrastructures in Europe. This includes VTT in Finland, Fraunhofer in Germany and imec in Belgium as well as Infineon in Germany.
Qu-Pilot will provide services for the development of a European supply chain of quantum technologies, provide European industry, especially start-ups and SMEs, with the necessary innovation capacity, and make sure that critical IP remains within the EU. The initial service offering will be validated through use-cases with companies within the SGA. A minimum of 20 such use-cases are expected and of those 11 are already part of this Qu-Pilot.
The second project Qu-Test brings together 13 service providers for a federated network of testbeds and 11 industrial users from the European quantum community. The network brings together competences and infrastructures across Europe to offer testing and validation services.
A first goal of this cooperation is to support the creation of a trusted supply chain through the validation of quantum devices, chips, components and systems by the testbed network as an independent third party.
A second goal is to discuss and agree on unified sets of parameters to characterize quantum devices. Methodologies and procedures will be harmonized among the partners of the testbed network in a step towards establishing standards for quantum technologies.
Qu-Test is aligned along three testbeds: quantum computing, quantum communication, quantum sensing. In more detail, the Quantum Computing Testbed will measure, characterise and validate cryogenic quantum devices, cryogenic qubits such as superconducting and semiconducting qubits, photonics qubits and ion traps. Click here to read the EEUNews Europe article in-entirety.
Scientists discover diamond defects can secure data transmission and measure temperatures
Scientists from Skoltech, Moscow Pedagogical State University, and other research centers have discovered a new class of defects in diamond that may be of use for quantum information processing and precise and remote temperature measurements within very small objects, such as living cells. Quantum News Briefs summarizes an April 18 Phys.org article about the findings
Color centers are an umbrella term for defects of various nature in a transparent crystal, usually diamond. What gives color centers their name are their optical properties. While diamond itself is transparent to visible light, color centers are spots in it that have the technologically appealing capacity to absorb light and effectively re-emit it in a rather narrow spectral band—that is, with a very specific color (wavelength). Importantly, color centers can effectively emit single photons. There are several potential applications where this narrow-band single-photon emission comes in handy.
Given the fact that scientists can create nanodiamonds with embedded color centers, it is possible to create very small thermometers with a high spatial and temperature resolution. According to the researchers, such temperature sensing would work well in biological applications. In other studies, nanodiamonds have already been introduced into cells to investigate internal temperature variations.
The new color centers are so far identified by a set of features on the fluorescence spectra—graphs characterizing the light emitted by the diamond sample.
The researchers managed to combine two different experimental techniques: scanning electron microscopy and fluorescence spectroscopy.
"This enabled us to label the most interesting microdiamonds exhibiting color centers and conduct multiple series of experiments on the same diamonds using different equipment. Also, the high sensitivity of the experimental setup allowed us to zoom in the analysis to the point where we were looking at individual color centers. That's how we could characterize this new class of emitters," Neliubov explained. Click here to read the comprehensive Phys.org article in-entirety.
Sandra K. Helsel, Ph.D. has been researching and reporting on frontier technologies since 1990.  She has her Ph.D. from the University of Arizona.