Quantum News Briefs April 18: L3Harris harnessing quantum technologies for its aerospace & defense customers; Thales prepares to secure European infrastructures against attacks from future quantum computers; SandboxAQ receives FedHealthIT Disruptive Tech Award + MORE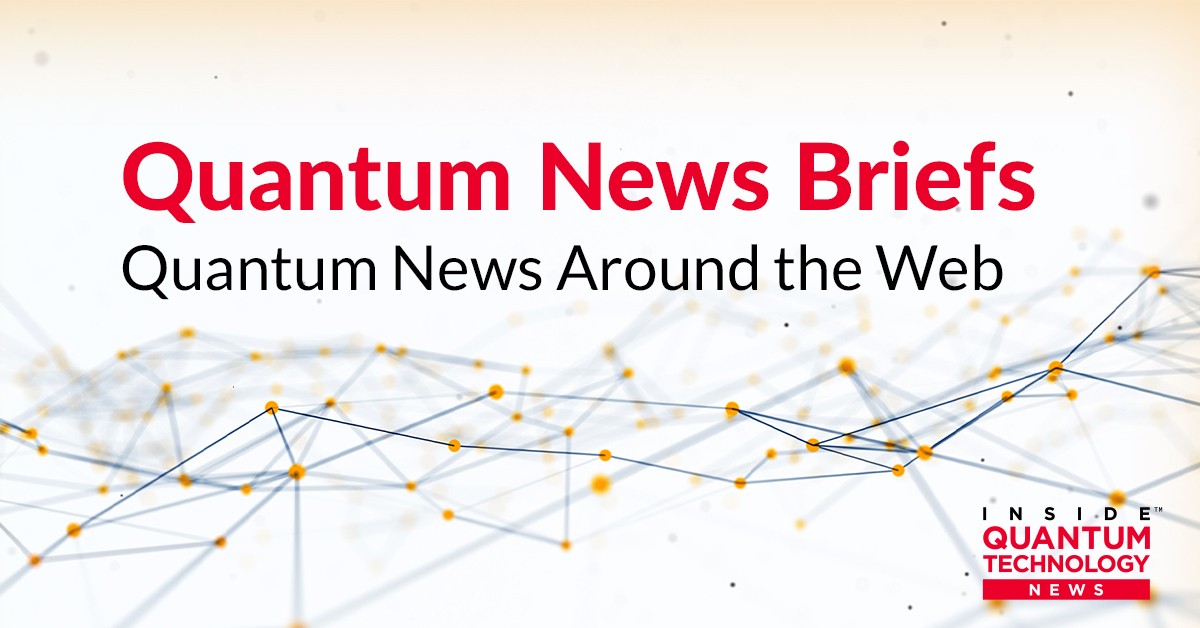 Quantum News Briefs April 18:
L3Harris harnessing quantum technologies for its aerospace & defense customers

L3Harris is actively developing systems and techniques that harness the unique behavior of quantum nature to improve sensitivity and security for processing, sensing and networking on aircraft, spacecraft and many other uses. Quantum News Briefs summarizes April 17 article in MarketScreener.
'The revolution in quantum technologies and artificial intelligence will be the dominant disruptors over the next five years.' said Pat O'Reilly, L3Harris Vice President of Corporate Strategy. 'There is an urgent need to gain an equal understanding of the tremendous impact quantum technologies will have on the aerospace and defense industry by the end of this decade. Quantum sensors, networks, encryptors, memories and processors will increase our capacity to transmit data, sense and analyze images, and process calculations more securely and at several orders of magnitude greater than any capability today.'
L3Harris is harnessing quantum technologies in different ways that all come back to providing aerospace and defense customers the capabilities they require when they most need them.
L3Harris is combining expertise in photonics with research into quantum integrated circuits to generate and control photonics for information processing. This results in reduced size, weight and power, making the circuits appropriate for applications that would be previously impossible.
L3Harris places great emphasis on working with academic institutions, international standards committees, consortia, U.S. service laboratories, national laboratories, and small businesses to further and accelerate research and development of useful quantum applications.
That includes a project with the Defense Advanced Research Projects Agency to help determine potential quantum computing benefits across defense, chemistry, finance, machine learning and other areas. That is just one example of current projects with research agencies that are pushing the boundaries of what is possible when applying these technologies.  Click here for complete article on MarketScreener.
Thales prepares to secure European infrastructures against attacks from future quantum computers
Thales has joined forces with around twenty deep tech, academic and industry partners, as part of the EuroQCI initiative (European Quantum Communication Infrastructure), which aims to deploy a quantum communication infrastructure for EU member states within three years. Quantum News Briefs summarizes the April 14 announcement.
By 2040, quantum computers could use their unprecedented computational power to decode encrypted data, incomparably threatening the security of even the best-protected communication systems. EuroQCI aims to counter that threat by developing sovereign systems to protect the communications and data assets of critical infrastructure providers and government institutions.
The longer-term objective of the initiative is to create a Quantum Information Network (QIN) that will harness the phenomenon of quantum entanglement not only to guarantee communications security but also to create networks of quantum sensors and processors, which have the potential to drive exponential increases in the already outstanding performance of quantum sensors and quantum computers.
As part of this effort, today, Thales is breaking new ground as a member of multiple new consortia that have been set up since late 2022 in these domains:
Specifically, the Thales teams taking part in these projects are working to develop quantum key generation, distribution and management equipment and the associated communication encryption devices, as well as defining the architecture of these quantum communication infrastructures. Click here to read the BusinessWire release in-entirety.
SandboxAQ receives FedHealthIT Disruptive Tech Award
At the FedHealthIT Disruptive Tech Summit, SandboxAQ received the FedHealthIT Disruptive Tech Award, recognizing SandboxAQ's Security Suite. The cryptographic management software is currently deployed at the U.S. Department of Health and Human Services.
SandboxAQ recently delivered the first post-quantum cryptography (PQC) inventory in the federal health IT community to HHS–three months ahead of the scheduled delivery date, in partnership with Cart.com. SandboxAQ performed network cryptography analysis and assessed the cybersecurity architecture of Cart.com's HHS fulfillment network. SandboxAQ also implemented PQC discovery tools to plan for the protection of systems and sensitive data
The FedHealthIT Disruptive Tech Awards recognize programs from both industry and government that drive transformational progress in the federal market and have a measurable impact on culture and mission.  Click here to read announcement in-entirety.
Quantum techniques could bring Generative AI to the enterprise
Christopher Savoie, PhD, the CEO & founder of Zapata Computing,  is the author of an April 10 Forbes article in which he describes how quantum-inspired techniques could bring Generative AI tools to the market. Quantum News Briefs summarizes.
Generative AI tools have the potential to transform entire industries.  But all that potential value comes at a steep cost. The more complex the generative model, the more expensive the required compute resources. ChatGPT itself costs $100,000 a day to run, while Google's ChatGPT competitor, Bard, will reportedly cost the company 10 times more per query than a standard keyword search. The environmental costs of this excessive compute consumption will no doubt be just as steep, and this doesn't include the high costs of training such a complex model, the learning curve to understand new mathematical formulations, or the need to develop specialized expertise in the tooling and infrastructure to make these solutions work.
To truly start the generative AI revolution for enterprise applications, the costs need to come down significantly.
Techniques inspired by quantum physics could have the potential to reduce the computational costs for large language models (LLMs). What's more, these quantum-inspired techniques could broaden the use cases of generative AI for enterprises—particularly in solving complex optimization problems.
The quantum-inspired techniques we're concerned with here are tensor networks—essentially, efficient linear algebraic structures for representing complex correlations between variables.
Tensor networks could potentially play a critical role in the development of quantum computing: They can simulate quantum circuits on classical hardware today and could be replaced with real quantum circuits in the future. Thus, tensor networks could allow users to start developing "quantum applications" on classical hardware that can run on the fault-tolerant quantum computers of the future. This would allow enterprises to develop capabilities that could be useful once we have fault-tolerant or strongly error-mitigated quantum computers.
Not only can tensor networks compress generative models, but the resulting tensorized generative models could also generate higher-quality samples. This could have major implications for enterprise applications of generative AI.  Click here to read Savoi's article in-entirety.
Sandra K. Helsel, Ph.D. has been researching and reporting on frontier technologies since 1990.  She has her Ph.D. from the University of Arizona.