Quantum News Brief March 31: NIWC Pacific and its partners are building a quantum Navy; QCI subsidiary QI Soutions Joining UofAriona's Center for Quantum Networks; JPMorgan Chase and QC Ware evolve hedging for a quantum future + MORE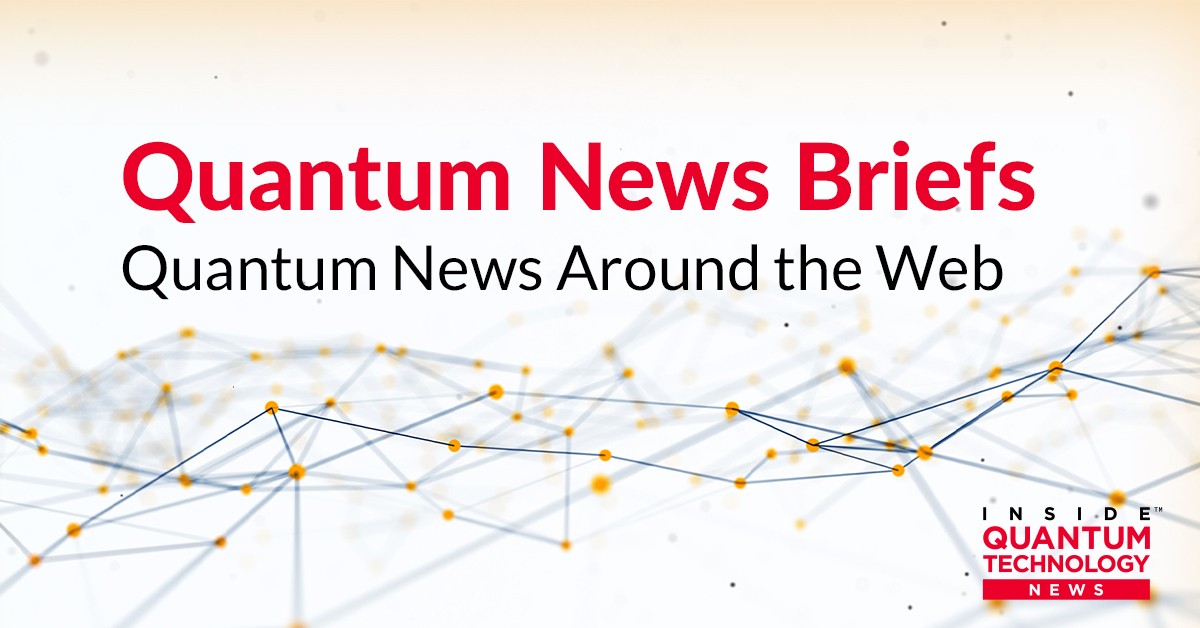 Quantum News Brief March 31: NIWC Pacific and its partners are building a quantum Navy; QCI subsidiary QI Solutions Joining UofAriona's Center for Quantum Networks; JPMorgan Chase and QC Ware evolve hedging for a quantum future + MORE.
NIWC Pacific and its partners are building a quantum Navy
Naval Information Warfare Center (NIWC) Pacific's mission touches cyber, sea, space — and, since 2000, the subatomic realm. Quantum News Briefs summarizes a March 29 dvidshub article by Maison Piedfort about quantum technology development at the US Naval Warfare Center in San Diego.
Joanna Ptasinski, head of NIWC Pacific's Cryogenic Electronics and Quantum Research branch, defines quantum: it's a complex system of matter or information where phenomena which can't be explained by classical notions of how the world works are possible.
"Quantum is quirky," said Ptasinski, who holds a doctorate in electrical engineering. "Its essence is superposition and entanglement. We're researching the power — the naval applications — lurking behind this weirdness."
Heisenberg's Uncertainty Principle, superposition, and entanglement are all part of a growing mathematical framework for subatomic phenomena called quantum mechanics, and it raises questions about the nature of reality. What can we learn from entangled particles for which space — even vast expanses of it — is no obstacle? If matter exists in many forms at once until we observe it, what role does observation play in building the world around us? And how do we harness a domain defined by potentiality?
This is what NIWC Pacific scientists explore in its labs, with its partners, and on the National Science & Technology Council's Subcommittee on Quantum Information Science. They ask: What will harnessing quantum phenomena mean for the Navy and the warfighter?
Answers fall in a few categories: sensing, computing, communications, and materials, and the Center has projects to show for each. Answers outside of practical applications have to do with building a quantum Navy: attracting dedicated talent, giving and receiving training, and contributing to national discussions about the future of quantum technology.
All answers point to a vision of a Navy equipped with even more secure communications networks, more advanced sensors, and the faster threat detection and response that comes with them. It's a vision of improved navigation, smarter autonomous systems, and more accurate modeling and simulation. It's unprecedented decision advantage at quantum speed in an increasingly uncertain world. Click here to read the dvidshub  article in-entirety.
QCI subsidiary QI Solutions Joining UofAriona's Center for Quantum Networks
Quantum Computing Inc. announces on March 31 that its subsidiary, QI Solutions, which focuses on federal projects, is joining the University of Arizona's Center for Quantum Networks (CQN) as a non-traditional defense company that offers a suite of quantum services.
CQN is a first of its kind campus wide networking testbed designed to securely connect quantum devices across the campus's laboratories. It is the epicenter for the internet of the future – driving the development of Quantum Information Science and Engineering and preparing the quantum trained workforce of the 21st century. QI Solutions is proud to team up with CQN and their partners, Harvard University, The Massachusetts Institute of Technology, Yale University as well as other industry leaders, Cisco, Lockheed Martin, L3Harris, and Raytheon. QI Solutions' unique portfolio of quantum photonics for quantum communications, cryptography and computing solutions coupled with a deep industry expertise in application of these technologies will allow CQN and the U.S. to take further strides in quantum networking.
QIS, a wholly owned subsidiary of Quantum Computing Inc., is a newly established supplier of quantum technology solutions and services to the government and defense industries. With a team of qualified and cleared staff, QIS delivers a range of solutions from entropy quantum computing to quantum communications and sensing, backed by expertise in logistics, manufacturing, R&D and training. The company is exclusively focused on delivering tailored solutions for partners in various government departments and agencies. Read the complete announcement here.

JPMorgan Chase and QC Ware evolve hedging for a quantum future
QC Ware and JPMorgan Chase have completed a study of quantum "deep hedging," paving the way for future increased risk mitigation capabilities in financial services. Quantum News Briefs summarizes recent announcement.
In a new paper released on March 30th, 2023, JPMorgan Chase and QC Ware examined two questions on how the practice of deep hedging—reducing risk for a portfolio utilizing data driven models that consider market frictions and trading constraints—might be improved with quantum computing. The researchers first examined whether existing classical deep hedging frameworks could be improved using quantum deep learning. Then, using quantum reinforcement learning, they studied whether a new quantum framework could be defined for deep hedging.
The study found that deep hedging on classical frameworks using quantum deep learning enabled models to be trained more efficiently. The research, conducted on Quantinuum's H1-1 quantum computer, also demonstrated the potential for future computational speed-ups, which could be implemented on noisy intermediate-scale quantum (NISQ) hardware.
Deep hedging on new quantum frameworks also enabled quantum value functions to:
Efficiently learn the expectation and distribution of returns.
Offer improved performance via a quantum actor-critic reinforcement learning model.
Appropriately train quantum policies.
The quantum application could offer improvements for deep hedging in both classical and quantum environments—it leverages quantum machine learning methods to improve at times accuracy and trainability on high-performance GPU hardware, which will be helpful in financial services as quantum computing becomes more commercially accessible. Click here to read complete announcement.
New Experiment "Translates" Quantum Information Between Technologies
Scientists have uncovered a method to convert quantum information between various quantum technologies, which holds significant impliciations for quantum computing, communication, and networking. Quantum News Briefs summarizes a March 30 SciTechdaily announcement.
The study was financially supported by the Army Research Office (ARO), the Air Force Office of Scientific Research (AFOSR), and the NSF Quantum Leap Challenge Institute for Hybrid Quantum Architectures and Networks (HQAN), led by the University of Illinois Urbana-Champaign. This represents an innovative approach to transforming quantum information from the format utilized by quantum computers to the format required for quantum communication.
Some of the most common quantum computing technology is based on superconducting qubits that store quantum information in photons that move at microwave frequencies. But if you want to build a quantum network, or connect quantum computers, you can't send around microwave photons because their grip on their quantum information is too weak to survive the trip.
"A lot of the technologies that we use for classical communication—cell phones, Wi-Fi, GPS, and things like that—all use microwave frequencies of light," said Aishwarya Kumar, a postdoc at the James Franck Institute at the University of Chicago and lead author on the paper. "But you can't do that for quantum communication because the quantum information you need is in a single photon. And at microwave frequencies, that information will get buried in thermal noise."
The solution is to transfer the quantum information to a higher-frequency photon, called an optical photon, which is much more resilient against ambient noise. But the information can't be transferred directly from photon to photon; instead, we need intermediary matter. Some experiments design solid-state devices for this purpose, but Kumar's experiment aimed for something more fundamental: atoms.
"We as a community have built remarkable technology in the last 20 or 30 years that lets us control essentially everything about the atoms," Kumar said. "So the experiment is very controlled and efficient."
The technology works both ways: it can transfer quantum information from microwave photons to optical photons, and vice versa. Click here to read complete announcement on SciTechDaily.
Sandra K. Helsel, Ph.D. has been researching and reporting on frontier technologies since 1990.  She has her Ph.D. from the University of Arizona.