Quantum News Briefs October 2: NATO must be quantum ready, NASA opening new research center in Texas to build on research priorities in quantum sensing, UV photonic optical resonator chips pave way for miniature communications and quantum computing device + MORE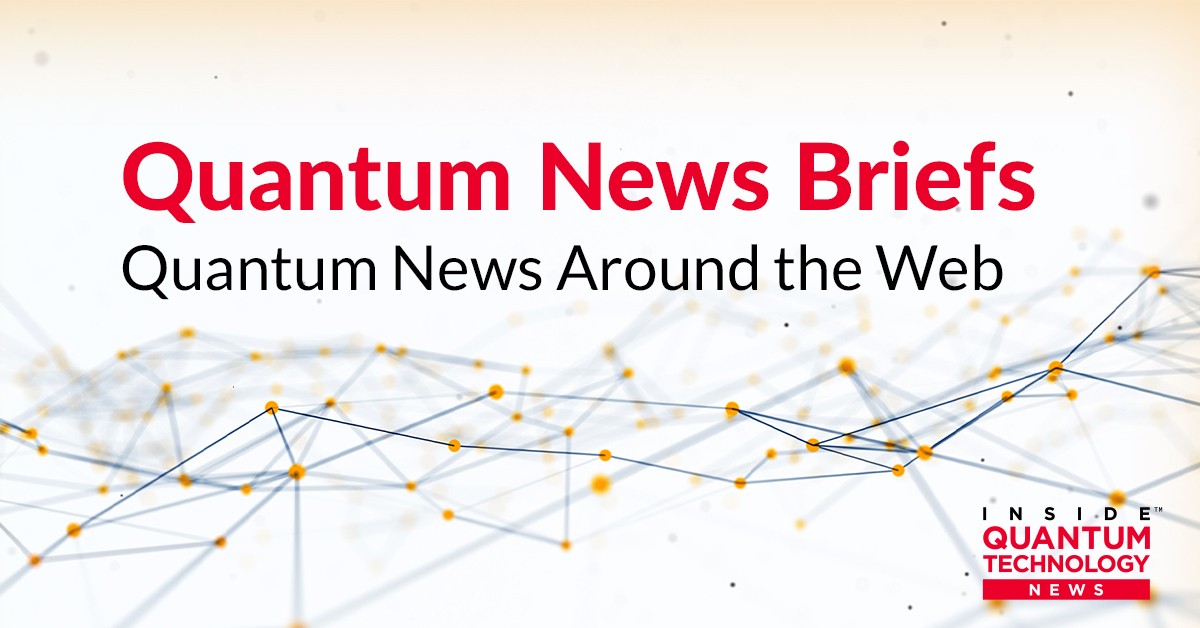 Quantum News Briefs October 2:
"NATO must be quantum ready," says NATO Secretary General Jens Stoltenberg

NATO has inaugurated a new quantum technology centre called the Deep Tech Lab Quantum (DTL Q) in Copenhagen aimed at keeping the defence alliance at the forefront of cutting-edge technology. Quantum News Briefs summarizes September 30 article in Investing.com
During his brief visit to Denmark, NATO Secretary General Jens Stoltenberg joined Danish Prime Minister Mette Frederiksen at the Copenhagen Quantum 2023 Conference hosted by the Niels Bohr Institute, reports Xinhua news agency.
Recognizing the pivotal importance of quantum technology, NATO's new center is part of the DIANA (Defence Innovation Accelerator for the North Atlantic) initiative.
Stoltenberg gave a keynote speech about Denmark's "leading role" in the field of quantum technology development and the importance for NATO of being "quantum ready".
"Different sectors must work together in the development of technology throughout NATO. Even if we do not understand all the complexities, we understand that it is important for our society and our security," he said.
Outlining the societal benefits of advances in quantum technology for medicine and combating climate change, Frederiksen emphasised its potential military benefits for NATO.
"Quantum technology has the potential to influence the future global balance of power in ways that we cannot even imagine today," Frederiksen said. Click here to read the original article in-entirety.
NASA opening new research center in Texas to build on research priorities in quantum sensing
NASA will be studying ways the agency can inject quantum information sciences into its agency missions with the opening of a new laboratory and research center in Texas that builds upon research priorities in quantum sensing applications. Quantum News Briefs summarizes Alexandra Kelly September 30 article in NextGov.
NASA Deputy Administrator Pam Melroy confirmed the launch of a new quantum engineering and sensing technologies laboratory at the agency's Quantum Pathways for Space for Climate Science Research Initiative at the University of Texas at Austin.
Launching Nov. 23, the  research center will be underpinned by advances in quantum information sciences and work on applying quantum mechanics-based technologies, particularly sensors, in NASA missions.
At UT Austin, NASA's forthcoming research facility will emphasize leveraging earth science applications to enhance NASA's understanding, monitoring and predicting of climate change's ongoing effects on the planet.
In addition to the two new centers, Melroy said that she has approved two new quantum sensor studies from NASA's Office of Technology Policy and Strategy. One features collaborations with the National Reconnaissance Office and the U.S. Space Force to better develop parallel scientific research plans, and the other asks NASA's chief technologist and OTPS to inform how a new future agency could be formed to focus on other niche scientific research areas. Click here to read original article in-entirety.
UV photonic optical resonator chips pave way for miniature communications and quantum computing device
Researchers have created chip-based photonic resonators that operate in the ultraviolet (UV) and visible regions of the spectrum and exhibit a record low UV light loss. Quantum News Briefs summarizes the September 28 SciTechDaily article.
The new resonators lay the groundwork for increasing the size, complexity, and fidelity of UV photonic integrated circuit (PIC) design, which could enable new miniature chip-based devices for applications such as spectroscopic sensing, underwater communication, and quantum information processing.
Compared to the better-established fields like telecom photonics and visible photonics, UV photonics is less explored even though UV wavelengths are needed to access certain atomic transitions in atom/ion-based quantum computing and to excite certain fluorescent molecules for biochemical sensing," said research team member Chengxing He from Yale University. "Our work sets a good basis toward building photonic circuits that operate at UV wavelengths."
The microresonators were made from high-quality alumina thin films that co-authors Carlo Waldfried and Jun-Fei Zheng from Entegris Inc. prepared using a highly scalable atomic layer deposition (ALD) process. Alumina's large bandgap of ~8eV makes it transparent to UV photons, which have a much lower (~4eV) energy than the bandgap. Thus, UV wavelengths are not absorbed by this material.
"Compared to PICs in visible or telecom wavelengths, UV PICs may find an edge in communications due to the larger bandwidth or in conditions where other wavelengths get absorbed, such as underwater," said He. "Also, the fact that the atomic layer deposition process used to create the alumina is CMOS compatible paves the way for CMOS integration with amorphous alumina-based photonics." Click here to read the complete SciTechDaily article.
Canada's DistriQ deploying C$435M+ to make Québec a global leader in the commercialization of quantum
DistriQ is deploying C$435M+ to make Québec a global leader in the commercialization of quantum with 
the world's largest (50,000 sq. ft.) and most comprehensive quantum commercialization space.
DistriQ was founded by the Québec government to orchestrate a quantum ecosystem to support innovation and commercialization.
DistriQ Quantum Innovation Zone announced the deployment of Canada's first IBM quantum computer on September 22.
DistriQ will work in Québec with IBM Quantum System One as well as a PASQAL quantum computer. The two quantum computers will provide significant advantages to Global 1000 companies in sectors including battery design for renewable energy storage, artificial intelligence and financial applications.
IBM Quantum System One features IBM Discovery Accelerator: AI, quantum and cloud computing in one. IBM's flagship quantum system in Canada is the 4th operated by IBM partners after US, Germany and Japan.
"DistriQ contributes to the recognition of Quebec's quantum industry on the global stage, from university innovation to solutions ready to be commercialized. With the strategic integration of IBM Quantum System One into the Innovation Zone portfolio, we are supporting one of the largest quantum research infrastructures in the world. Our strategy to foster innovation success not only encourages global quantum companies to establish offices in Quebec, but also offers transformative technological solutions to various industries. In Quebec, we have a solid foundation for growing the quantum industry, decades of excellence in higher education and research from the University of Sherbrooke and numerous partners in technological research, such as Polytechnique Montréal, McGill University and the University of Montreal."
Click here for complete details.
Sandra K. Helsel, Ph.D. has been researching and reporting on frontier technologies since 1990.  She has her Ph.D. from the University of Arizona.