Quantum News Briefs May 26: Enterprise 'woefully unprepared' for quantum computing risk; NVIDIA, Jülich Supercomputing Centre and ParTec to build quantum computing lab; Democratizing quantum information science + MORE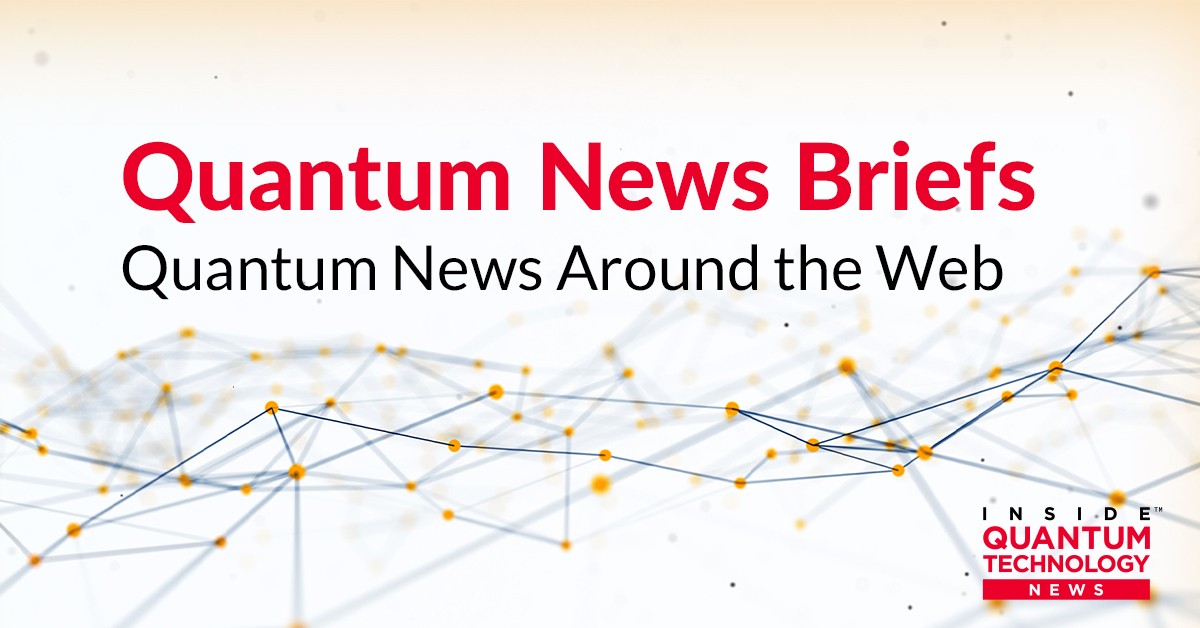 Quantum News Briefs May 26: Enterprise 'woefully unprepared' for quantum computing risk; NVIDIA, Jülich Supercomputing Centre and ParTec to build quantum computing lab; Democratizing quantum information science + MORE.

Enterprise 'woefully unprepared' for quantum computing risk
Companies are 'woefully unprepared' for both the risks from and impact of quantum computing, according to May 25 article by TechMonitor's Ryan Morrison who references recent warnings from a report by ratings agency Moody's. Quantum News Briefs summarizes.
One analyst told Tech Monitor large organisations should have "readied themselves" by now for the impact that quantum technology will have.
Moody's found 87% of companies lack the budget to adequately invest in the nascent technology.
The report also found that despite warnings from governments and cybersecurity professionals that quantum computers will be able to crack encryption, 86% of those companies surveyed admitted they are not ready for post-quantum cybersecurity. That is despite 84% saying they foresee the need to be ready in the next 2-5 years.
One of the biggest threats facing companies today is from hack now, decrypt later.
"Our survey revealed the top five high-potential use cases for quantum computing are: risk analysis, stress testing, cybersecurity, synthetic data, and the detection of fraud and money laundering," the authors explained. It could also power breakthroughs in high-frequency trading, fraud prevention and derivative pricing. All areas with complex calculations at the root.
Sergio Gago, managing director for quantum computing at Moody's Analytics said: "While a 'wait and see strategy' is unsurprising, the rising tides of cyber and quantum risk necessitate action from the finance industry. The industry is unprepared for a 'Y2Q' event and there is a critical need for education both at the executive and technical levels."
Overall, only 14% of respondents are actively developing quantum computing capabilities either in-house or with external partners. Kristin M. Gilkes, EY Global Innovation's quantum leader said any large company not actively exploring quantum needs to take action.  Click here to read the TechMonitor discussion in-entirety.
NVIDIA, Jülich Supercomputing Centre and ParTec to build quantum computing lab

In a major step forward for the field of hybrid quantum-classical computing, NVIDIA announced May 21 its plans to build a new lab with the Jülich Supercomputing Centre (JSC) at Forschungszentrum Jülich (FZJ) that will feature a classical-quantum supercomputer in partnership with ParTec AG, Munich, based on the NVIDIA® quantum computing platform.
FZJ, one of the largest interdisciplinary research centers in Europe, will host the lab as part of the Jülich UNified Infrastructure for Quantum Computing (JUNIQ) to run high-performance and low-latency quantum-classical computing workloads. JUNIQ is currently using the JUWELS booster system with 3,744 for quantum computing simulations.
RELATED: Nvidia news from ISC: Partnerships with Jülich, and Rolls Royce and Classiq
The NVIDIA quantum computing platform enables tight integration of quantum and classical computing through the open-source programming model and world-class simulation through the software development kit.
JSC plans to use a phased approach to test the system and will use the NVIDIA CUDA Quantum programming model to program quantum processors and integrate them within the Jülich exascale modular supercomputing architecture.
The Jülich Supercomputing Centre at Forschungszentrum Jülich has been operating the first German supercomputing centre since 1987, and with the Jülich Institute for Advanced Simulation it is continuing the long tradition of scientific computing at Jülich. At the time being, JSC operates one of the most powerful supercomputers in Europe, JUWELS, and with JUNIQ the first European infrastructure for quantum computing.
ParTec designs, builds and supports purpose-built modular supercomputers. As a hardware-agnostic system provider, ParTec AG works with leading technology companies, integrating a broad range of products and technologies of different origin and maturity into modular systems solutions, including novel computing technologies like quantum computing. The foundation of ParTec's approach is the Modular Supercomputing Architecture with ParaStation Modulo software as a novel heterogeneous system design for high-performance computing.  Complete here to read complete news announcement.
Democratizing quantum information science
Experts discussed how the scientific community can make quantum information science more accessible and reach a wider base of innovators at the 2023 AAAS Meeting in Washington, DC. Quantum News Briefs summarizes.
The session, titled ​"The Human Side of Quantum Science: Policy, Access, Benefit to Humanity," focused on the intersection of quantum technology and human activity and how the scientific community can shape those interactions. The AAAS Meeting session was organized by representatives of the U.S. Department of Energy (DOE) National Quantum Information Science Research Centers, including Q-NEXT, which is led by DOE's Argonne National Laboratory.
"The field [of quantum information science] is progressing so rapidly that there's really an opportunity to make contributions in a lot of different ways … As a human race, we can't afford to not take advantage of talents all over the world." — Charles Tahan, White House Office of Science and Technology Policy.
One of the challenges facing the burgeoning field is its reputation as inaccessible, both intellectually and in terms of the equipment and resources.
Throughout the discussion, panel moderator Kate Waimey Timmerman, chief executive officer of the Chicago Quantum Exchange, asked the panelists how the scientific community is tackling the problem. For example, she said, we need a stronger, larger workforce to advance quantum information science in the U.S. What are we doing to draw more people to quantum science?
One of the goals of the National Quantum Initiative, which spurred the establishment of 10 national quantum research centers directed by DOE and the National Science Foundation, was ​"to create a new generation of talent," said Charles Tahan, assistant director for quantum information science at the White House Office of Science and Technology Policy and director of the National Quantum Coordination Office.
"How do you educate people so they have the skill sets to be successful? How do you inspire them to keep going? And then how do you give them the experiences throughout their career, school and so on, outside of school, that lets them see themselves as a contributor? Tahan said. ​"There are many different types of skills and personalities and capabilities that are needed."
The national strategy for building a quantum workforce includes education partnerships to bring leading industry players, teachers, professional societies and universities together to create curricula for all levels, Tahan said. It also showcases diverse people working in the field. "This is what a person in this field is like, whether they be government or industry or academia — they could look like you," he said.  Click here to read extensie coverage of conference from AAAS in-entirety.
Quantum Brilliance enters Central & Eastern Europe via partnership in Poland
Quantum Brilliance announced on May 18 that it is entering the Central and Eastern Europe (CEE) market through a cooperation agreement with Beyond.pl, a secure data center, cloud and Managed Services provider based in Poznan, Poland.  Quantum News Briefs summarizes.
For over 15 years Beyond.pl has served as a solution-agnostic provider supporting customers with a wide range of services focusing on the provision of and maintenance of IT infrastructure, including colocation, cloud (public, private, multi-cloud), and managed services (among others, BaaS, DR, NaaS, IT Administration).
Quantum competencies are on the rise in Poznan which is a prime city for the growth of the quantum industry in CEE. Last year, the European Union selected Poznan to place one of Europe's first quantum computers as part of a €100 million EuroHPC (European High-Performance Computing Joint Undertaking) initiative. In 2022, PSNC (Poznan Supercomputing and Networking Center) and UAM (Adam Mickiewicz University) in Poznan, the capital city of the Greater Poland region, joined the IBM Quantum Network, creating the CEE's first IBM Quantum Hub and opening doors for Polish scientists via the cloud.
In January 2023, Beyond.pl, UAM and the Kostrzyn-Slubice Special Economic Zone, among others under the auspices of Polish Ministry of Development and Technology, signed an agreement on cooperation for innovation, which supports the newly established Quantum Computing faculty in UAM in Poznan which is launching its curriculum program in October 2023.
Quantum Brilliance and Beyond.pl's collaboration will further reposition the city of Poznan in the field of quantum.
Poznan, strategically located halfway between Warsaw and Berlin, is one of the largest cities in Poland with a reputation as an essential academic, business, and market center. According to statistical data, one in every five residents of Poznan is a student, 14,000 people attend IT/ICT courses, and 3,300 graduate every year. There are over 123,000 businesses in the city, and the number of companies with foreign sources of capital is one of the largest in all of Poland. Most of these companies come from Germany, France, Japan, the United Kingdom, and the USA. The capital city of the Greater Poland region is one of the leading national hubs for foreign investment. It is recognized as "the most dynamically developing city in Poland," according to CEE Business Services Summit & Awards 2021 and was awarded the "Business Friendly City of the Year" in terms of local government support, according to the Future of Emerging Europe Summit and Awards 2022. Click here to read complete announcement.
Sandra K. Helsel, Ph.D. has been researching and reporting on frontier technologies since 1990.  She has her Ph.D. from the University of Arizona.