Quantum News Briefs May 17: Q-CTRL boosts European quantum tech presence with new offices in UK and Germany; Eviden, ColibrITD and ONERA partner to build first hybrid quantum combustion platform; Dihuni launches Qubrid hybrid classical-quantum computing platform + MORE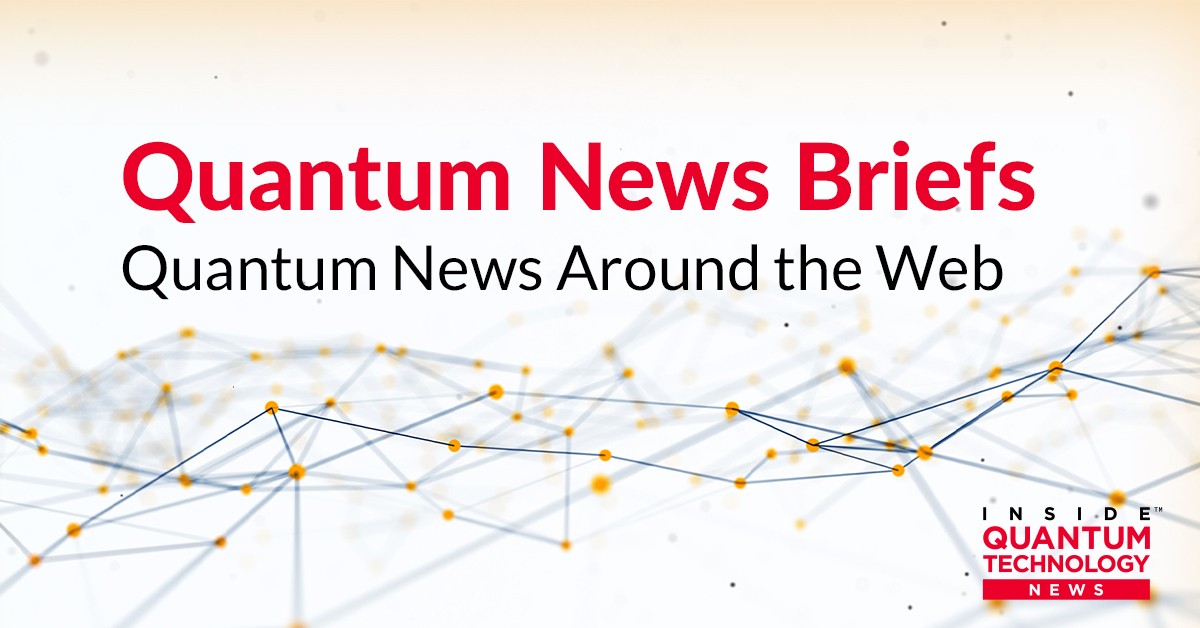 Quantum News Briefs May 17: Q-CTRL boosts European quantum tech presence with new offices in UK and Germany; Eviden, ColibrITD and ONERA partner to build first hybrid quantum combustion platform; Dihuni launches Qubrid hybrid classical-quantum computing platform + MORE.

Q-CTRL boosts European quantum tech presence with new offices in UK and Germany
Q-CTRL, a global leader in developing useful quantum technologies through quantum control infrastructure software, announced on May 16 the company's continued global expansion in Europe with office openings in Germany and the UK.
With these new offices, Q-CTRL is well positioned to add talent to its world-leading research team, collaborate with European partners and customers to explore quantum computing's potential, and strengthen strategic relationships in the defense applications of quantum sensing. By cementing its local presence, Q-CTRL will also join an emerging community of startups in the European Quantum Industry.
Q-CTRL's Berlin office will be part of EU-centric R&D activities drawing from Germany's strong research base and local talent. It will take advantage of one of the strongest tech and creative industries in Europe with close proximity to an emerging set of companies using quantum computing to solve new challenges.
The Berlin office will be led by Dr Andre Carvalho, Q-CTRL's Head of Quantum Control Solutions. Carvalho is building a solutions team attracting experts in quantum control, quantum information, and quantum hardware. The team will engage local customers to ensure technical success, lead original research, and establish new business with European partners.
The expansion into the UK builds on the AUKUS trilateral security partnership between Australia, the UK, and the US. Announced in September 2021, the partnership sets out to enhance joint defense capabilities by focusing on cyber capabilities, artificial intelligence, quantum technologies, and additional undersea capabilities. Q-CTRL's active development of a new class of "software-defined" quantum sensors enabling navigation without GPS aligns directly against these objectives, and provides an opportunity for strong technical collaboration with local experts.
Q-CTRL's UK presence gives the company direct access to some of the most important industry-focused efforts in quantum technology. Q-CTRL has already established a commercial relationship with the UKRI's National Quantum Computing Centre (NQCC), and will work to expand its support for the local finance sector as it begins adopting quantum computing. In addition, Q-CTRL will partner with defense and civilian end users of its advanced quantum sensors to advance applications in resources, navigation, and climate monitoring.
Q-CTRL currently employs more than 90 staff across its Product, Research, Engineering, and Operations Divisions, and the company is actively seeking expressions of interest for job candidates for multiple roles in the new European offices. Click here to read complete announcement on Q-Ctrl website.
Eviden, ColibrITD and ONERA partner to build first hybrid quantum combustion platform
Eviden, an Atos business, ColibrITD and ONERA have announced the launch of VulQain, a research project, funded by the French Defense Innovation Agency, to build the first end-to-end hybrid platform to address the phenomenon of combustion and its challenges, including its complexity and non-linearity. By integrating Eviden's quantum computer emulator and ColibrITD's quantum software on ONERA's classical simulation platform, the project team aims to reduce carbon emissions, lower the energy footprint of high-performance computing (HPC) centers and help develop safer engines and turbines in the future.
This innovative project will give birth to the first end-to-end quantum computing combustion platform that aims to work on existing noisy and quantum computers. The project team, supported by ColibrITD's expertise in quantum software, will develop a noise-resistant hybrid algorithm to solve differential equations using the simple use case of a flame structure in 1D. This algorithm will be integrated on Eviden's quantum computer emulator and, thanks to Atos' deep expertise in hybrid computing, on Onera's classical simulation platform to be able to compare both approaches and results.
Laurent Guiraud, Co-Founder and Quantum Computing R&D Lead, ColibrITD stated: "Being part of the VulQain project with our partners is helping accelerate the 2nd quantum revolution adoption in key industrial sectors. This project will help increase the quantum momentum for real use cases that will benefit the aerospace & defense industry and other sectors."
Alain Refloch in charge of quantum computing at ONERA QTECH laboratory highlighted: "Today, a lot of effort is being put into developing various qubit technologies. For ONERA, the interest of this project lies in its algorithmic orientation and the fact that the developments on this platform will be hardware-agnostic. This platform can be used for quantum education purposes and in training programs and will serve the air, space and defence technologies."
Eviden designs the scope composed of Atos' digital, cloud, big data and security business lines. It will be a global leader in data-driven, trusted and sustainable digital transformation. As a next generation digital business with worldwide leading positions in digital, cloud, data, advanced computing and security, it brings deep expertise for all industries in more than 53 countries. Eviden is an Atos Group business with an annual revenue of c. € 5 billion. Click here to read original announcement
Dihuni launches Qubrid hybrid classical-quantum computing platform
Dihuni, a leading Artificial Intelligence (AI), Data Center and Internet of Things (IoT) solutions company, announced the launch of its Qubrid platform for advancement of Quantum Computing.
Qubrid is a highly flexible platform for Quantum and Machine Learning/AI developers to program in the framework of their choice and then deploy it on a Quantum Processing Unit (QPU) and/or Graphics Processing Unit (GPU) backends.  Qubrid enables users to harness the computational advantages of quantum computing alongside classical computing to solve complex optimization problems, perform simulations and conduct data analysis at unparalleled speeds and accuracy. Qubrid integrates the widely adopted Qiskit framework and other open tools to allow developers to write algorithms based on their choice.
The Qubrid platform has been launched with it's own independent website. Developers can sign up today to access and use the platform to run new or existing applications by visiting the website.
Dihuni is a leading provider of Digital Transformation solutions including Quantum Computing, Deep Learning, Artificial Intelligence (AI), Data Centers and Internet of Things (IoT). With its Qubrid platform, OptiReady GPU server products, software development, staff augmentation, solutions design and delivery expertise and e-commerce platform with access to over 500,000 products from hundreds of partners. Click here to read release in-entirety.
Technology Innovation Institute launches TII McEliece Challenges to test McEliece Cryptosystem as candidate for post-quantum encryption
Technology Innovation Institute (TII), a leading global scientific research center and applied research pillar of Abu Dhabi's Advanced Technology Research Council (ATRC), and HeroX, the leading platform and open marketplace for crowdsourced solutions, has launched the crowdsourcing competition, the TII McEliece Challenges. The Challenges seek innovative approaches that may test the McEliece cryptosystem as a leading candidate for post-quantum encryption.
The McEliece cryptosystem remains, despite significant cryptanalytic efforts, a secure scheme since its invention in 1978 and a fourth round candidate of the current NIST PQC standardization effort for post-quantum secure schemes, in the form of the Classic McEliece Submission.
challenge participants will analyze message recovery algorithms and key-recovery algorithms (which have received less attention in the past) from a theoretical and practical lens.
Divided into four tracks (Theoretical Key Recovery Algorithms, Practical Key Recovery Approach, Practical Message Recovery of 70-74-bit Encryption, and Practical Message Recovery of 80-94-bit Encryption), participants have the opportunity to receive up to $75,000 in prizes for solving the most complicated instance in these categories over the course of one year. Click here to read the complete news announcement.
Sandra K. Helsel, Ph.D. has been researching and reporting on frontier technologies since 1990.  She has her Ph.D. from the University of Arizona.