Quantum News Briefs March 23: PASQAL launches first neutral atoms quantum computing exploration platform; Quantum Brilliance releases first software supporting NVIDIA CUDA Quantum;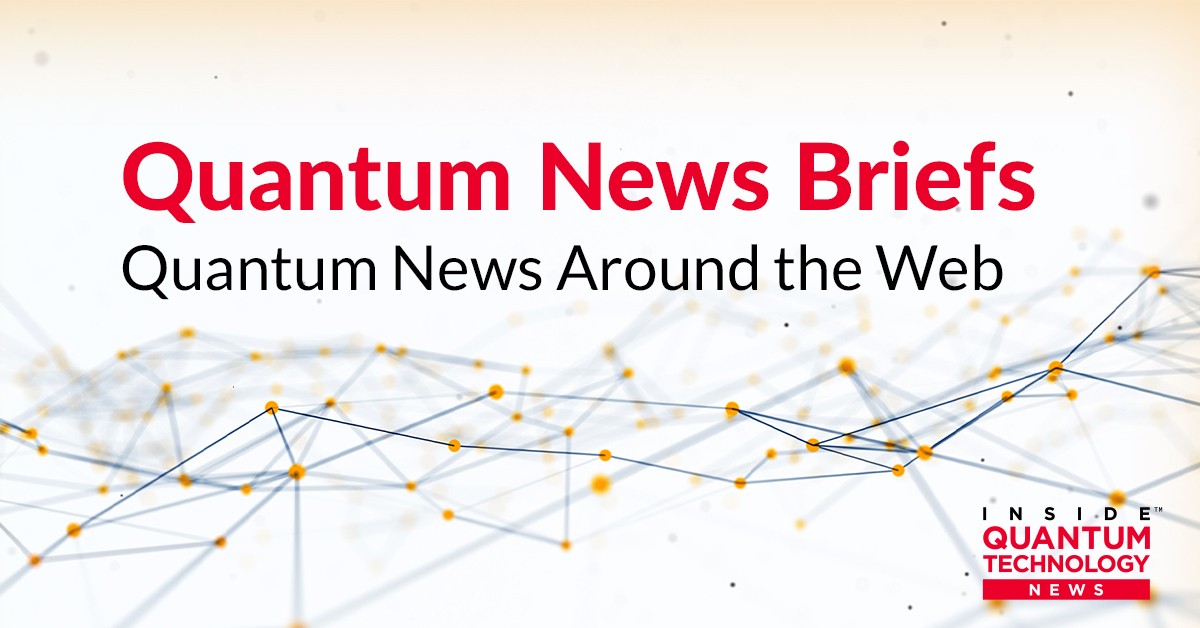 Quantum News Briefs March 23:
PASQAL launches first neutral atoms quantum computing exploration platform
PASQAL, a leader in neutral atoms quantum computing, today announced the launch of Quantum Discovery, the first neutral atoms quantum computing exploration platform. The program allows users to build their understanding of quantum computing, discover real-world applications for neutral atoms quantum computing and explore how their businesses could benefit. The platform includes access to PASQAL's quantum emulators and 100-qubit quantum processing unit, allowing users to experience a real-world quantum computer in action. Quantum News Briefs summarizes; click here to read complete announcement
Quantum Discovery is a cloud-accessible web platform designed for groups of employees to sign up and experience the program as a team. Each participant completes his/her own modules and can see other team members' progress. The program includes three modules that users can complete in any order. Modules include:
Onboard Yourself in Quantum
Users can onboard themselves and get familiar with the core concepts of quantum computing, the underlying physics and PASQAL's quantum algorithms through pre-recorded video tutorials, click-through demos, and a VR Tour of PASQAL's hardware.
Interact with Quantum Computing
Users can run and adjust pre-coded algorithm demos on real quantum hardware and emulators through integrated Jupyter notebooks, a web application for creating and sharing computational documents.
Once the pre-coded content is completed, users can experiment with the code, adjusting parameters to see the impact on the results and runtime.
Identify, Prioritize Use Cases
Leveraging the user's acquired knowledge from the first two modules, this module will guide users through a set of questions tailored to identify relevant use cases.
Once the set of questions is complete, users can submit them to PASQAL where experts will review and accept or share feedback.
Users can learn about example use cases for each of PASQAL's core algorithms and test if their unique enterprise use cases can be solvable with PASQAL's algorithms.
Quantum Brilliance releases first software supporting NVIDIA CUDA Quantum
Quantum Brilliance, the leading developer of quantum computing products and solutions, has released 
a new version of its open-source Qristal software
able to compile quantum programs written in CUDA Quantum, NVIDIA's newly announced open-source programming model. Quantum News Briefs summarizes.Announced at this week's NVIDIA GTC, a global AI conference, Quantum Brilliance's new release of Qristal heralds a major step forward in hybrid quantum-classical computing.
This new version of Qristal is the first full-stack quantum software to support CUDA Quantum," said Pat Scott, Software Lead at Quantum Brilliance. "Working together with NVIDIA, we have been able to place the powerful new CUDA Quantum framework at the heart of the quantum software landscape, right from the moment of its first release. The introduction of CUDA Quantum is a transformative step in the evolution of quantum computing, as it offers extensive tools for tightly integrating high-performance classical algorithms with cutting-edge quantum ones."
"By providing the capability in Qristal to compile quantum programs written in CUDA Quantum, we have made it possible to build quantum software that runs seamlessly across NVIDIA graphics processing units (GPUs), central processing units (CPUs) and quantum processing units (QPUs). Incorporating CUDA Quantum into Qristal also means users can run large-scale supercomputer simulations of future hybrid quantum-classical computers that simultaneously exploit quantum processors, classical CPUs and GPUs."
"The integration of NVIDIA CUDA Quantum within Qristal brings hybrid quantum computing with diamond-based quantum hardware one step closer to reality," said Timothy Costa, Director of High Performance Computing and Quantum Computing at NVIDIA. "As the leading full-stack development platform, CUDA Quantum enables dynamic workflows to seamlessly use quantum and GPU acceleration, which is essential to unlock the potential of quantum computing."Quantum Brilliance's diamond-based quantum accelerators were designed from the outset with hybrid quantum-classical applications in mind. They run at room temperature and can be miniaturised, allowing them to be deployed at scale in edge, cloud and supercomputing applications. Qristal is the leading full-stack software package for writing, compiling, testing and simulating quantum and hybrid quantum-classical programs.
IQM Quantum Computers (IQM), a European leader in building quantum computers, today launched a global initiative, "IQM Academy," to offer a free online quantum training course to educate and prepare talent for quantum workforce development.
IQM aims to reach high school and university students, educators, and enthusiasts who are curious to start learning about the fundamentals of quantum computing.
Dr. Jan Goetz, CEO and Co-founder at IQM Quantum Computers, said: "We are excited about this initiative, which is part of our commitment to provide education on quantum computing to everyone, regardless of their background. Anyone, anywhere in the world, can access the course online and learn the basics of quantum computing with self-learning exercises and guidance from our world-class quantum experts."
Given its potential, in the coming decades, quantum computing could impact industries including finance, healthcare, agriculture, logistics, cybersecurity, and others.
"A quantum technology lead for Europe is possible, but only with broad education," said Goetz, who will provide more insights about the initiative and address what makes the European Union attractive for start-ups at the first European Innovation Days in Silicon Valley, San Francisco, today.
No prior quantum computing experience is required to get started with the IQM Academy — participants will learn different ideas about quantum computing, its algorithms, and applications. The modules are exploratory, informative, highly interactive, and fun.
IQM Academy is available on both desktop and mobile devices and can be accessed here: https://academy.meetiqm.com.
Click here to read complete announcement on IQM site.
The consortium QUARTER, led by LuxQuanta, receives over 7 million euros from the European Commission to advance the deployment of a Quantum-Secure Network.
LuxQuanta, a European pioneer in Quantum Cryptography, leads the newly established QUARTER consortium that has raised over €7 million to increase the maturity and readiness of quantum cryptography technologies for deployment within the EuroQCI initiative. Formed by Telefonica, Thales, Tecnobit, the AIT Austrian Institute of Technology, Fragmentix, Quside, Chilas and LuxQuanta, the QUARTER Consortium will work together to ensure a significant advancement towards the deployment of a quantum-secure network for Europe.
The QUARTER consortium, which stands for Quantum Cryptography Technology for Europe, has received funding from the DIGITAL Europe Programme, and gathers an unprecedented cluster of specialised and experienced companies in the sector. LuxQuanta, Quside, Chilas, and Fragmentix, are renowned manufacturers in the field of quantum key distribution (QKD), quantum random number generators (QRNG), high-performance laser sources, and classical security solutions, respectively. Alongside these innovative companies, the consortium is proud to partner with Telefonica, AIT Austrian Institute of Technology, Tecnobit, and Thales, distinguished and well-established leaders in the areas of quantum technologies, security solutions, and telecommunications in Europe.
Under LuxQuanta's leadership, QUARTER aims to increase the maturity of Quantum Key Distribution and its related technologies while defining a clear industrialisation roadmap to ensure their successful deployment. The consortium will actively participate in standardisation groups to contribute to Quantum Key Distribution's (QKD) certification framework, paving the way for its integration into telecommunications products and services, and supporting its deployment within the EuroQCI initiative.
By 2027, the EuroQCI initiative plans to have deployed a secure quantum communication infrastructure spanning the entire EU. Proper protection of its network infrastructure is critical for Europe to prevent any type of malicious attack and safeguard its most sensitive data. Within this context, QUARTER will play a crucial role in the development of cutting-edge European technologies for this implementation, ensuring its sovereignty in the vital domains of quantum communications and cryptography.
QUARTER's efforts will advance state-of-the-art quantum communications, propelling the Union to become an industry leader in Quantum Cryptography and ultimately ensure the protection of its citizens and organisations.
Sandra K. Helsel, Ph.D. has been researching and reporting on frontier technologies since 1990.  She has her Ph.D. from the University of Arizona.