Quantum News Briefs February 9: Terra Quantum welcomes Investcorp as new investor; QCI received subcontract award to support NASA to test quantum sensing solutions for monitoring climate change; Chinese scientists achieve faster way of quantum key distribution + MORE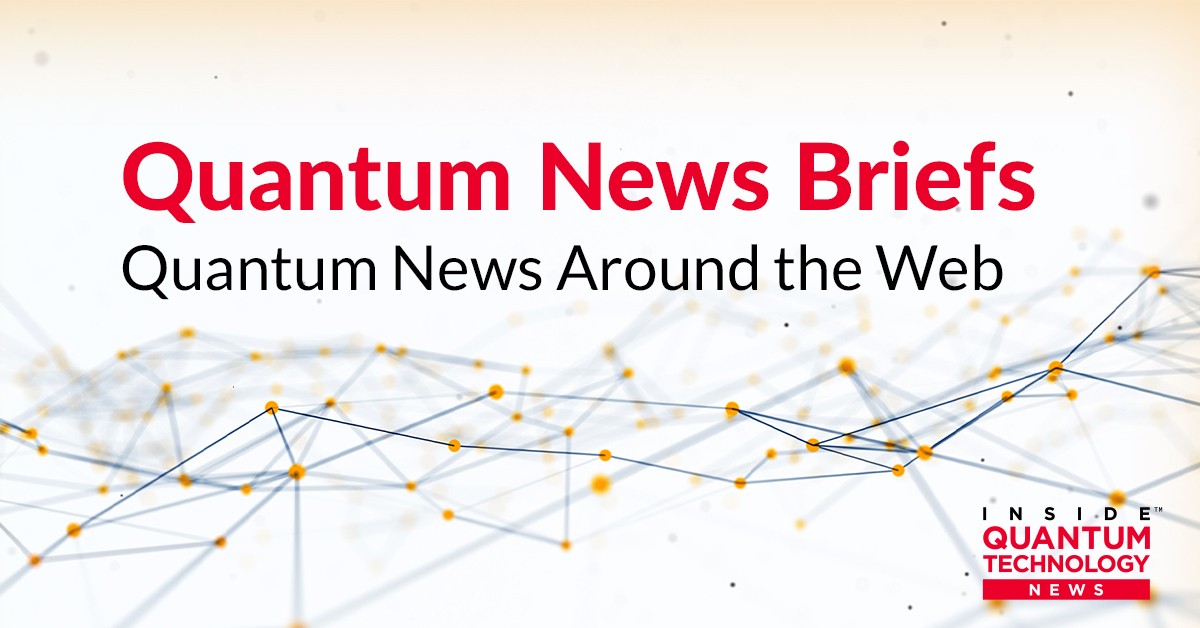 Quantum News Briefs February 9: Terra Quantum welcomes Investcorp as new investor; QCI received subcontract award to support NASA to test quantum sensing solutions for monitoring climate change; Chinese scientists achieve faster way of quantum key distribution + MORE.

Terra Quantum welcomes Investcorp as new investor
Terra Quantum AG has announced the onboarding of Investcorp as its newest investor. Quantum News Briefs summarizes the February 9 announcement.
As a leading global alternative investment firm, Investcorp, focuses on investing in growing, high-tech companies, signaling on the one hand the critical nature of this technology and on the other hand Terra Quantum's expertise as the company accelerates the commercialization of its products. Adding Investcorp to the existing investor base, which includes Europe's leading venture capital firm Lakestar and two of the largest and globally renowned German family offices, Terra Quantum has the backing of a truly entrepreneurial investor base with deep roots across pharmaceuticals, logistics, payment, blockchain and the wider cyber security spaces.
Terra Quantum CEO and Founder, Markus Pflitsch, said: "This is an important step for Terra Quantum, as we not only demonstrate 'Private Equity'-readiness, but also signal that same readiness to the broader quantum technology market. Many companies are currently struggling to find investors, but we are dedicated to drive the quantum ecosystem."
Terra Quantum Group, a leading quantum technology company based in Germany and Switzerland provides "Quantum as a Service (QaaS)" in three core areas, the first one being "Quantum Algorithms as a Service". Secondly, through "Quantum Computing as a Service", Terra Quantum offers its customers access to its proprietary high-performance simulated quantum processing units (QPU), the quantum ecosystem's physical QPUs, while also developing native QPUs. The third division is "Quantum Security as a Service," through which Terra Quantum offers its unique solutions for secure quantum and post-quantum communications worldwide.
"Terra Quantum is highly relevant to many of our current and future high-growth portfolio companies, and we have seen full alignment on our core values: having integrity and being performance-driven, collaborative, entrepreneurial and global," commented Gilbert Kamieniecky, Head of Global Tech at Investcorp. Click here to read BusinessWire release with related multimedia.
QCI received subcontract award to support NASA to test quantum sensing solutions for monitoring climate change
Quantum Computing Inc.  announced on February a subcontract award from SSAI to support NASA in testing one of its proprietary quantum photonic systems for remote sensing applications.  Quantum News Briefs summarizes.
QCI, through its wholly owned subsidiary, QI Solutions, which focuses on federal projects, will perform this work under a subcontract from Science Systems Applications, Inc. (SSAI), a leading scientific, engineering and IT solutions provider. Under the subcontract, QCI will test an existing LiDAR system designed to remotely measure the physical properties of different types of snowpacks, including the density, particle size and depth, based on a recent breakthrough theory. The measurements from these tests will be used to calculate how much water could be released when snow melts and could be used for other similar predictive analyses. This new technology and system implementation is designed for use in spaceborne and airborne missions and, once validated, have the potential to provide accurate data for informing key decision makers. The QCI LiDAR system could be used to indicate changes in weather patterns which have a significant impact on water reserves available both for agricultural facilities and in cities, which for example are critically impacting many areas in California.
Under the SSAI subcontract, the project will proceed with laboratory testbeds over the coming months and, upon its successful completion of this testing, this compact equipment may proceed with airborne testing with the ultimate goal to position these LiDAR units on satellites to create a network for monitoring snow levels globally. Click here to read announcement in-entirety.
Chinese scientists achieve faster way of quantum key distribution
Chinese scientists have successfully implemented a new way of quantum key distribution (QKD) which can boost the speed of intercity quantum networks according to a recent research study.
The new method, named mode-pairing QKD (MP-QKD), was first proposed in 2022 by a research team led by Dr. Ma Xiongmeng at Tsinghua University. It does not require a technically challenging step called "phase locking" to be implemented. The team cooperated with another team led by Professor Pan Jianwei, a pioneer in quantum communication in China,
Details of the test were published in the U.S. scientific journal Physical Review Letters.
In the paper, the researchers said MP-QKD can achieve a "quadratic improvement" in key-rate – basically the speed of QKD – over traditional measurement-device-independent QKD (MDI-QKD) when used in metropolitan and intercity networks.
The new method also performs faster on longer distances like 300 to 400 kilometers, with a speed boost by three orders of magnitude, the paper said. The paper added that MP-QKD can be achieved with "off-the-shelf lasers," thus is a "ready-to-implement" technology.  Click here to read complete CTGN article.
Northeastern University announces it will build a $10M quantum technology lab at its Burlington Innovation Campus

Northeastern University's Innovation Campus in Burlington, Massachusetts has received a $3.5 million grant to establish the Experiential Quantum Advancement Laboratories (EQUAL) at the Innovation Campus.
The award will help strengthen the EQUAL project's partnerships with the state, nine academic institutions and 23 industry partners. Together, they will advance work on quantum technologies that have wide-reaching applications, while at the same time training students and workers and, in turn, helping to boost the Massachusetts economy.
EQUAL's unique focus on industry partnerships means that when the laboratory is completed in Building V, new technologies can be applied at the commercial level right away. The 1,600-square-foot lab sits empty now, but Northeastern associate professor and EQUAL co-director Swastik Kar was optimistic about what it will become—an "assembly line" from concept to commercialization.
Importantly, the lab, which Kar expects to open in spring 2023, will all but eliminate the middleman between research and application.
"There's a lot of researchers doing hard-core research where they're sort of siloed away and there's no clear pathway for translating quantum technology from lab to the market," he said.
Instead, at EQUAL, "there's a buildup, from the basic level all the way to the end application. And to do that we need not just the expertise, but also a facility that allows us to go from concept all the way to mature technologies all in one go," he said.
The grant, part of the Collaborative Research & Development Matching Grant Program and administered by the Innovation Institute at the Massachusetts Technology Collaborative (MassTech), will support the nearly $10 million project. Click here to read complete announcement on Northeastern's website.